MANILA, PHILIPPINES — Global messaging app Rakuten Viber has recently introduced its newest suite of business tools for users in the Philippines, one of its biggest markets globally. The new features further support users' business goals and help enable local users to discover their services, all in one app.
Viber's newest features include a public business profile that businesses can easily set up, 1-on-1 customer chats, discoverability through Viber search, dedicated chat folders where businesses can separate customer messages from personal messages, and a product catalog where customers can explore and inquire about the businesses' items and other services.
The company also shared upcoming features such as broadcast messages, voice calls, and quick and automatic replies. The app will soon offer tailored pricing plans based on user and market feedback to expand the initial set of free self-serve business solutions.
Adobo Magazine sat down with Rakuten Viber's Chief Revenue Officer, Cristina Constandache, who shared her insights about the story behind the launch of the superapp's newest business tools, how it aligns with the brand, and her personal core values as a leader.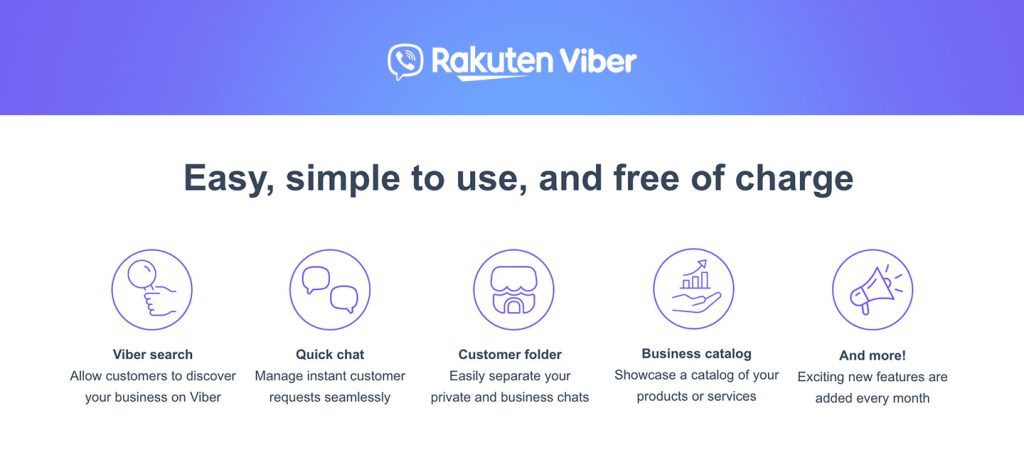 Expanding Viber's communications hub
The latest suite of features remains true to Viber's core mission, which is to provide free and secure communications for all users. According to Cristina, their users were the key inspiration for creating these new business tools. "We've seen an increased adoption of microbusinesses' communication for Viber during Covid-19, through channels that were not necessarily meant for business usage," she shared.
During the roundtable, Viber shared that there are now over 1 billion users on its platform, with 15.2% more active users since its launch in 2011. Since then, the company has dedicated itself to cultivating a robust ecosystem for businesses and Viber users around the world.
"This, ultimately, was what precipitated the decision to launch a bespoke solution for small and micro businesses, where they would be allowed—free of charge, of course, to manage the activity by themselves," Cristina added.
Viber for Business' self-serve communications hub enables users to sign up, set up their business accounts, manage communications with their clients, and define a range of business goals suitable to the size of business they are representing, all by themselves with ease.
"The fact that we are moving into a utility space goes hand in hand with allowing free and secure communication. But beyond the personal space, we see that this communication is a need that is expressed on both sides," Cristina explained.
Viber's unique challenge
Cristina explained that the messaging space is unlike any other space in the digital platform, and with it, more interesting challenges make their way up her alley.
"Viber's unique challenge is that we need to fine-tune everything that we do. It's not about plastering monetization solutions everywhere, or putting ads everywhere in the app, and focusing on making as much money as possible. It really is a balancing act and making sure that everything that we launch is well received by the users."
As the platform bridges both the needs of its users and the business, Cristina stresses the value of user feedback to improve their services. "This solution is for you. It has been built with you in mind and this solution can only grow because of you and our aim is to help you grow and take your business to the next level. So I cannot stress how important feedback is. Come to us contact us reach out to us, whichever way upon because we want to hear from you," she said.
On building better bridges between customers and businesses
"People [are] at the heart of everything that I do, in my role, and in my business," Cristina said. The Rakuten Viber CRO is passionate about making life easier for everyone, from offering personal development initiatives to her team to improving the customer and user experience.
Despite her position to lead revenue and monetization initiatives, Cristina ensures that the solutions they give to users are balanced and fine-tuned in a way that will positively impact the user experience on Viber while maintaining its key purpose.
When asked about her personal hopes and dreams for her industry as a whole, Cristina shared: "I only wish that more companies were recognizing the importance of having the two-way conversation with our customers." She believes that gone are the days when customers were willing to wait for hours or even days for a response. "We want to make sure that the services and the companies that we are buying from cater to all of our needs, even after the sale. So I can only hope that as an industry, we move towards a space where we facilitate more and more conversations between clients and businesses," Cristina added.
Viber's new self-serve business tools are available now in the Philippines and Greece and will launch in additional countries soon. For more information on Viber for Business, visit the website.