SINGAPORE — International early-stage VC fund, Accelerating Asia, has officially announced the opening of applications for Cohort 08 of its flagship accelerator program. Startups from across the Asia Pacific, as well as those with global solutions that would also appeal to consumers or enterprises in the region, are invited to apply.
Unlike other programs, prospective startups do not need to fall into any particular vertical – startups from previous batches hail a diversity of industries.
The main criteria for startups offered admission into the accelerator and the corresponding investment of up to US$ 250,000 is business viability and growth potential. Accelerating Asia's continued portfolio success through the recent market downturn is a result of a focus on solid business fundamentals and investing in companies that offer high value to its customers; resulting in robust financial models. These companies can succeed in any market condition and are poised to succeed in the long term.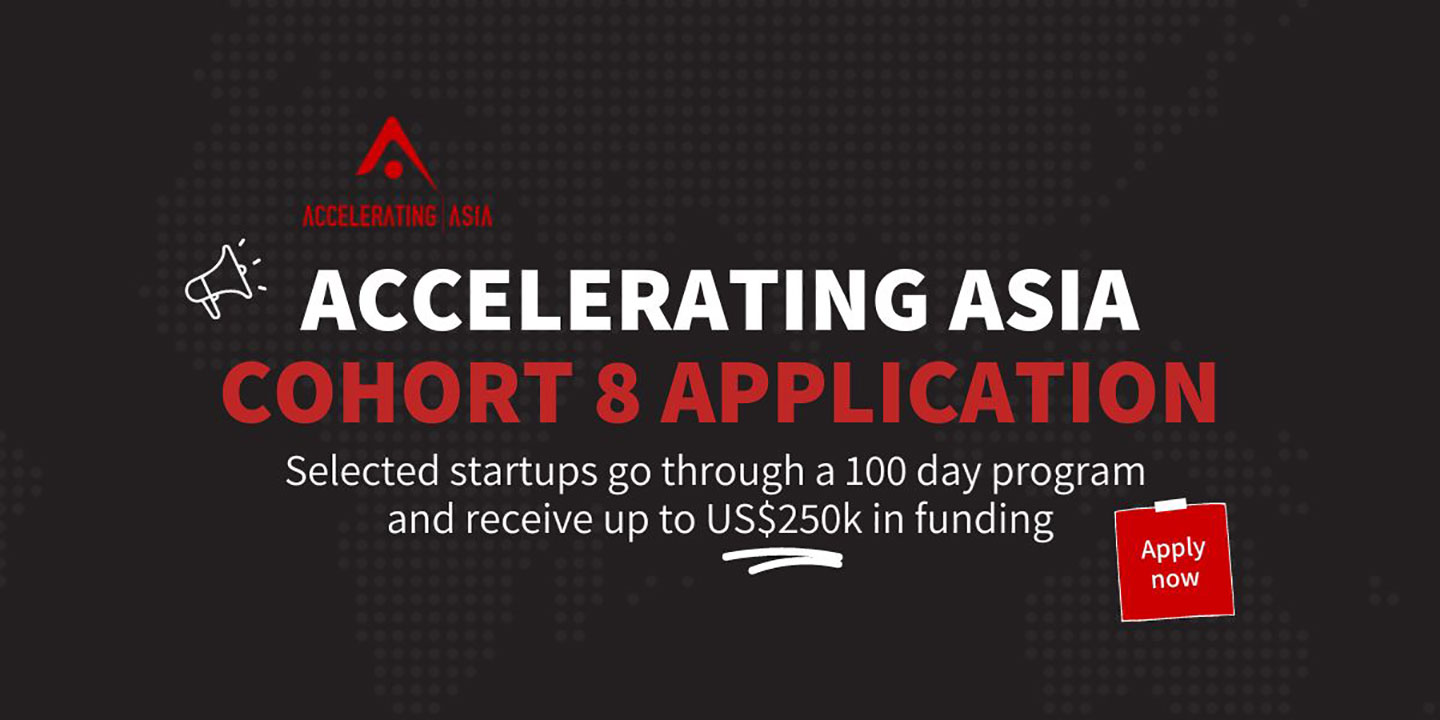 Co-founder and General Partner Craig Bristol Dixon elaborated on this idea further. "When any new technology emerges, there's always hype. We want founders who have cut through the noise, translating cutting-edge technology into practical solutions that provide real-world value today. The startups who meet this mark will always be at the top of our list. We want to see execution as much as innovation," he said.
As an example, Craig singled out the recently announced Cohort 07, which is comprised of Cocotel, Hishabee, K-link, Kooky.io, Safe Truck, Shoplinks, Easy Rice, HealthPro, BizB, and Ulisse. Prior to even joining the accelerator program, this group had already collectively raised US$ 5.2 million on account of an average Gross Merchandise Value (GMV) of over US$ 46,000 per month and an average monthly revenue of over US$ 13,000.
Startups that believe they fit a similar mold should complete the initial application found here. Short-listed startups will be invited to continue through the application and due diligence process, which includes interviews with investor partners, alumni, and top-class startup mentors.
Almost 700 startups applied to Cohort 07 with 10 selected, an acceptance rate of just 1.5%, making Accelerating Asia one of the most competitive accelerator programs in the world.
Cohort 08 startups that are offered admission will begin the program proper in Q1 of 2023. The hybrid program includes a variety of different activities, such as master classes, VC pitch nights, and regular meetings with the entrepreneurs in residence, all designed to further accelerate a founding team's knowledge, network, and funding – as noted earlier, startups receive up to US$2 50,000 from Accelerating Asia. Startups in the program typically increase their monthly revenue by greater than 300% during the 100-day program.
The 60 startups that have gone through the program address at least one sustainable development goal (SDG) of the United Nations and have raised a total of over US$ 50 million, representing a portfolio value of over US$ 500 million.
Craig, as well as Co-founder and General Partner Amra Naidoo, attribute this success in part to the investor community that forms a major part of the Accelerating Asia ecosystem. Beyond just investing in Accelerating Asia's fund or investing in individual startups, these investors, which include angel investors, family offices, VC firms, and other institutional investors, often participate deeply in the flagship program.
Some investors serve as part of the selection committee, others serve as mentors throughout the program and beyond, and still, others serve as facilitators for some of the master classes. Craig explained that it's the strengths of both these investors and the entrepreneurs that make Accelerating Asia what it is today.
"We've been fortunate to work with many great investors, and we're always looking for more such collaborations. Our team is particularly keen on partnering with investors who don't see startups as just another asset class but share our belief that entrepreneurs are one of the world's greatest catalysts for positive change. By working together, we can transform our communities through innovation," he expressed.
Accelerating Asia launched Fund II in 2021, Cohort 08 is the fourth batch of investments for Fund II which will deploy capital across Southeast and South Asia pre-Series A startups.
If you're an investor who is looking to access the best pre-Series A startups in the region, reach out to the Accelerating Asia team for more information about investing with Accelerating Asia.
If you're a startup interested in joining Cohort 08, apply here.