HONG KONG — An art gallery is a space where artworks are presented; at the same time, it can become the subject matter of the works, themselves. This summer, Rossi & Rossi will open up its Wong Chuk Hang gallery to artist Szelit Cheung (b. 1988), who will experiment with the interplay of display space and works of art for a residency that runs from 8 May to 31 July 2021.
The ethereality of light has long intrigued artists, from Renaissance masters to modern-day practitioners. One of nature's most rudimentary elements, light is as invisible as air – until it encounters a receptacle or a surface. Cheung is interested in examining the presence of light within a swathe of empty space. Part of his daily routine involves wandering Hong Kong alone, observing how light interacts with architecture and space.
The artist's fascination with light is manifest in his most recent series, Shimmer (2021) and Space (2020). Framed by an architectonic feature of a building, these works see light illuminate, seep into or bounce off spaces that are oftentimes unassuming and unadorned, devoid of human figures. This void is persistently present in Cheung's works, which embody many of his ideals.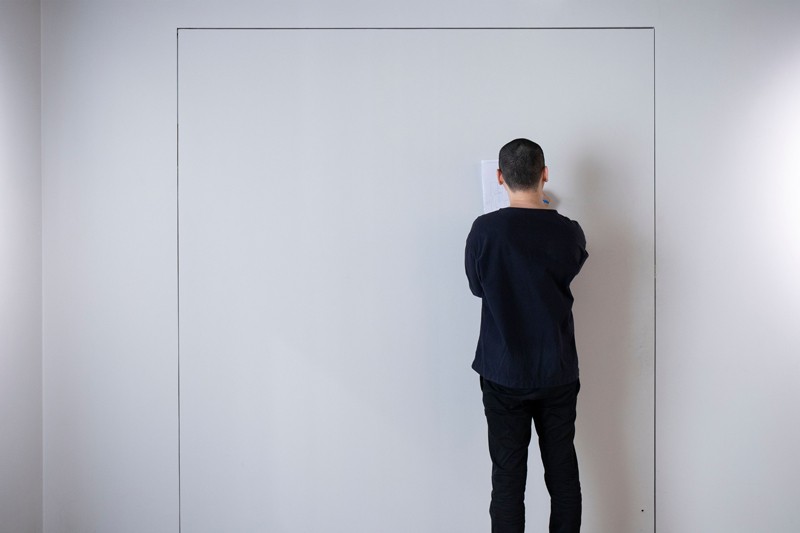 Originating from early Buddhism, void, or emptiness, also known as śūnyatā in Sanskrit, is a concept that philosophers and religious figures have contemplated and interpreted for centuries. Chinese Buddhist monk Hongzhi Zhengjue (1091–1157) identified this field of boundless emptiness as something primitive that has existed from the very beginning. He noted that 'you must brush away all the tendencies fabricated into apparent habits, then you can reside in a clear circle of brightness'.
Emptiness is both a mode of perception and a way of looking at experiences, and Cheung translates this concept onto his canvases. One could thus say that his compositions contain the visualisation of 'nothingness' or the sensation that a state of void can provoke. There is also something religious in his renditions of seemingly ordinary scenes. As the artist puts it, 'There is more to see than just an image. The experience goes beyond the canvas. Space, itself, looks simple but powerful, and there are certain qualities and a spirituality within'.
Cheung equates his attempts to accentuate the purity of form and space in his works with an almost utopian existence. For his residency at Rossi & Rossi, the artist will be utilising the gallery as his field of imagination to create a place that is, in his own words, 'flooded with light, where everyone is free to be themselves and experience the scared atmosphere'.