BREGANZE, ITALY – You may have heard of the term "Wardrobing." The word is used for the act of buying an outfit, wearing it and returning it after. A lot of people do it—it's a rising trend, and most fashion brands struggle with how to handle it.
​​​​​Not DIESEL though, which introduces its new Fall campaign, aptly called "Enjoy Before Returning": a playful, nonconformist stance on this controversial topic. Rather than condemning wardrobing, the brand comes to terms with it. If shoppers are going to buy, wear and return an item anyway, why not fully enjoy it in the process? ​​​
​To illustrate DIESEL's point of view on wearing and returning, the campaign's photographs and videos have been shot and directed by photographer Angelo Pennetta. ​​​
Penetta's imagery lenses wardrobers wearing DIESEL's new Fall collection, along with watches and eyewear products. All of the items—including separate watch still-life visuals shot by the photographer Roberto Badin—share the common thread of "wearing the tag out." ​​​
​​A self-ironic film—directed by Similar But Different—will be released just before New York Fashion Week. The video portrays different party goers enjoying the night in DIESEL outfits with the tags prominently on display—outfits they will seemingly return the next day. Throughout the film, a voice over will ironically recite DIESEL's return policy. The point? DIESEL does not condone the act, but it will not hold it against you. ​​​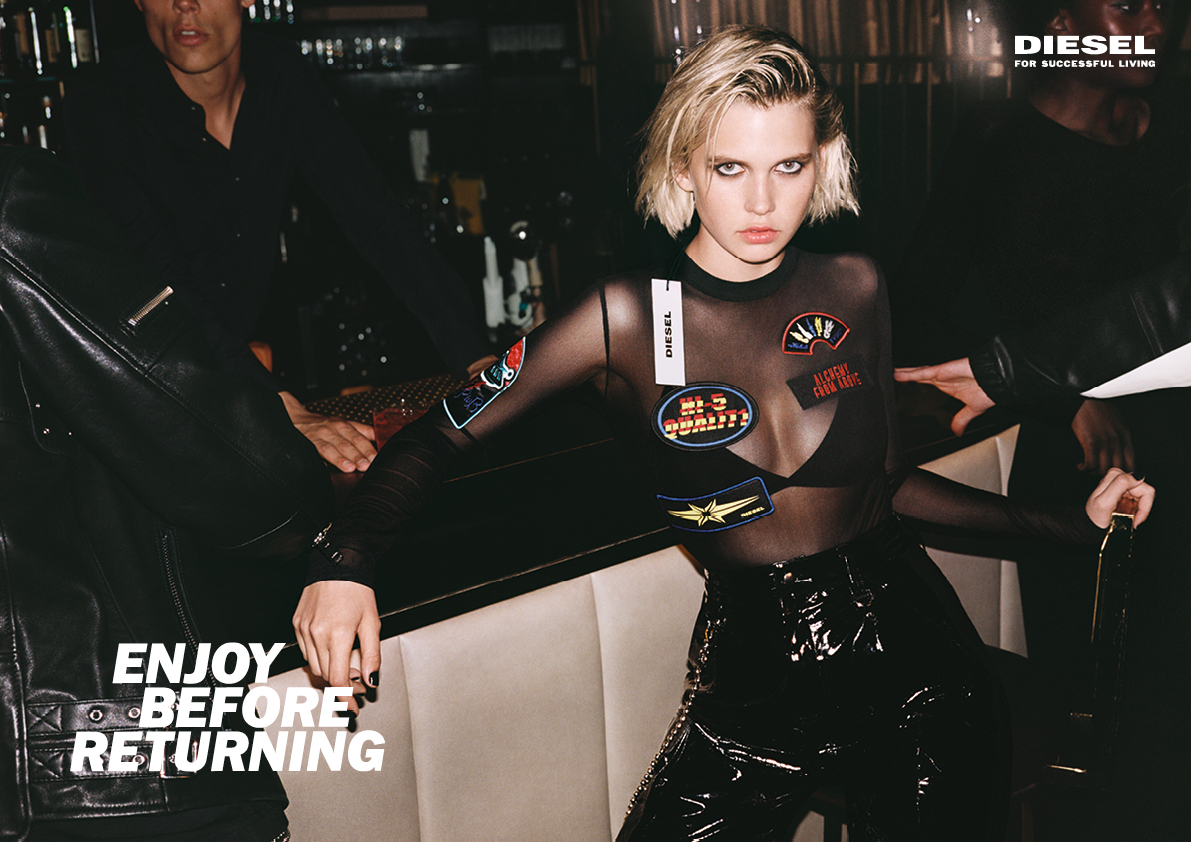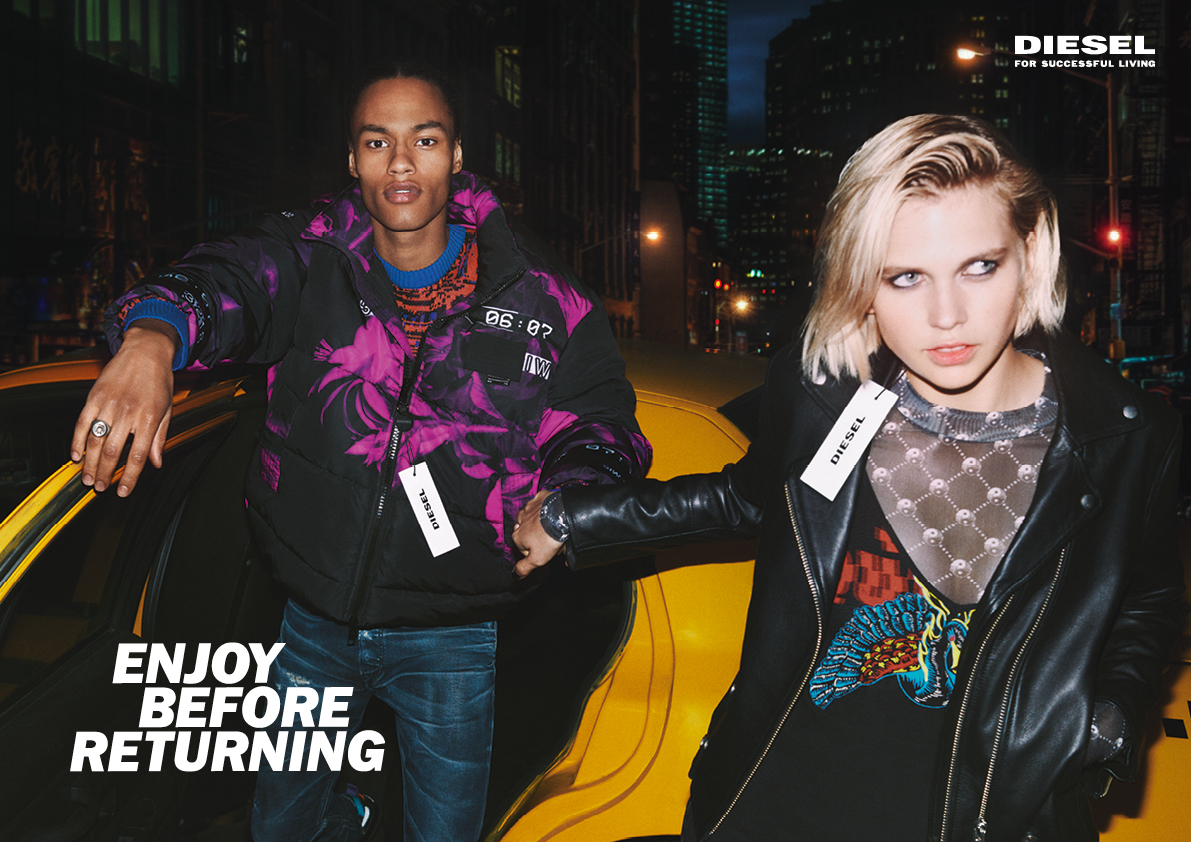 Following the release of the film, DIESEL will host a "Return Party" at London Fashion Week. ​​​
​​The campaign's overall creative concept and execution was handled by Publicis Italia.​​​
​​
CREDITS:
​
​​Creative Agency: Publicis Italia​​​
​
​​Global CCO Publicis WW: Bruno Bertelli​​​
​
​​CCO: Cristiana Boccassini​​​
​
​General Manager: Daniela Di Maio​​​
​
​​Creative Director: Thiago Cruz​​​
​
​​Creative Director: Mihnea Gheorghiu​​​
​
​​Creative Supervisor: Costanza Rossi​​​
​
​​Copywriter: Sébastien Rouvière​​​
​
​​Art Director: Andrea Sarcullo​​​
​
​​Digital Account Director: Ilaria Castiglioni​​​
​
​​Account Director: Filippo D'Andrea​​​
​
​​Account Executive: Mirko De Martini​​​
​
​​Senior Strategic Planner: Monica Radulescu​​​
​
​​Social Media Manager: Doina Tatu​​​
​
​​Head of TV Production: Francesca Zazzera​​​
​
​​TV Producer: Erica Lora Lamia​​​
​
​​Art Buyer: Caterina Collesano, Marcella Garutti​​​
​
​​Film Credits​​​
​
​Director: Similar But Different​​​
​
​​Production company: Smuggler​​​
​
​​Executive Producers: Fergus Brown and Chris Barrett​​​
​
​​Producer: Javier Alejandro​​​
​
​​DOP: Kaname Onoyama​​​
​
​​Stylist: Luci Ellis​​​
​
​​Music Production: Sizzer ​​​
​
​​Photography & Product Videos Credits​​​
​
​​Photographer/Director: Angelo Pennetta​​​
​
​​Production Company: Art Partner​​​
​
​​DP: Errol Rainey​​​
​
​​Stylist: Julia Sarr-Jamois​​​
​
​​Casting: Julia Lange​​​
​
​​Make-up: Lotten Holmqvist​​​
​
​​Hair: Syd Hayes​​​
​
​​Nails: Anatole Rainey​​​
​
​​Set Design: Alice Kirkpatrick​​​
​
​​Choreographer: Ryan Chappell​​​
​
​​Still Life Credits​​​
​
​​Photographer: Roberto Badin @1806 Agency​​​
​
​​Production Company: 1806 Agency​​​
​
​​Post Production: Diego Speroni @1806 Agency​​​
​
​Set Designer: Martina Lucatelli​​