BANGKOK, THAILAND — Global brand experience agency VMLY&R and super-app social commerce platform LINE SHOPPING have enlisted top-tier Thai superstars and influencers to endorse small businesses that adopt LINE's innovative shopping platform to promote their products and services.
Thailand's ecommerce space tends to be dominated by large businesses. Despite there being some 5 million online sellers, almost 85% of the market share goes to big players. With over 50 million users, LINE's in-app social commerce platform LINE SHOPPING champions small businesses by offering insightful marketing tools to help them win in this highly competitive market that favors big players.
In partnership with VMLY&R Thailand, LINE SHOPPING's exciting 'Free Superstar Endorsers' initiative arms small businesses with big superstars, free of charge. Achieving never-done-before endorsement, LINE SHOPPING brings together internet darlings including Ticha Kanticha, Pearwah Nichapat, Chin Chinawut, Pai Sitang, and Nae Anothai. Small businesses can utilize these superstars to promote any of their products across all promotional channels without any brand-endorser fee.
Since the launch at the end of May, sign-up to LINE SHOPPING from new sellers has already more than doubled the initiative's expectations, with two months still to go.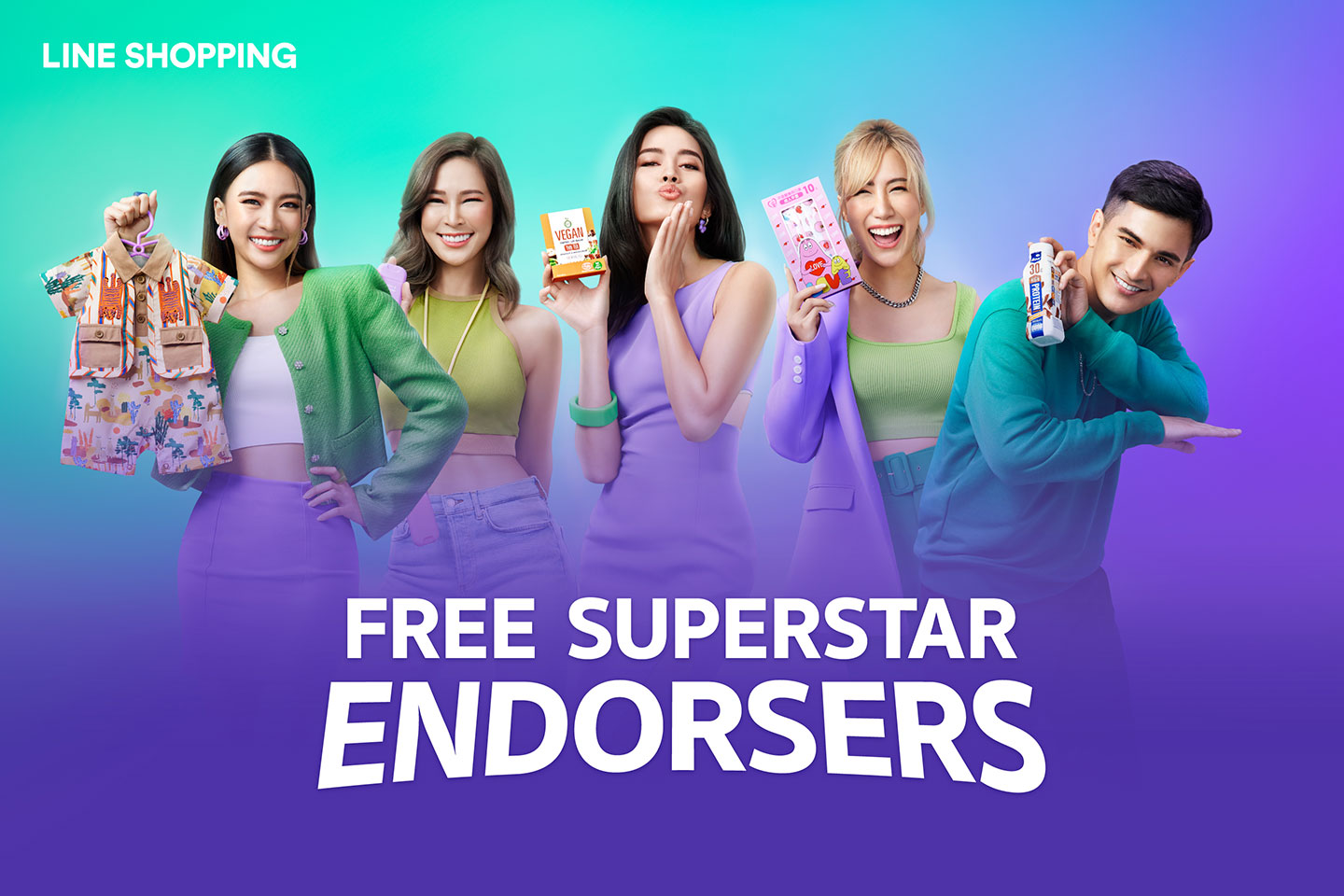 "Free Superstar Endorsers" is an open endorsement platform where LINE SHOPPING sellers can choose the most suitable endorsers for their brands, then generate royalty-free marketing collaterals to create exposure for their products, giving them the competitive edge to fight shoulder to shoulder with big players. The businesses will also gain access to agency experts' guidance for any marketing material creation for their shops.
Lertad Supadhiloke, director of e-Commerce at LINE Company Thailand said, "Over 40% of small businesses in Thailand do not survive the first quarter and even more close within the first year. LINE SHOPPING, as the leading social commerce platform in Thailand, has always recognized small businesses as the driving force for the ecosystem since day one, and our vision is to empower small businesses to be strong enough to succeed. Working with VMLY&R we wanted to communicate with a creative and insightful initiative that highlights how SMEs have a common pain point of lacking marketing tools and budget to fight in a sea dominated by big fish and thus begin to bring our "LIBERTY TO WIN" vision to life by first unlocking limitations and bringing freedom of entrepreneurship to small businesses through our platform."
Anuwat Nitipanont, Chief Creative Officer at VMLY&R Thailand said, "Thailand is a market heavily driven by costly big presenters, a situation in which small or newly established shops lack any leverage. And our research shows that a superstar is one of the most powerful tools to help increase sales and brand awareness. To have a star presenter hold a product for small businesses would cost them a huge investment they cannot afford. Therefore almost 100% of small businesses don't integrate brand endorsers into their marketing plans. This led to our mission to create a more equal opportunity playing field in e-commerce that would allow small businesses to thrive."