CALIFORNIA, USA — Fans who have been eagerly awaiting the sequel to 2018's groundbreaking and award-winning Spider-Man: Into the Spider-Verse won't be disappointed.
Reactions for Spider-Man: Across the Spider-Verse are in and they couldn't be more positive, with critics raving about the follow-up film, calling it a masterpiece not just because of its animation, but also because of its story.
"The moment Spider-Man: Across the Spider-Verse ended, I knew I'd experienced a cinematic moment I'd cherish forever," said Fox-TV's Jake Hamilton, who further described the sequel as an "awe-inspiring masterpiece" and "the best Spider-Man film ever made."
Drew Taylor of the New York Times said, "#SpiderManAcrossTheSpiderVerse is a stunning achievement. Yes, it's visually dazzling, with expansive, expressive new realms (Gwen's world is my favorite). But the movie's real superpower is its emotional depth and its beautiful, melancholic tone. I love this movie so, so much "
Tessa Smith, who writes for Rotten Tomatoes, raved that Across the Spider-Verse has achieved the rare feat of a sequel topping its predecessor. "Spider-Man: Into The Spider-Verse raised the bar with its unique animation style & way of storytelling," she wrote. "Minds were blown when it was released & fans thought there was no way it could be topped. Think again. #SpiderManAcrossTheSpiderVerse raises its own bar which seemed impossible."
Steven Weintraub of Collider can't wait to see the film again. "Absolutely loved #SpiderManAcrossTheSpiderVerse. Wanted to push pause about a hundred times to study the incredible artistry on display," he shared. "Cannot recommend this film enough and already looking forward to seeing it again. Next time in @IMAX!"
Screenrant's Joseph Deckelmeier can't contain his excitement as he wrote, "The hype is real! Every frame of #SpiderMan #AcrossTheSpiderVerse is gorgeous. I didn't want to blink because I didn't want to miss anything. You can watch this film over & over & find something new to enjoy."
Goggler, a popular website and podcast from Malaysia, shared its enthusiasm as well. "Spider-Man: Across the Spider-Verse is an absolute monument to the power of cinema to affect, and inspire, and to bring joy," its team wrote. "We didn't think it was possible but everything about this is better than the first."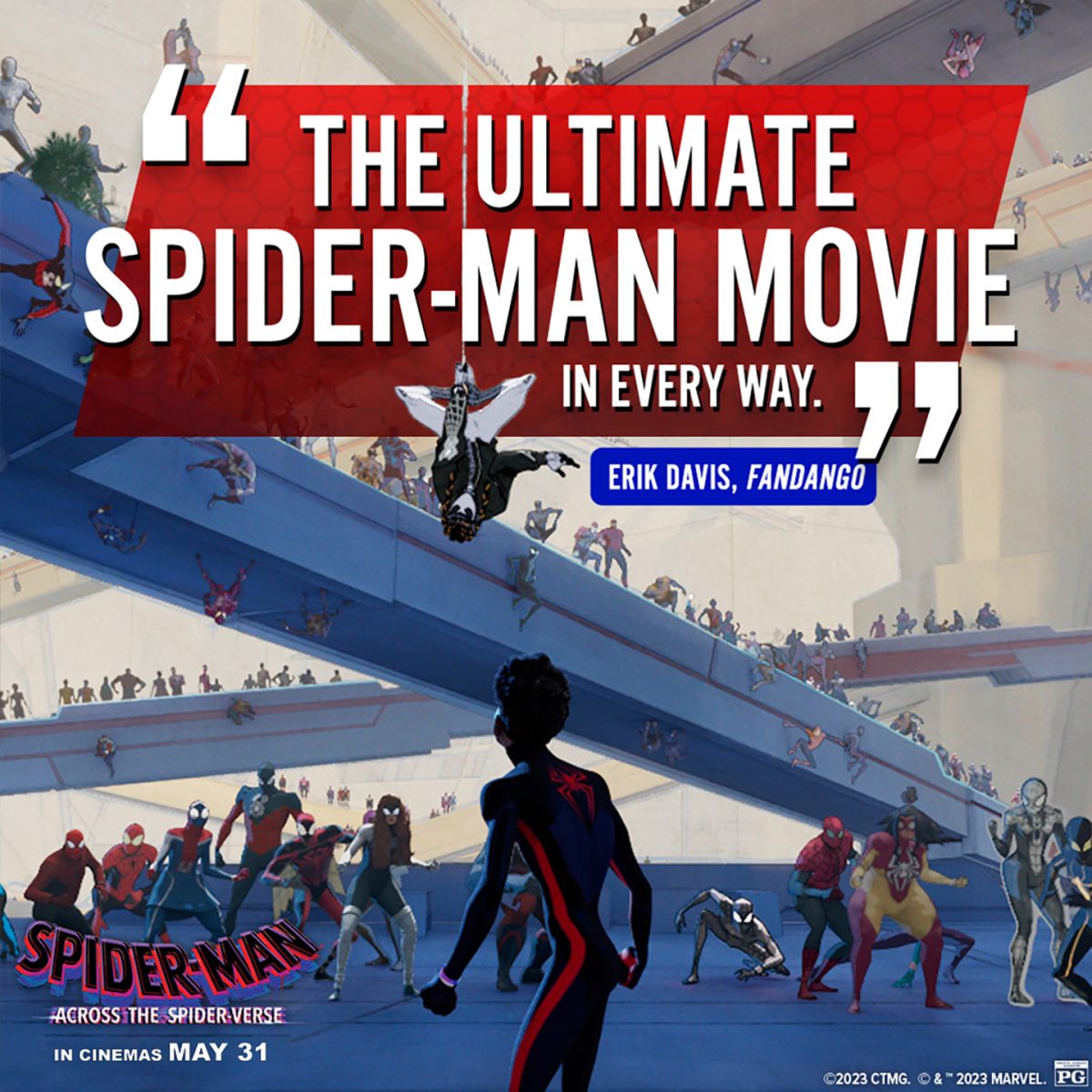 Finally, Erik Davis from Fandango raved about the film, too, describing it as "visually breathtaking" and "unlike anything you will see in a movie theater."
In Spider-Man: Across the Spider-Verse, Brooklyn's full-time, friendly neighborhood Spider-Man reunites with Gwen Stacy and they are catapulted across the Multiverse, where they encounter the Spider Society, a team of Spider-People charged with protecting the Multiverse's very existence. But when the heroes clash on how to handle a new threat, Miles finds himself pitted against the other Spiders and must set out on his own to save those he loves most.
Anyone can wear the mask – it's how you wear it that makes you a hero. The next chapter of the Oscar®-winning Spider-Verse saga opens in Philippine cinemas May 31.