MANILA, PHILIPPINES — The Graphika Manila stage is made for some of the biggest names in the creative world. So, it was fitting for Kevin Eric Raymundo, known to the world as Tarantadong Kalbo, to be part of the epic speaker lineup.
On the first day of Graphika, Kevin graced the conference as this year's ASUS Artist Feature. Kevin started his presentation with a recap of his creative journey as an animator, graphic artist, and comic artist.
There are so many notable projects that anyone would recognize in Kevin's animation portfolio. After all, he's been a key part in some big-name works, from international titles like Tom & Jerry, Curious George, Johnny Quest, and Eliot Kid to local animated gems such as web miniseries Heneral Tuna and Netflix feature film Hayop Ka!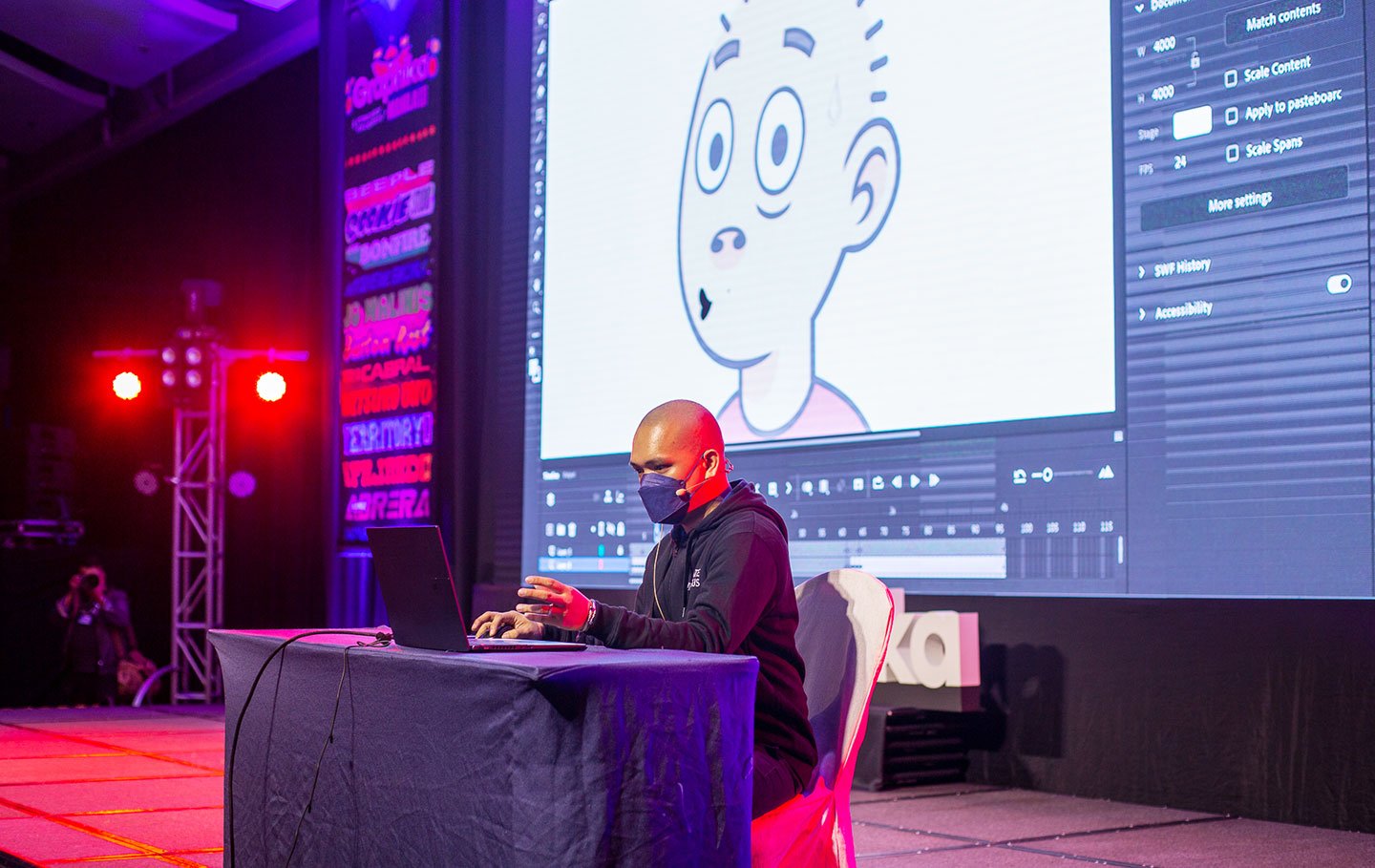 The centerpiece in this walkthrough of his creative journey, though, is his work as Tarantadong Kalbo. As he put it, what started as a slice-of-life comic about his personal life and funny misadventures quickly became informed by the sociopolitical context that he — along with every Filipino in the country — lives in. Soon, the relatability of Tarantadong Kalbo became rooted in the injustices that all Filipinos face because of its no-holds-barred approach in the satirical portrayal of the atrocities of the previous Duterte administration and the government's poor response to the pandemic.
Kevin's work blew up the most when it led to Tuminding. When Kevin first drew a raised fist — a spin on former President Duterte's signature pose — to indicate standing up for one's rights through voting in the elections, he didn't expect it to spark the iconic online movement that it became.
"It comes down to the honesty of the work. I cannot create something that I am not passionate about," he later expounded in a quick chat with adobo Magazine. "For example, [if] there's an issue that I really want to say something [about,] it will show through my art. Honesty in your work means that it will reflect what is happening in society."
With that being said, though, animation is still a huge part of Kevin's work as a creative. In fact, it's something that he's starting to merge with his internet-wide beloved Tarantadong Kalbo comics. After taking the Graphika crowd through his creative career and work, he presented an example of what fans could expect next: an animated Tarantadong Kalbo.
"Hopefully, matuloy siya because I wanted to create an animated series actually [of Tarantadong Kalbo.] A season-based animated series with [up to] 10 episodes per season," he shared.
When asked if they have a date in mind for the next animated Tarantadong Kalbo short, Kevin said, "Medyo mahirap sabihin yung exact na date because animation is very hard to do, especially when you're a one-man studio. You handle the voice, you handle the sound, everything. I actually voiced all three characters [in the animated short shown.] So, medyo mahirap to commit to a date but we'll try to put it out as soon as possible."
After presenting his work, Kevin gave everyone a behind-scenes-look into what goes into his creations. As the ASUS Artist Feature for Graphika 2023, he did a demo on how he uses his Vivobook Pro 16 OLED to create the iconic Tarantadong Kalbo comics. He walked through the process while giving insights into every technical and artistic decision he makes in creating them.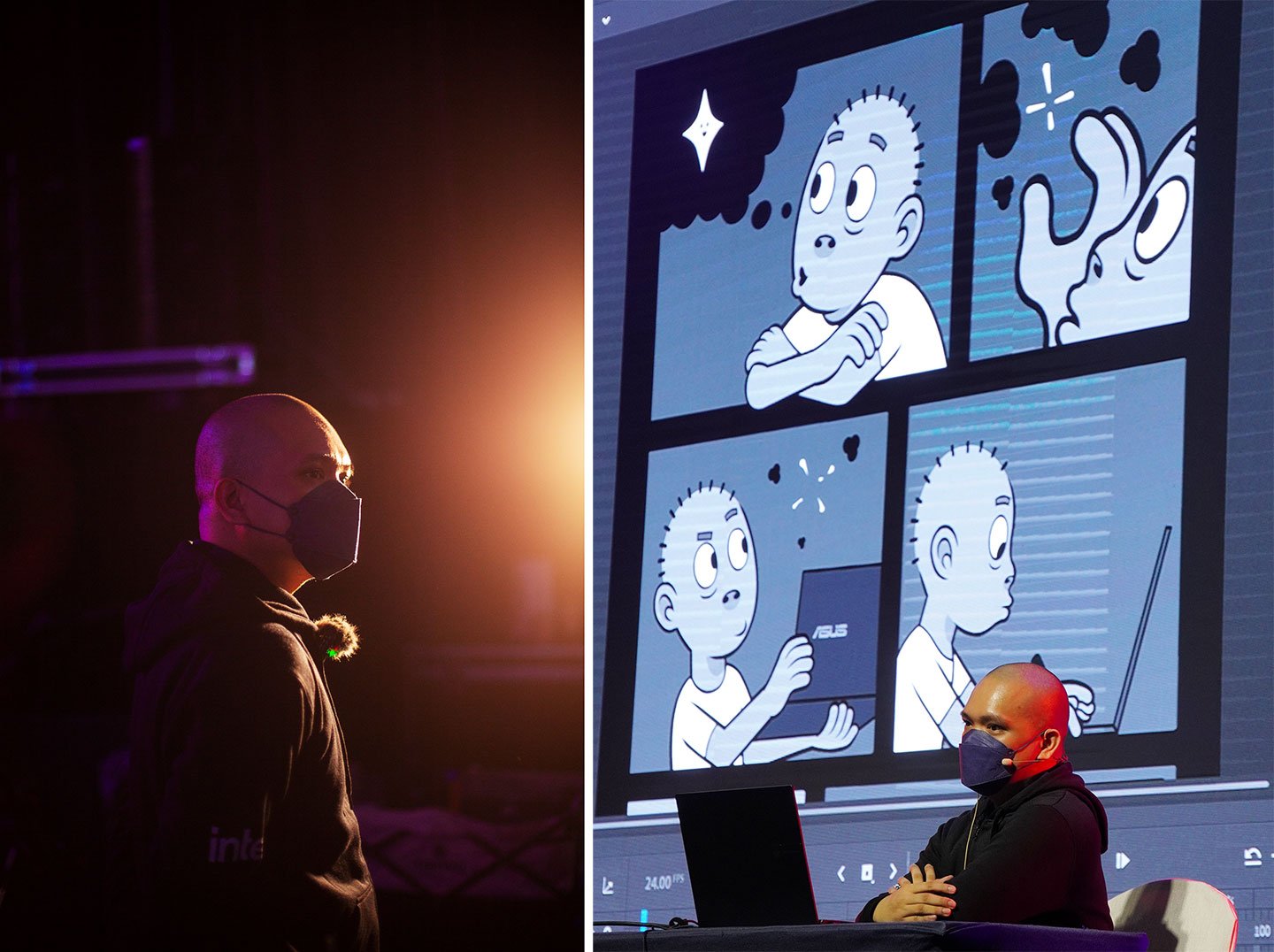 "This is actually a dream come true to have a talk in Graphika Manila kasi this is my crowd," Kevin told adobo after his presentation. "Advice ko lang siguro sa mga artist [is to] keep creating. If you suffer from burnout, rest for a bit, but I encourage to keep creating kasi doon ka lang makakapunta sa gusto mo mapuntahan."
adobo magazine is an official media partner of Grapika Manila 2023.