MANILA, PHILIPPINES– Over 80 creators and influencers invaded the digital space last October 23 to 24 for BaiCon InFest, the Philippines' first and biggest virtual gathering of online personalities. The event, which was aptly themed as "Space Invasion," was streamed via multiple digital platforms namely Facebook Live, TikTok Live, Kumu, and Zoom, making it a purely digital event that showcased 106 creators and audiences across the country were able to access it for free.
Organized by the Republiq Group of Companies (RGC) and the Creator and Influencer Council of the Philippines (CICP), BaiCon InFest seeks to send an important message to the netizens, especially in the midst of this global health pandemic.
"The world needs us to be physically distant from one another and the Digital Space or the internet is the only way for us to stay connected today. Since everyone is online, we need to promote the responsible use of social media now more than ever. Through the event, we want to tell everyone that every comment, every upload, every tweet can create an impact on someone. We all have the power of influence, so let's use that responsibly," shared Bea Alfar Evardone, creative lead of BaiCon InFest and COO of RGC.
The two-day event started with the TrueID Click, an online pitch party for aspiring creators and influencers that allows them to share their content ideas in exchange for a grant worth P100,000 to kickstart their content creation journey. It was then followed by the official launch which was hosted by Inka Magnaye, Gino Quillamor, and Bogart the Explorer. The launch showcased talent performances and creator appearances from Mikey Bustos, Wil Dasovich, Kimpoy Feliciano, Marvin Fojas, Macoy Dubs, Davao Conyo, Alem Garcia, Issa Perez, Luigi Pacheco, Kyo Quijano, Rozel Basilio, and more.
The second day started with an opening talk by Alodia Gosiengfiao, "Gaming is a Real Sport," and was followed by a talk on "The Future of Travel Content and the Creators' Role in Travel today" with Wil Dasovich and Haley Dasovich. The morning session ended with a panel discussion on "Why the Cancel Culture is Toxic AF and How to Rise Above It" with Macoy Dubs, Davao Conyo and Deedee Villegas.
The afternoon session was designed to have an entertaining and educational track. The entertainment sessions, which were hosted by creators Jen Barangan and Shaine Buhat, were streamed on Facebook, TikTok Live, and Kumu and featured fun content with Shine Kuk, Haidee and Hazel Quing, Christine Samson, Malaya Macaraeg, Echo Calingal, Kyo Quijano, Luigi Pacheco, Rozel Basilio, Enchong Dee, Alem Garcia, Issa Perez, Rigel Thomas, Steffi Jardin, Sarah del Mar, David Wilde X, Kimpoy Feliciano, Angie "Anghet" Cayetano, Ali King, Alec Kevin, Mikey Bustos, and JMKO Music.
The educational sessions, which were accessed via Zoom and Kumu, featured sessions on content creation and influencer marketing. The sessions were hosted and moderated by creators like Michelle Dy, Celle Lace, Johnn Mendoza, Chinkee Tan, Rei Germar, Carlo Ople, David Guison, KC Canlas, Erwan Heussaff, Mark del Rosario, Ruby Ibarra, Jhelo Cristobal, Jr Estudillo, Juliamica, Jessica Lee, Laurie Lee, Marvin Fojas, Raine Matienzo, Lyqa Maravilla, Dani Barretto-Panlilio, Xavi Panlilio, and Tara Merced-Bontol.
The two-day event capped off with the first CICP Spotlight Awards, an awards program that aims to recognize creators, influencers, brands, and agencies who have raised the standards in content creation and influencer marketing. Nominees were determined through a public nomination which garnered more than 12,000 counts across categories. Awards were given based on three categories – Category Champions, Platform Superstars, and Premium Awards. Below is the list of awardees for the first CICP Spotlight Awards:
Platform Superstars
● Twitter Superstar: Macoy Dubs
● Instagram Superstar: Rei Germar
● Tiktok Superstar: Niana Guerrero
● Facebook Superstar: SB19
● YouTube Superstar: Alex Gonzaga
Category Champions:
● Beauty and Make-up Champion: Michelle Dy
● Levi's Fashion Champion: Heart Evangelista
● Food Champion: Forkspoon Manila
● Lifestyle Champion: Solenn Heussaff
● Parenting and Family Champion: Kramer Family
● Travel Champion: Wil Dasovich
● Gaming Champion: Alodia Gosiengfiao
● Tech Champion: Liz Tech
● Entertainment Champion: Ranz Kyle and Niana Guerrero
● Education Champion: Lyqa MaravillaPremium Awardees:
● Rising Creator of the Year: Marvin Fojas
● Innovator of the Year: Oliver Austria
● Creator of the Year: Mimiyuuuh
● Franco Santos Lifetime Achievement Award: Lloyd Cadena
● Heroic Creator of the Year: Angel Locsin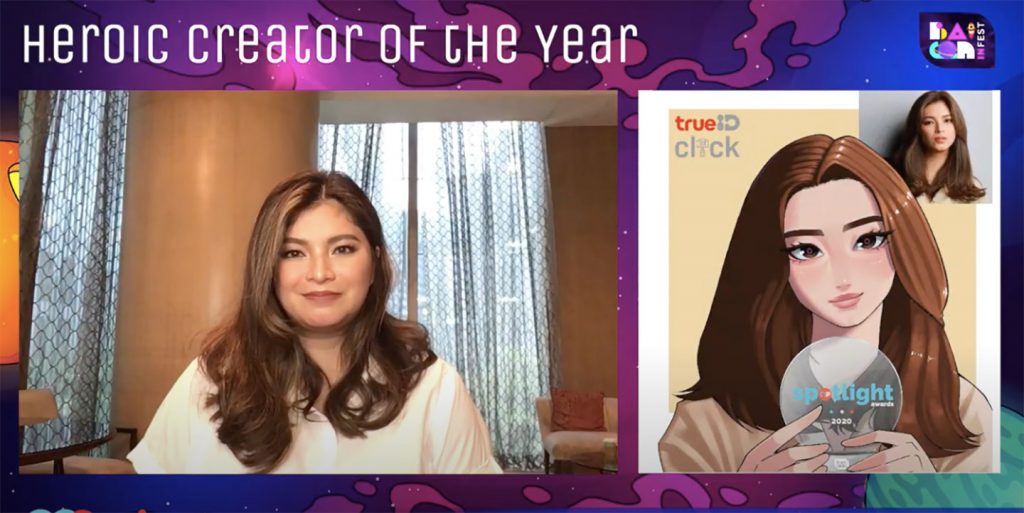 Aside from advocating for the responsible use of social media, BaiCon InFest also encouraged its audiences to contribute to the event's cause, #CreatorsUnitedPH, a fundraising effort for the country's new breed of digital influencers, teachers who are holding classes online. BaiCon InFest has partnered with the Philippine Public School Teachers Association to provide them with Digital Teaching Kits consisting of a pocket Wi-Fi, ring light, flash drive, headphones, and microphones.
BaiCon InFest is an event by CICP and RGC and is powered by Smart. The event is sponsored by TrueID Philippines, Lazada Ambassador, Cebu Pacific, The BaR Fruity Mix, Kumu, TikTok Live, Levi's, Prifoods, adobo Magazine, and Foodpanda, in partnership with Dentsu Aegis Network, Blogapalooza, Spark It Marketing, Paperbug TV, Greenbulb Communications, Red Torch Communications, Digiworx, Cutprint Productions, Bigseed PR and Events, BAI TV, BAI Social, and Ark Digital.
adobo magazine is official media partner of BaiCon InFest 2020