MANILA, PHILIPPINES — The buzz has never been louder as this year's Art Fair Philippines brought about new surprises and challenges for the organizers, with a few galleries breaking away from the regular line up of booths of The Link. The recently concluded fair is a breath of fresh air — introducing new formats in their booths such as Film, Incubators and Workshops, proving further that there is still much to unravel in the local contemporary art world.
"The Art Fair has had a 30,000 audience count in the last two years. Out of the 30,000, twenty-six thousand actually don't buy art. They come and learn about it which (means they are) very interested in it. So we also try to do programming that would address the interest of those non-buyers," shares Dindin Araneta, one of the co–founders of Art Fair Philippines.
A remarkable highlight was the expansion of interest outside the local art periphery, with a focus down south – and no, we don't mean Alabang or Las Piñas, or even Batangas, but further down south, to the islands of Visayas. 
For those who were born yesterday, the Visayas is more than just provinces people go home to every summer and Christmas vacation. Yes, the towns and cities have malls. And yes, Tagalog is not the spoken language. But beyond the obvious, the Visayan islands possess a rich history, colorful cultures unbeknownst to most, heritage, and identity – each different and incomparable to one another.
"You know, it really wasn't a conscious choice eh. I guess the idea really was, who's doing interesting work in whatever region they're based. For this year, those were the artists that we talked about, that we discussed, deliberated on, and that's what came about," shared Araneta when asked about the rise of regional representation in the fair.
Make no mistake, art practice in the Visayas is not at its infancy: it was home to artists such as Alfonso Ossorio and National Artist for Architecture Leandro Locsin. However, there is still much left to the imagination as there is a scarcity of accessible and documented information on the regions.
It can be argued that the progress and showcase of art in the regions are limited due to the lack of resources and white cubes; however, that has not really deterred its residents from practicing. After all, when there is a lack of opportunities, the alternative choice is to seek it elsewhere or to create opportunities; both allowing a better understanding and appreciation not just for the individual, but for the local community as well.
2020 marks the 30th anniversary of the Visayas Islands Visual Artists' Exhibition Conference, known to most as VIVA ExCon. As one of the largest and longest-running art festivals in the country, the biennale is coming back to where it all started – Bacolod. Founded in 1990 by the Black Artists of Asia, VIVA aimed to be a gathering and celebration of the Visayas art scene, which was quite hard to tap considering the cities were either divided by the seas or by the mountains. Almost 30 years later, various makers and artists from the islands have gained recognition for the work they do, be it local or international. 
If anything, Art Fair is a preview of what we hope to expect in this coming VIVA ExCon, and the following biennales thereafter.
Western Visayas, particularly Bacolod, is home to a tight-knit art community and a few spaces for both young and emerging artists. The scene itself is thriving with local flavor and a unique visual language, with its inhabitants ready to host visitors curious about their artists and practices. They say there's no one quite as accommodating as the Negrenses, with guests eventually coming back for more collaborations and exhibitions — or really maybe the continuous flow of alcohol and parties.
But beyond the partying, Bacolod's not so well-kept secret lies in the artists themselves who have created an environment of creating as if it was already engraved into their lives before they were even born. Naturally, among these lists of artists, Perry Argel comes to mind.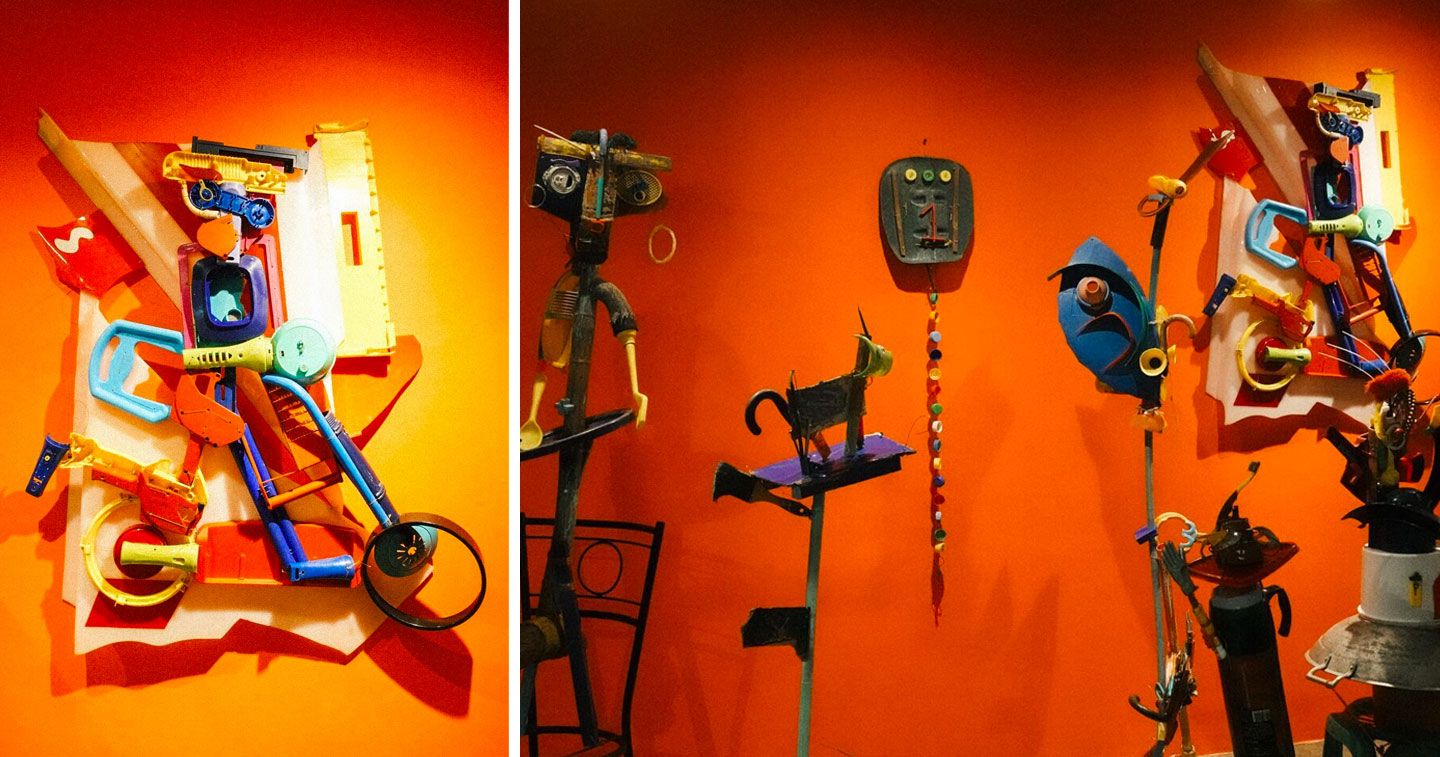 Elusive and ever-mysterious are the works of Argel. A lot of individuals have not heard of his name until it recently showed up in the line up for ArtfairPH/Projects, curated by Norman Crisologo. It only makes sense, as Argel's relative obscurity comes from the fact that he hasn't really exhibited that much throughout the years. However, those who know or met him before this have nothing but good things to say of him and his creations.
Argel gathers objects he chances on, mostly found in his different travels around the country. Sometimes he's in Negros, then in Iloilo, perhaps Palawan, or Manila – wherever it is, his ritual of picking objects he finds can be compared to that of a collector in search of his next piece. By simply focusing on this ritual he has imposed on himself, his hands and imagination do the rest, breathing new life into objects we would otherwise think of as trash or clutter.
What was shown in Art Fair is but a preview of Argel's dynamic body of work. If one is lucky enough, an afternoon in Argel's home back in Bacolod City is a testament to his never-ending creating process.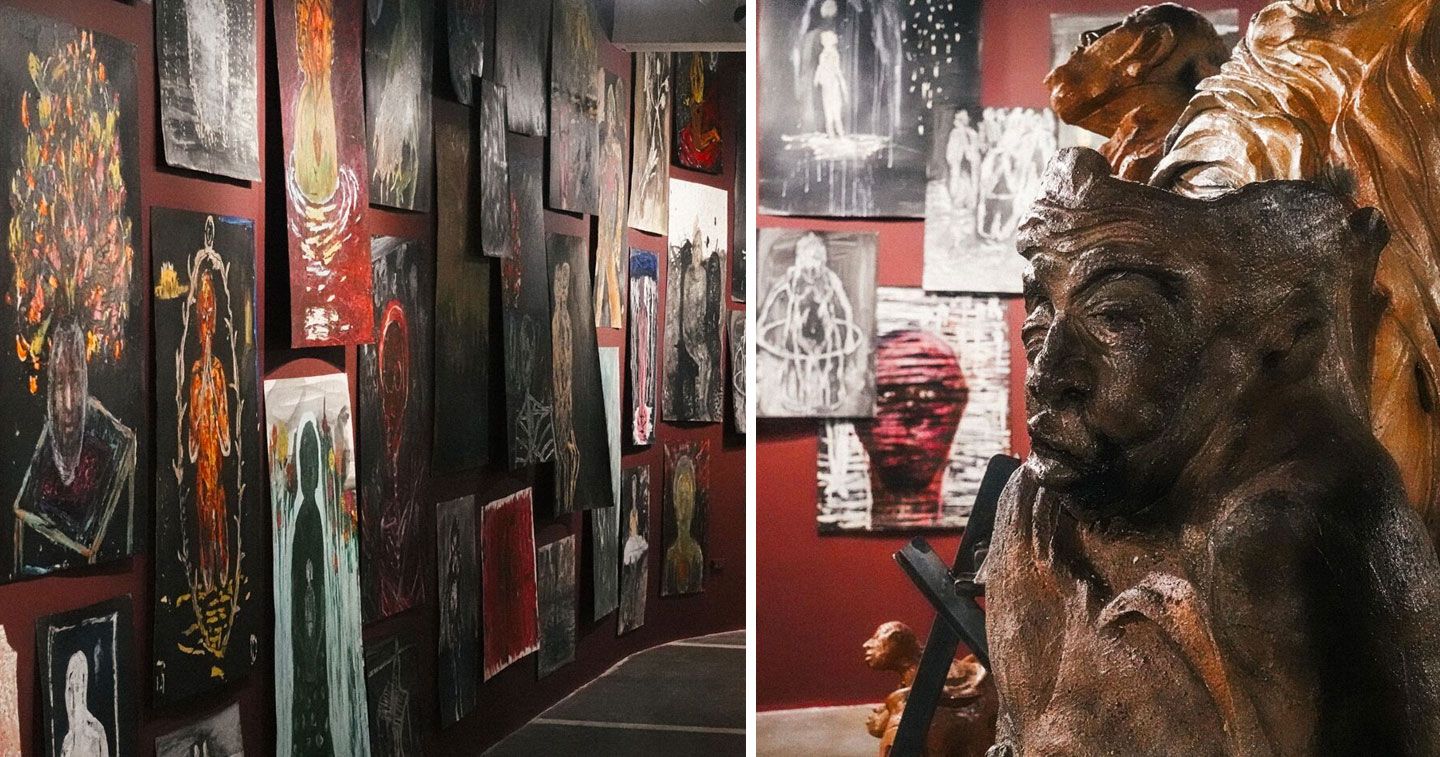 Apart from Argel, terracotta artist Joe Geraldo and Neil Pasilan were also two of the featured artists in ArtFairPH Projects. Both are also from Negros Occidental.
Aside from artists, Bacolod has one of the biggest spaces in the Philippines, one that beats the size of most galleries in Manila. It's hard to miss the huge building right smack in the middle of Art District, Bacolod. Orange Project (founded by visual artist Charlie Co and Victor Benjamin Lopue III) caters to the Negrense artists, with the aim of creating awareness and opportunities between the local scene and galleries, fellow artists, curators and collaborators.
As a regular in Art Fair, Orange Project's exhibition 'Istorya ConTEXT: Amon Ni' veers away from the usual thematics of the space's former booth concepts — heavily-themed social realism with a stark contrast of colors. This year, Orange has decided to focus on an all-female ensemble, showcasing practices with a wide range of mediums. A highlight of the booth were Karina Broce's 'Kabalaslan Series (Debt of Gratitude Series)', and most especially Angela Silva's cyanotype print collages 'No Cedula – Exempt On Account of Her Sex' and 'Best Available Image: The Jeanjaquet Sisters of San Carlos'.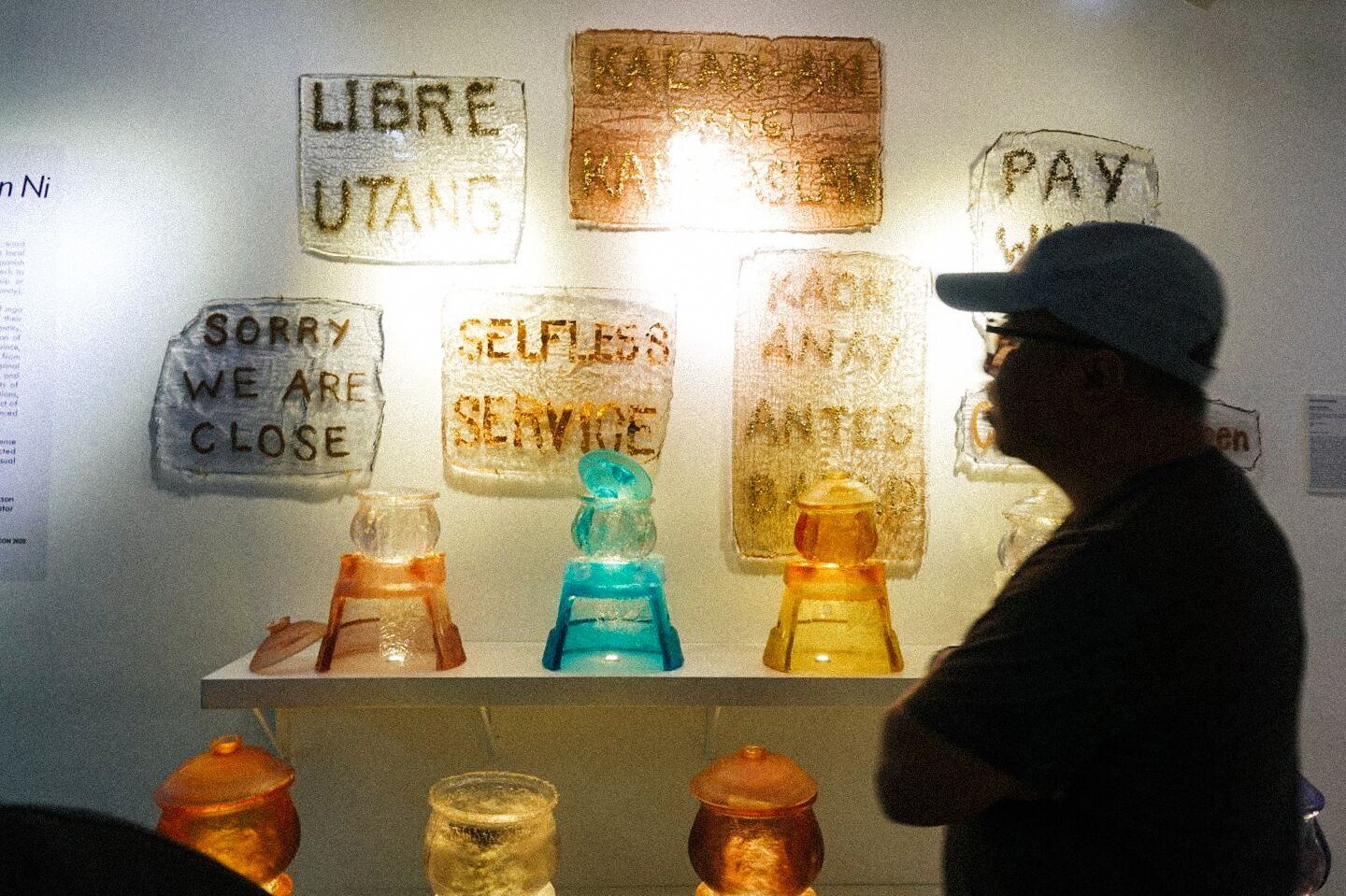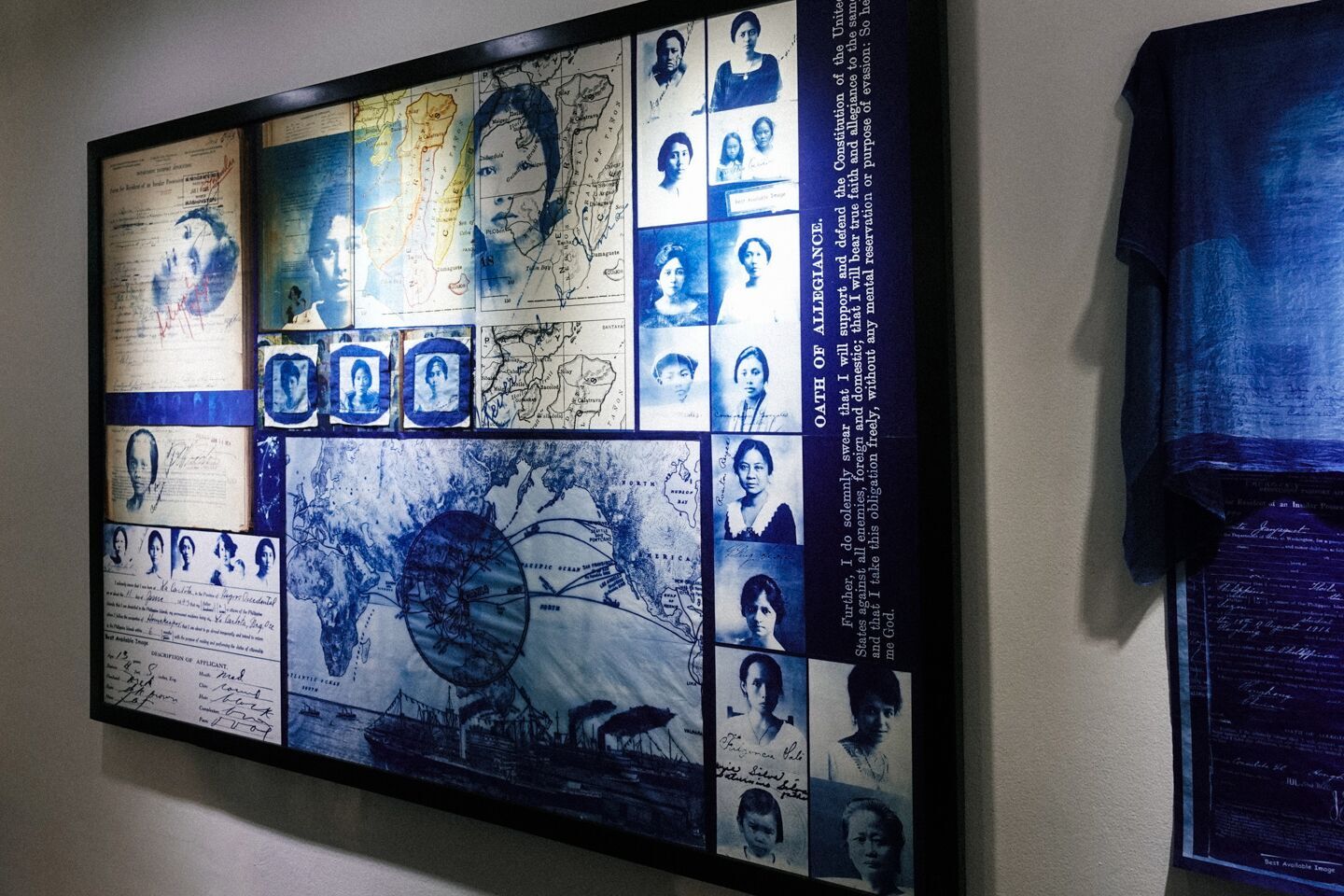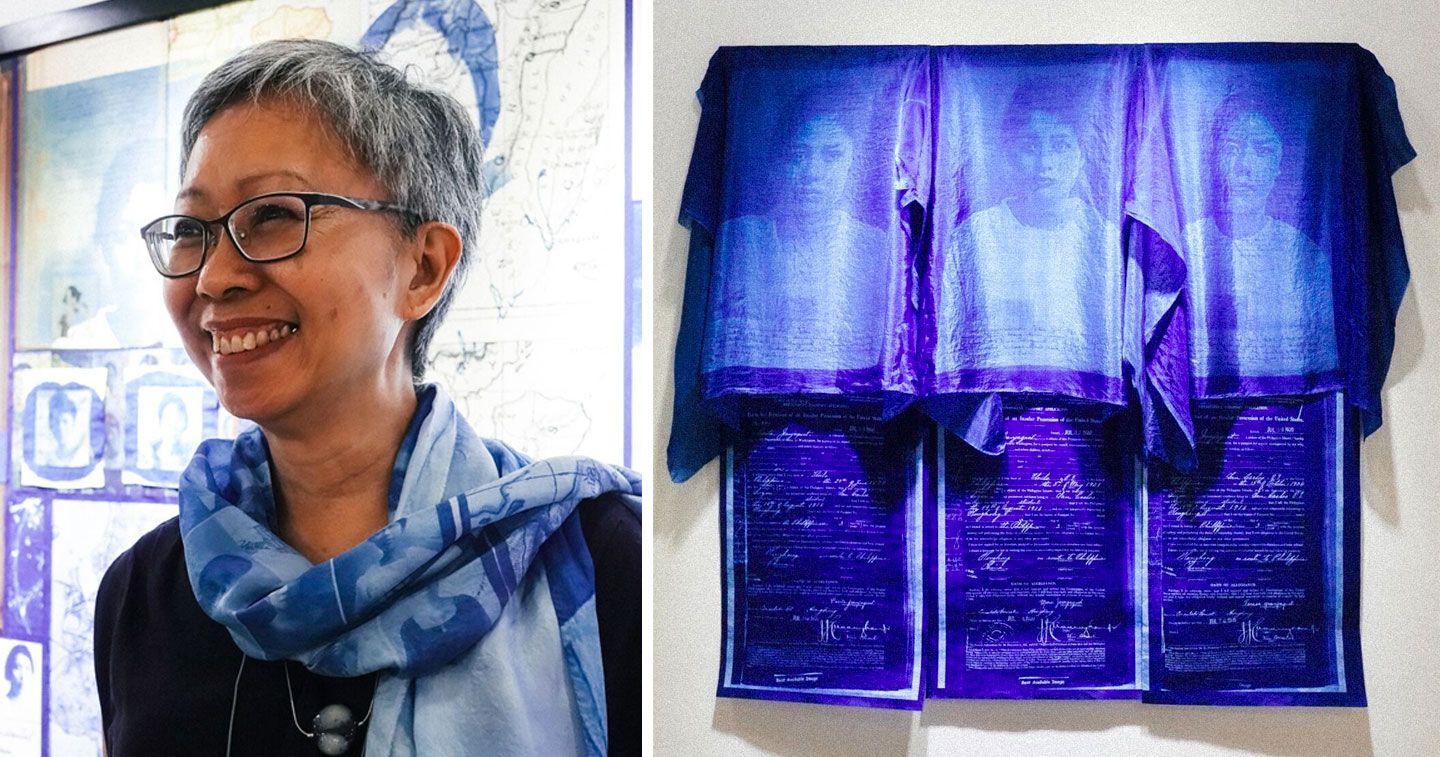 "I had to smuggle the material", Silva chuckles as she explains the process of her cyanotype prints. Cyanotypes, a form of alternative photography and more commonly known as architectural and engineering blueprints, produce a characteristic monochromatic blue image. The process predates the film camera, which was exactly what Silva wanted as she hoped the pieces to be timeless. To complement the age-old process, Silva gathers old passports and memorabilia from 1915 to 1924 and forms a collage, weaving together a narrative of the Negrense women immigrants.
Orange Projects used to be the only local space outside of Metro Manila included in Art Fair. This year, the fair has two exciting additions to the roster: Cebu-based Tropical Futures Institute,  an in-large hybrid project by Chris Fuusner; and Mariyah Gallery, founded by Dumaguete artist Cristina 'Kitty' Taniguchi.
Tropical Futures Institute works in tangent with Cebu-based gallery 856G and produces everything from exhibitions, residencies, zinefests, loud parties, workshops, and talks — blending multiple disciplines and communities as an integral aspect of the programming. For their first-ever Art Fair, Tropical Futures Institute decided to feature multi-disciplinary artist Kristoffer Ardeña. 
Ardeña looks nothing like your typical local from Bacolod, but he's actually been based in the Negros Islands for almost 8 years since his return from Spain. Born in Dumaguete, Ardeña's trajectory in art is quite impressive, leaving no medium untapped from his practice. After leaving his hometown to pursue studies and a career overseas, Ardeña has created a portfolio quite hard to believe, having exhibited around the world and participated in various shows such as 3rd Guangzhou Triennale (China), Konstholl C in Stockholm (Sweden), Caixa Forum in Barcelona and La Casa Encendida in Madrid, MUSAC in León (Spain), Casino Forum d'Art Contemporain (Luxembourg), to name a few.
"We've been working together for about two years now and we have a lot of similar interest about the tropics and I think that was the big connector for us — this interest about the tropics." shares Fuusner, on his working relationship with Ardeña. The duo first worked and collaborated together with a solo show at 856G Gallery, followed by a stint at Art Dubai in 2018. For Art Fair, Ardeña went back to the basics and attacked painting with a new perspective.
"Our main focus is painting, so basically we wanted to put out and kind of challenge the idea of what painting could be but taking into account the narrative of our culture, not necessarily thematically but exploring it from the idea of tropicality," shares Ardeña.
Ardeña's paintings mimic the look of the basahan, a common household mat seen at the entrance/doorstep of the house, alternatively used to wipe the floor. His paintings are labor-intensive, created with layers upon layers of paint distressed on top of tarpaulin. In this series, Ardeña pushes the boundaries of what we perceive paintings to be; at the same time, he creates a playful twist on the domestic narrative of objects we wouldn't normally consider as art.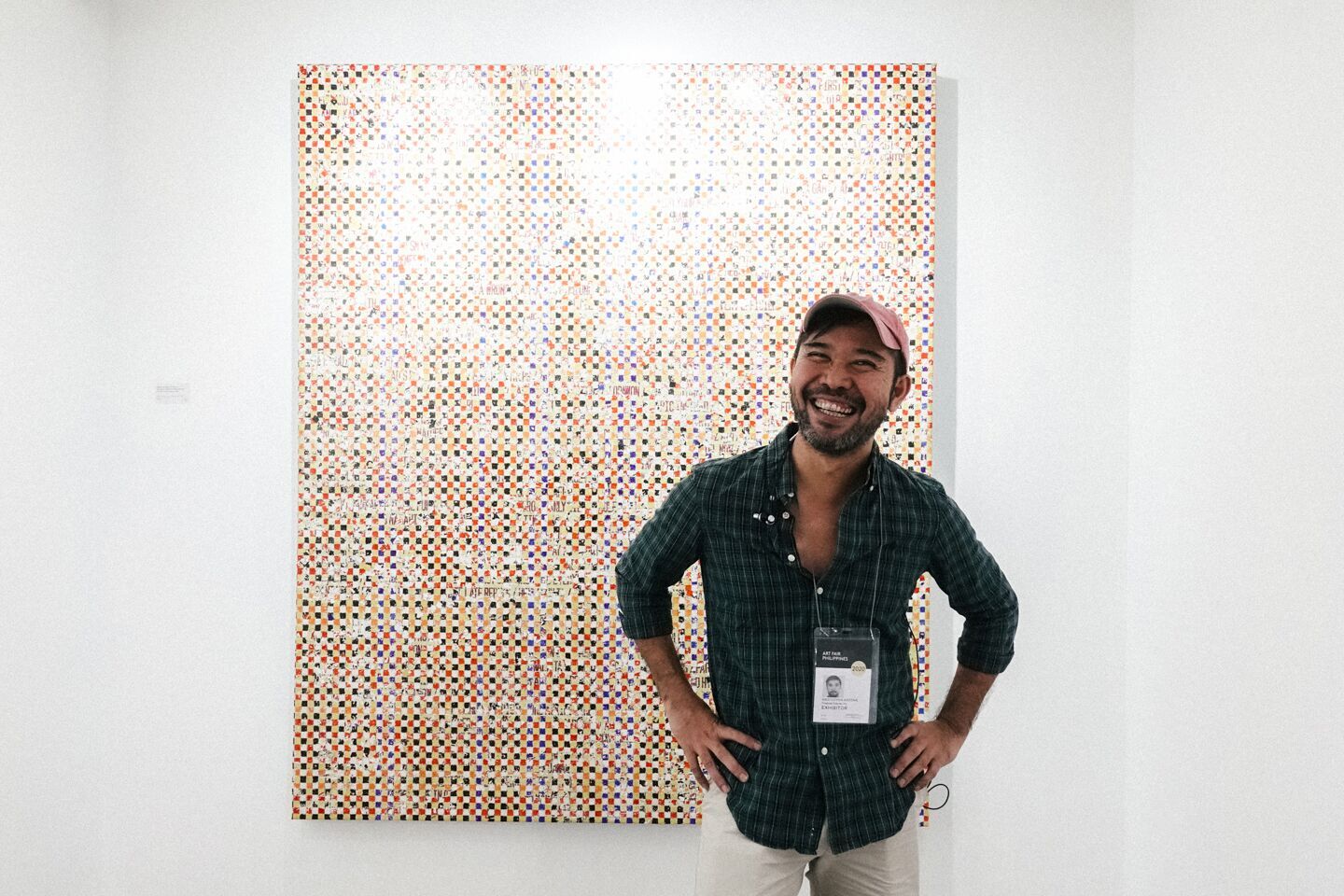 Back in the '80s, Cristina 'Kitty' Taniguchi's name was first heard of in the contemporary art scene. It wasn't easy then as Dumaguete had no art spaces, and thus little opportunity to operate and break out into the art scene. She kept reading and self-teaching, eventually hoping to exhibit elsewhere. Eventually, she opened up her own space Mariyah Gallery in 1992. It first started out as a restaurant but Taniguchi eventually realized she had wanted to focus on Fine Arts, opening up opportunities that she didn't have before. It was the only space for artists conceived back then.
Fast forward to today, Taniguchi has made a name for herself as one of the premier female artists of the Visayas region. She has participated in the Beijing International Art Biennale (2006, 2008 & 2010), and the 5th Luxor International Painting Symposium (Egypt) among many other reputable exhibitions and art festivals. 
Mariyah Gallery was one of the galleries in the lineup for Art Fair that garnered some attention, displaying the latest of Taniguchi's works.
"Before, it was a struggle. You struggle where to find your art materials, you struggle to find good art books to read, you struggle to really understand because well, I was not schooled, so I struggled in almost everything," Taniguchi shares. These days, Dumaguete's local art scene has been growing steadily, with the help of the universities offering art courses to students eager to pursue the path of art-making.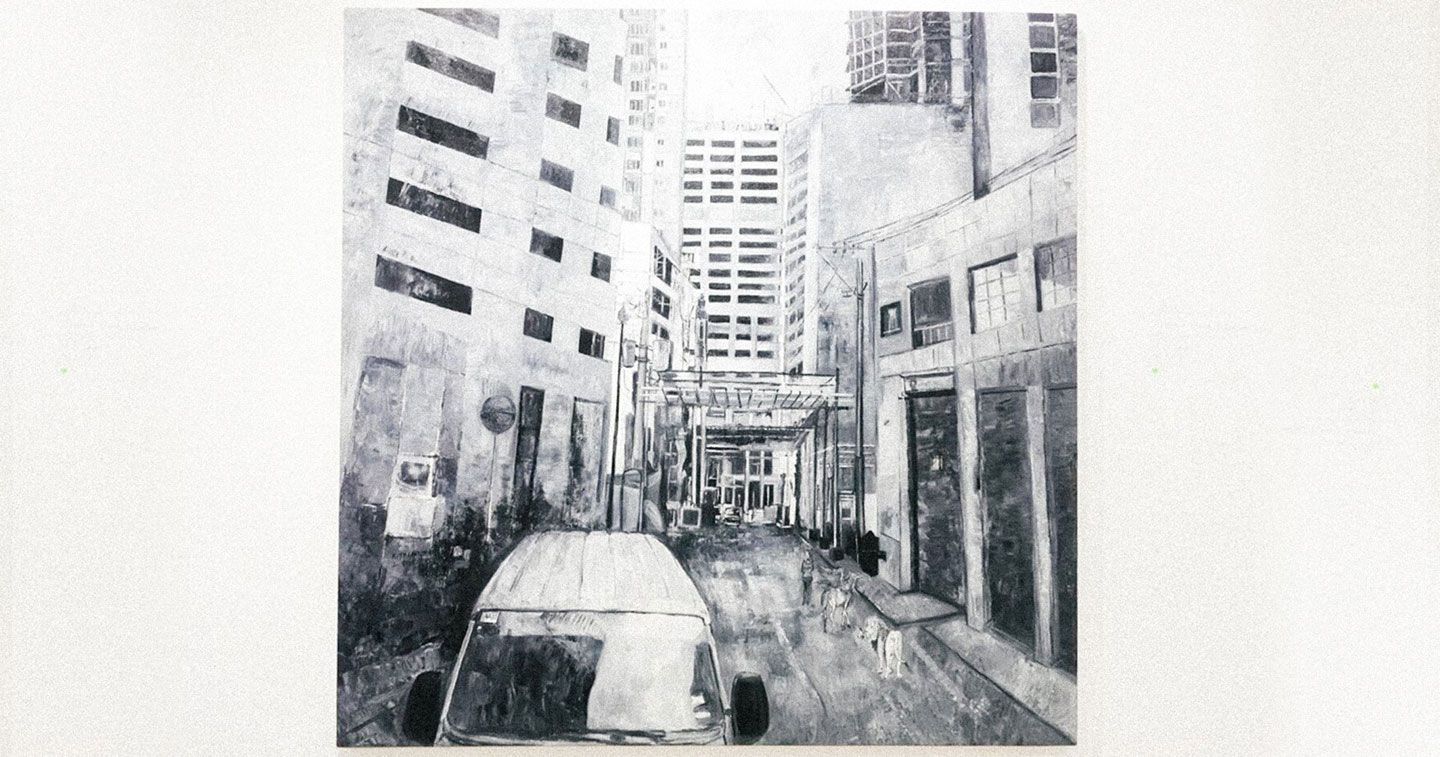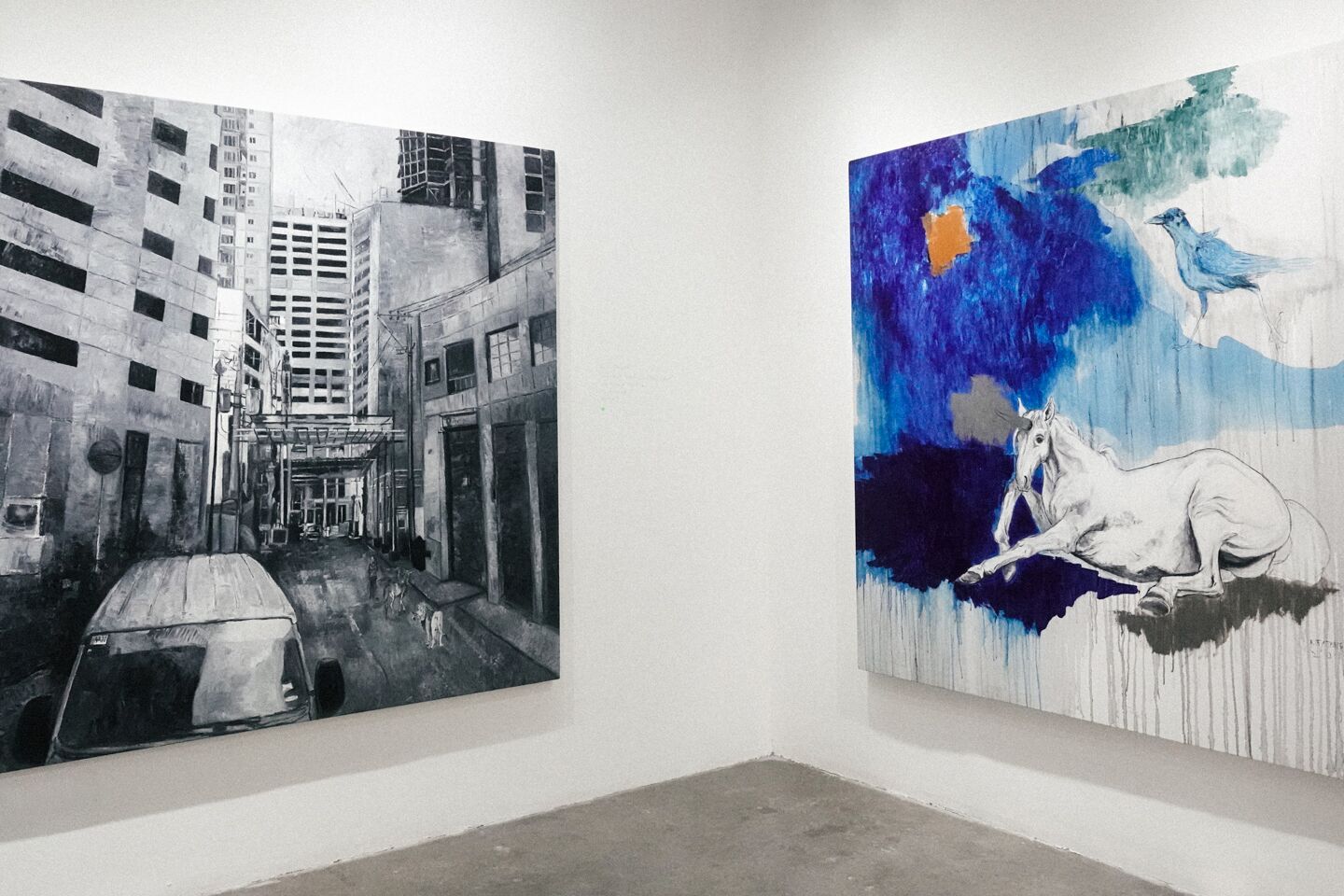 Both Ardeña and Taniguchi have been primarily recognized and acclaimed internationally, although both their current practices lie in Bacolod and Dumaguete respectively.
It was an unexpected move for the organizers of the fair to include incubators and alternative spaces. Many had their doubts about it, while others were excited about how this project would invite new energy to the fair. The addition added diversity and welcomed a discourse on the alternative practices and artists not too well-known to fairgoers.
When asked about it, Araneta says, "The idea is to try to present something new every year in the program and this year, we've always had the mainstream galleries, so we decided to try to focus on collectives or groups that come together to do art projects and that's how the idea of the incubator spaces came along."
One of the interesting incubator projects was art.n23, an agency for Philippine contemporary artists, which has their practice based in between Dumaguete and Brussels. art.n23 had two booths: one in the Photos section, and one in the Incubators section, showcasing the much talked about DOON VR project, created by Issay Rodriguez.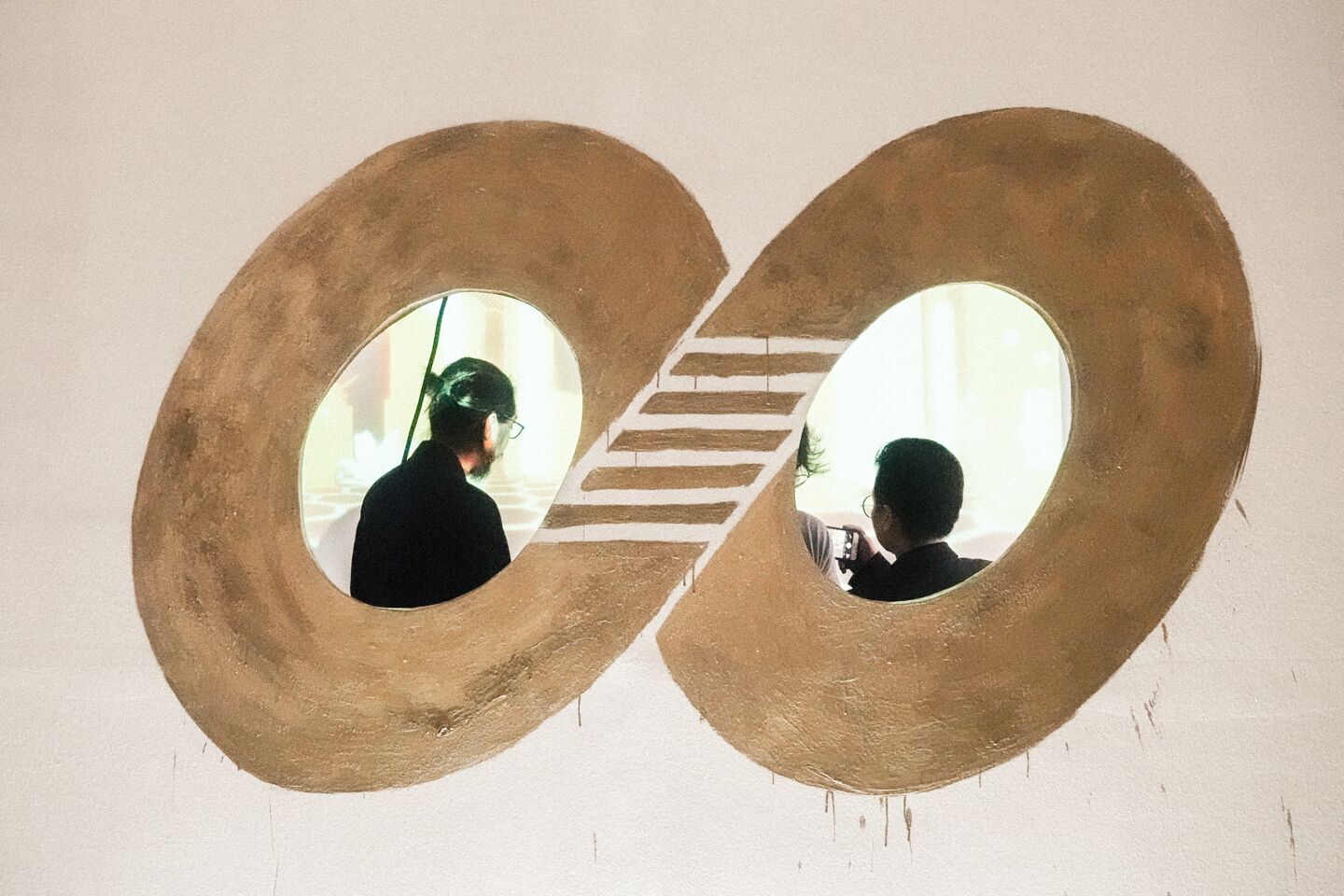 "art.n23 stands for 23rd Tropic of cancer, 23 degrees above the equator, which covers not only the Philippines but all other countries within that (area), the tropical countries," shares co-founder of art.n23 and former MET Manila Museum Director Sandra Palomar-Quan on the meaning behind the name. She together with Cristina Herfort came up with the entity due to the fact that they had to have one to be able to join Art Fair.
art.n23's format is also quite curious and progressive. Insisting that they aren't a collective but an agency aiming to push the boundaries of what a space and management is, art.n23 tackles relevant issues on the current practice of art management and where it could be years from now by a creating a non-physical space (they are mainly a space that functions online) that is more sustainable and accessible for the global landscape.
"I never imagined creating art.n23 all by myself. The only humble approach I thought(was) to bring a photographer, Jean Henri Oracion, to the Art Fair on the subject matter of these trees that are cut down when we have road widening projects and it's happening all over Negros at the moment," says Palomar, on conceptualizing their booth exhibition.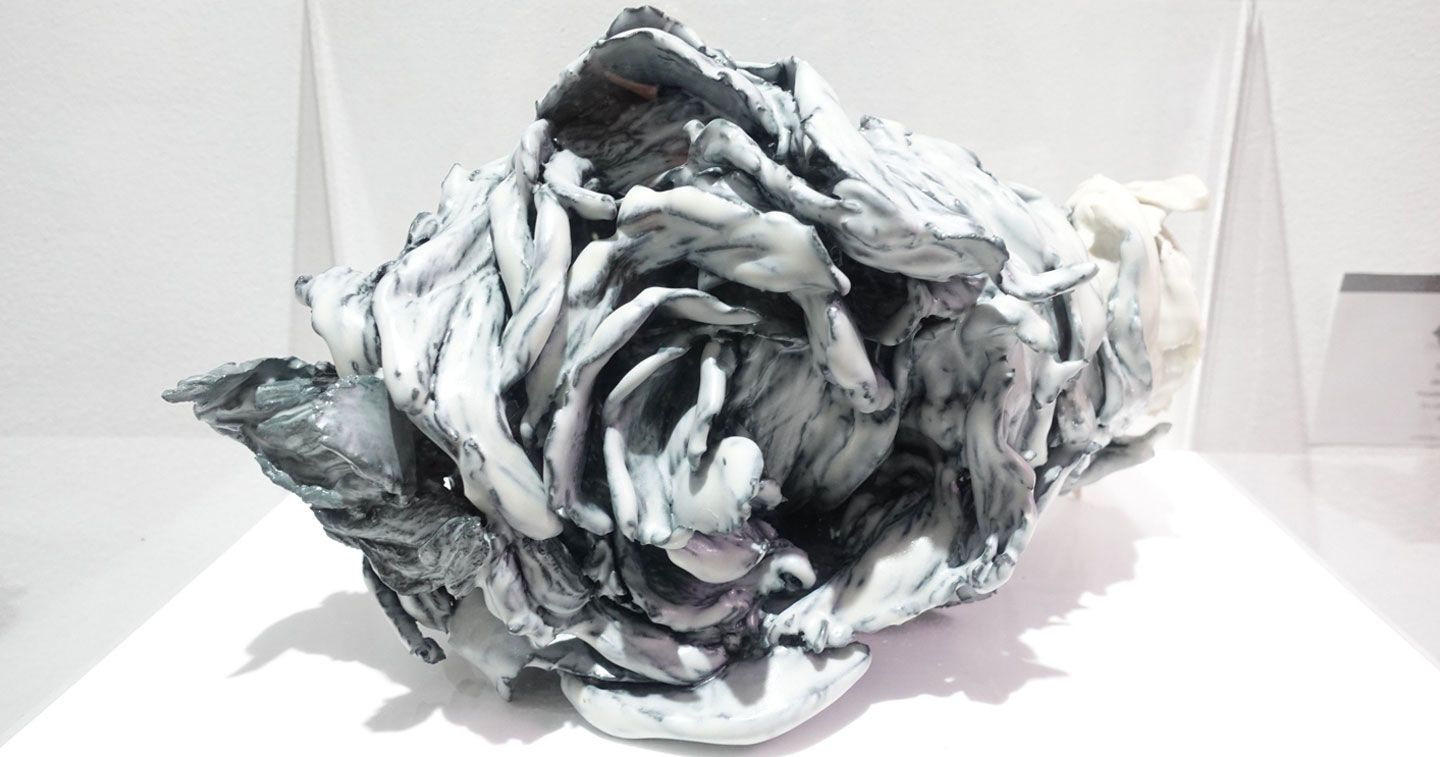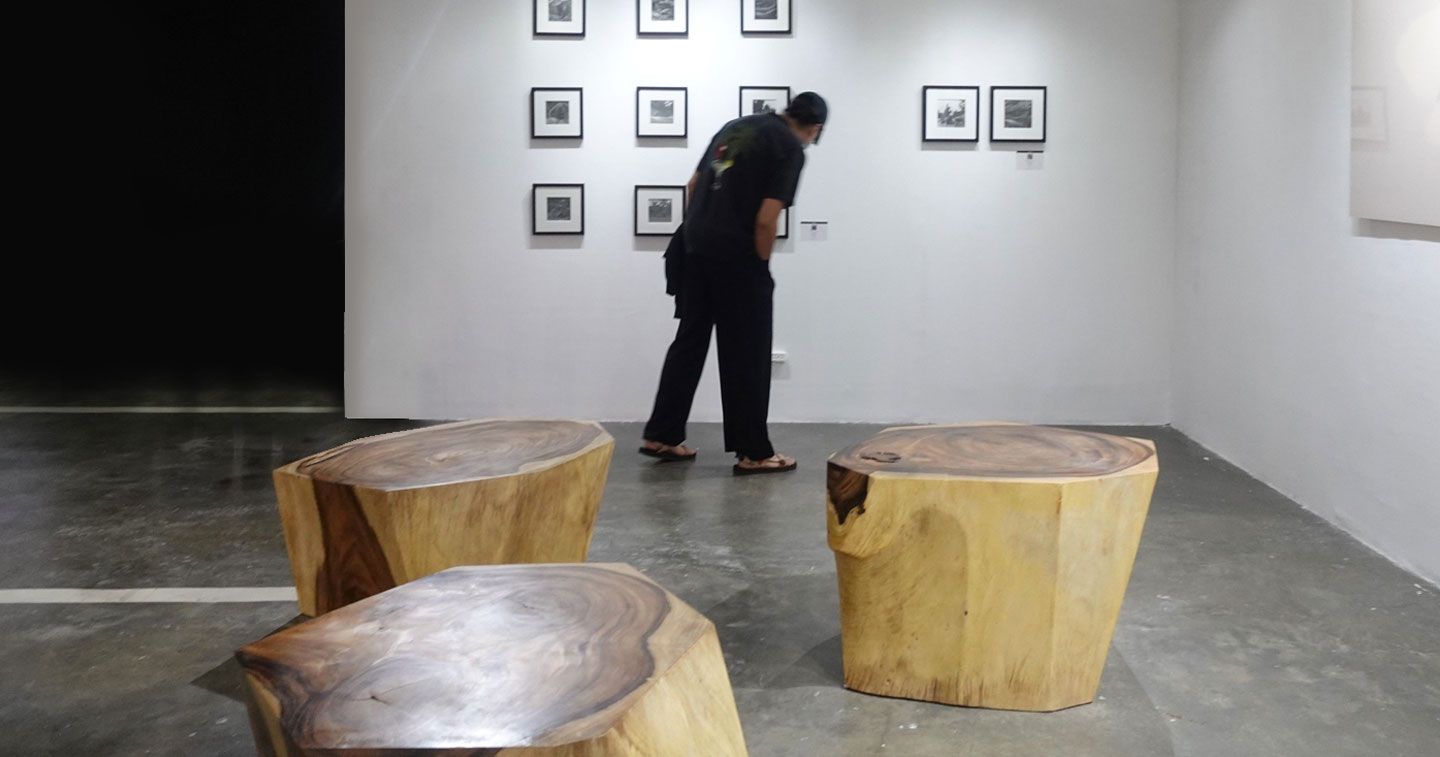 The project eventually kept growing as Palomar invited photographer Jake Versoza, Joseph Gabriel, and Karl Aguila to be part of the exhibition. Aguila, who is based in Siation, a few kilometers away from Dumaguete, approaches furniture in an ethical approach to working with the trees he uses. His work in the Photos section are stools made out of the trunks of trees — the very subject itself, connecting the various works together in the exhibition. The pieces, cut into a hexagon shapes, somehow mimics the image of a beehive, intertwining Aguila's work to Rodriguez's DOON VR, which has bees as the main subject of the virtual reality project she created. Interestingly, all the pieces in both booths perfectly compliment each other without having any of the artists discuss their works and the theme beforehand.
"I was thinking if we could show all the different medium: lab developed, film photos, digital images printed on acrylic, another medium which is diasec, we can also represent photography in its interaction with film and technology. I mean, basically, VR is somehow the child of photography."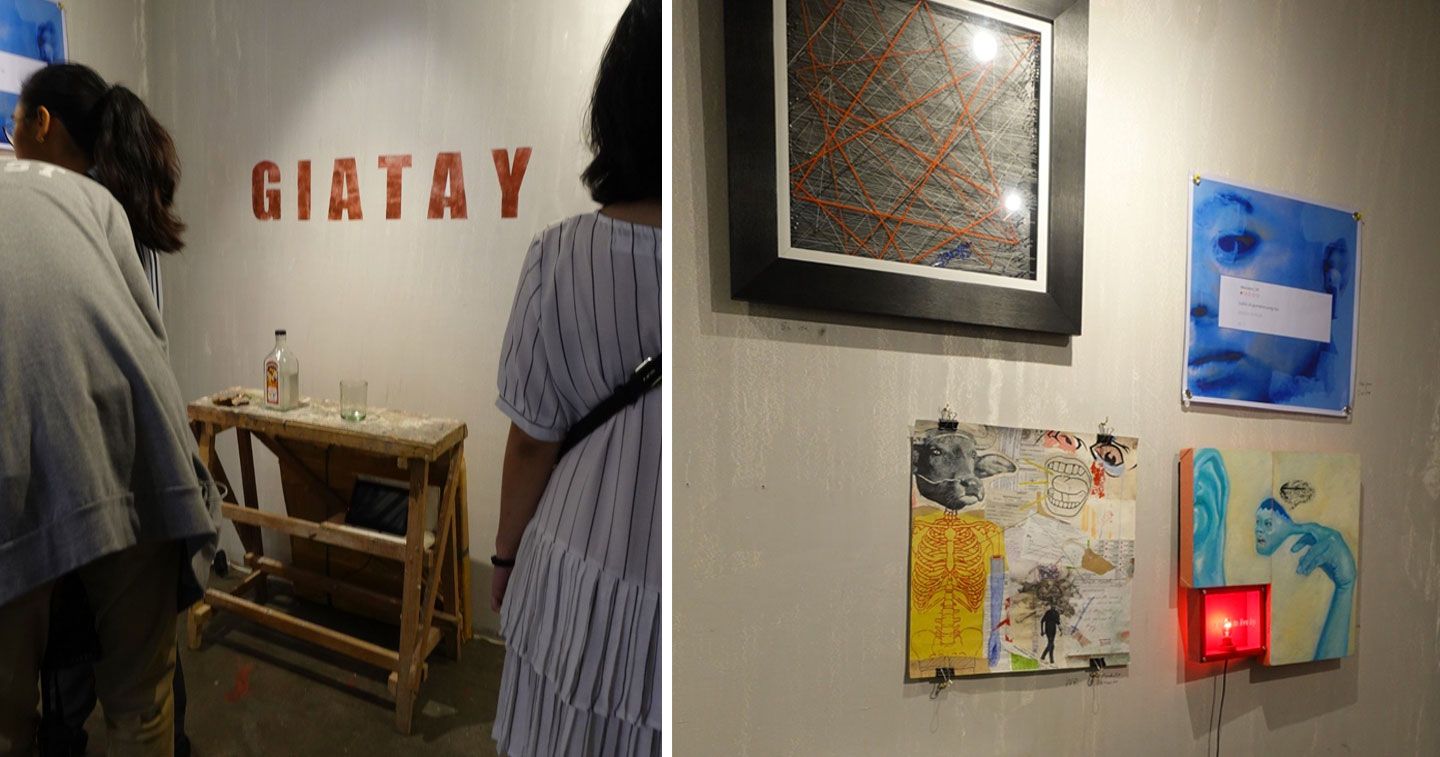 The Cebuano art scene screams punk rock with a child-like curiosity that can't quite be tamed, and that's exactly how the incubator booth of GIATAY feels like.  'Giatay' is a Cebuano curse word that cannot be translated in Filipino or English. It doesn't really mean anything, but rather, a word vomited when one feels a range of emotions — from excitement to anger to frustration. 
"We want the name to be distinct and associated instantly to artists who are coming from Bisaya-speaking region, specifically Cebu. The first idea was to curate a group of works with Duterte's face as the primary subject. The artists will have to paint Duterte depending on their political stands. But eventually abandoned this idea and later on ventured into the more personal, in-depth works of each artist involved in the project," shares Kaloy Olivades.
Curated by Jun Sabayton, Jan Sunday and Kaloy Olivades, the booth features 20 different underground and underrepresented artists from the Visayas and Mindanao.
"We picked the artists to represent various contemporary art styles but have strong distinct identities and especially those that embody the curatorial concept," says Jan Sunday, one of the curators and a fellow Cebuano artist currently based in Manila. And true enough, the booth holds some fascinating and distinctive pieces made by Soika, Kolown, Mark Copino, to name a few.
With a fortunate stroke of serendipity, it was a nice change to see all these newfound interests and discourse in Art Fair. While these turn of events are spearheading the curiosity for the Visayas art scene, one can hope for opportunities leading to more ethnographic research, collaboration and discussion on the rich and vibrant art history and culture that the region can offer.
"I don't believe in the idea of 'hey, I'm a Visayan artist'… I think you're an artist, period. And depending on your location, where you live, obviously, naturally you absorb or you work with what you have and collaborate in that place," shares Ardeña.
"The idea of coming from the Visayas is more of an awareness of place, but not like in terms of an identifier. I think it's very limiting. Yes, we acknowledge the fact that we live there, our roots are there but it should never limit us in terms of what we do."
Regardless of geographical identities, the community itself can stand on its own, and its artists have a maturity in their practice that most individuals don't realize. Recognition in the Metro is much appreciated and locality plays great importance behind the works created, but Visayan representation need not be tokenized as if something exotic and brand new. At the end of the day, good work is good work, and art goes beyond regionality.