SOUTHEAST ASIA – The online demand for talent in the Advertising and Marketing industry continues to grow in Singapore and the Philippines, as the countries both report double-digit annual increases of 29% and 23% respectively for the month of June. This is according to the latest Monster Employment Index (MEI).
The MEI, by Monster.com, is a monthly gauge of online hiring activity across Singapore, Malaysia and the Philippines. It comprises data of overall hiring activity in each country, as well as specific data in the Marketing & Advertising sector.
Despite the uptick in Singapore and the Philippines, Malaysia is lagging behind in terms of demand within the marketing sector, recording a decline of 8% in June.
The Philippines registers continuous positive growth in demand for the industry across the last three months, increasing from 9% in April to 23% in June.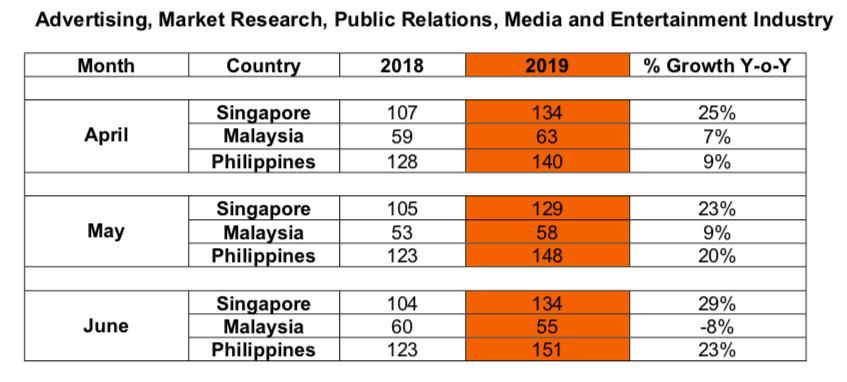 For marketing & communications talent, the Philippines takes the lead with a strong double-digit surge in availability, recording 24% annual growth for June.
Singapore remains to have a slight growth with 16% annual growth during June. This has increased slightly by 2% from the previous month.
Malaysia however has decreased in the availability of marketing roles, reporting a decline by – 3% annual growth.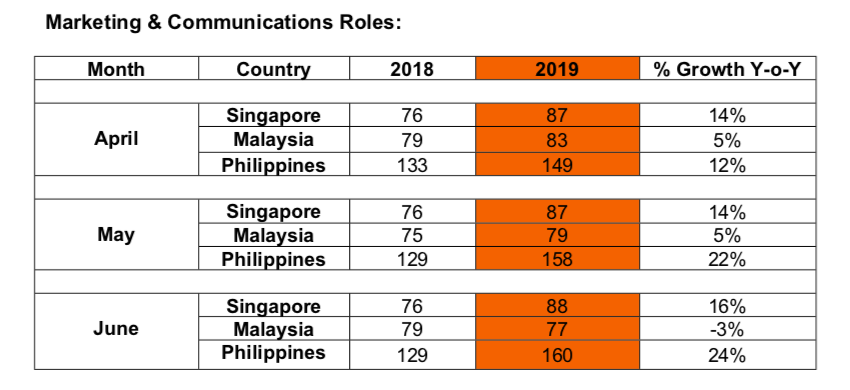 "The advertising and marketing sector in the Philippines has been slowly catching up to its regional peers in terms of digital maturity. Naturally, this means employers are ramping up efforts to attract skilled digital candidates – particularly in the areas of digital project management, data and analytics, brand strategy and more sophisticated competencies around omnichannel marketing. In Singapore, this shift has already started to happen and the journey is ongoing, but for Malaysia there are still gaps in infrastructure and dedicated budgets towards growing more sophisticated marketing teams, meaning the demand for talent is lagging a little bit behind," a company spokesperson said.
The Monster Employment Index is a monthly look at online job posting activity based on a real- time review of millions of employer job opportunities culled from a large representative selection of career websites and online job listings across Singapore. Malaysia and the Philippines. The Index does not reflect the trend of any one advertiser or source, but is an aggregate measure of the change in job listings across the industry.
About the Monster Employment Index 
Launched in May 2014 with data collected since January 2011, the Monster Employment Index is a broad and comprehensive monthly analysis of online job posting activity in Singapore conducted by Monster Singapore. Based on a real-time review of millions of employer job opportunities culled from a large, representative selection of online career outlets, including Monster Singapore, the Monster Employment Index presents a snapshot of employer online recruitment activity nationwide. Monster has taken due care in compiling and processing the data available from various sources for Monster Employment Index, but does not guarantee the accuracy, adequacy or completeness of any information and is not responsible for any errors or omissions or action / decision taken or for the results obtained from the use of such information.
About Monster APAC & Gulf
Monster has been a leading online career and recruitment resource for more than 20 years. With its cutting-edge technology, it provides relevant profiles to employers and relevant jobs to jobseekers across industry verticals, experience levels and geographies. Monster today has more than 200 million people registered on the Monster Worldwide network, and with operations in more than 40 countries, provides the widest and most sophisticated job seeking, career management, recruitment and talent management capabilities.