SINGAPORE — At the height of the pandemic, more consumers started focusing on the environmental impact of their purchasing decisions and began prioritizing sustainability. While the retail industry has weathered significant change during the pandemic, a deeper look at the 2022 research report from the collaboration between the Carousell Media Group (CMG), the leading classifieds group in Greater Southeast Asia, and the Interactive Advertising Bureau Southeast Asia and India (IAB SEA+India) on digital disruption trends proves that "recommerce" is one trend that keeps rising and is indeed here to stay.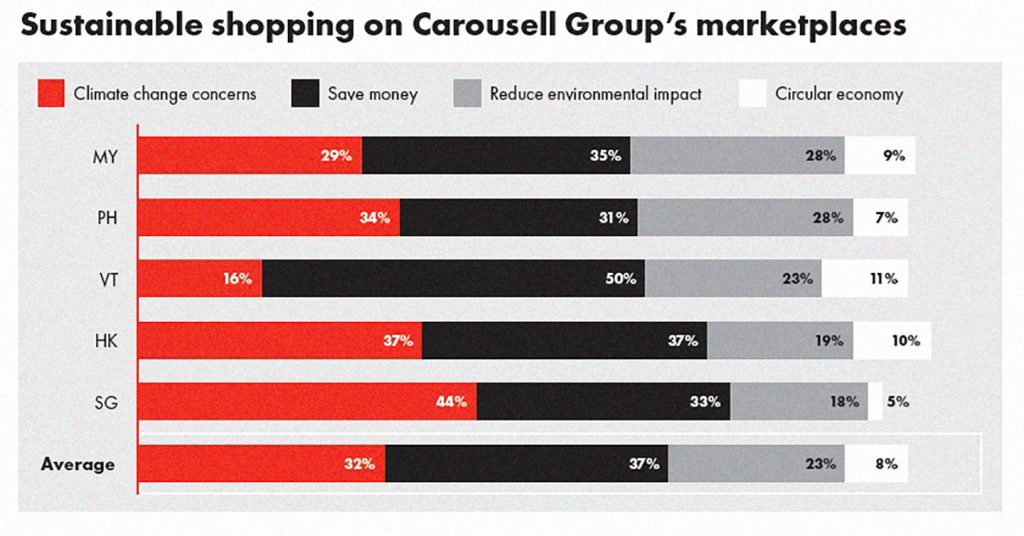 The report which was presented during the webinar by CMG and IAB SEA+India, provides an overview of the attitude in shopping and sustainability of consumers
In the Philippines alone, 75% of Filipino consumers prefer sustainable and eco-friendly brands, while 92% of Filipino shoppers — millennial and Gen Z groups being the majority — prefer products made from natural ingredients, while 90% prefer to purchase locally-made products as they believe they are healthier, better for their wellbeing, and buying local supports the local economy and provides employment to their fellow Filipinos.
According to Carousell Media Group head of client strategy Saniya Gupta, these new breeds of shoppers are the drivers of the shift to recommerce. who take pride in having pre-loved items while doing it in a more sustainable way, and with marketplaces like Carousell, they are able to do just that or resell items they no longer use.
As more consumers become socially and environmentally conscious and are willing to pay more for sustainable products, she concludes "My prediction for the future is that secondhand will be the first choice in the near future, and that recommerce will be as ubiquitous as e-commerce. But in order to achieve this, companies like Carousell need to continue providing a full-funnel seamless process in shopping with services like authentication, shipping & returns policy, that the e-commerce services can provide right now."
In terms of sustainable shopping practices, the report also revealed that purchasing fewer new items, buying and selling second-hand on Carousell Group marketplaces, bringing bags when shopping, and seeking out sellers and brands with sustainability ethics and manufacturing processes are just some of the ways consumers are actively addressing environmental concerns. In fact, 55% of Filipinos have purchased or sold secondhand items on the platform, while 25% of Filipino consumers prefer to buy items from sellers with sustainability practices.
"We're seeing everything from mundane daily tasks to health and self-development being enabled from your mobile device. We also see that Carousell's hyper-engaged audiences are prioritizing sustainable shopping to protect the planet. It is also gratifying to see that our Carousell marketplaces are now synonymous with sustainability and social ethics, and we have seen a quantum increase in usage of our recommerce marketing platforms over the past two years," IAB SEA+India Regional CEO Miranda Dimopoulos said.
With the movement gaining significant momentum, it's only a matter of time before brands and other online selling platforms start leveraging sustainability by helping ethical consumption, and by normalizing second-hand buying as consumers' first choice in the long run.