MANILA, PHILIPPINES — In this digital age, as of January 2021, the Philippines' total internet penetration is now at 67% with an equivalent number of social media users that is 80.7% of the total population. With these recorded numbers, despite the slow internet connection in the country, it is but fitting to say that the Philippines has taken the global leader when it comes to at least one measure, and that is the total time spent on Social media, according to a marketing firm and a social media management platform We Are Social.
Similarly, Zilingo Philippines has noticed the rise of promotional activity through various social media platforms in the country. The company has noted that in today's current situation, influencer marketing is growing into one of the most effective tools used by brands to promote their product. As such, Zilingo Philippines treads the waters of influencer marketing and sees what makes it effective.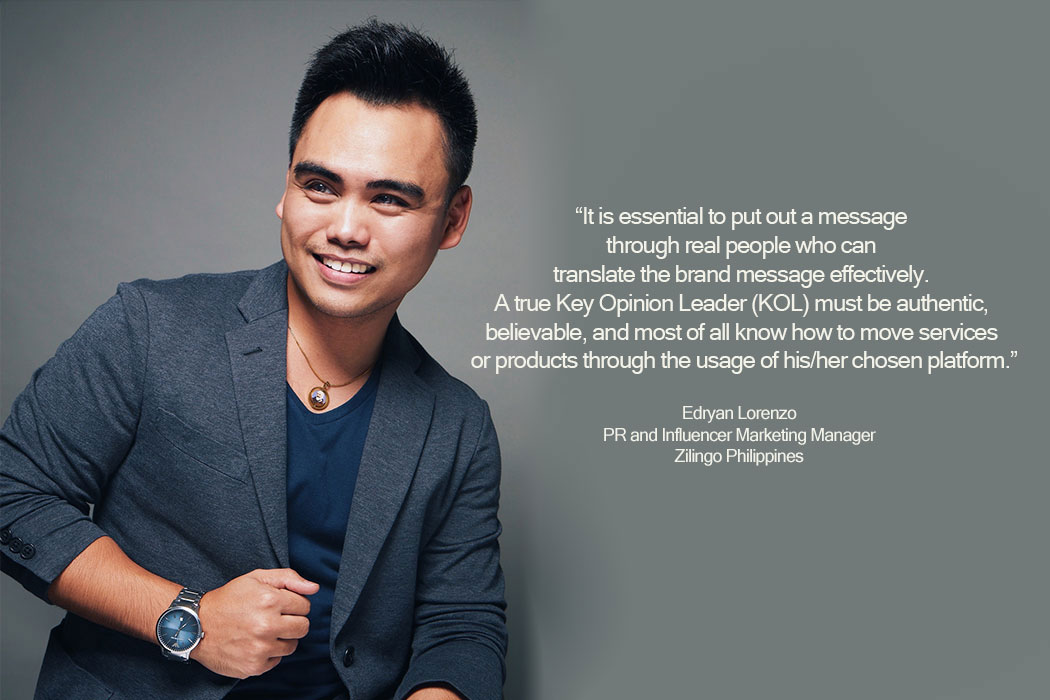 Edryan Lorenzo, the Influencer Marketing Manager of Zilingo Philippines' Marketing As A Service, shares the importance of authenticity, organic messaging, tone of voice, and creativity in strategically using Influencer Marketing in social media campaigns.
"It is essential to put out a message through real people who can translate the brand message effectively," Lorenzo shares. "A true Influencer or Key Opinion Leader must be authentic, believable, and most of all know how to move services or products through words using his/her chosen platform."
To help aspiring Influencers, Zilingo Philippines has created a list of 7 helpful influencer marketing tips.
1. MAKE USE OF THE AUTHENTIC AND ENGAGING STORYTELLING STRATEGY
Marketers have now become accustomed to the use of social media in promoting their brand. Through the years, they have also learned how to view authentic storytelling as the most important aspect of influencer marketing which makes product movement in the market and harbor lots of engagement online.
An authentic, fresh, and honest voice is what keeps the messaging real and more relatable. Always remember that customers have now become more aware of the speakers' way of telling a story. You must be careful in choosing the right words and crafting an authentic communication composition that will further engage your listeners/readers.
2. DONT JUST BASE EVERYTHING ON NUMBERS
Just because the person has thousands or millions of followers, doesn't mean he/she is fitted to man the campaign.
This means that apart from identifying influencers based on their follower count, it is important to have other types of data like post history and follower sentiment, and demographics to truly get the maximum impact of the activity. As much as possible, engage with Influencers who truly embody the brand message and the one who truly uses your product.
3. DECIDE AND STICK ON GOALS AND THE BRAND MESSAGE
There are different goals and targets for each brand campaign. Some would want to increase site traffic and brand engagement, others are keen on getting more brand awareness, some would run after the increase in sales and inquiries. As a marketer, you have to make sure that you set the right campaign goal so that you know what type of influencer should you get for your next campaign. Always remember that Influencer marketing has the power to target and reach specific audiences through its network, and having a clear set of campaign goals is intended to get the most out of your influencer marketing campaign
4. MARRY THE SPEAKERS TONE OF VOICE AND YOUR BRAND MESSAGE
Most brands would just give a fixed caption or script to the chosen influencer (and this is fully understandable because they need to target all the communication keypoints). However, it is also important to make sure that the caption or script is written with having the speakers' tone of voice into consideration. By doing so, the brand lets the influencer be part of the whole campaign process and makes the messaging more organic, real, and relatable.
5. CONSIDER USING MICRO INFLUENCERS
Using micro-influencers as message amplifiers have been explored to echo the campaign and gather more traction.
In the past, these influencers are oftentimes neglected by brands because they are all gunning for a bigger number of following and clout. However, more and more brands are becoming aware of tapping into this bracket to put out a more specific message and target a more specific or niche group.
6. BE CREATIVE AND EXPERIMENTAL
Give the influencer the liberty to be creative in content creation. Make the post resonate with his/her personality. As long as the campaign is guided by brand guidelines there is nothing to worry about.
7. DONT BE CAGED IN USING THE SOCIAL MEDIA TRIFECTA
As a marketer, you want your brand to be omnipresent. Nowadays, more and more brands are stepping outside the circle and expanding their reach by using not only Facebook, Twitter, and Instagram. Others are now exploring the usage of other social media channels like Tiktok, Youtube, Twitch, and even Spotify.
Always remember that in this ever-changing world your brand must be where your audience is.