NEW YORK, USA — 2022 was the year of growth for French holding companies, with Publicis Groupe and Havas leading R3's New Business League. Publicis Groupe was holding company of the year with 2,249 wins and $804m in increased revenue, almost double the New Business increase of second-placed WPP. The holding group's leading media agency, Starcom also topped the Media Agency rankings, generating $165m in revenue, 60% more than sister agency Zenith in second place. Amongst creative agencies, French shop Havas led with $156m in overall new business revenue across 363 wins.
"Concepts like 'Power of One' and 'Village' resonated with marketers last year," said Greg Paull, Principal at global independent consultancy, R3. "The biggest advertisers are consolidating their marketing with holding groups that present a clear strategy for integration. Publicis Groupe has also leaned into the Sapient and Epsilon acquisitions to fuel expanded consulting and data solutions."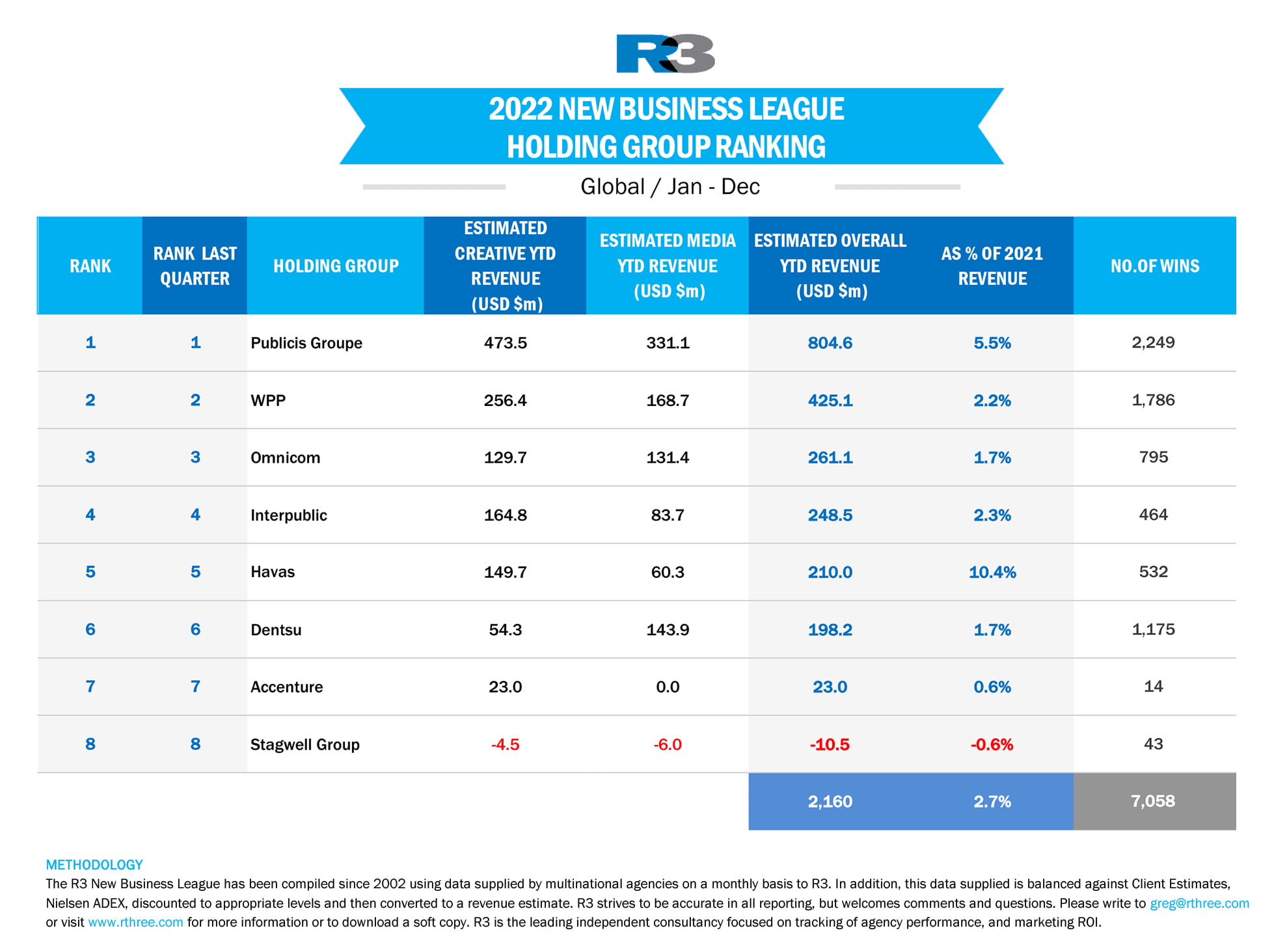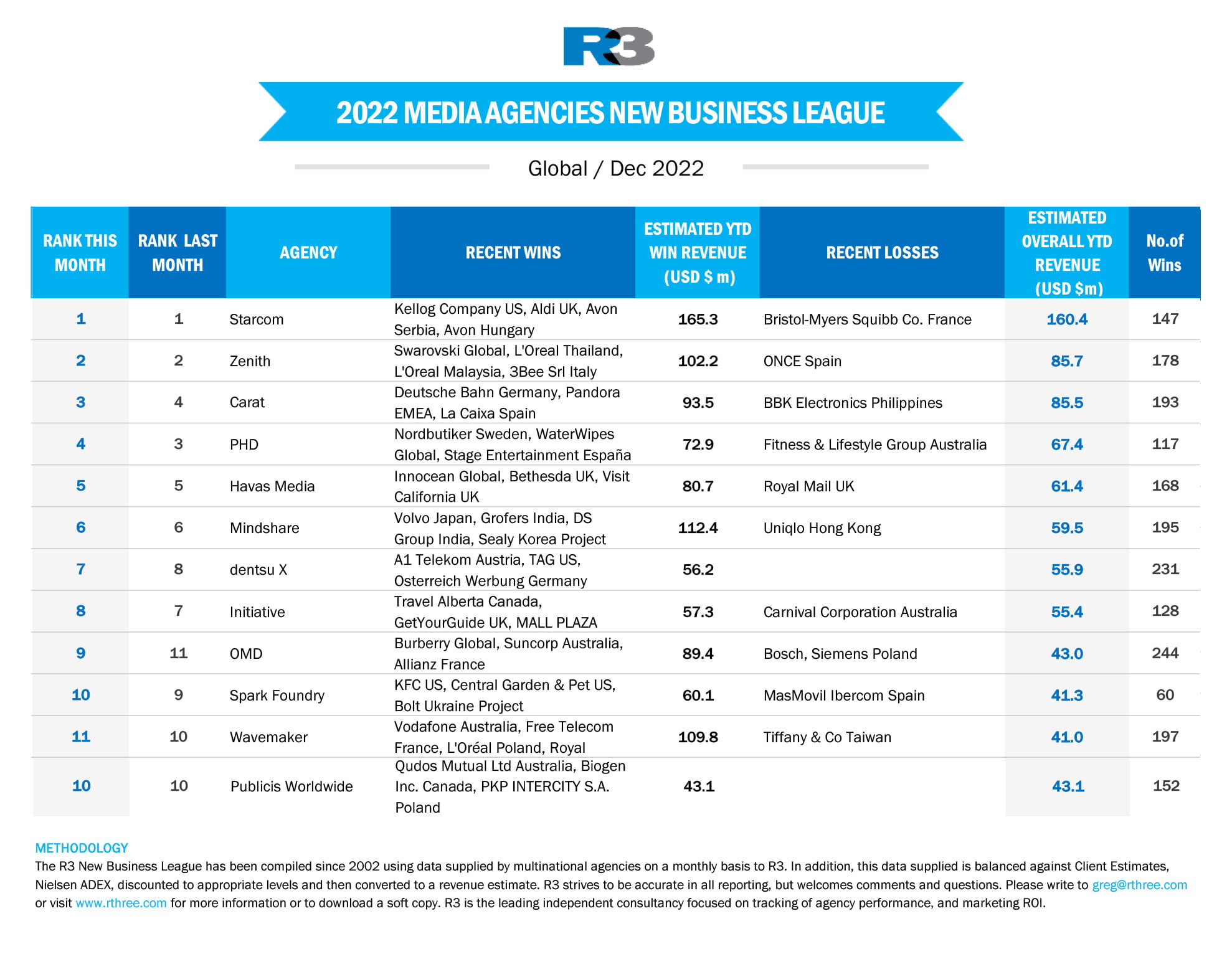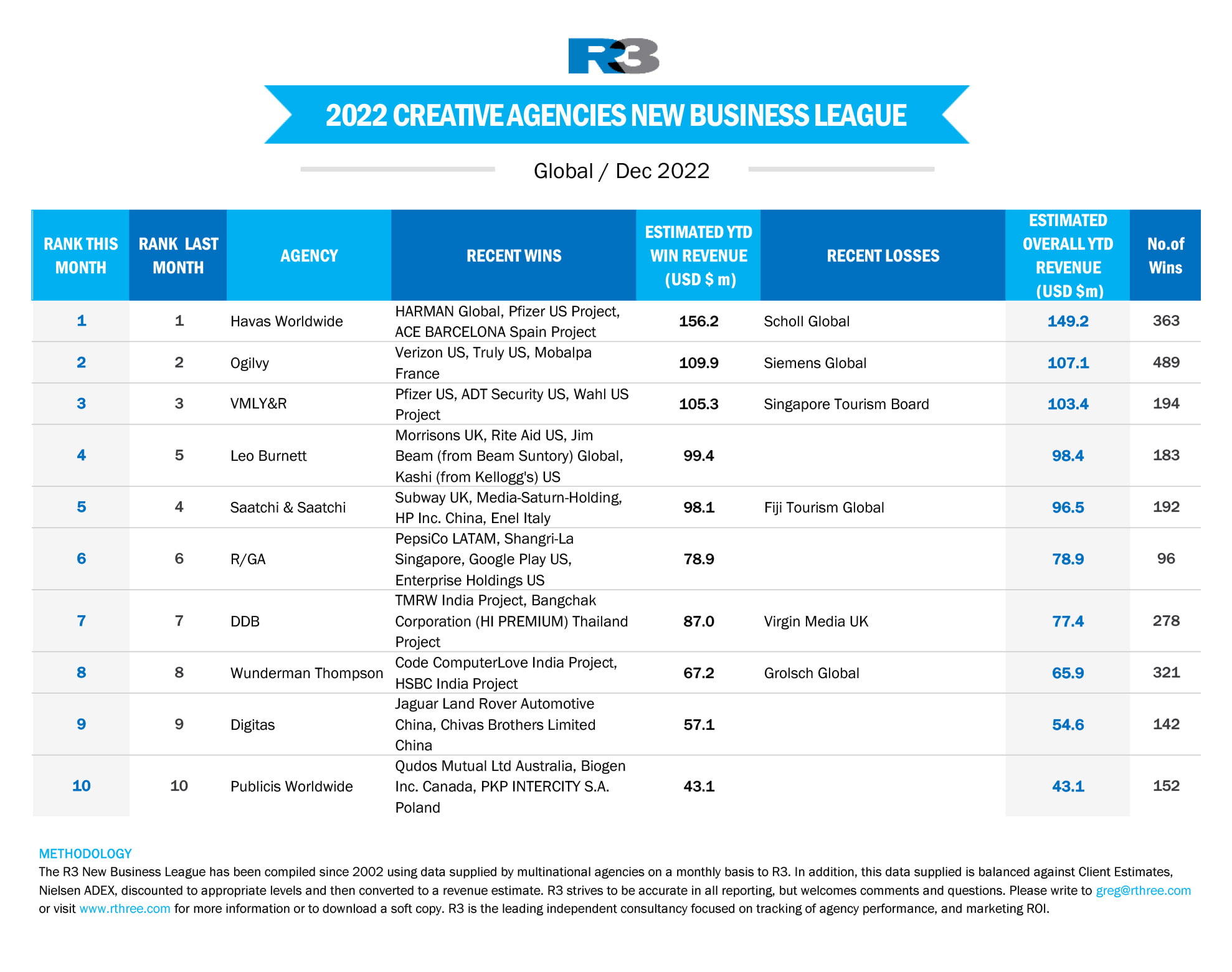 APAC Sees -33.3% Decrease in Pitch Value
Ogilvy leads the Creative league in Asia Pacific with 474 wins and $83m in new business. Saatchi & Saatchi ranked second place, followed by Wunderman Thompson. Both agencies were close in total win revenue, though Wunderman Thompson registered 60% more accounts won. Zenith led the region in Media new business with $52m win revenue, followed by Starcom and Mindshare. Across the region, Singapore experienced the biggest reduction in Creative pitch value (-67%), and Japan the highest increase in Media (41.4%).
Pandemic restrictions in China contributed to a 49% year-on-year decrease in media pitch value, though marketers continued to seek new Creative partners.
The AOR is Dead – More Pitches, for Smaller Value Than Previous Years
Overall, the value of new business decreased 35% year-on-year, though the number of pitches increased 11% from 2021.
"The race is heating up to diversify services beyond traditional Creative and Media," said Paull. "The future is in eCommerce, Data and Performance Marketing and agencies need to sell more advanced solutions to clients. The biggest moves in 2022 have all been focused on the ability to serve the convergence of media, commerce, entertainment, and shopping."

Five of the Top Ten Global Creative Reviews Were for Quick Service Restaurants
Amongst creative agencies, Quick Service Restaurants made up half of the top ten reviews with Burger King, KFC, Jack in the Box, Dunkin and Costa all finding new partners. "Post Covid, the pressure is on for this sector for results, and this year saw exceptional turbulence," added Greg. Ford, Under Armour, SC Johnson, and Walgreen's also found new creative homes.
On the media agency roster, big decisions were made by AB InBev, McDonald's, and Kellogg's (all won by Starcom), along with Amazon and Restaurant Brands appointing new partners.