BACOLOD, PHILIPPINES — What does a young, sensible, and internationally acclaimed artist do on New Year's Day? If he's Daryl Feril, he makes the unconventional decision to work full-time from his provincial hometown— the small and slow-paced Bacolod.
Daryl is a Filipino illustrator and designer whose works are celebrated both locally and abroad. As a creative, he has always forged his own path. In college, he decided to quit his engineering course to pursue a study in the arts. This move paid off when he was discovered in 2013 by a New York-based creative agency which led him to create campaign illustrations for LVMH worldwide luxury retailer, DFS Group. Since then, he's made a name for himself through his stunning and intricate works using both hand-drawn and digital techniques. In 2014, Daryl earned a silver metal at the prestigious adobo Design Awards. The following year, he took home a bronze.
A quick glance at his portfolio will show he's collaborated with some of the world's biggest brands: Heineken, Jo Malone London, Singapore Airlines, The David Lynch Foundation, Tiger Beer, Tory Burch, and The Walt Disney Company. However, Daryl remains close to his roots and maintains that some of his most fulfilling and personal works are a result of collaboration with small, local brands.
In an exclusive interview, adobo Magazine sat down with Daryl to find out: Being back in his hometown, what does this internationally lauded artist have up his sleeve?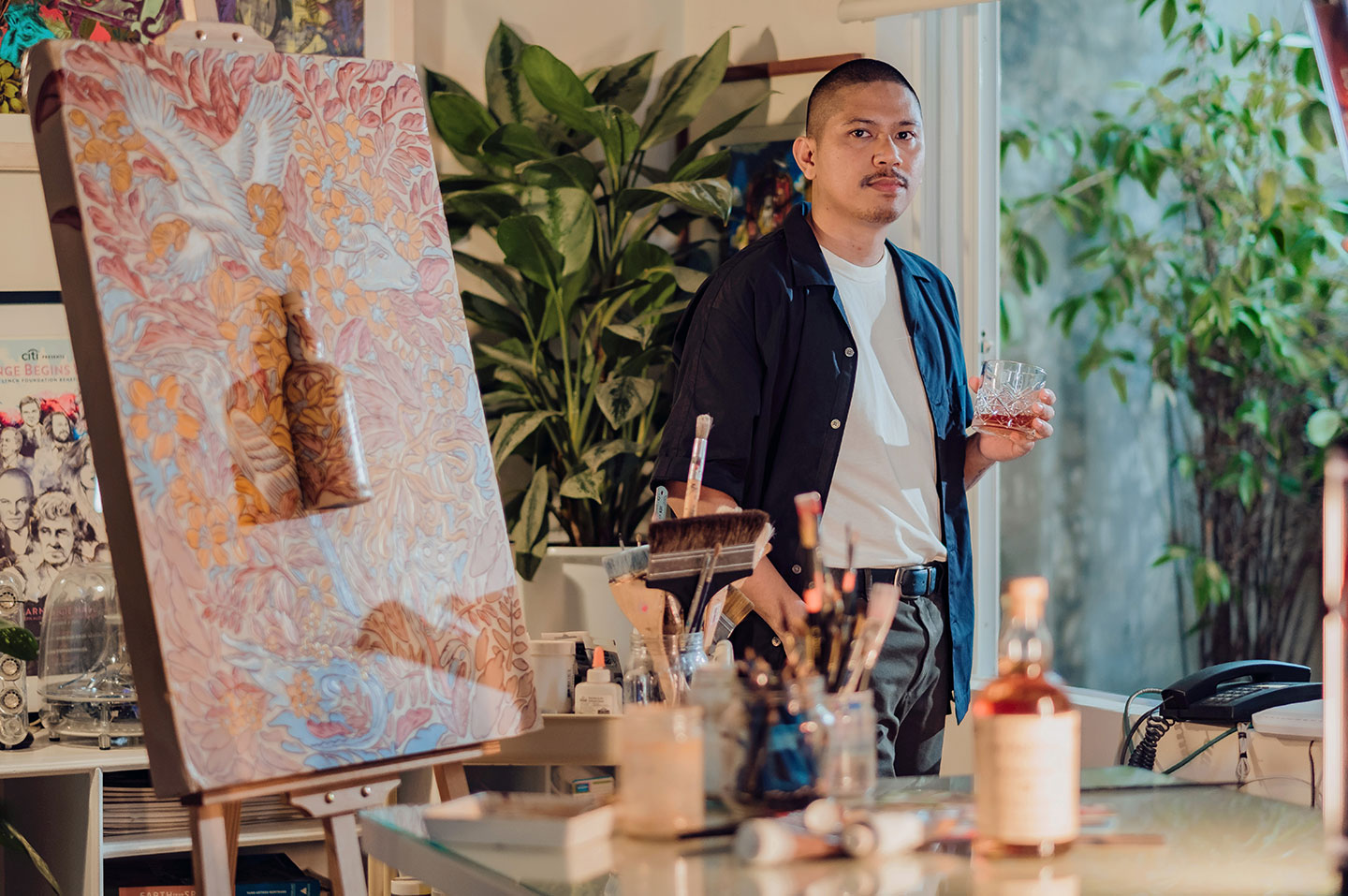 Hi Daryl, can you paint us a picture — what was it like growing up in Bacolod?
It was very laidback, and continues to be. Here, there's less traffic compared to other metro Philippine cities and you can make it anywhere in a short span of time. Most importantly though, we're really close to nature. This has proven to be a huge influence on my work, and also a source of refuge for me.
When I was starting out, job opportunities for creatives in Bacolod were limited. I wasn't aware of a career in illustration at that time so I did part-time jobs for small-scale and startup companies as a layout artist and graphic designer. I also joined design competitions online for extra income. It was a struggle to be seen, and I crawled my way up to find my own identity. But I'm a very patient person. I just kept constantly pushing my work out into the world, and I learned that everyone has their own pace. There's no rush to the top.
Talking about your hometown, how does it inform your art?
I carry my hometown with me every time my works are featured on a global scale. Earlier in my career, people used to assume I was based elsewhere. I would always correct them by proudly saying that I'm from Bacolod City. I'm a Negrense all through and through. Even as my career progressed, I always brought that aspect of me into the projects I did.
Here in Bacolod, I make sure to involve myself in the local creative community by doing projects and collaborating with artists outside my discipline. We're also lucky enough to have spaces like Orange Project as a playground to explore and showcase our work.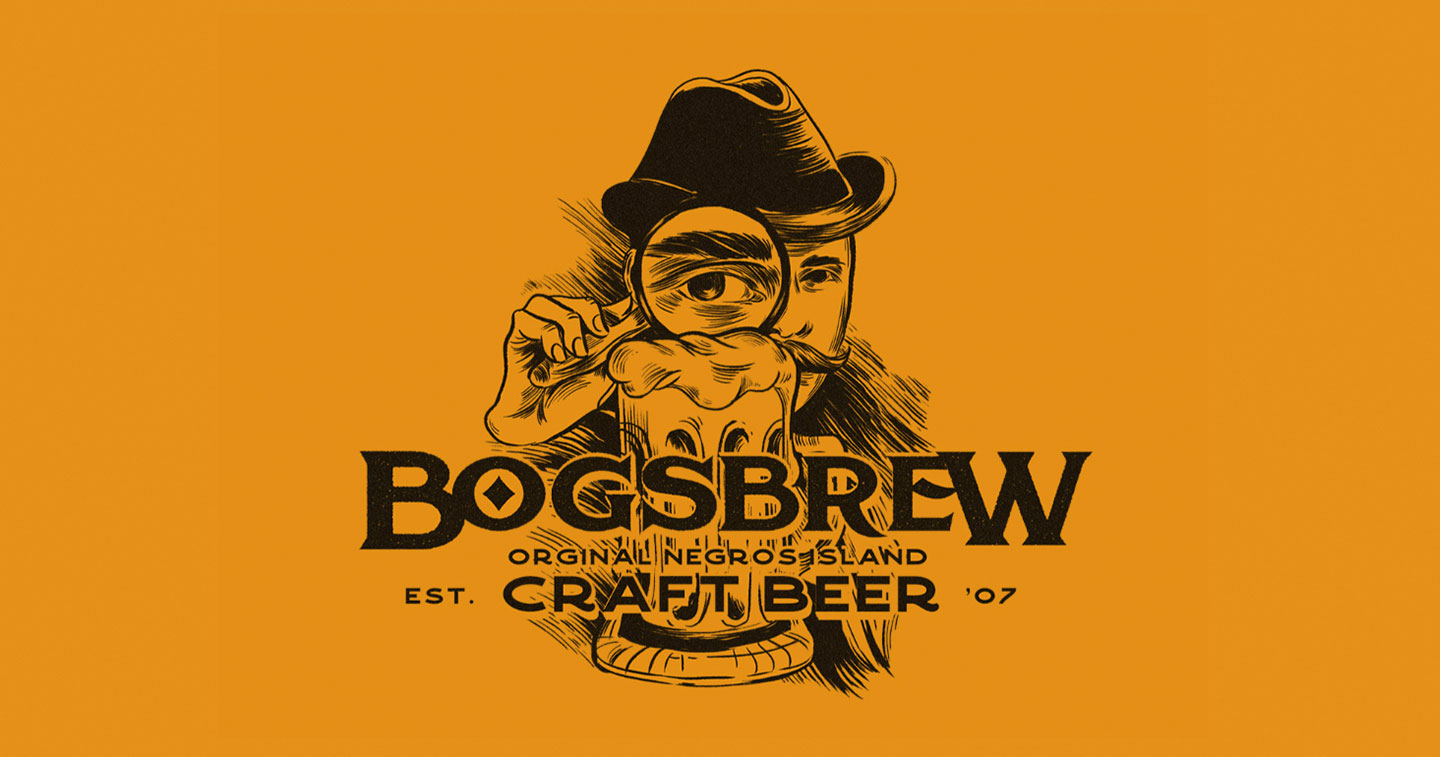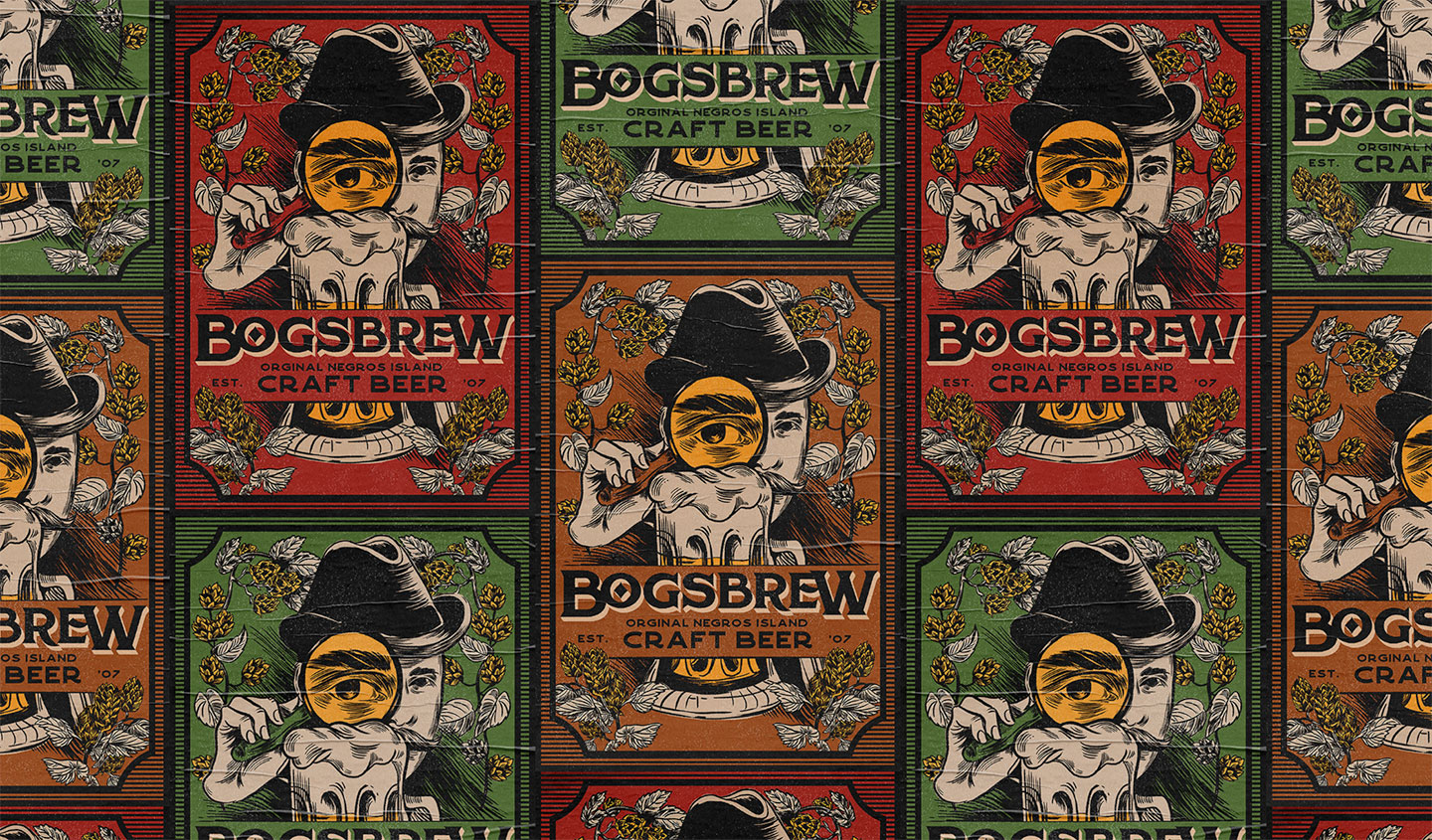 We notice that you continue to work with a lot of local brands. What compels you to do this?
I've spent most of my career working with international brands. It's something that every designer always dreams of — to have your work seen on a global scale. While that's fulfilling, I've found out that collaborating with local brands is quite different from working with big clients.
Throughout the creative process, most local brands are hands-on and engage with you extensively. This gives you a deeper understanding of the community you're in. It's humbling and extremely rewarding, especially when I get to see my work around town. It's also a good way to give back and support the economy where I live.
Let's explore this some more. What's the challenge, but also the beauty, of working with smaller businesses here?
Most of the homegrown businesses here have deep-rooted characteristics. We confine to familiarity and comfort, and we're somehow more critical of the service than aesthetic. This makes bringing a visual change a little tricky, knowing how strong our brand loyalty is. As a designer, however, this challenges me to have a deeper understanding of the brand and its market.
The beauty of working with these smaller businesses is getting the opportunity to deeply and personally engage with the people behind the brand.
Congratulations on your recent work with Cafe Bobs Flagship, by the way! You cleverly put a modern spin on a homegrown classic. Is this what you want to do more with local businesses in Bacolod?
Personally, I want to help local businesses evolve, take risks, and adapt — not necessarily by modernizing the brand. Most homegrown local businesses here have a strong core because they are family-owned, spanning several generations. As Bacolod continues to develop, however, so does the market. Competition increases and businesses may have an urgent need for growth.
An overhaul isn't always necessary. A brand with deep-rooted characteristics and values doesn't need to change its message, but perhaps just find new ways to communicate it.

What's the best way to do this? How do you create a contemporary interpretation of a brand while staying true to its roots?
Change for the sake of change can sometimes be as harmful to the brand as staying relevant. In the case of Cafe Bobs, the opportunity for a rebrand opened upon the building of its new flagship store. But for a brand with deep-rooted characteristics and family-run business values, we didn't want to cause confusion and disconnect between the brand and its consumers.
Two years in the making, the new identity system for the brand was devised as part of Cafe Bobs' strategy to tighten its brand and sub-brands after years of not having any. We took some key elements from the previous identity, refined it, and created a structured visual system to communicate the brand's story effectively. It's actually more of a reintroduction rather than a rebrand.
It's like recreating an old family recipe. Though it's not the exact same thing, a simple taste can still create a sense of nostalgia and warmth. You'll feel that the heart is still there.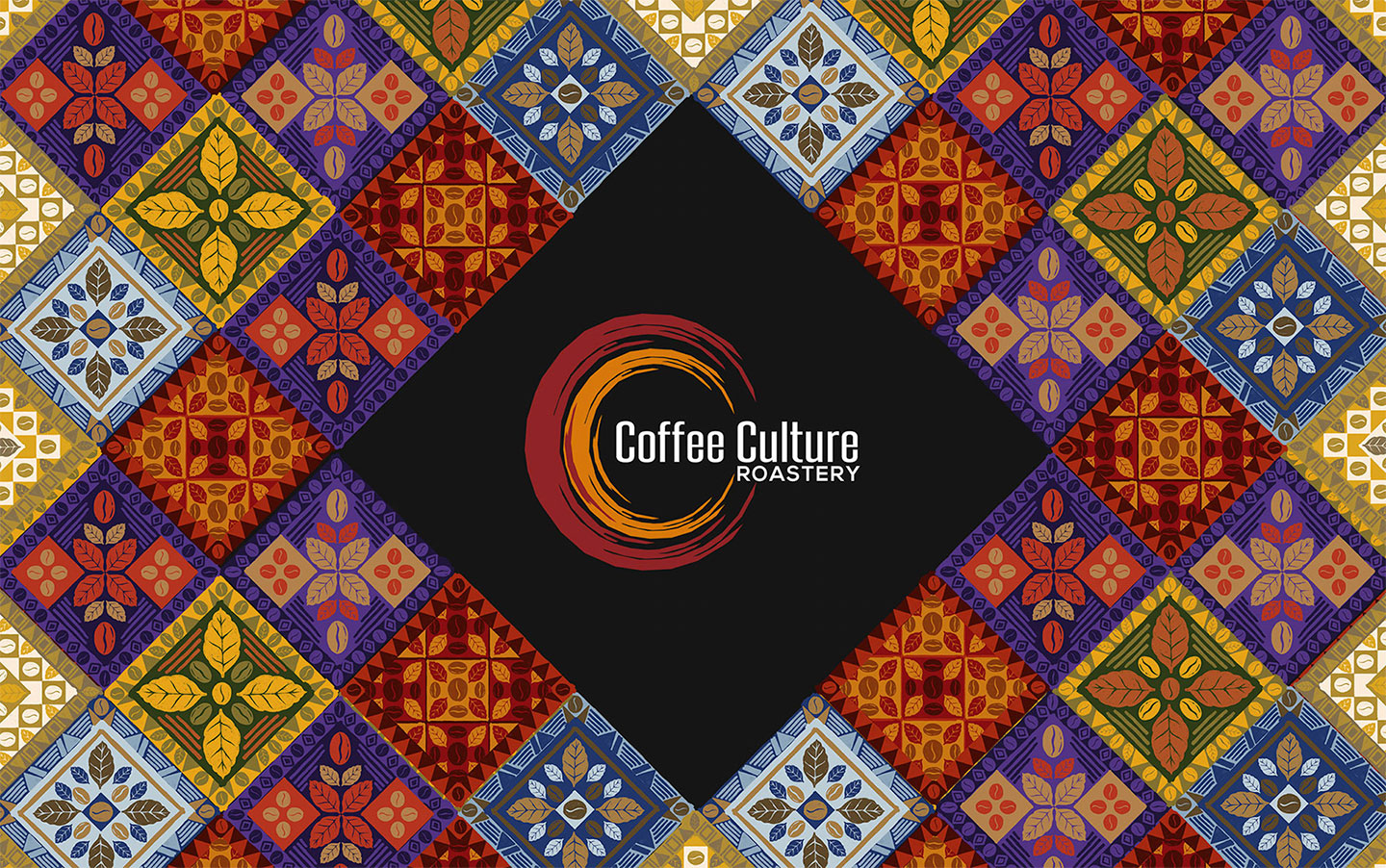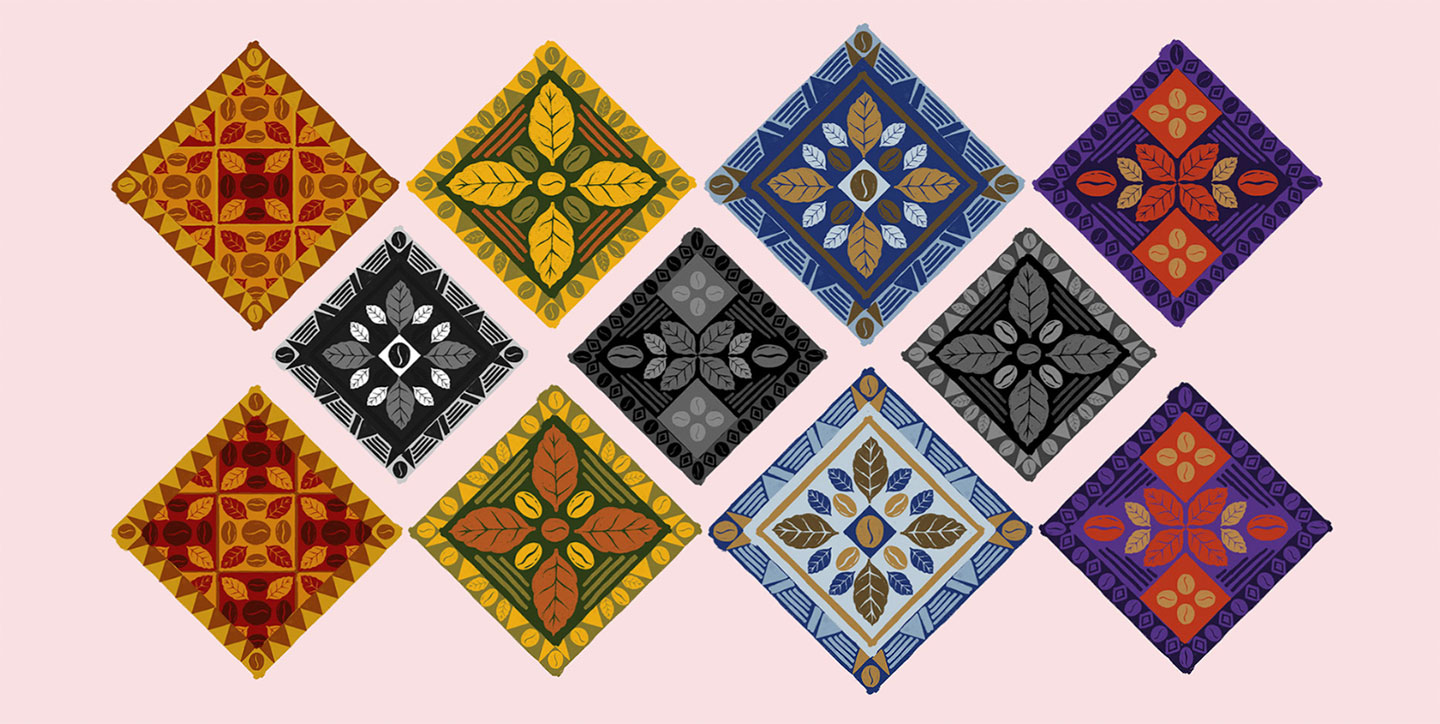 In terms of the artist community where you're from, what do you want to accomplish this year?
In 2022, I had the opportunity to work collaboratively with other visual artists on a bigger scale through Orange Project's Majica: Elemental, a group exhibition of over 60 artists. Working on that exhibition inspired me to learn new skills and work with artists across a variety of creative disciplines.
This year, I want to explore skills beyond my creative discipline and push new ideas and ways of working. I also want to gather a team of designers and creatives to collaborate with for future design projects. I want to share opportunities with local creatives because I know how hard it is to start out, build a portfolio, and get yourself out there.
Most of all, I want to do more things that scare me — like branding. It hasn't always felt like my strong suit. but having pulled off a successful project makes me excited to take on the challenge.