MANILA, PHILIPPINES, FEBRUARY 5, 2021 — In its bid to continue supporting the Filipino film industry especially amid the COVID-19 pandemic, the Film Development Council of the Philippines (FDCP) announced the awardees of its CreatePHFilms Philippine Cinema funding program that provides selective funds for development, production, post-production, and distribution.
Cycle 1 of CreatePHFilms ended in November and after thorough deliberations in December, the Selection Committee chose 22 grantees: eight for scriptwriting, four for script development, three for small budget production, two for large budget production, and five for post-production. The funding allocated for the CreatePHFilms Cycle 1 awardees amounts to PHP 12.1 million.
The esteemed Selection Committee members for Cycle 1 are Pangasinan 4th District Rep. Christopher de Venecia, FDCP Chairperson and CEO Liza Diño, director and writer Clodualdo del Mundo, Jr., director and Directors' Guild of the Philippines, Inc. representative Raymond Red, Cinema Evaluation Board Chairman Christine Dayrit, Solar Pictures, Inc. General Manager Butch Ibañez, and cinematographer and Lupon ng Pilipinong Sinematograpo President Mackie Galvez.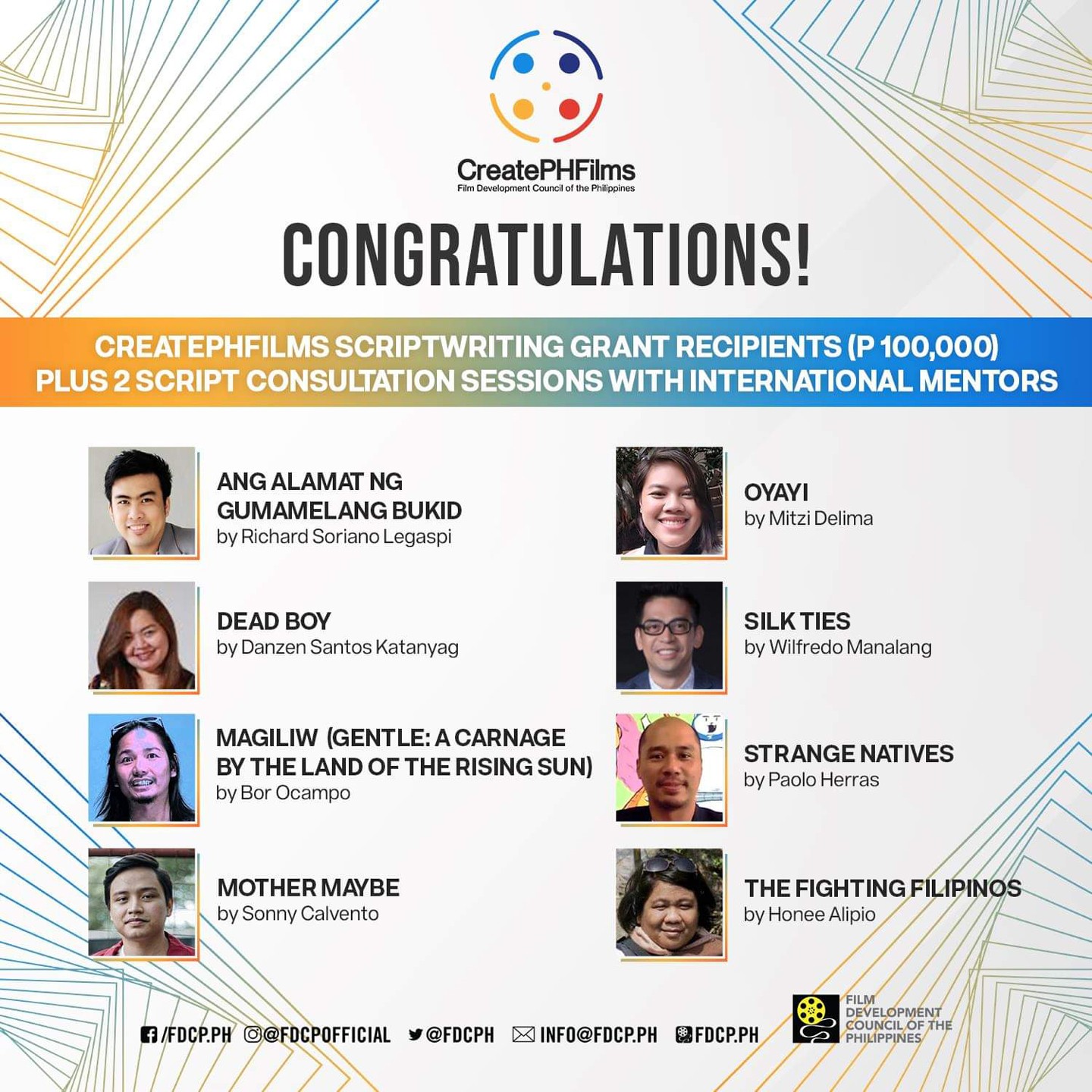 "The industry has been clamoring for public funding to support the development of films since 2016. We believe in the importance of public funding, as countries with thriving film industries such as France and South Korea benefit from various government programs and funding. At long last, the Philippines has public funding for film development through CreatePHFilms and now, we have our first batch of grantees," said Diño. 
"We are proud of the resiliency of our filmmakers and their perseverance to continue the production of their projects in these challenging times. We hope for the government's continued support to the industry through funding programs," she added.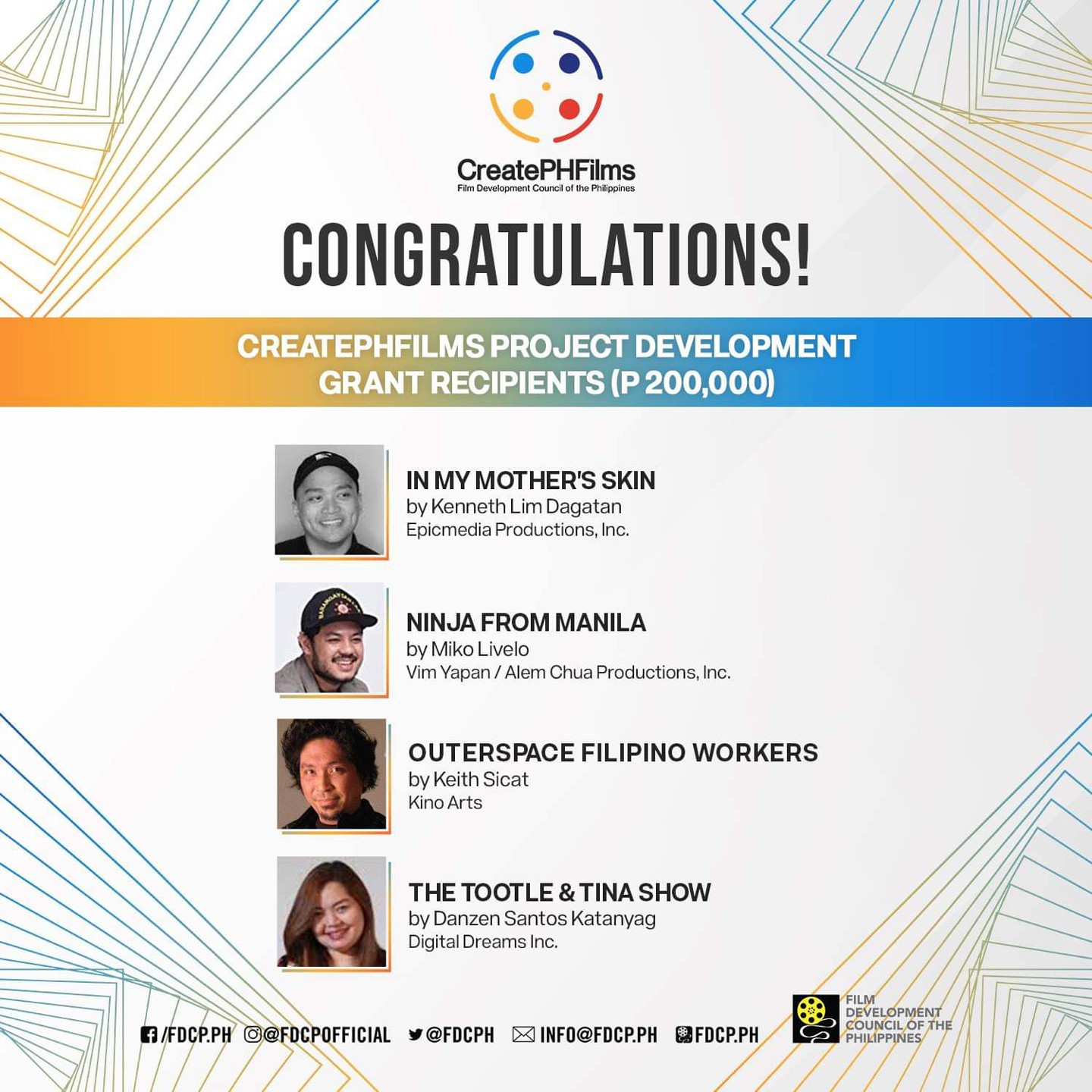 Through the CreatePHFilms Funds for Development for Scriptwriting and Project Development, the FDCP wants to support Filipino scriptwriters by helping them develop innovative stories based on Filipino culture and heritage.
The CreatePHFilms Fund for Scriptwriting is a selective, nonrefundable fund of up to PHP 100,000. Awardees will also have at least two FDCP-led sessions of script consultations with international mentors on concept, creative issues, and developing the screenplay. The eight grantees for scriptwriting that will receive PHP 100,000 each are:
"Ang Alamat ng Gumamelang Bukid" by Richard Soriano Legaspi

"Dead Boy" by Jules Dan Katanyag

"Magiliw (Gentle: A Carnage by the Land of the Rising Sun)" by Bor Ocampo

"Mother Maybe" by Sonny Calvento

"Oyayi" by Mitzi Delima

"Silk Ties" by Wilfredo Manalang

"Strange Natives" by Paolo Herras

"The Fighting Filipinos" by Honee Alipio
The CreatePHFilms Fund for Project Development is a selective and nonrefundable fund of up to PHP 200,000 for production companies. These are the four selected projects that will be given PHP 200,000 each:
"In My Mother's Skin" by Kenneth Lim Dagatan

"Ninja From Manila" by Miko Livelo

"Outerspace Filipino Workers" by Keith Sicat

"The Tootle & Tina Show" by Danzen Santos Katanyag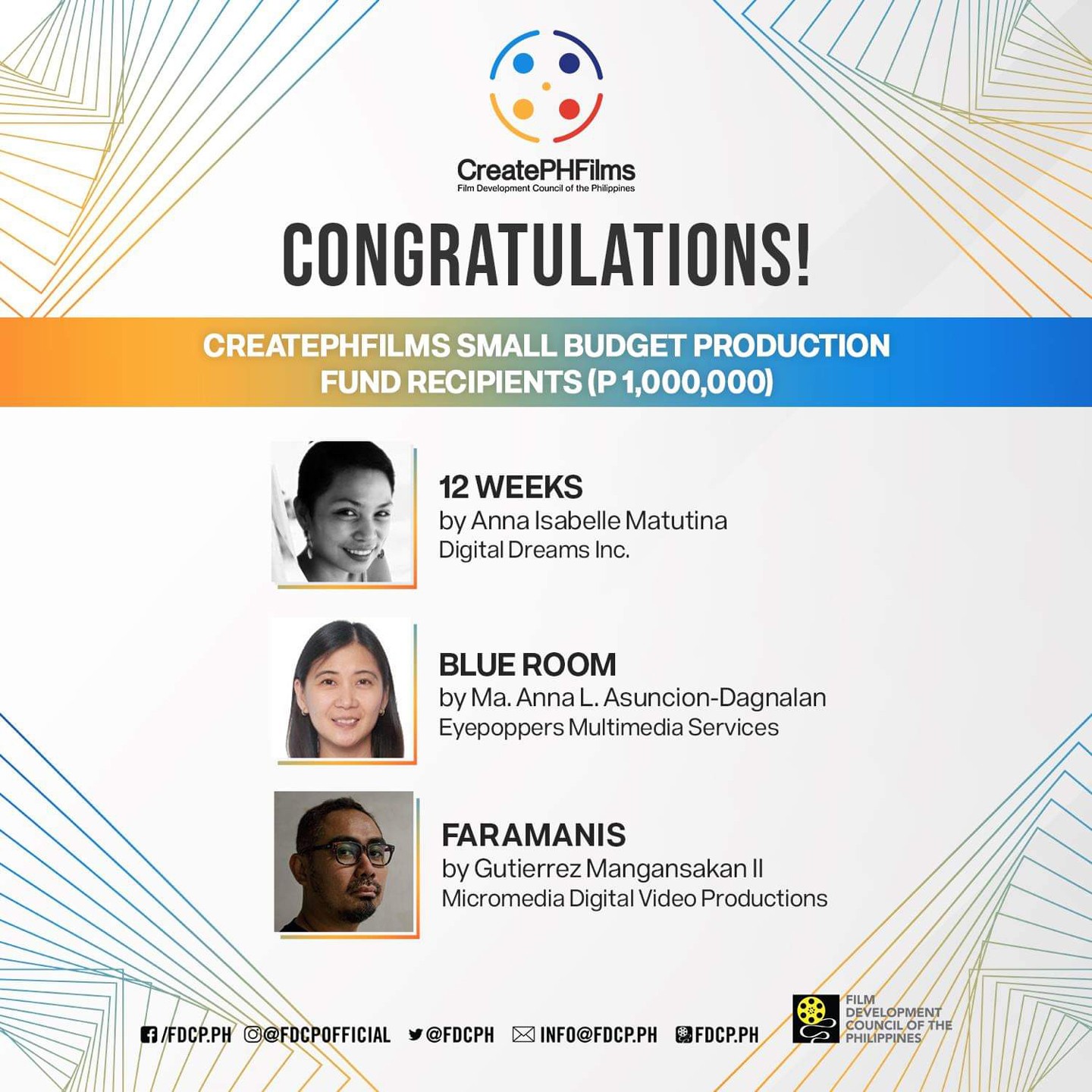 The FDCP wants to encourage Filipino film producers to create high-quality films for domestic and international audiences through the CreatePHFilms Funds for Production: Small Budget and Large Budget. The CreatePHFilms Fund for Small Budget Production is a selective refundable fund up to PHP 1 million for production companies. The three films selected as small budget production fund recipients of PHP 1 million each are:
"12 Weeks" by Anna Isabelle Matutina

"Blue Room" by Ma. Anna L. Asuncion-Dagnalan

"Faramanis" by Gutierrez Mangansakan II
Meanwhile, the CreatePHFilms Fund for Large Budget Production is a selective equity investment fund worth P3 million to P5 million for production companies. The two chosen projects that will each receive the large budget production fund worth PHP 3 million are:
"Bansa" by Brillante Mendoza

"Kidplay" by Khavn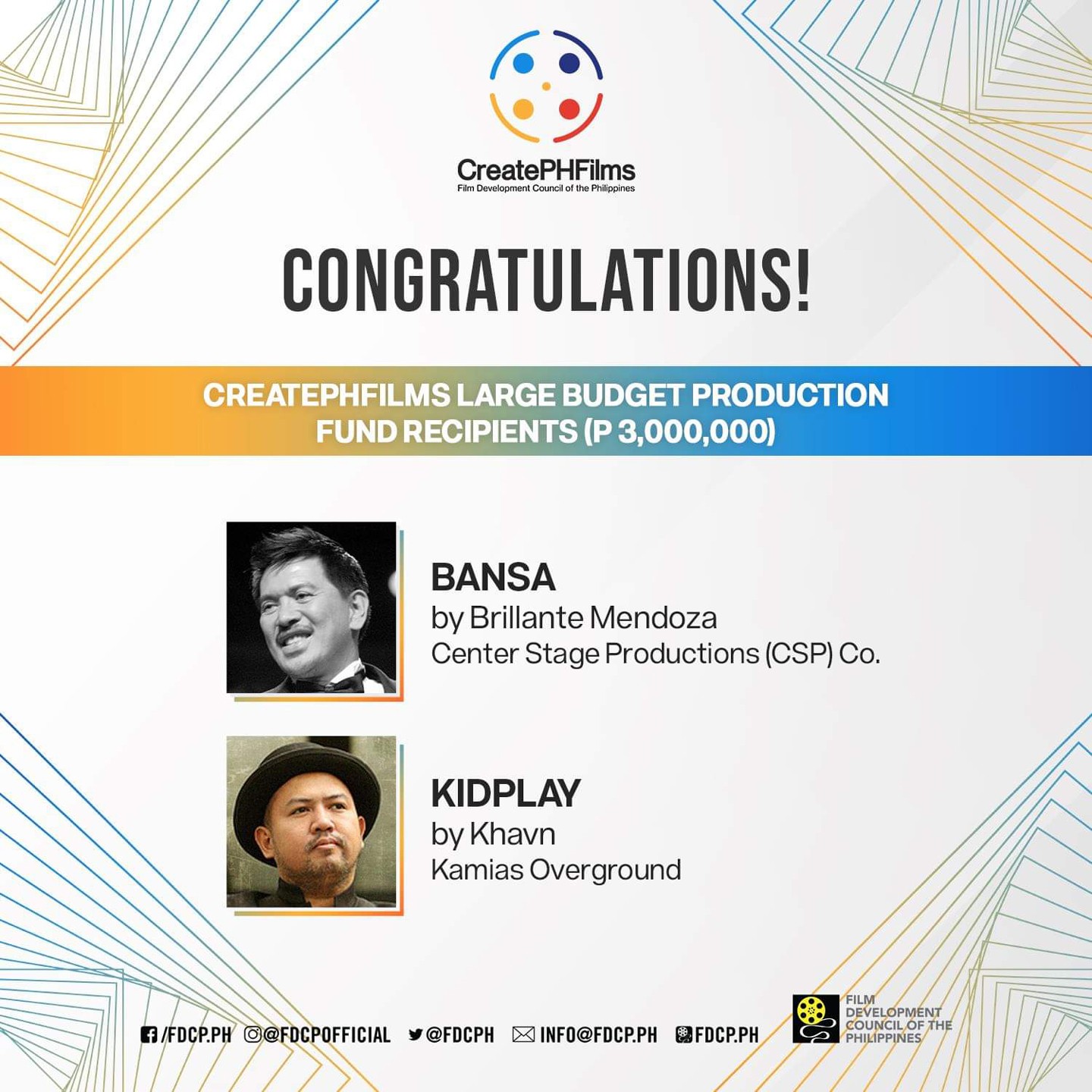 The CreatePHFilms Fund for Post-Production seeks to enhance post-production services so that they meet international standards. This selective fund of up to PHP 300,000 will be applied for by a production company and granted to its engaged post-production company. The five recipients of the PHP 300,000 post-production support are: 
"Ang Pagbabalik ng Kwago" by Martika Ramirez Escobar

"Gensan Punch" by Brillante Mendoza

"Kargo" by TM Malones

"Mirador" by Loy Arcenas

"The Brokers" by Daniel R. Palacio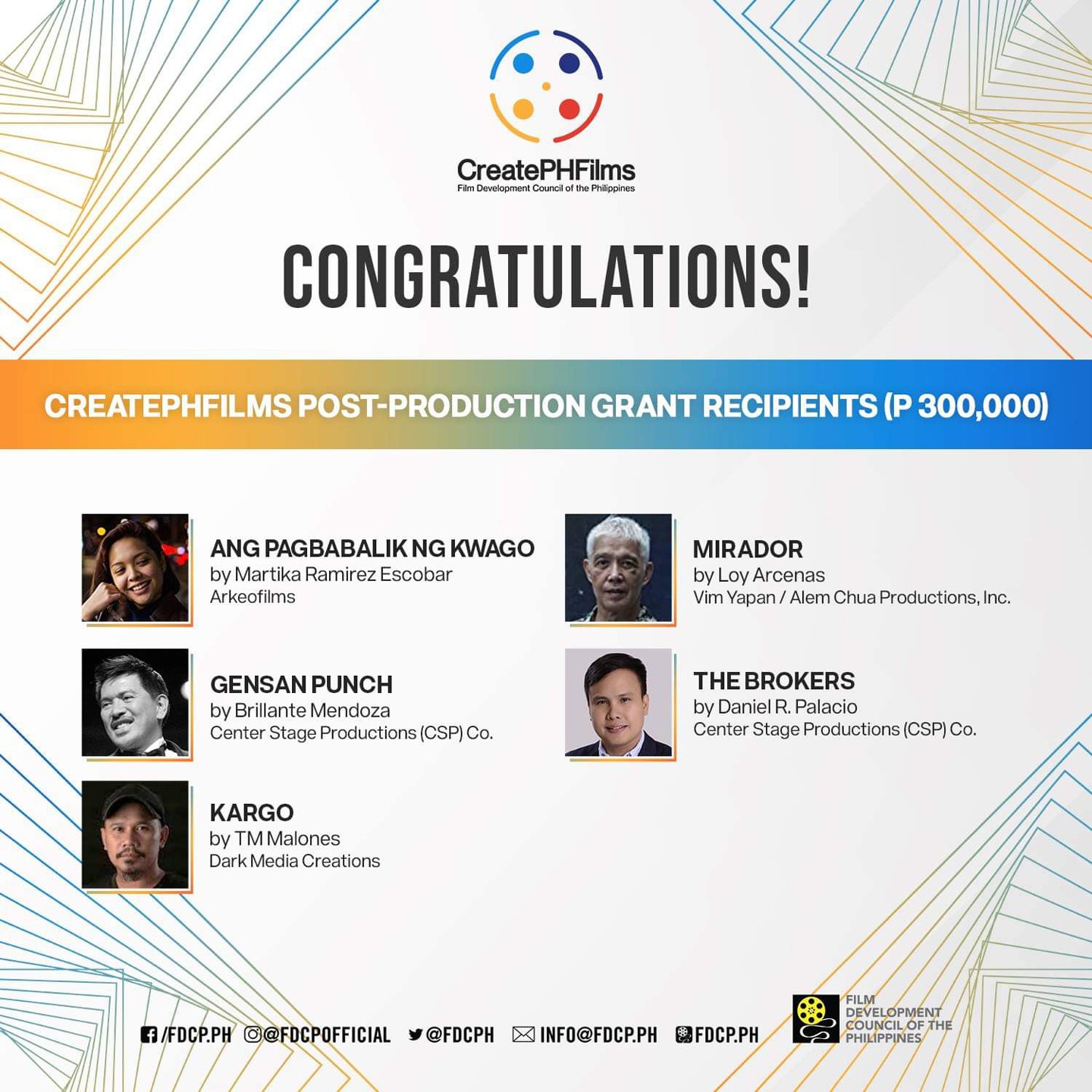 There is also the CreatePHFilms Fund for Distribution, a selective fund of up to P300,000, for the local and overseas distribution of Filipino titles. Producers can apply for this as well as for the CreatePHFilms Funds for Development, Production, and Post-Production this year.
Eligible applicants must be Filipino filmmakers and companies accredited by the FDCP's National Registry, while eligible projects must have a Filipino director. In addition, 100 percent of the funds must be spent in the Philippines for qualified expenses.
CreatePHFilms was launched in September in time for the commemoration of the closing of the Philippine Cinema Centennial celebration. "This domestic funding program also shows the government's support for the vulnerable sectors of the film industry by increasing economic opportunities for local services and workers,"  added Diño.
For more information, e-mail createphfilms@fdcp.ph or visit www.fdcp.ph/CreatePHFilms.