MANILA, PHILIPPINES — Food Fighters Universe (FFU), the world's first non-fungible token (NFT) restaurant group, is bringing its famous Bored and Hungry pop-up store to the Philippine Blockchain Week.
Oscar G. Tan-Abing, Jr., one of the conveners of the event and founder of Anotoys Collectiverse, shared that Bored and Hungry, in association with restaurateur Charles Paw's Tasteless Food Group, will be flying its chefs to the country and deliver the "best burger experience" to Filipino NFT and non-NFT enthusiasts alike.
Bored and Hungry is a concept restaurant that uses NFTs from the Bored Ape Yacht Collection for its brand identity. Recently, U.S. television show Good Morning America named its OG Trill Burger the "best burger in America."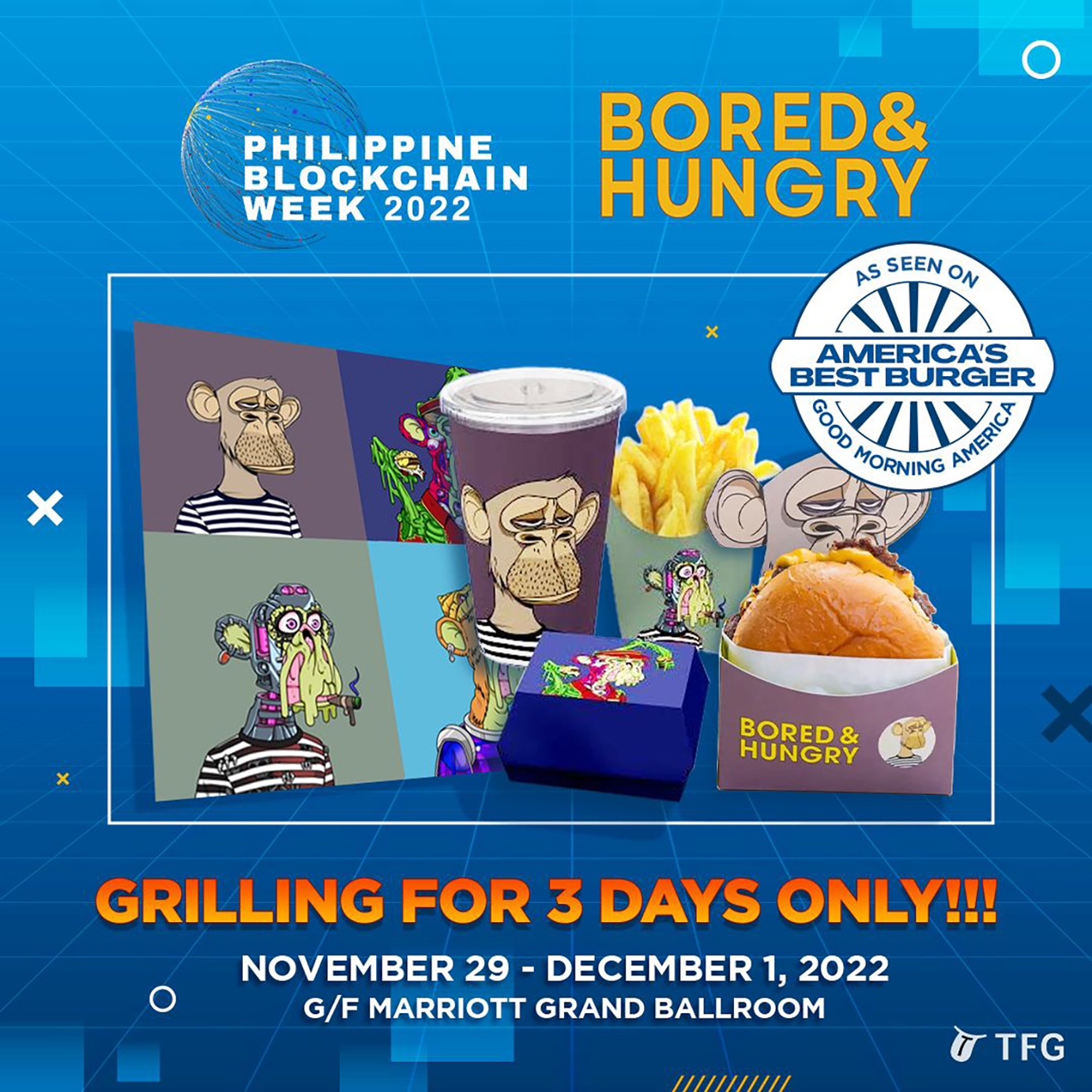 The first Bored and Hungry was supposed to be just a pop-up store. As it attracted lines of customers each day, the company decided to make the restaurant a permanent one.
First stop in Southeast Asia
"The Philippines is the first Southeast Asian country to have the Bored and Hungry pop-up store. The country is really a very important market for NFTs and Web3," he said, noting that FFU has only two locations so far: One in Long Beach, California, and soon in Gangnam, South Korea.
The Bored and Hungry pop-up store will be located in the lobby of the Marriott Grand Ballroom in Newport World Resorts, Pasay City, and will be open for only three days, from November 29 to December 01.
"People attending the conferences can bring their family and friends along to experience Bored and Hungry," Oscar said.
Apart from burgers, Bored and Hungry fans will get the chance to enjoy one of the first officially licensed BAYC "phygital" (physical and digital) merchandise in the country from Anotoys Collectiverse through the collaboration with BAYCkada.
The biggest names in Web3
Oscar also revealed that Bored and Hungry Co-founder Andy Nguyen himself will be coming to the event and will have a private audience with the Ape community and several other blue chip NFT communities. Andy is behind some of the most popular restaurants in the U.S. like Afters Ice Cream, Hello Kitty Cafe Las Vegas, Trill Burgers, Matte Black Coffee, and Dough & Arrow, among others.
"PBW is bringing only the best. It's truly an exciting time for NFT enthusiasts in the country," he said.
The inaugural event will feature the biggest names in blockchain technology, crypto, and web3. Over 100 speakers including Bitcoin Pioneer Charlie Shrem, E! Entertainment Co-founder Larry Namer, 1inch Co-founder Sergej Kunz and IP3 Co-founder and Batfilm Productions Producer David Uslan are expected to speak at the event.
The Philippine Blockchain Week is powered by major sponsors 1inch, Tetrix, NChain, GCash, Coins.ph, DVCode, Ark of Dreams, iPay88, and Maya.
The first Philippine Blockchain Week is slated to launch in Manila with the world's top Web3 experts