NEW YORK, USA — At the Cannes Lions Festival of Creativity in June 2022, delegates were joined virtually by Ukrainian President Volodymyr Zelenskyy. He urged the global creative community to support Ukraine using the power of creativity in order to keep the conversations around the war alive, and keep the awareness momentum going.
Galvanized into action by this address, New York based independent creative agency RXM Creative collaborated with five selected charities: Razom, National Bank of Ukraine Armed Forces, Come Back Alive, United 24 and Nova Ukraine, along with the Kyiv-based creative community on what they could do to help.
Noticing that the advertising and marketing community use war terms in daily work emails and conversations such as war room, target, campaign, execution, tactics, bootcamp, launch, objective, engagement, strategy, guerilla, competitive, killing it and killer campaign, Warlingo.org was born. These terms have become so normalized, it's easy to forget their real meaning and impact in the brutal reality of war.
Warlingo is a search engine for business websites where the visitor can type in the URL of any website, and the proprietary technology created by RXM Creative detects how many war terms a site is using, then suggests donating an equivalent amount to a suggested charity organization.
Oleksii Novikov, creative director of Come Back Alive Foundation, said, "We love this approach to 'Ukraine fatigue.' This case is a powerful example of dealing with the ugly truth and thinking in advance. I thank my dear creative colleagues for caring and starting this project."
"Razom means "together" in Ukrainian and serves as a constant reminder of the community that it takes to create, build and do. Since the beginning of the full scale Russian invasion in February of 2022, Razom has been providing critical humanitarian war relief and recovery efforts to address the most urgent needs as they evolve," added Dmytro Kavun, board member at Razom.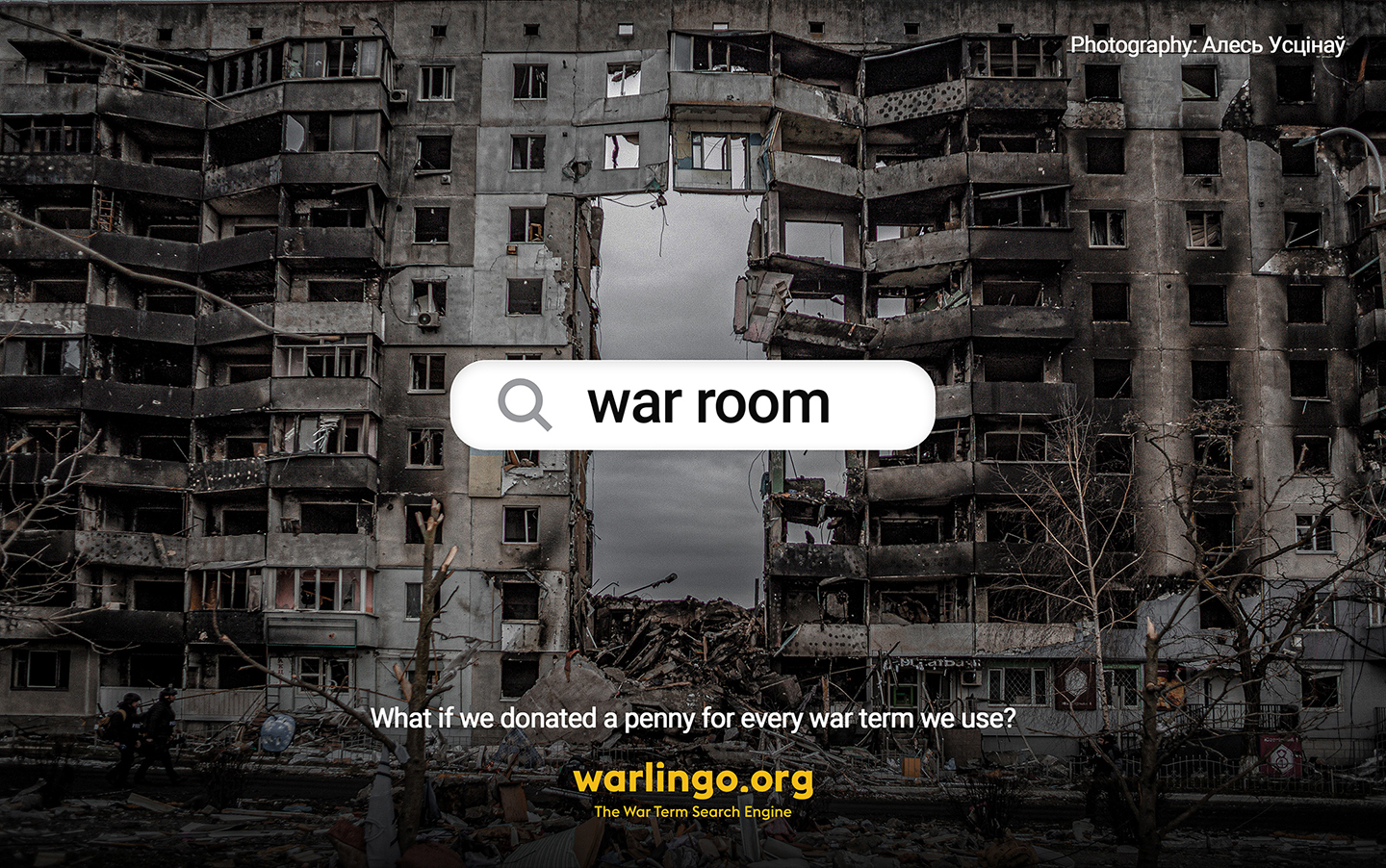 Kiev-based Creative Director Ihor Tulub commented, "We are seven months into the war with Russia, and people are talking less and less about it. We need the noise, we need media attention to bring more support for Ukraine. Keeping the conversation alive is crucial to our success."
RXM Co-founder and Creative Director Raul Mandru added, "It's an opportunity to pause and reflect on how many military terms we use in daily business language and how that affects company culture. We want to inspire the creative industry to be proactive about Ukraine and use all their brilliant brain power to fight for democracy."
Similarly, RXM Co-founder and Creative Director Mihai Botarel continued, "As Romanians bordering Ukraine, we feel this conflict is very close to home and we are inspired by our neighbors' bravery. But as marketers, we use a lot of language inspired by war. Warlingo is like a swear jar for war terms meant to inspire support and donations."
A social campaign will run alongside promotion of the search engine.
CREDITS:
RXM Creative:
Raul Mandru, Creative Director
Mihai Botarel, Creative Director
Andrea Erali, Art Director
Kate Shifman, Digital Strategist
Ihor Tulub, Freelance Creative Director
Code Caste:
Bhushan Gohel
Kavish Jash
Studioset:
Sorin Baican
Simona Macarie
Cristi Vieriu
Mihnea Trancu
Diana Cretu