Words by Bea Celdran
Photos by Mae Lucille Bayron & FAB LAB Mindanao
"It's okay to make mistakes, as long as you learn from them," says Sven Cu, a 3D printer specialist from Puzzlebox 3D, one of FAB LAB Mindanao's main suppliers. Beside him, sits Lemuel Velasco, manager of FAB LAB Mindanao and associate professor of information systems at Mindanao State University Iligan Institute of Technology where the FAB LAB is located. Velasco shared that in innovation-forward countries, the idea of creating in a laboratory starts early on, with children as young as the first grade creating their own prototypes in Lego Labs. In the Philippines, the idea of a lab is strewn with fear. "Labs are intimidating because they're treated like museums [here]. Labs are there for viewing," expresses Velasco, "We try to impose so many penalties on people making mistakes in the lab." We grow older carrying an intimidation towards spaces that are meant for discovery and creation.
In the simplest sense, that's what a FAB LAB is: a safe space for mistakes. But specifically, a FAB LAB is a type of Makerspace. Velasco explains the quintessential analogy of toothpaste brands: Makerspace is to toothpaste and FAB LAB is to Colgate. Makerspaces are innovation centers that give access to use the technology and expertise. These hubs are meant to augment the problem of the high costs of prototype creation: time, effort and money. Velasco points out that the keyword in FAB LAB's production is rapid prototyping. "Compared to software design which is easy to pivot, hardware design requires a lot of iterations. You will need time. You will need all the neurons. You will still make a lot of mistakes. [With the technology in FAB LABs], you just go on your digital file, and [produce] it. And if you make a mistake, you can go back to your digital file, and do it again, and rapid prototype it."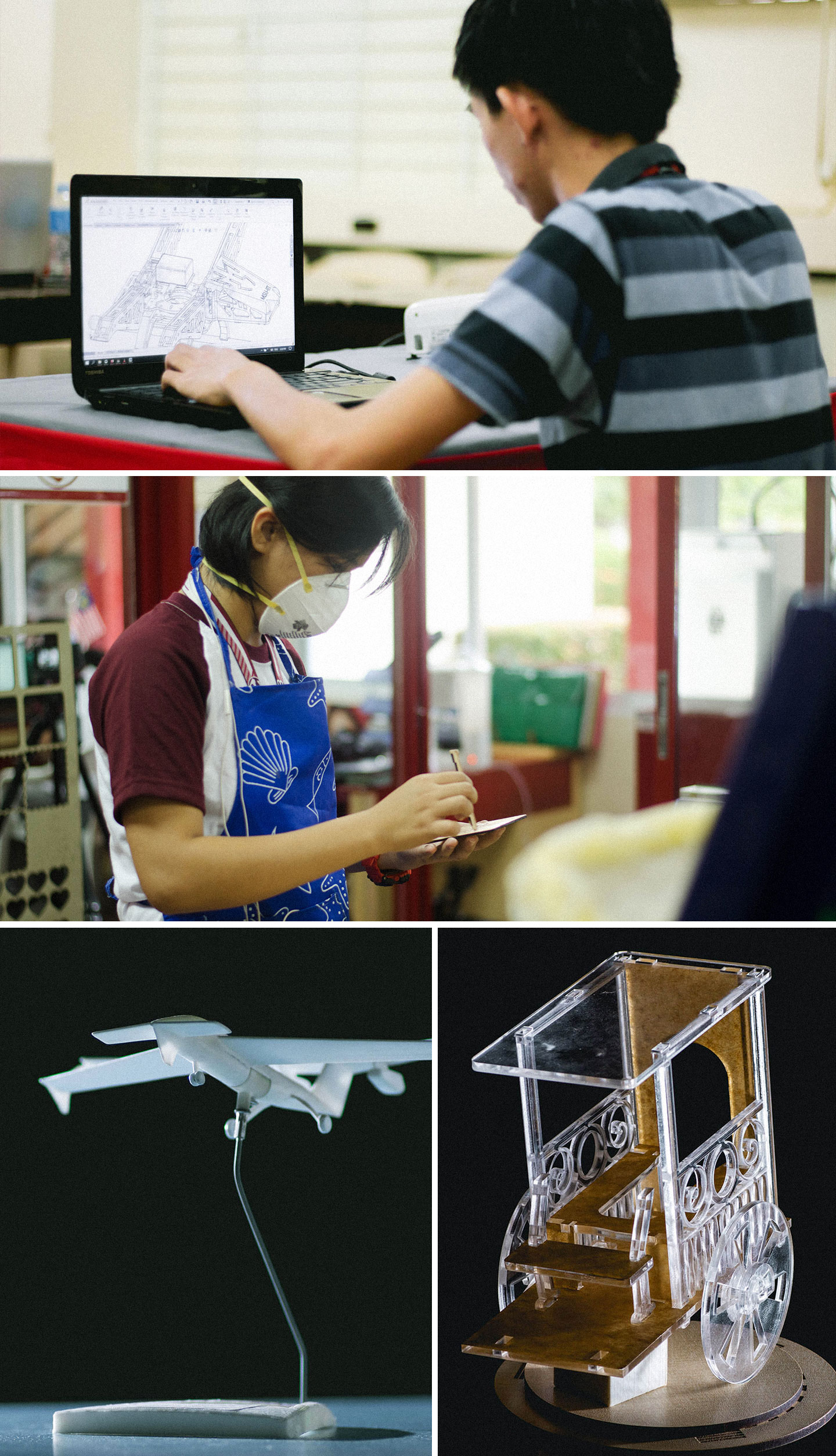 FAB LABs are normally equipped with heavy duty machines like 3D printers, millers, and laser cutters that are very expensive to own. FAB LAB is a brand of Makerspace created by Dr. Neil Gershenfeld in the Massachusetts Institute of Technology that gives anyone within the community access to these technologies. According to Velasco, that's the next keyword vital for a FAB LAB: community. "FAB LABS have different models. But what makes us unique is that we are community-based. It's more like an extension project to the community." But despite this noble concept, Velasco explains that Makerspaces don ot often make the return of income one would expect. "There's no model of a sustainable Makerspace but in the FAB LAB I've worked in Boston, we see the long-term goal of Intellectual Property. It's not the operational income, it's the income from royalties, it's the income from patents, it's the income from discoveries. Other than that, FAB LAB is an extension of the program."
FAB LABs are subsidized by local governments or partnered with industries. In the Philippines, the organizations responsible are the Department of Trade and Industry and the Department of Science and Technology. Albeit a bit late compared to the innovation of other countries, one cannot deny the Philippines has gained potential for the creative economy. "What governments around the world right now are investing in the innovative capacity," mention Velasco.
Compared to neighboring Asian countries like Singapore, Thailand and Taiwan, the Philippines lags in its innovative capacity. "The fact that we had K-12 only in the last 5 years, and emphasize STEM (Science, Technology, Engineering, and Math) as a different track, HUMMS (Humanities and Social Sciences) as a different track, and the creative economy being very late means we haven't built our minds to innovate," expresse Velasco. While the country is language-centric in its education, highly innovative countries like China and Japan train kids in coding, programming, designing at a very early age. Even kids with good ideas early on are strained by the complications of prototype production. That is where Makerspaces come in: to simplify processes and lower expenses. With an open space that is supportive of making mistakes, creating prototypes using digital fabrication becomes less intimidating and more accessible to the public.
For a FAB LAB to do well, it must have the capacity to innovate and research and because it is centered and located within communities, they become hubs for the exchange of ideas and services where its members support each other. In fact, a whole community of FAB LABs is emerging in the Philippines, one that Velasco hopes to conglomerate as a unified league in time. "We envision our labs to get innovation systems that transform ideas for value creation and wealth generation." These are people, partners, and affiliates working together so that people's ideas can be transformed to create products that generate value, products that can solve problems, but also the ideas of people to be converted to wealth, to have the makers to earn.
FAB LAB Mindanao is a force in the country's emerging creative economy. Velasco believes in the role of FAB LABs during this flux. "We have a lot makers who are using our technology and it's easier for them to make designs, it's easier for them to make products. And that's our goal: accelerating the production and knowledge generation of output. Our role in the creative economy is still in the provision of technology and expertise." Albeit the need for a stronger educational campaign for these hubs, members of this community like Velasco and Cu are optimistic about its concept and accessibility. "Our aim is to mainstream the education. [The public] will be willing to learn if there's a need," said Velasco.
This article first appeared on the 76th issue of adobo magazine: The Creative Economy.