Serviceplan Group teamed up with Hakuhodo Inc and Unlimited Group for a seminar at Cannes Lions International Festival of Creativity in June titled: "Let's Talk More about Humans: This Pathetic but Lovable Creature".
Three leading industry talents gathered for the seminar in Cannes to share their insights on the human condition through the lens of their creative work: Serviceplan Group CCO Alexander Schill took to the stage at the Palais des Festival for a discussion with Kentaro Kimura of Hakuhodo (Tokyo) and Cristina de Balanzó of Walnut Unlimited (part of the Unlimited Group, London). The session was moderated by Ayami Nakao from Hakuhodo Inc.
Before handing off to the panelists, Ayami Nakao explained that the speakers were not simply going to beautify humans, but would also explore our "somehow fickle, superficial and seemingly selfish" aspects.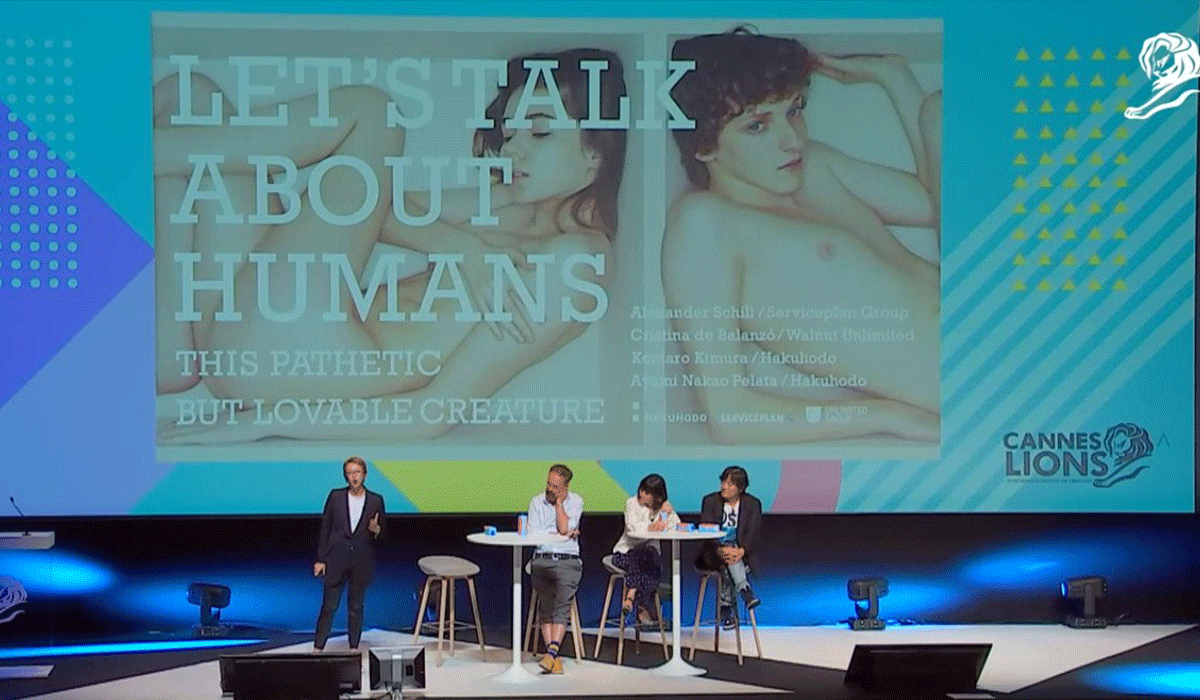 Alexander Schill asked the intriguing question: "How do humans use technology to stay human?" Noting that we have always been social creatures, he explained that technology means we can reach out to others at any time, and that staying connected is clearly important for brands. However, he then revealed the sobering statistic that 70% of websites are not accessible to the visually impaired, effectively cutting off some 285 million people around the world Schill raised the idea that accessibility is a human right, and that being connected is "the strongest currency we have for the future." He added that even when we disconnect from the digital world, it is to reconnect in another sphere, such as nature, so the basic premise is still actually about connection.
He pointed out that not all advances in technology are necessarily helpful for individuals coping with challenges, citing the example of a friend with impaired vision and her new coffee maker. Although superior in technology to her old one, the new model featured a digital display, effectively rendering it impossible to use.
"We should look at technology as something that can help us overcome our limitations. Connection is our access to everything." Schill said.
The audience were then shown an example of these concepts in action, in a campaign video for Korean firm Dot Incorporation, which makes innovative products for the visually impaired through "bringing tactile communication to visualization." The Dot Watch is the world's first Braille smart watch, transmitting information in real time, while the Dot Mini can access any digital media and translate it into Braille, allowing reading and listening in synergy. The Serviceplan Group has not only been a partner in developing these products, but is also one of Dot Incorporation's shareholders.
Cristina de Balanzó then took centre stage, and shared her insights on how we connect through our emotions. She opened with an interesting observation: While the advertising industry tends to think that we change people's behavior though positive emotions, "it is actually sometimes negative emotions—sadness, anger, disappointment—that can be quite engaging and very effective at driving behavior."
To read the full description of the stage talk go to: hakuhodo-global.com/news/cannes-lions-seminar-2019-lets-talk-about-humans.html