MANILA, PHILIPPINES — To celebrate "Hangeul Day," the Korean Cultural Center in the Philippines (KCC) opened its first-ever exhibit in October with "K-Lit: Turning Pages of Korea," showcasing some of the most prominent works by Korean authors in recent years. This engagement is part of KCC's efforts to give Filipinos a deeper look into Korean culture through literature, encouraging readers to enjoy literary pieces that touch on fantasy, crime, philosophy, and more.
Running until November 18, 2023, the exhibit puts the spotlight on globally well-received titles from South Korea, with a focus on three authors who have been gaining recognition recently for their bestselling and award-winning novels: Jeong Youjeong, Cheon Myeongkwan, and Son Wonpyung.
Jeong Youjeong, who recently visited the Philippines for a media forum with KCC, is a leading crime and thriller author who has received several accolades for international bestsellers "The Good Son" and "Seven Years of Darkness." Her section of the exhibit exudes the chilling atmosphere of her stories, with dark backgrounds and displays that are seemingly taken straight out of a crime investigation.
Her venture into the crime and thriller genre paints an atypical picture of South Korea with her exploration of the "dark side of humanity," which she believes is an integral part of understanding culture as a whole.
"When we watch K-Dramas, we tend to think that Korea is a place that is perfect and beautiful. But then, I want to say that there's always the bright and dark side of every place on Earth. That's the same for Korea. And I believe that a lot of people are already publicizing how bright, happy and beautiful [the country] is, so this time I'm going to be the ambassador of the dark side of Korea. I think everyone can relate to the fact that it's actually a prevalent issue around the world; we all have our dark and bright side," Jeong stated at the media forum.
Meanwhile, a stark contrast to the eerie display of her work is that of Cheon Myeongkwan's — a novelist, screenwriter and film director who has made a name for himself in the book community for his satirical work. His section of the exhibit was largely inspired by his 2004 novel "Whale," which has become one of the most loved stories in Korea. This 2023, the 19-year old title was shortlisted for the International Literature Awards under the International Booker Prize.
"Whale" is a multi-perspective story that lends itself to magical realism, with a focus on the strange adventures of three women whose lives are intricately linked together. These multiple voices are represented in Cheon's display with the honeycomb design that underlines how these characters are both similar and distinct in their unique circumstances.
Lastly, Son Wonpyung completes the lineup of authors showcased at the exhibit with an interactive installation that asks, "How do you feel today?"
KCC dubs Son as a representative of a new generation of storytellers, with her literary debut in 2017 in the form of "Almond" receiving worldwide acclaim from readers, and earning the Changbi Prize for Young Adult Fiction. The novel follows an extraordinary coming-of-age story "about a monster meeting another monster" with a victim and tormentor forming an unconventional friendship.
Son's section of the exhibit has collected a multitude of sticky notes since its launch with members of the media and other guests opening up about their feelings and sticking it on the board. Aside from this display, connecting pipes and tubes are also woven across the installation — a nod to the intricacies of human interaction and relationship.
These three author spotlights are the biggest attractions at KCC's exhibit, but several other titles can also be discovered here. Open until November 18 at KCC, Taguig, guests are free to learn more about Korean culture and literature through the displays, as well as the Center's library, which houses even more titles to explore.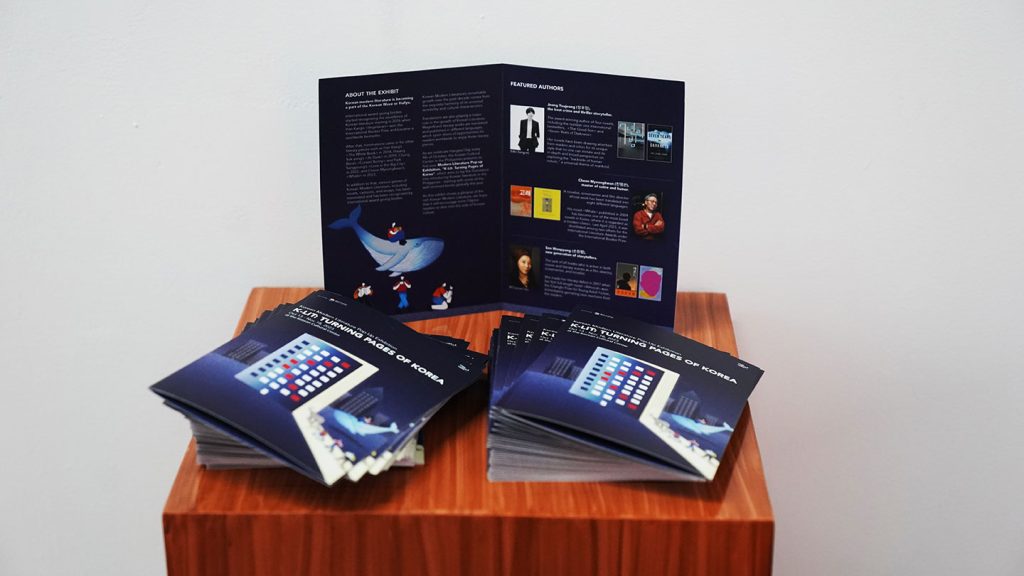 Follow KCC for more information: https://www.facebook.com/KoreanCulturalCenterPH/