MANILA, PHILIPPINES — Graphika Manila, the biggest conference on creativity in the Philippines, returned to its physical venue at the SMX Convention Center on August 14 after a two-year hiatus due to the pandemic. Featuring some of the world's creative minds, Graphika once again gathered artists, illustrators, and students for a day full of inspiration and flowing energy.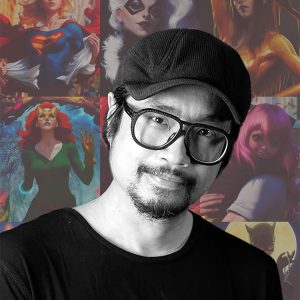 Opening the conference was Stanley Lau, also known as Artgerm. He is a creative director and teacher based in Singapore who also runs Imaginary Friends Studios with the mantra "by artists for artists."
"Change is also a chance for us to grow," said Artgerm, whose talk was aptly titled courage to change. He said that by going out of one's comfort zone, one is actually growing it. He expounded on this by sharing how it can be applied to art: whether by exploring a new art style, trying a new subject matter, learning a new medium, using a new camera angle, picking a new expression, or adopting a new process.
Artgerm also talked about the two biggest developments in recent years: artificial intelligence (AI) and non-fungible tokens (NFTs), both of which have garnered some controversy in the creative industry. While the two definitely disrupted the industry, he said that creatives have nothing to fear because they are still irreplaceable.
"I would say that NFT, at this point, is still very new 'cause a lot of question marks are around the mechanism," Artgerm told adobo magazine.
"To me, at the end of the day, it's the product that matters so it's the art," he added. Artgerm assured the room full of creatives that all the input that goes into an art — the effort, the inspiration, the time, the materials — are all part of the process.
"I will always focus my attention on improving my art." He also noted how important it is to have a community of support, especially in an isolated world.
When asked about the future of NFTs, Artgerm admitted that he does not know where it is going but that he hopes those who have established their names in the industry find value in it.
"There's a lot of speculation going on that people buy and sell just for the sake of getting profit from it. I hope that it would be more open to everyone."
"I'm still very skeptical about it," he added. During his talk, he mused that art is a journey of constant changes.
Although not without its challenges, the future of art and the way people live their lives have one constant factor. "One thing I think won't change and would never change is the passion going forward."
adobo magazine is an official media partner of Graphika Manila 2022.