LONDON, UK — The $430 billion global beauty market is at the vanguard of innovation in ecommerce. From experimenting with video content to addressing consumer concerns about wellness, sustainability, and diversity, brands are becoming skilled at selling personalized products in a virtual world.
Debuting with a report on Beauty & Personal Care, Category Insights is a new series from WARC Digital Commerce exploring the current state of a category from the perspective of the retailer, the consumer, and the brand. 
Gregory Grudzinski, Report Editor at WARC Digital Commerce, said, "In the virtual world of digital commerce, the Beauty & Personal Care category is a hotbed of marketing innovation. Successful brands are going beyond helping consumers improve their appearances to helping them discover and reveal their authentic selves. 
"In this report, we shed light on trends in this space, such as premiumization and the outsized influence Gen Z shoppers have on the category. We also look at top performers and share gainers to help understand how the top brands plan to stay on top, and how challenger brands are looking to unseat them."
Beauty & Personal Care category is recession-resistant and growing
In 2022, the global beauty market, encompassing beauty, personal care, and fragrance, generated $430 billion in revenue and is forecast to grow 6% annually to reach $580 billion worldwide by 2027, according to McKinsey. Largely resistant to inflationary pressures, only 13% of US consumers have reduced spending on personal care items in the past 12 months.
Also in 2022, ecommerce became the beauty category's leading channel, claiming nearly a quarter (21%) of sales.
Category leaders increase paid retail media investment to stay ahead of the competition
Analysis of WARC's dComm Index, in conjunction with Perpetua's sales estimates, found that in the US, brands including Maybelline New York, Lume, and Versace are among the top category performers on Amazon. Their success has been underpinned by investment in retail media to increase paid share of voice (SOV) to stay ahead of their competitors.
In makeup and fragrance, 60% of the top-selling brands increased paid SOV, with an average increase of 1.7% and 0.9%. The paid investment fueled an increase in organic share-of-voice in both makeup and fragrance of 1.6% and 1.2%, respectively.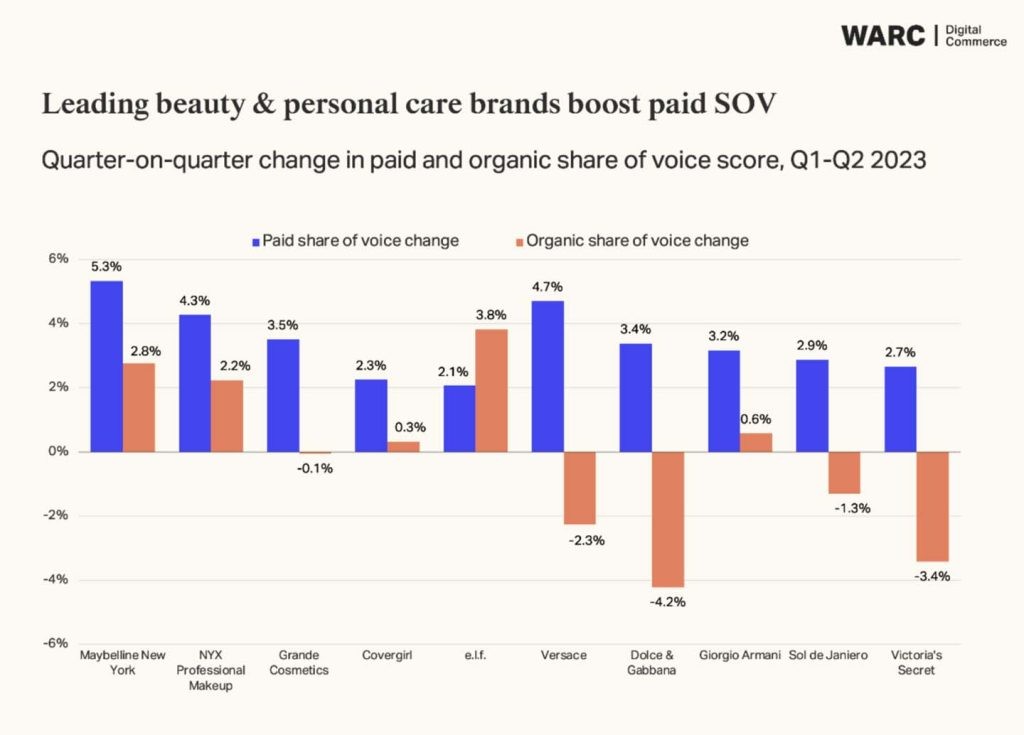 Enhanced product content is key
Content, a core constituent of the WARC dComm Index, is key to driving sales. In its '2023 Consumer Research' report, Salsify found that 55% of surveyed consumers won't purchase items with bad product content. Top brands have responded with the use of "enhanced product content," which provides a more immersive and informative experience for online shoppers.
Following improvements to its product display pages (PDP), Amazon is set to overtake Walmart as the top US beauty retailer by 2025, with a 14.5% share of a market that could hit $180 billion in value by 2025, according to an analysis by Morgan Stanley.
Premiumization, social selling, and the rising importance of sustainability and diversity are key consumer trends in the Beauty & Personal Care category
One of the biggest trends in Beauty & Personal Care is the emergence of "premiumization," promoting unique product attributes to enhance the perceived value of a brand. Products marketed as "premium" are projected to grow annually by 8% between 2022 and 2027, according to McKinsey. By comparison, mass-market beauty products are growing at 5% annually.
TikTok has become instrumental in elevating the premiumization concept, particularly among younger consumers. According to Voyado 73% of Gen Z are prepared to spend more on premium products.
A surge of new beauty brands that cater specifically to communities of color has raised expectations for all brands to create inclusive shade ranges. Kate Palmer, Insights Manager at Edge by Ascential, commented, "In the ecommerce space, I think there is still room to grow in helping customers find the right shade match for their skin. This is notoriously difficult to do online."
Gen Z's heightened sustainability awareness, where overconsumption is avoided, means younger consumers may be looking more toward consolidated beauty routines composed of brands and products they feel ethically connected to.
Category Insights is a new series of reports exclusive to WARC Digital Commerce subscribers. Published twice quarterly, they explore the current state of a product category and brand performance using proprietary WARC Digital Commerce dComm Index data. Each report includes actionable insights supported with evidence, examples, and expert opinion.
 A complimentary sample of Category Insights: Beauty & Personal Care is available to all here.