MANILA, PHILIPPINES — Christian humanitarian organization World Vision Development Foundation has become the newest member of the Globe of Good ecosystem of partners, as it has joined Globe's hunger alleviation program, the Hapag Movement.
World Vision's participation will contribute significantly to the larger goal of feeding and empowering 100,000 families or half a million individuals within four years.
The Hapag Movement is Globe's united fight against hunger through technology. It helps address the problem of involuntary hunger and joblessness affecting millions of low-income Filipinos by connecting multi-sectoral partners and mobilizing local and international donations from multiple sources.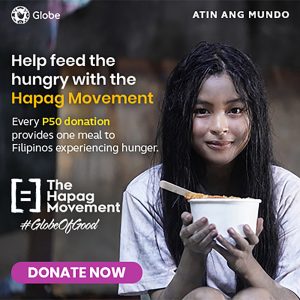 As a global group devoted to improving the lives of children and their communities, World Vision joins other Globe partners – the Ayala Foundation, Caritas Philippines, and the Tzu Chi Foundation – in a holistic intervention to benefit vulnerable families in the country.
Hapag's community support includes food distribution programs in the most disadvantaged communities, capacity-building sessions for upskilling and micro-entrepreneurship, provision of seed capital through microlending to jumpstart livelihood activities, and access to employment opportunities via partner companies.
Specifically, World Vision's livelihood programs under the Hapag Movement center on financial literacy, capacity-building for the Antique CoMSCA Credit and Cooperative (AnCCC), with plans to put up a mini grocery and meat processing business.
It also includes swine dispersal and basket weaving training, as well as the Himaya 2 Fishing Boat Project, which aims to increase the daily income of fishing families in the program area.
"Our goal is to bring nation-builders together to achieve sustainable and inclusive development by leveraging the power of technology. Beyond supplemental feeding, our collaboration with mobilization partners like World Vision will also provide our beneficiaries with livelihood opportunities to help sustain them long after the program's roll-out," said Globe Chief Sustainability and Corporate Communications Officer Yoly Crisanto.
The Hapag Movement is anchored on Globe's Alagang Globe campaign, focusing on the company's ecosystem of relevant services and products which enable Filipinos to uplift their lives.
This is part of Globe's commitment to leverage technology to make meaningful change in society, aligned with the United Nations Sustainable Development Goals, which highlight the roles of infrastructure and innovation as crucial drivers of economic growth and development under SDG No. 9.
World Vision Resource Development Director Jun Godornes shared, "Tackling the issue of hunger involves more than just the usual supplemental feeding and one-time activities. Interventions should also involve providing livelihood opportunities and capacity-building programs that can help sustain families even after initial interventions."
He continued, "World Vision believes in nurturing, not just the immediate beneficiary, but also creating a sustainable and holistic program for the whole community. As the famous saying goes: 'If you give a man a fish, you feed him for a day. If you teach a man to fish, you feed him for a lifetime.'"
Hunger has been a major challenge for Filipinos since the onset of the pandemic. According to the 1st Quarter 2022 Social Weather Stations Survey, 12.2% or 3.1 million families, or an estimated 15.5 million individuals, regularly experience involuntary hunger.
This is primarily caused by loss of livelihood, which has affected low-income families' capability to support their daily needs. The Philippine Statistics Authority's Labor Force Survey placed the unemployment rate at 5.8% or 2.87 million individuals as of March 2022.
Globe invites its customers and partners to help put food on the table for every family in need. They may donate via GCash or use their Rewards points to support the movement through the New GlobeOne app.
To support, simply download the New GlobeOne app and donate Rewards points for as low as PHP 1. Simply follow the steps below, or donate using the GCash app: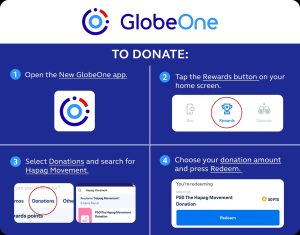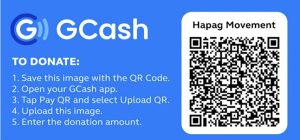 To learn more about Globe, visit www.globe.com.ph.