MANILA, PHILIPPINES – Urban Farmers PH, a social enterprise and NGO nurturing communities to farm in unused spaces, celebrates three years of inspiring a new generation of farmers through schools, communities, and partner organizations.
To celebrate this progress, the organization invited its farmers, partners, and volunteers to enjoy the creative offerings of herb accented beverages by The Astbury's Chef Joseph, vegetarian paella by Chef Marty Del Prado, and fresh pesto dishes by the culinary director at CCA Manila Chef Philip who is a regular volunteer and collaborator. A well-rounded showcase of elevated produce was plated and served under the "Green House" gathering spot at the BGC Community Farm by Urban Farmers PH.
Louie Ocampo Gutierrez, Founder and President of Urban Farmers Sustainability Concepts Organization, shared that the way farming is perceived matters; and by building centers for communities in the Philippines to share knowledge on urban agriculture is not only inspiring, but also beneficial to uniting community relationships in general.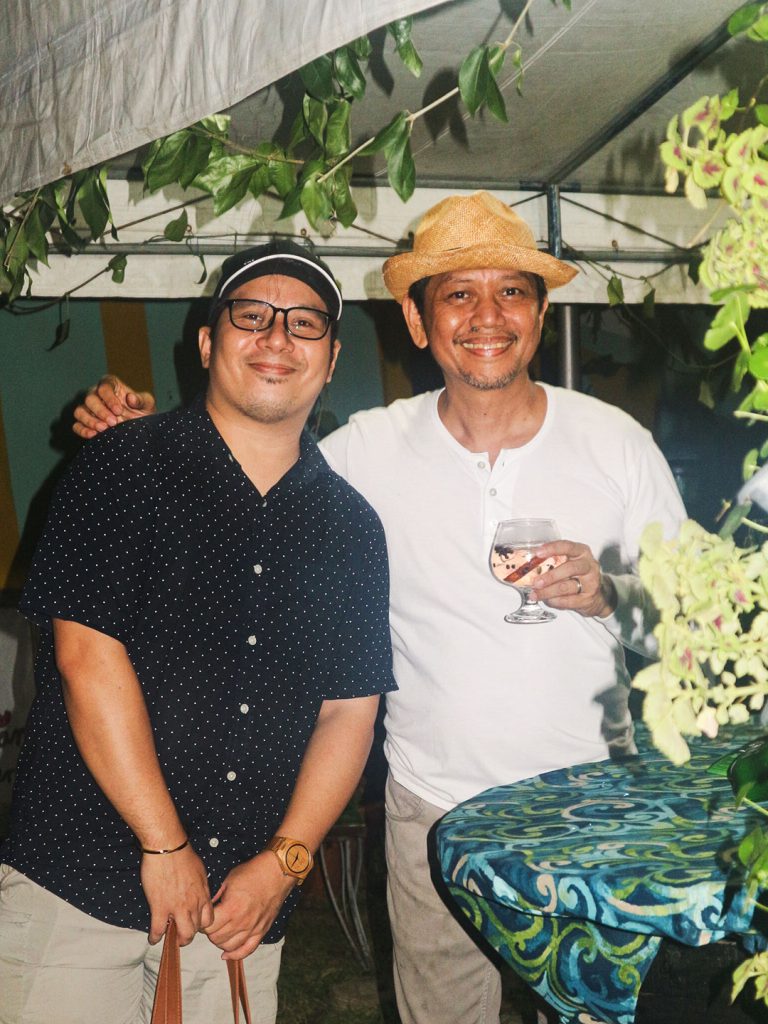 Uniting communities through food
Active participation of the community to transform unused spaces into edible gardens is essential. With this, every project developed by Urban Farmers PH has been done with the help and support of volunteers and the community it serves. This collaboration sees engaged discussion with communities on how they can make their food more nutritious and tasteful by using different vegetables they can grow – a push to promote feeling good and having fun while making more room for nature through edible gardening.
To date, Urban Farmers PH, in collaboration with partner Hands On Manila, has set up 12 urban edible gardens for public schools, mostly in the Makati and Mandaluyong area, where they teach how to grow fresh and healthy food. The efforts bring hope and inspiration to young students to get into farming as a hobby, passion, career, or as a part of their mindful practices.
Accessible food nutrition as produce prices continue to rise and processing material food waste are common problems for the majority of communities in the Metro Manila area. This is why maximizing unused land is one solution that Urban Farmers PH uses to help tackle these challenges, leading the dialogue with land owners and developers to share a vision to improve the value of the land for the community through food and agritourism.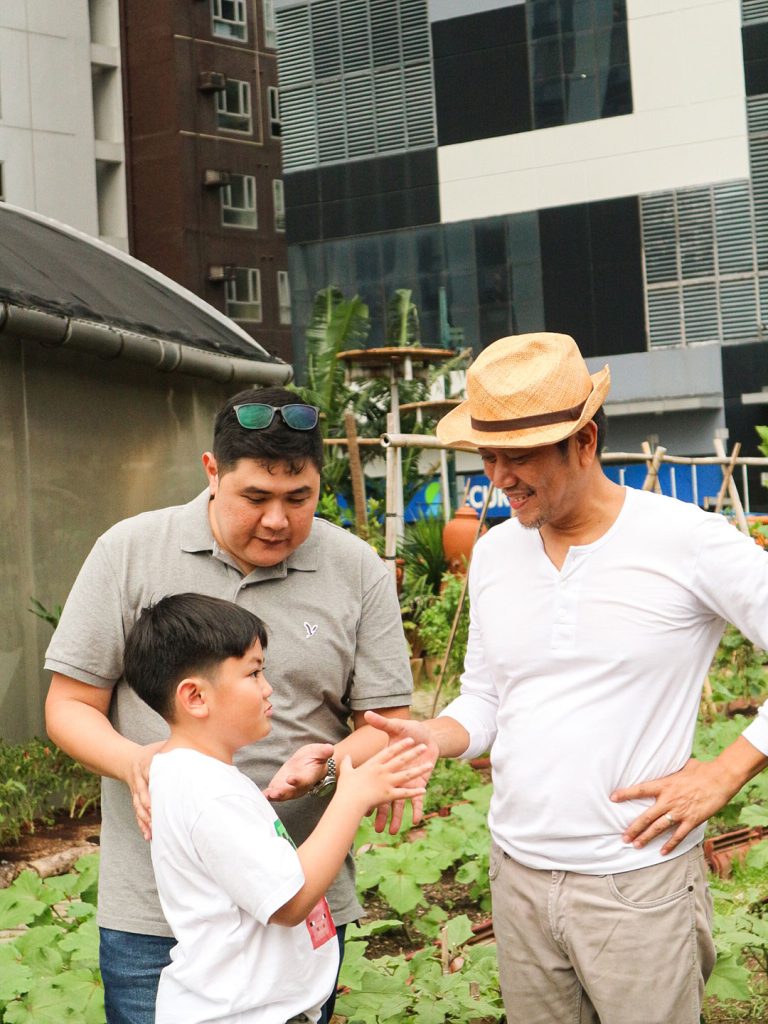 The first harvest
The journey of Urban Farmers PH started during the pandemic. Louie is a jeweler and owner of SilverWorks, which has over 60 locations across the Philippines. The pandemic brought business to a halt, and with a workforce of 500 employees, he asked what he could do to support them.
Stuck at home like everyone else, his idea was literally inspired by peering out his window. There it sat: an unused lot across the street in his Makati village. Although he wasn't familiar with the neighbor, he inquired, asking if he could clean it up and use it for farming. Without hesitation the owner said yes. And from that moment on, even without the proper knowledge of farming at the time, Louie felt that this is something worth doing; this will help people.
Inviting his employees to participate in the project and through scrambling for information on YouTube, they connected with local UP Los Baños agriculturist Earwin Belen, Founder of Urban Agriculture PH. Earwin guided the team as they attended several courses, including East-West Seed Foundation's VeggiEskwela Online, to train and help build the vision Louie had for the lot. And now with a localized knowledge base for the project, they started planting. 
One member of the first batch of trained farmers shared, "My most favorite thing in what I do in our community garden is planting seeds. Because in every seed that we plant, we are able to witness them grow little by little in each day we spend in the garden."
The neighboring residents were quick to arouse excitement, to volunteer and see the project grow. To them, it was a space to move around during a time of restriction, or a place to play for children to get outdoors in the dirt and learn gardening. And in four months' time, with the support of the village and employees of SilverWorks, the first crops including pechay, mustard greens, eggplant and okra were harvested and shared to the kasambahay (helpers) and security guards of the village.
Scaling a tasteful initiative
The organization invites businesses to help promote corporate sustainability by adopting improved environmental practices such as urban farming. The NGO creates activities to engage company employees and their surrounding communities by inspiring them to care for the planet and the future.
Set on an idyllic 1,500 square meter lot sits an urban garden, juxtaposed with the glossy offices and busy commercial district; the BGC Community Farm by Urban Farmers PH holds a spotlight as an exemplary green zone. Lent by the Fort Bonifacio Development Corporation through pitching the idea in Louie's business network, this patch of green is not only peaceful for the eyes — it has also revitalized a lost ecology, attracting pollinators and birds back into BGC. 
The connection with the developer wasn't the only factor in making this project come to life. Through studying in an online course on social entrepreneurship offered by Coursera during the early stages of Urban Farmers PH, Louie created the framework for his urban farming project using the original village garden in Makati as a proof of concept. The learning partner of the course, Copenhagen Business School, saw his work as a stand-out among hundreds of projects developed through the program, and invited him to join the global ImpaktWise contest. 
Then known as the project titled "Urban Farming during Covid-19," Louie was awarded the Grand Prize with a small seed fund which was used to start the BGC Community Farm. Most recently, the project in its current form has also garnered high praise from the Philippine Retailers Association, winning SilverWorks the Outstanding Filipino Retailers Award for Sustainability in 2023.
Over the past three years, the organization has sprouted six farms, constructed 12 edible gardens for schools, and set up 20 community "plantries" that give away free seeds and seedlings at popular public areas such as Salcedo Market, BGC High Street, NLEX Community Farm, and Makati City Hall. The team behind Urban Farmers PH has also quickly branched out, training and employing over 30 farmers who are the core support for building the specialized regimen of produce and designing of hardware to outfit the needs of every garden.
The farmer in Chief Louie has taken on the call to actively follow the United Nations Sustainable Development Goals, specifically to help achieve good health and well-being (SDG 3), zero hunger (SDG 2), as well as seven additional goals (SDG 8, 10, 11, 12, 13, 15, and 17). This not only makes their improvements in nutrition and wellness for Filipinos measurable, but also allows for easier alignment with their 40 partners.
As the farming population in the Philippines ages and the prices of produce have become less accessible to the masses, food security problems already dot the country. To care for future generations, knowledge of food nourishment must be positively reinforced to encourage bright minds to participate in solving our inevitable farming decline.
In a recent discussion for the Global Compact Network Philippines, Louie shared a few future focuses for the organization: supporting innovation in aquaponics; teaching simple animal agriculture symbiosis through rabbit care; and creative partnerships like Sodexo and MINT College's recycling plastics project that creates artistic plant containers.
One challenge that has always been at the core of the project is the need to decrease food waste, so it is a lauded announcement that a managed integrated compost and recycling learning center will soon open in Quezon City. This location will host tumbler and bokashi composting for the surrounding community, black soldier fly farming, and organic fertilizer access.
There is life in farming
Experiential learning has been a key to the organization's success. To date, over 50 "Farming 101 Workshops" have been conducted, where the emphasis is on having fun and being social. Participants will quickly dispel a lack of green thumbs for judging one's gardening success, because where nature is given a way to thrive, a community can flourish.
"The most important thing in starting a project like this, [is to] come up with the right intentions. It doesn't have to be this big. It can even be your balcony in the house or a small plot of garden in the backyard. If your intentions are clear, the plants will love it; it will grow, definitely amazing things can happen," Louie said on the challenges of starting a home garden.
To get inspired to try gardening at home, drop by the BGC Community Farm by Urban Farmers PH. Here, you can learn something new or try to "pick-and-pay" the experience of harvesting fresh, pesticide-free produce. Through small learnings, support, and positive experiences as a neighbor and community member, urban gardening and good food can benefit everyone in exceptional ways. 
---
Urban Farmers PH run on little acts from their volunteers to make big differences. Its volunteers not only find a new purpose and opportunity to help one another, but friendships and creative collaborations have also blossomed over the past three years.
If you're interested to share your skills or time, find volunteer opportunities by checking out their sign up form here.
The BGC Community Farm by Urban Farmers PH is also open for event reservations and private dinners. All proceeds from these activities go back into operations. Follow Urban Farmers PH on Facebook or Instagram (@urbanfarmersph) for updates.