MANILA, PHILIPPINES — Get ready for the grand revelation of PANAta Awards 2023 winners, set to dazzle on September 22, 6 pm, at Seda Hotel, BGC.
Since its call for entries last May, excitement has been building up. The anticipation has been mounting as the industry eagerly awaits which brand campaigns will emerge as the favorite, most creative, effective, innovative, and game-changing. Words alone can't do justice to describing these brand campaigns, but one distinction stands as the pinnacle: recognition from those who truly matter – their peers, competitors, and industry partners.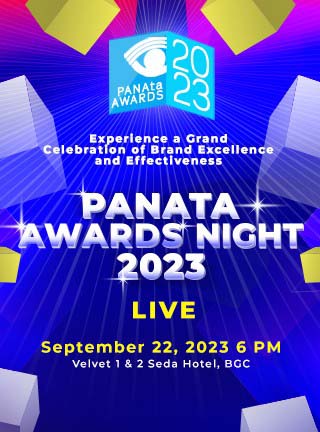 In its 14th year, PANATA AWARDS, an annual recognition program crafted by advertisers for advertisers, consistently brings together the advertising world's brightest minds. The industry gathers not only to celebrate effectiveness but also to honor the unwavering passion, dedication, and tireless effort invested in every brand campaign. For the unflinching brand builders and their industry partners who've weathered countless storms in the ever-evolving advertising landscape and shifting consumer behaviors, they've forged countless paths and emerged stronger. Resilience and agility are the hallmarks of this industry, and it's high time to applaud their grit.
This year, the PANAta Awards Night promises to be truly exceptional, featuring trending performances by some of the most promising young talents in the industry. Our host for this glamorous evening is none other than the vibrant Martin Javier, one of Sparkle's newest artists and a renowned sportscaster. Adding a musical touch to the event, PANAta Awards 2023 will feature "Simpatikong Bokalista," GMA's The Clash Season 5 grand champion, John Rex. More entertainment will flow from BETTER DAYS, an up-and-coming boy band set to thrill with their current hit songs. Last but not least, attendees will be graced by Elha Nympha, one of Universal Music Group's youngest talents and The Voice Kids Philippines Season 2 grand champion.
PANAta Awards extends its gratitude to its event and media agency partner PRAXIS, and to Vitalstrats Creative Solutions, its creative and communications agency partner. It also acknowledges its media partners: DOOH.PH, Business World, Meta, GMA 7, Universal Media Group, Wish 107.5, 96.3 Easy Rock, Monster RX 93.1, Inquirer Group of Companies, The Philippine Star, Globetronics, DB-Dunham Bush, and Team Asia. Its Chatbot partner is Megamobile.
PANAta Awards also thanks its official venue partner, Seda BGC. This event wouldn't have been possible without the tremendous support from its Industry Partners, the World Federation of Advertisers, and the Ad Standards Council.
adobo Magazine is an official media partner of PANAta Awards 2023.