MANILA, PHILIPPINES — Last July 28, adobo Magazine held "Fearless Future — The New Culture of Work," the first hybrid session of adobo SheCreative. A powerful lineup of women leaders who discussed what workspaces could look like in the future and what that says about the well-being of creatives made up this month's panel. Among the speakers is Anne Ridwan (at the time R3 Indonesia Country Director, currently Future Creative Network Chief Operating Officer) who delved into the numbers and statistics on gender in Southeast Asia.
With over 20 years of experience, Anne is an established marketing and communications executive who is considered a significant contributor to the Indonesian ad industry and one of the most prestigious business women in Southeast Asia. For this session, she shared what the current regional data says about women in the workplace.
Anne started by presenting data from a 2021 study that R3 conducted on how marketers and agencies can understand the progress in diversity in a Southeast Asian context.
"Truly, there is a gender gap in Southeast Asian countries," she pointed out. She highlighted that among the areas studied, the gap is not that wide in terms of economic participation and security but it is most severe when it comes to legal protections and political empowerment.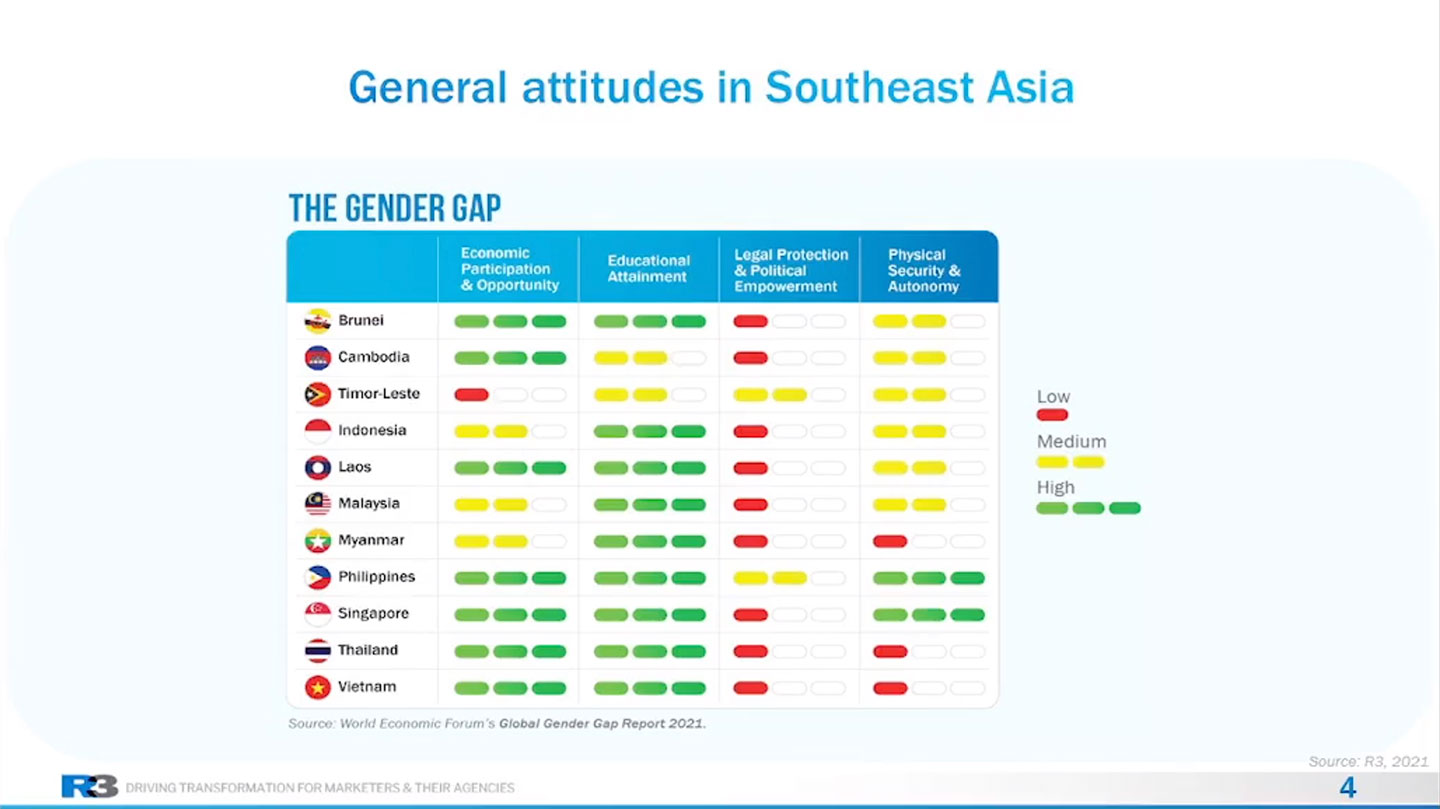 She then went on to talk about the statistics on how women are portrayed specifically in advertising and how that has real-world effects on the lives of women. "Compelling advertising really reflects certain realities about our lives. So, the ads do end up shaping the reality of these women too as [the ads'] norms become our norms," Anne said as she presented the following statistics:
33% of ads portrayed negative stereotypes of body image
38% of ads portrayed negative stereotypes of gender characteristics
44% of ads portrayed a negative stereotype of gender roles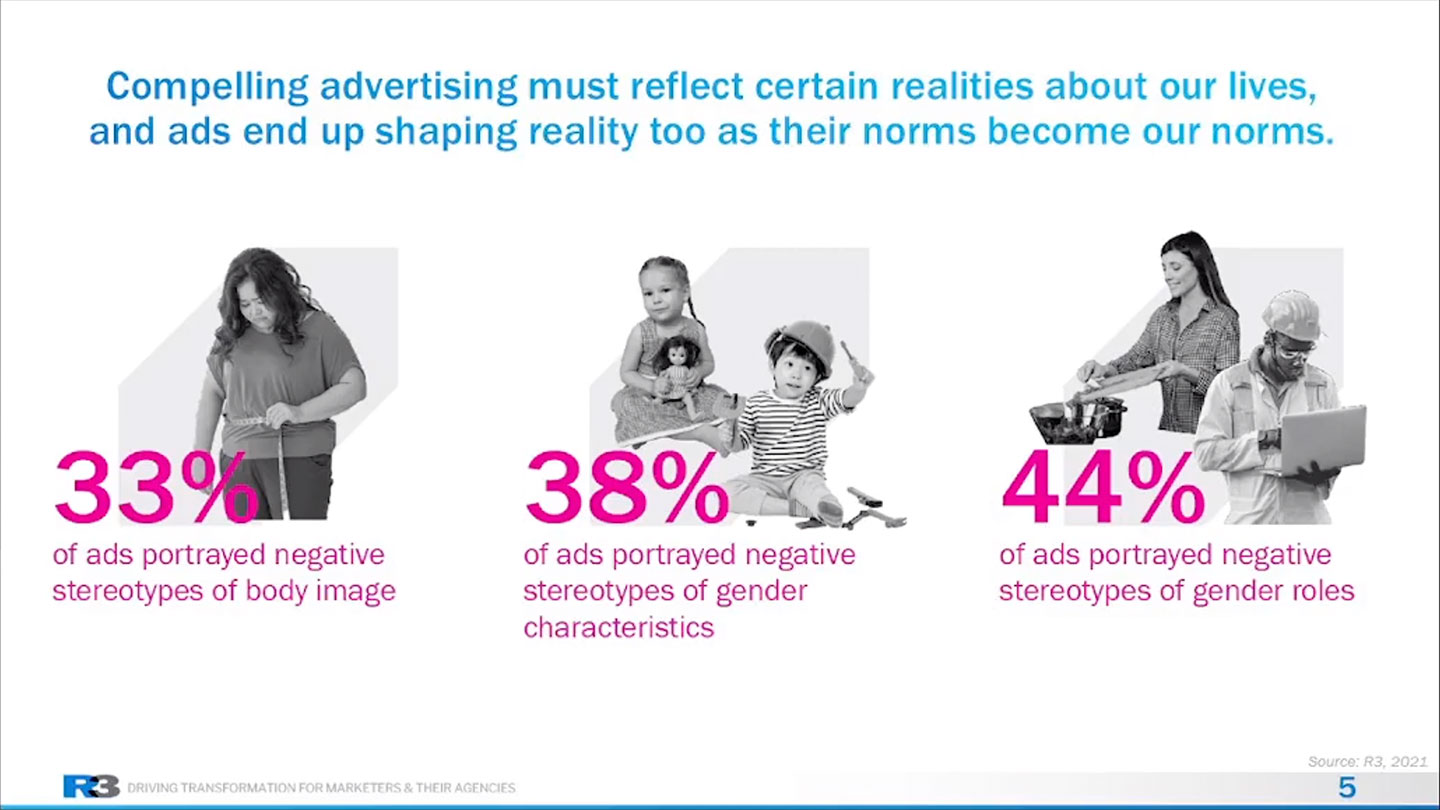 "This, unfortunately, reinforces outdated values of [how] men and women should think, understand, and act," she said. Anne also emphasized that this means many agencies are still portraying a limited view of women, always making them mothers, wives, or any other role that falls into caregiving.
Anne dove deeper by presenting data that also reveals what's happening behind the scenes of ads, such as the fact that most agencies don't have formal processes to ensure there is DE&I in their work for clients. Additionally, among the agencies surveyed, 40% saw no change in diversity in the past 12 months and 40% never see client briefs including DE&I specifications.
In terms of the representation in agencies, the gender split is almost equal, with slightly more women employees than men but more men in leadership roles than women.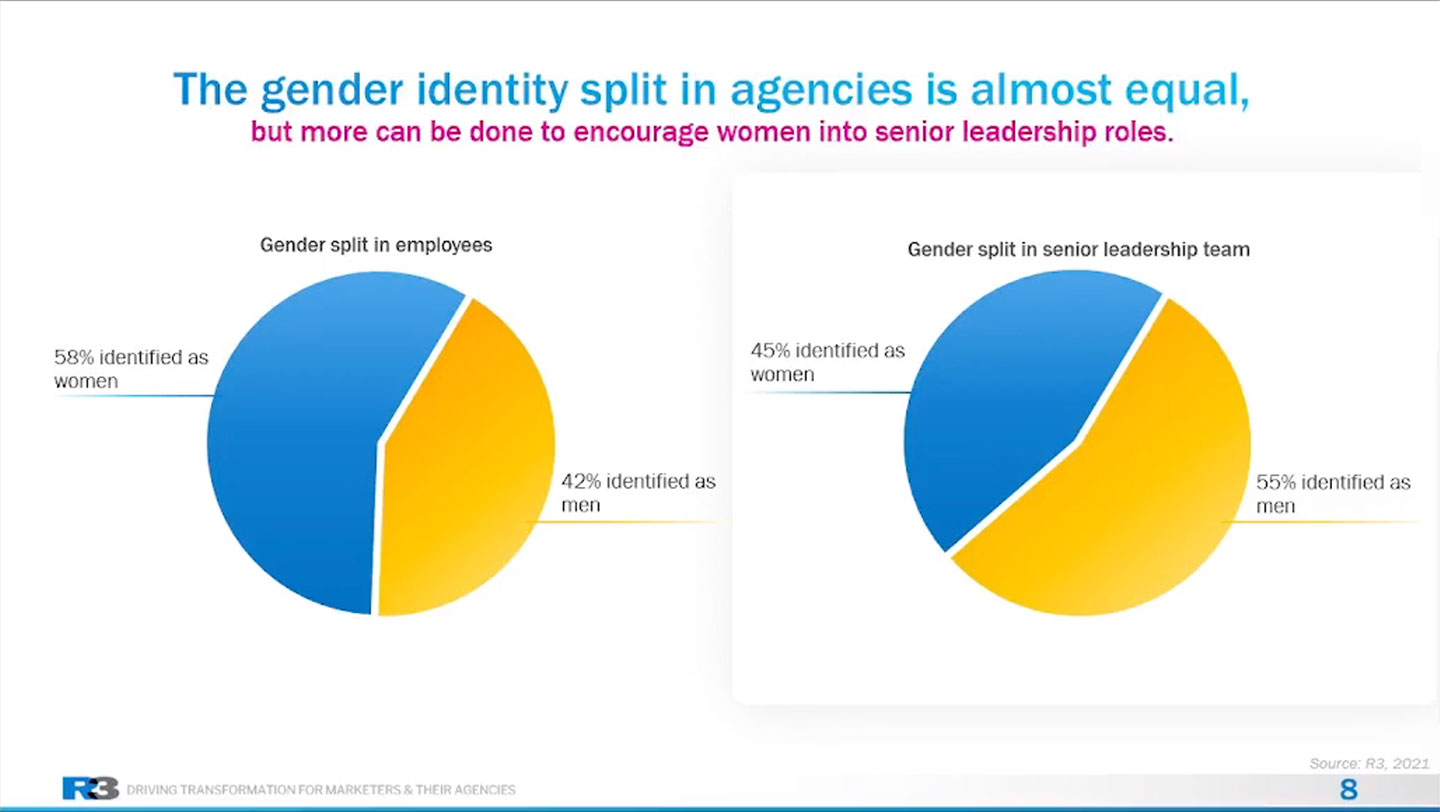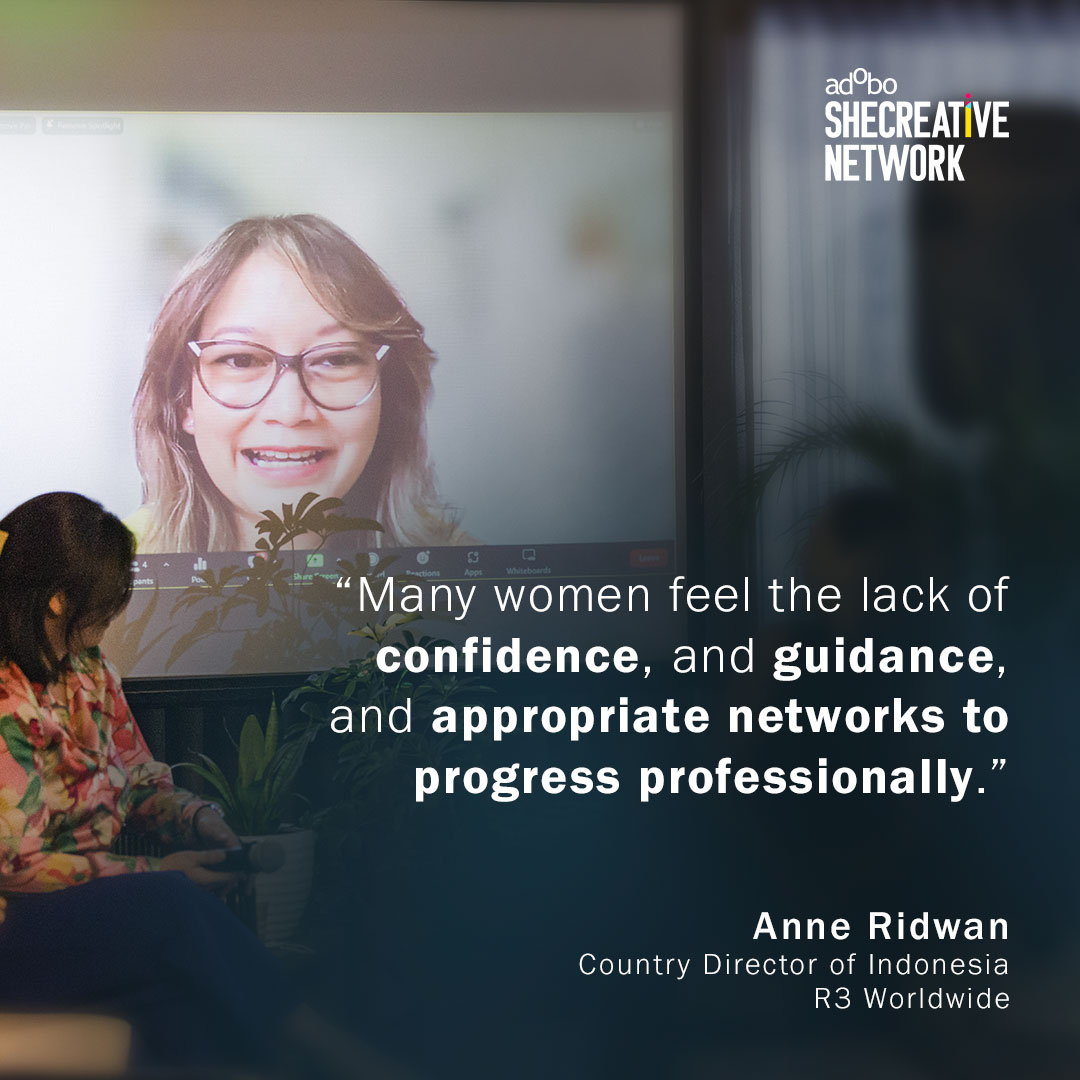 "This is also probably because women are less inclined to self-promote than men in their jobs," Anne offered. "Many women feel the lack of confidence, guidance, and appropriate networks to progress professionally."
So what are agencies doing to address these gaps? According to Anne, the data shows that, among the agencies who are rolling out formal initiatives to solve this problem, some common strategies include talent and recruitment initiatives and the provision of training and mentorships.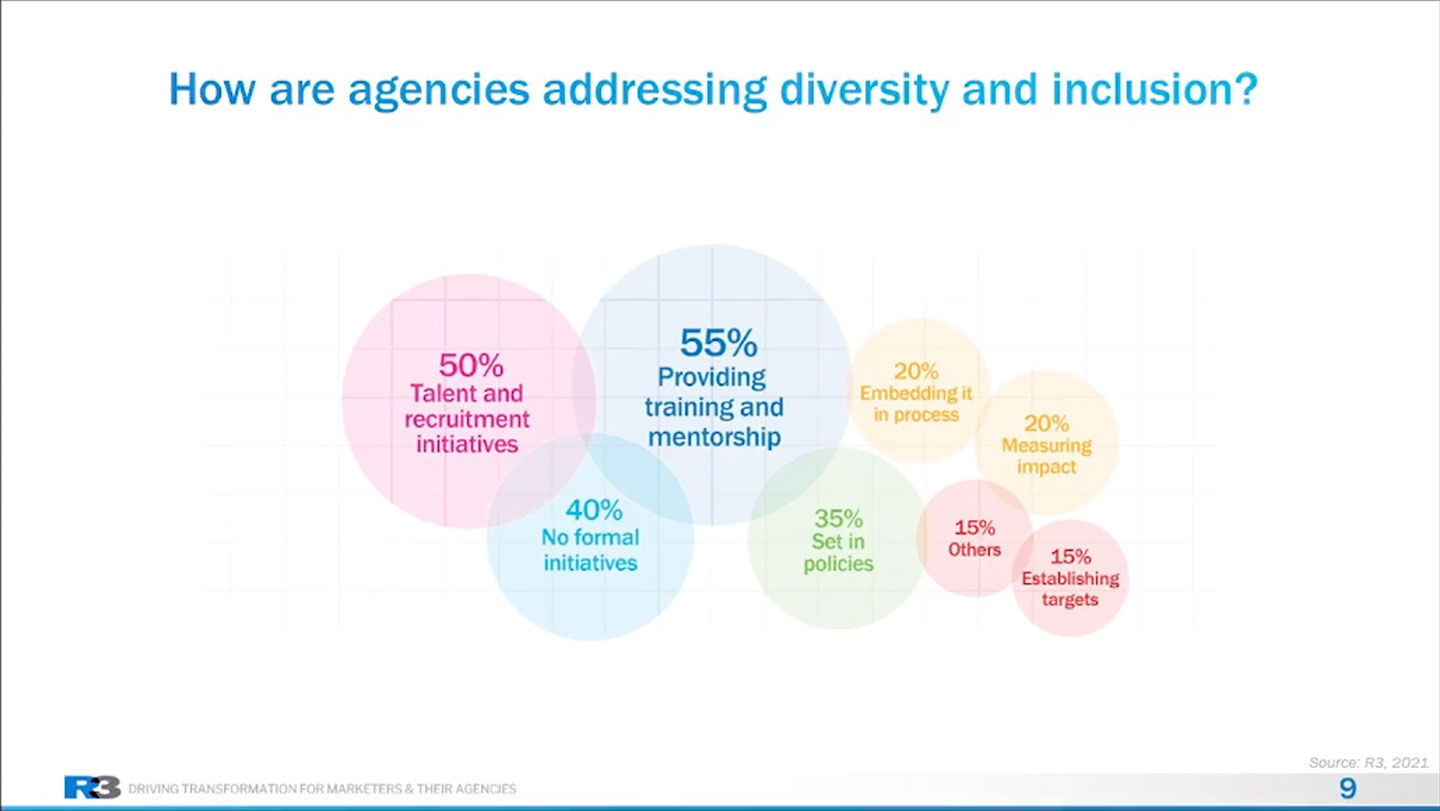 Anne also presented R3's recommendations for what agencies can do to change the male-dominated status quo of the advertising industry. These recommendations are:
Diversify the representation in the agency's work and communications
Implement policies to increase DE&I in the agency
Partner with organizations that enable diversity and positive societal change
Review the agency's processes and procurement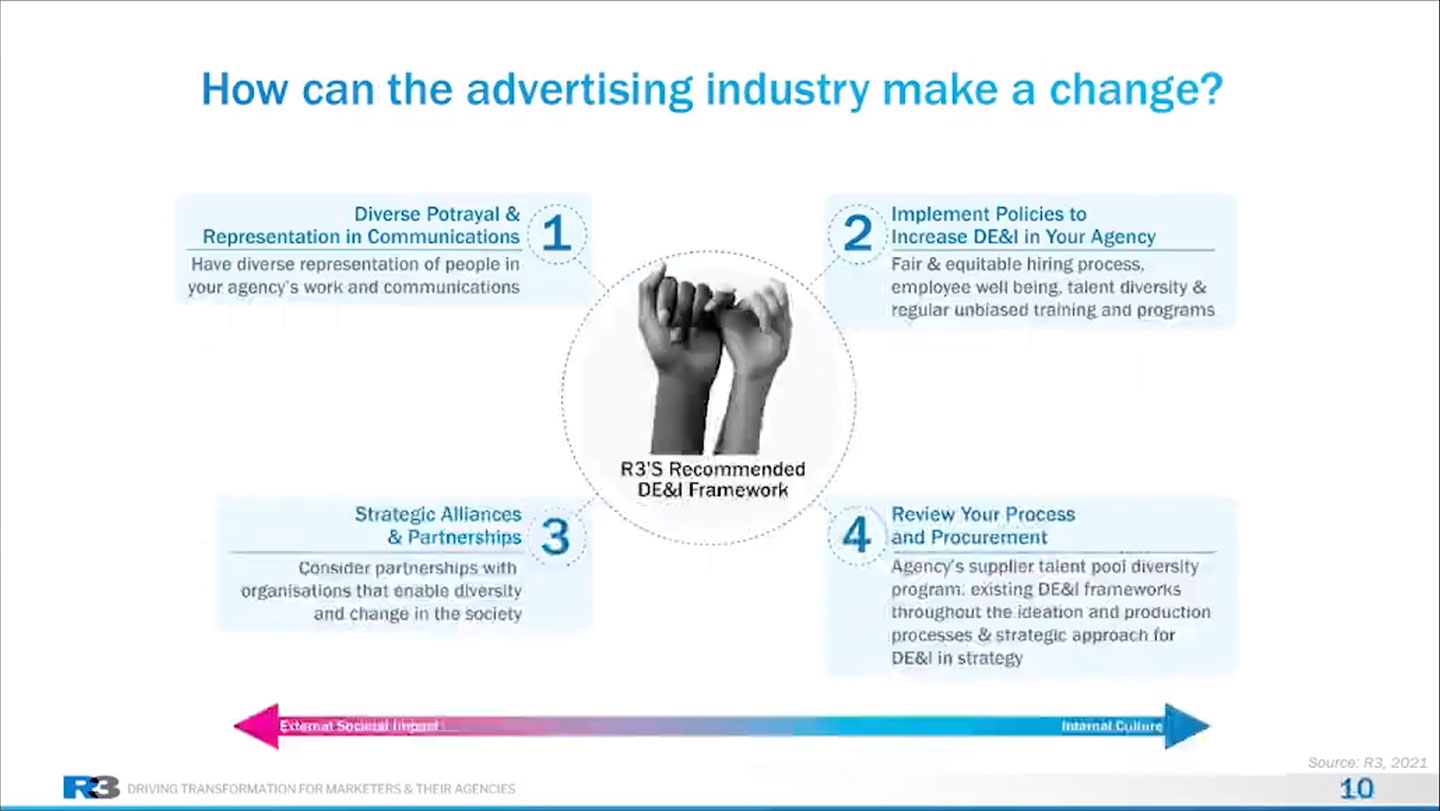 Along with these recommendations are R3's suggested ways that women can empower themselves and each other. The first is to step outside the comfort zone to promote yourself and advocate for your work, the second is to create and find a community of allies that can help you thrive and create change, and the last is to share more of your time and knowledge so that others may learn more about DE&I's significance, its progress, and what else each one can do to bring the movement further.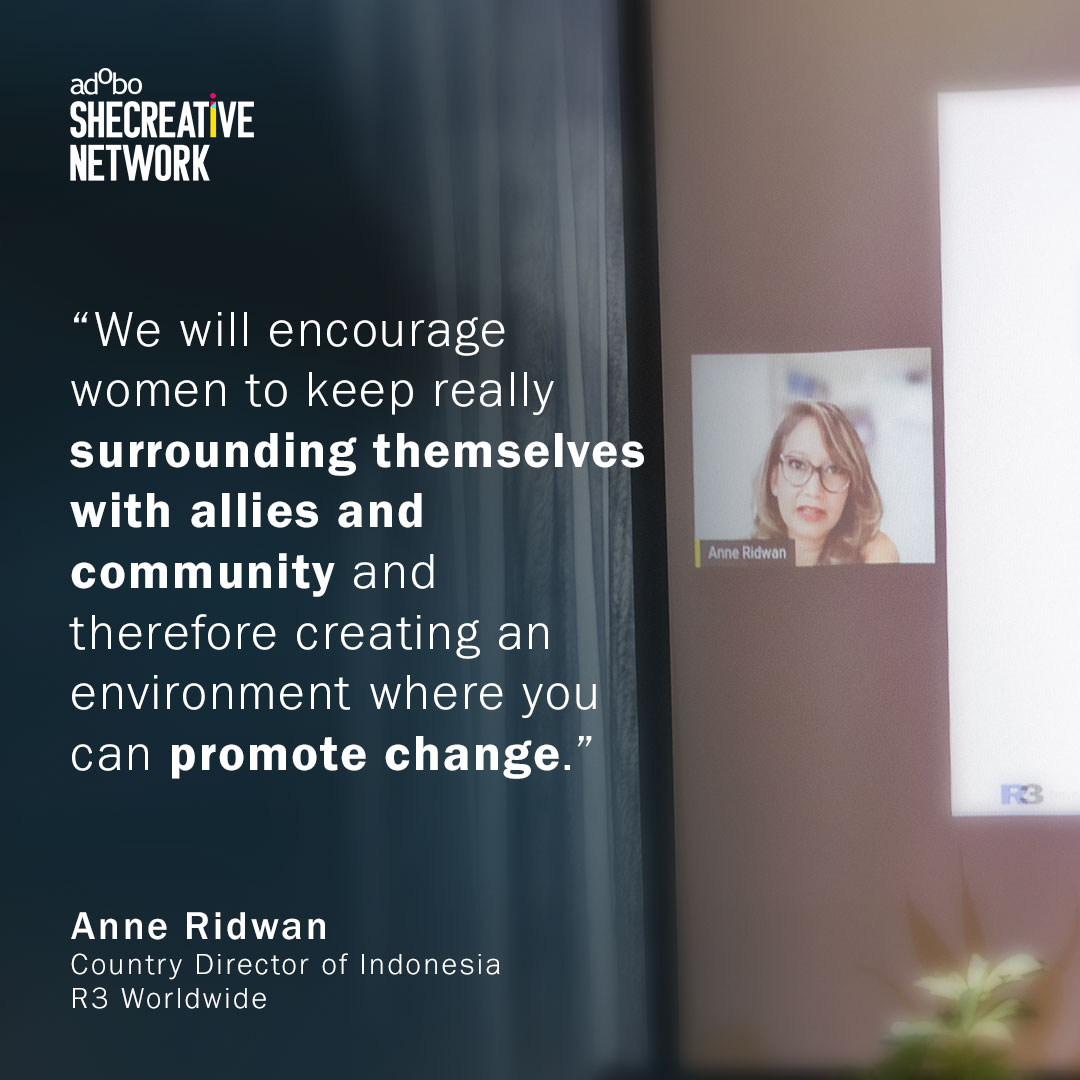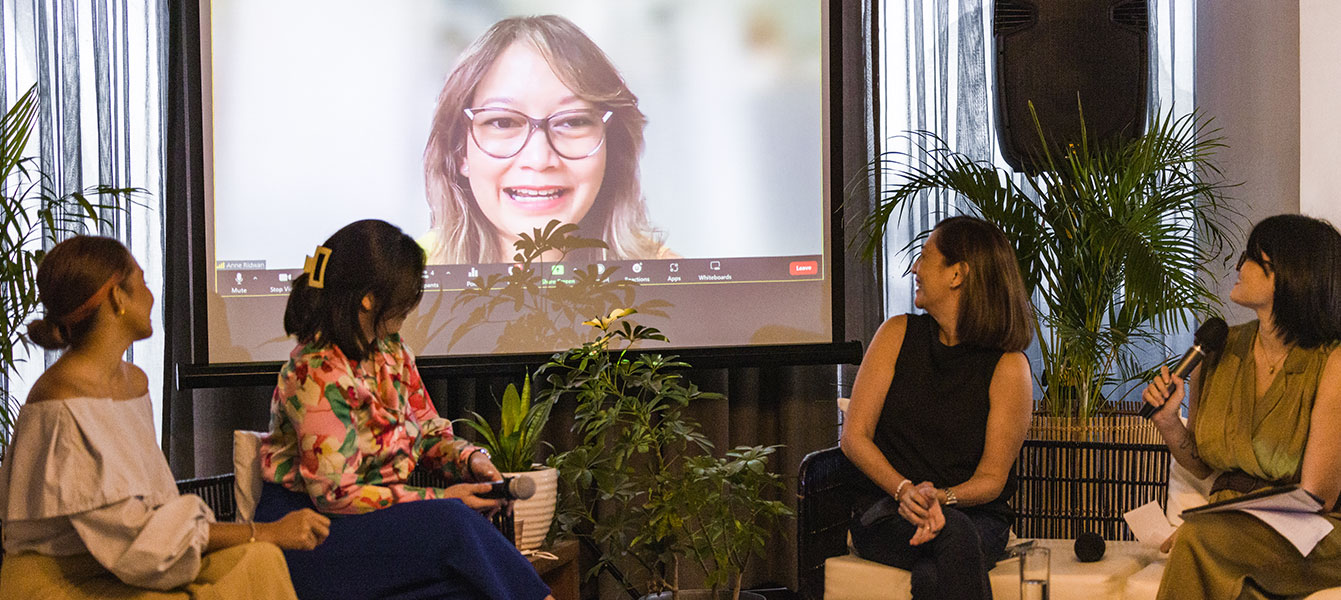 Anne closed her talk with the question "What can we women do as we gain power?"
"Imagine a world where we women have the power to actually make things better?" Anne posed, emphasizing the need to think about what more one can do to create an even fairer, safer, and more progressive world even after gender equality is achieved. "What can we do when we gain power to make this society a better place for everyone?"
Every month, adobo Magazine gathers influential female speakers in a breakfast session to celebrate the power and innate talents of women, as well as their ability to create a positive impact on culture, creative industries, business, and communities — providing a platform for women to connect, educate, and support each other in their endeavors and achievements. We explore the power and possibilities of an all-women network as we gather the country's most influential Filipinas who are instrumental in taking the first step toward creating a strong community of female leaders in Asia.

In case you missed this session, you can watch the video-on-demand here.