MANILA, PHILIPPINES — AirAsia Philippines, in anticipation of large-scale holiday mobility, is increasing its flight frequency to its Vis-Min destinations. The world's best low-cost airline observes a robust upward trend toward the end of the year as it ends October with a 90% load factor; 2% shy of its pre-pandemic records in the same month.
Beginning November 01, the weekly flight frequency of AirAsia Philippines to the following destinations is increased:
Manila-Cebu – 56 flights a week
Manila-Tacloban – 35 flights a week
Manila-Caticlan – 34 flights a week
Manila to Cagayan De Oro, Davao, and Iloilo – 28 flights a week
Manila to Kalibo, Tagbilaran, and Puerto Princesa – 21 flights a week
and Manila-Zamboanga – 7 flights a week
AirAsia Philippines is also expecting Filipinos to plan their international travels for the December holidays as early as November. With this, weekly international flights from Manila to Bangkok (Don Mueang) have been increased to 11 times, and to Seoul (Incheon) 10 times. Hong Kong flights were also increased to thrice a week by December.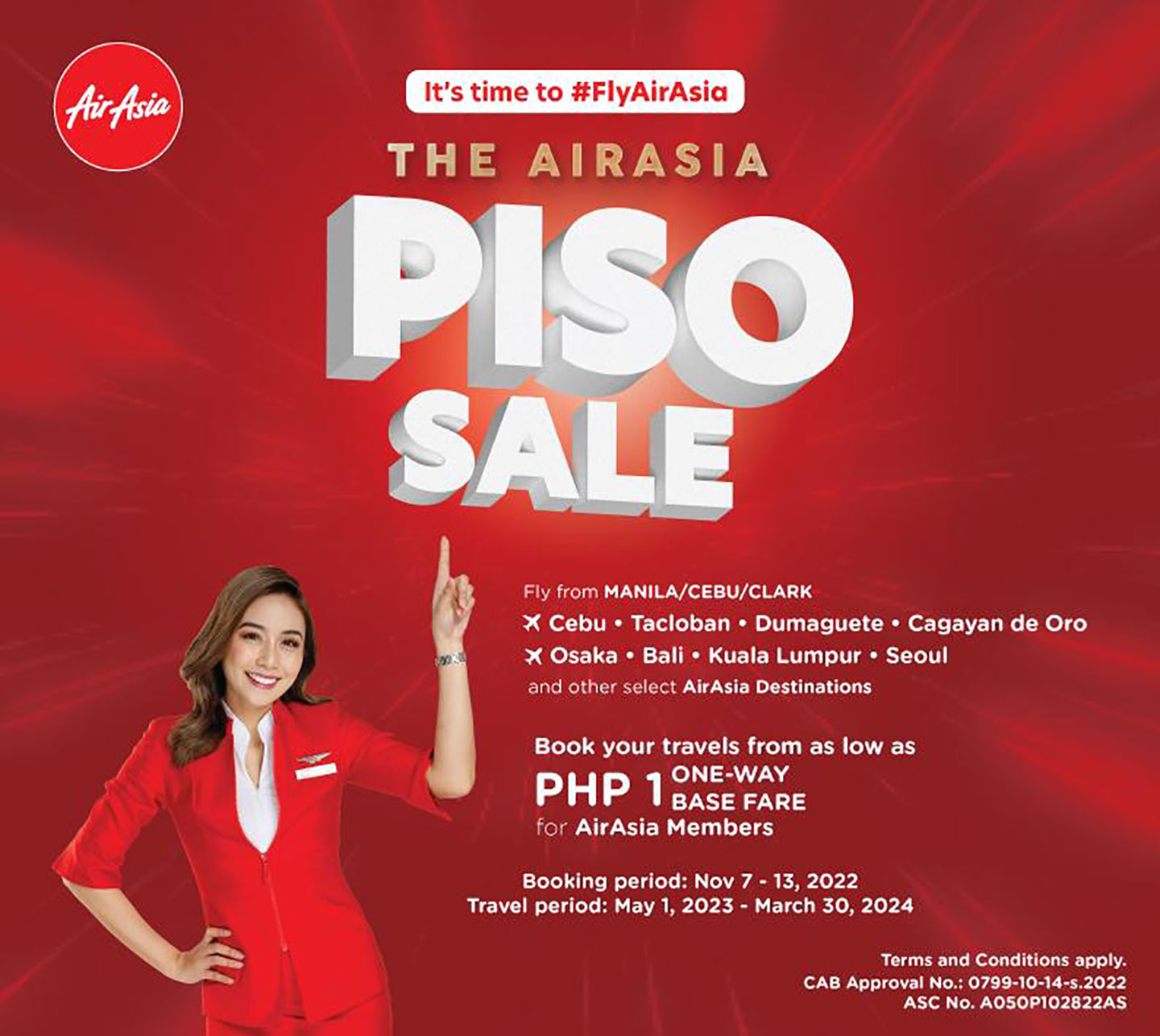 The airline, geared at sustaining the travel momentum into 2023, rolls out the third leg of its highly anticipated PISO Sale from November 07 to 13, slashing base fares down to PHP 1 to metro cities like Cebu and Davao, or leading leisure destinations like Caticlan and Tagbilaran. The PISO Sale is available for travels happening from 1 May 2023 to 30 March 2024. During the sale event, base fares to international destinations such as Kuala Lumpur, Osaka, Kota Kinabalu, Hong Kong, Seoul, Bangkok, and Bali also dropped to as low as PHP 511.
"Our focus at AirAsia is to make sure our brand of affordable world-class air service is available to Filipinos during seasons they need it most. The growth in our number of flights to various destinations comes timely as we brace for the holiday exodus. And we aim to sustain this high demand going to 2023 by having promos like the PISO sale intended for travels happening next year," shared AirAsia Chief Executive Officer Ricky Isla.