Third Domingo is scarfing down a bowl of cooked bamboo under a tree, in the middle of a farm, somewhere in Central Luzon. No, this is not a countryside scene for an ad or a film, though it has all the ingredients for one. The skies have parted, offering a friendly truce by warm sunlight after last night's tantrum of a thunderstorm. A few meters away, a congregation of ducks, hens, roosters, and wild rabbits carry on about their own business, ambivalent of the presence of humans that come without bearing food. (They do erupt in a flurry of excitement as soon as they see Third approach, with a bucket of grains in hand.) At the heart of it all, the subject, is a young CEO of an award-winning ad firm without his agency suit.
It's a juxtaposition of an ad man known for ruthless and relentless determination in the industry, far from the madding crowd, unbridled and seemingly content against a dewy backdrop of untilled soil and wild grass. The vernacular for the dish is labong: sautéed strands of crunchy bamboo that's literally been harvested a few hundred meters away earlier in the morning, similar in texture to chayote but with more substance and crunch. The dish is humble and straightforward; common food for the common folk, they say. It's comforting, food that one grows up with and stays with no matter where they are in the world and in life. The kind of comfort food that never fails to remind them of home, of where they came from, of who they truly are. 
We are offered a glimpse of this as we spend a weekend on Third's farm, surrounded by hundreds of hectares of soil and fields, a river, eager livestock, a bamboo hut, and the fruits of hard work.
A quick internet search would reveal that much has been written about the founder and CEO of IdeasXMachina (IXM), a Manila based, 10-year-old creative agency whose claim to fame includes coveting the Independent Agency of the Year award for three consecutive years and being named New Business Development Team of the Year. And lest we forget, the recent turn of events for the company's proud independence. In 2018, Third shared shares of IXM to one of Japan's leading advertising firms, Hakuhodo, catapulting his ambitious firecracker of an agency into the global sphere. For IXM, this cements its position in the game, both domestically and globally, as though it's telling the world: "Yup, we're serious, we're here to stay and keep winning." Naturally, such a feat rarely comes without its share of controversy and naysayers. (Heck, this wouldn't really be a story about advertising without the stink of unpopular opinion, would it?) Suffice to say, the company's leader is not oblivious to the backlash and criticism that typically accompanies such a business move, particularly one that might seem abrupt and impulsive to the rest of the world. Not that this had ever threatened to slow Third or his team down in the slightest; in a statement announcing IXM's official membership into the Hakuhodo network, Third had declared that he intends "To grow the business in the next two years and become the strongest office in Asia and the Pacific in the next five."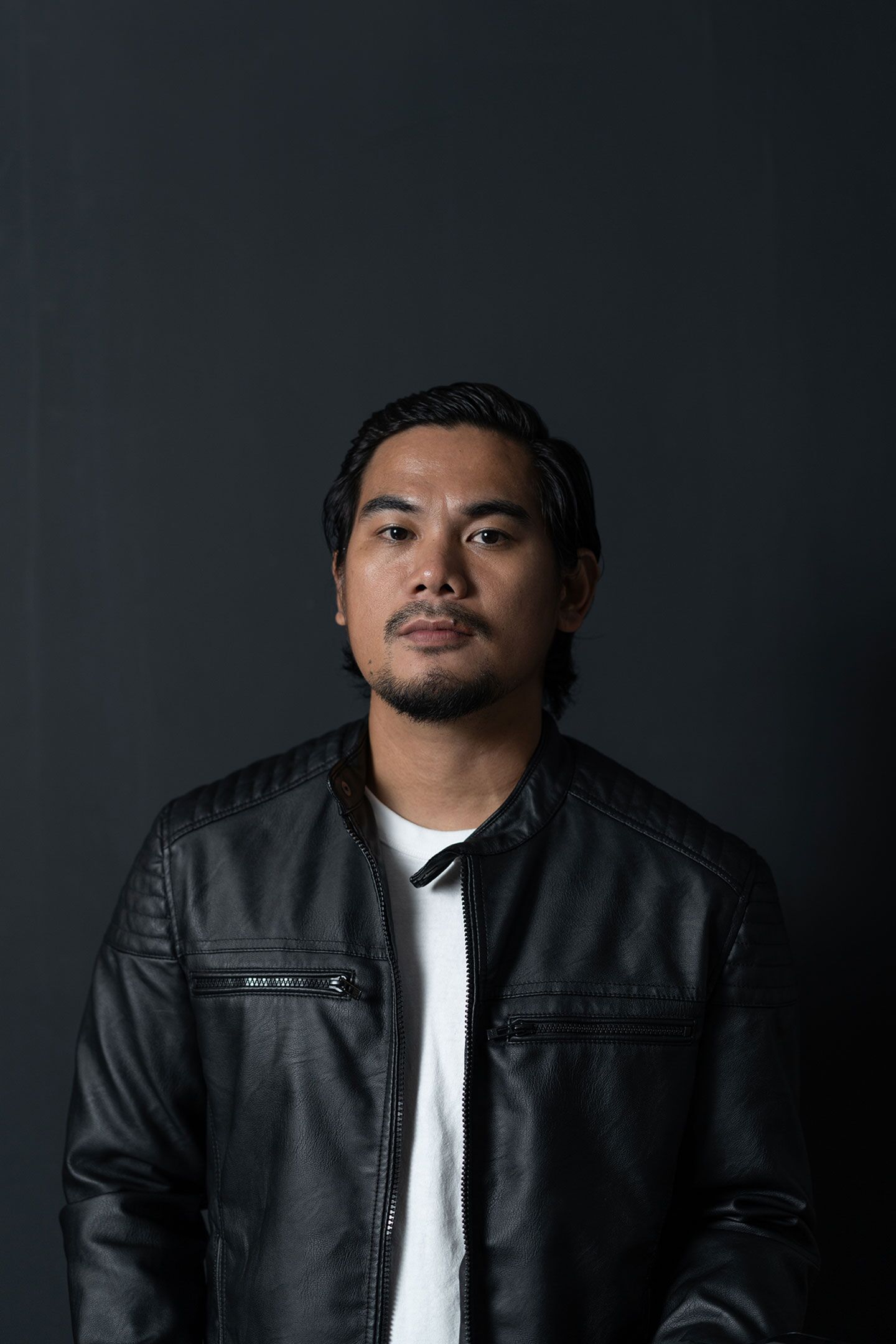 If you've been working anywhere near the Philippine advertising landscape, then you've probably heard some of the talk that had gone around upon news of the acquisition. For one, whispers that question the sudden move to "sell out" after years of making its mark as an independent creative rebel and proving that being small and quirky can actually have an edge over the giants that have dominated the landscape for decades. I ask Third about this, about the reasons for selling shares of his company to a foreign ad powerhouse that's clearly on a mission to expand throughout the region world. He replies with barely a pause, "Several international firms had approached us in the last five years. It was in Hakuhodo that I felt had a seamless merging of philosophies with IdeasXMachina," Third shares. "Hakuhodo's philosophy is anchored on the sei-katsu-sha, which essentially means that people are living, feeling, evolving, human beings — not mere consumers. That the primary function and purpose of humans is not just to consume. So the world of brands, marketing, advertising should see people beyond this, because at the end of the day it's the deep understanding of the human person that will make your communications not only effective but also efficient."
To everyone outside IXM and his inner circle, Third's decisions and tactics probably appear to be done on a whim, seemingly coming out of nowhere and completely blindsiding his competitors. If there's anything his contemporaries and rivals should have figured out by now, it's the fact that he's proven his strategic and calculating nature exemplified through his success and rise in the industry. There's a goal, always. "When I started IXM — even way before other international networks approached us — it was always part of the plan to go global. Getting acquired was always in the roadmap; we hit that goal in just 10 years."
IXM is also popular for is its ownership of the concept of creative engineering — his notion that goes beyond artful ideas, and takes science and quantitative data into the equation with every intention of measuring creative output. "I coined that term because I don't believe advertising is just art; having studied Quantitative Economics before my Masters in Marketing Communications, I have high respect for empirical data," Third explains. "The whole idea behind CE is the efficiency behind it all. I don't believe that the end all and be all is effectiveness. It's in fact the most basic and the minimum requirement. The main goal is to be efficient and to replicate an achieved and proven success, in scale. We make sure that we can replicate a campaign's success and it's done in the least amount of time, effort and resource. At least that's the goal in IXM."
Another thing that's widely written and talked about is IXM's unique set of employee benefits, so much so that it's said to be one of the primary reasons for applicants to join the company. But perhaps it's what makes its employees stay that makes this HR tactic not only effective, but efficient. What other company in the country offers its employees a breakup leave, an allowance for taking your parents out to dinner, an allowance for a dating app, a budget for pets, even coverage for one's further education or supplemental workshop of choice? This list can go on and on, and there's a ton of articles out there that get into the details of the perks and wonders of working at IXM, but the bottomline is: just as the company views people as sei-katsu-sha and not merely as consumers, the same philosophy goes with seeing their own employees as more than just parts of a work machine. Needless to say, this has also proven to be as effective (performance, retention) as it is efficient. 
I notice that he says a couple of words a lot: efficient, hard work. These are, after all, at the core of what his company is built upon. He's talked about this for years, and plenty have been written about this obsession with efficiency and hard work, both as a practice in management and in life. Ask anyone who's known Third or worked with him for years and it's unlikely they wouldn't mention these when describing him. (That is, those who actually respect him and certainly not any of his rivals and frenemies.)
Lawin Bulatao, currently the Chief Creative Officer at IXM and Managing Director of NJYN, shares his deepest respect for his colleague and friend. "Third is both a dreamer and a builder an as such he has is armed with copious amounts of passion, vision, and grit. He is tireless and energetic, believing in doing things versus just thinking about them. He loves working with his hands, in making mistakes, in taking care of people, and in building a better world. He is a champion of creativity not for its own sake but as a tool for the creation of wealth for all concerned. Third is a colleague, a brother; he was one of my best men at my wedding, we're godfathers to each other's kids, and he's one of the most exciting CEOs I've ever worked with." 
IXM loves a good motto, like a thematic mantra that marks the company's direction for each year. Among Third's favorites are: "Kung hindi ngayon, kailan?", "Amass wealth to share," and "Brilliance is mandatory, but more mandatory than brilliance is hard work." This year's motto is "Good things happen to those who deserve it." You can learn a lot about a company through its mottos. You can also learn a great deal about its leader. 
Each of the aforementioned mottos seem to reflect Third's own principles, as though each one is a testament for his road to success. Born to a public school teacher and a prison guard, Third was practically raised on the principles of hard work. He talks about his humble beginnings with the sort of pride that comes from a deep understanding of what it truly means to hustle.  He credits his mother for his education and constant hunger for new knowledge. "I wouldn't be anywhere near where I am now if it were not for the education that my parents worked hard for," he explains. "From the start my mother really instilled in me how important learning and having an education was in life—it was the only thing I had and could use to move in life." At a very early age, he learned that knowledge could be used to compete and advance ahead of others, so he would study as hard as he could to earn the highest grades and be qualified to compete in nearly every academic competition possible. "My mother was my first mentor. She would constantly tell me that having high grades was my ticket out, that to win this contest and that contest was my only chance, that being the valedictorian was my only hope." He strived so hard, he qualified for the night school program of Southridge School, the private academic institution run by the Catholic Opus Dei Order and attended typically by affluent members of Manila society. 
Mr. Fernando Cruz, a teacher at Southridge and someone Third had deemed as a life mentor, has fond recollections of the hardworking achiever. "He was the type of student who took on whatever challenge was presented to him and was very persistent in producing good results," Cruz shares. "He always had good, sometimes crazy ideas. I guess that's what has made him one of the most creative minds today. He will do everything to get what he wanted done, sometimes, even if his ideas are improbable."
Third's father, a prison guard, was the more strict disciplinarian in his formative years. Third shares how his father expected him to greet him with a salute wherever he was. "I'd be playing outside on the streets with my friends and I'd suddenly hear his whistle; he'd whistle whenever he called me and I knew when it was him," Third recalls, laughing. "I'd literally drop whatever I was doing and just freeze and stand and salute. Mukha siguro akong gago minsan."
His high school mentor has a more poignant memory of the Domingo patriarch and his relationship with his son. "He was a tough guy with a soft heart. I found him to be strange, as he wore dark sunglasses while we had the interview inside a room." Mr. Cruz shares. "He talked about their family life and his dreams for Third. It was while talking about Third that he removed his glasses, and I saw tears in his eyes. Third was everything to him and he would do everything to make sure that his son became the best person he could be. We went out of that room, and he was still sniffling and controlling his tears. The strong bond Third had with his father was forged by his father's dream for Third to be the first in everything."
It is also perhaps through this deep appreciation for education and the rewards it has reaped him in life that has always compelled him to share this privilege and teach. "I've always felt that I've received so much from education as well as advertising, sometimes perhaps more than I deserve," Third says thoughtfully. "I've always had this need to share it, to pass it on, to help someone learn something new and maybe they'd be able to use it as a tool to get them out of whatever rut they're stuck in and move forward in life." He shares how he would organize groups of kids in the streets where he grew up, typically out-of-school youth, and teach them various things from catechism lessons to practical skills.
"Before the summer break in his sophomore year, I challenged him to gather young boys in his community to teach them Catechism and chess, which he was very good at." Mr. Cruz recalls. "It didn't take long for him to form a boys' club and, in a matter of days, we found ourselves gathered behind their house with a handful of elementary school boys eager to learn. The boys' club continued for years, with some even enrolling in Southridge eventually."
This practice and fondness of teaching groups of out-of-school youth has not wavered and still prevails today, despite his packed schedule and trailblazing advertising career. "I formed a Poblacion boys' club called Malaking Munti, where kids can learn about constellations, sports, and basically new knowledge and skills that they can use one day." He points to several large patches of land on the farm, which we explore by way of tractor with him behind the wheel. "I plan to create several areas on this land that the communities here can benefit from, but mostly where they can have the opportunity to be better. I've put up a basketball court and then I want to turn that area into a football field, so kids will not be idle and have safe places to learn things, spend time in, hone themselves."
Back at the farm, the sun is high and the air is cool and comforting, something rather unusual for Luzon climate. We are surrounded by vast fields and trees; the small patio where we are dining in overlooks a square swimming pool, which sits above a large patch of grass and resembles more like a large hot tub built for relaxing instead of for swimming laps.
There's also sinigang (every Filipino's comfort food), fried hito (catfish), and grilled pork at the lunch table. Third's relatives are also feasting with us and enjoying the hearty lunch, though intently preoccupied with another much anticipated Pacquiao boxing match on the TV. A hammock swings close by.
It is the picture of a perfectly relaxing Sunday afternoon, and it's a scene that makes it utterly easy to romanticize success. I completely understand why Third drives all the way here every weekend. It is indeed a refuge and haven, from the frenzied hustle of both the city and advertising life. It is clearly also a place to reset and recalibrate, to reflect and remember—one's plans, goals, dreams, and roots.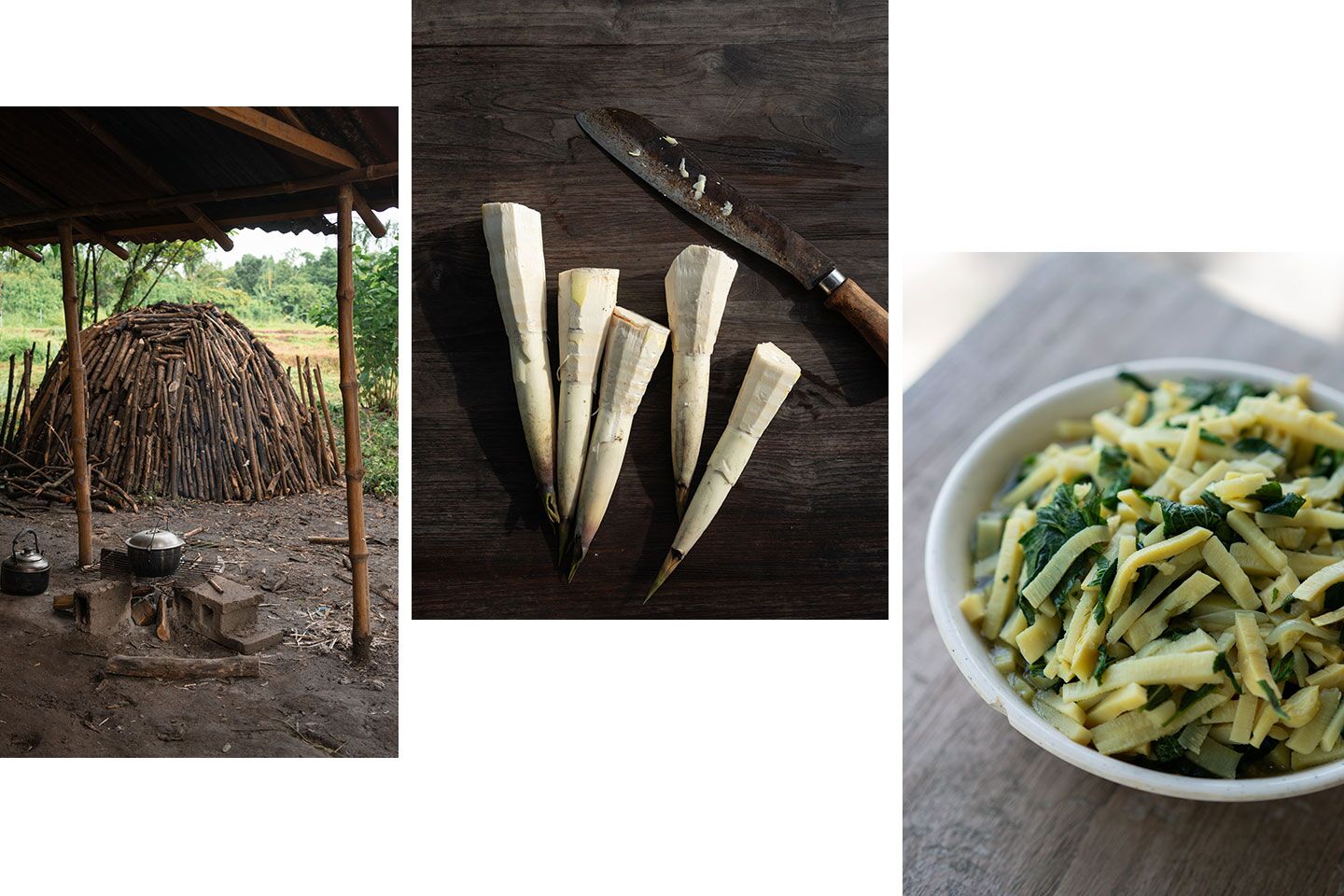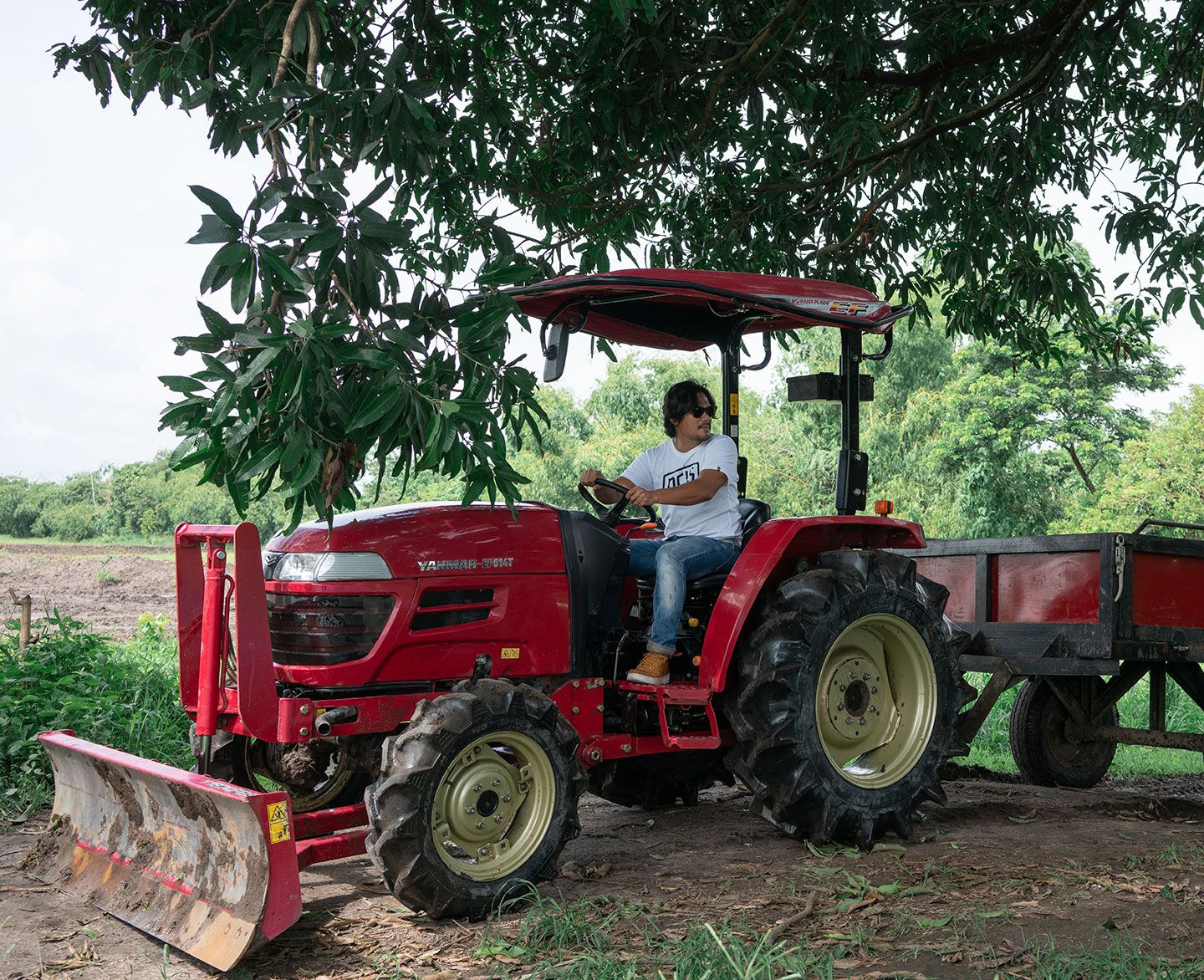 We sit back with a couple of chilled beers, looking out to the vast fields that contain the various plans and dreams that Third already has set in motion. We chat more about goals, about ambition and competitiveness. I suddenly ask him why he bothered to even stay in advertising, seeing that his retirement goal is looking very laid back and agricultural. Third pauses thoughtfully, and slowly considers how his main goal since he was a child was to eventually own his own land, and how this is related to his life goal of amassing enough wealth to be able to share with others (not to mention the fact that land is the one asset that does not depreciate in value). But to get here, to this nirvana, was a long journey paved by hard work and hustle (colloquially worded as diskarte). "This probably sounds dubious, but you know that moment when you finally spark that great idea and you know that idea is going to win and everyone knows it too?" Third asks, a glint of excitement in his eye. "There's just no high like that. That's probably what made me keep going."
"Do you think you're addicted to winning?" I ask.
"Yes, maybe too much," he admits. "I am definitely competitive. When there's a game for me to win at, I will join and do what it takes to win. I have done things, not so good things, to win. Do I regret it? After a while. But I believe that it's the victors that write the history books. So I'm still there. And I still feel like there's still so much for me to learn." 
"Isn't it funny though that the landscape rarely tends to reward or celebrate ambition and competitiveness and the drive to succeed?" I muse out loud, recognizing a faint tinge of frustration. "Like, it seems you can't just outright declare, 'I really want to win.' or, hell, just be proud of your hard work and say, 'I deserve this."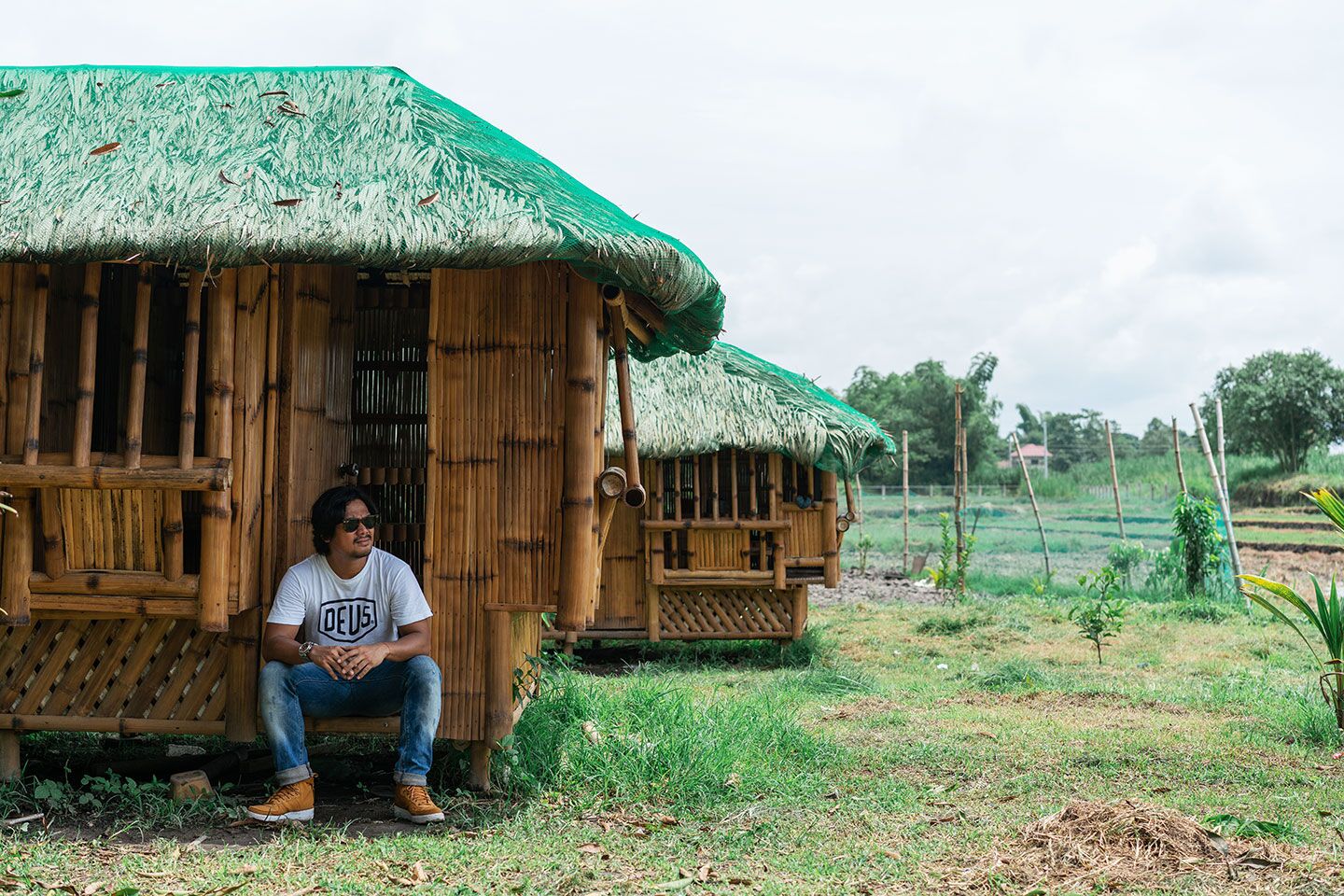 "Yes, I really get that," Third nods. "I've had mentors ask me before, 'Why do you want [to win] so much?' and for me, 'Why not?' I'm sure maraming mentors na tampo sa akin, as I was barely a creative director when I put up my own agency but was winning awards and struck while the iron was hot. I saw the timing was ripe and I just seized it. But I'm aware that people around, especially from the older generation, were looking at me and saying, 'Ang yabang talaga ng tanginang 'to.' And I don't blame them." He shrugs. "Since then, people have been putting up their own creative firms left and right. Feeling nila I broke the code when I put up IXM, because ako nauna and we managed to marry so-called traditional advertising and modern. The problem when you achieve something, then you'll want to achieve something bigger. It doesn't stop."
We linger on that topic for a while, how most billionaires in the world today are in the business of technology and have an app or have disrupted things by way of digital. "I think that's what everyone is still figuring out now, how our industries can fully ride out this thing called digital. Because it's not like the old modes of media and advertising where things were more static; today things are constantly shifting and evolving and we need to break that code. Nobody seems to really have figured it out, in advertising at least."
Maybe that's the edge Third has had all this time that nobody has or even realized, maybe not even himself. While everyone is busy trying to figure out some code that might serve as some sort of breakthrough or unlock a formula for success that will finally launch your own rocket and leave everyone in the dust, maybe Third has had it in his own pocket all along. Maybe it's not the code that rules and binds all codes, but it has certainly been effective and efficient. As someone who has grown up outside the sheltered bubble of society and has had to hustle his way through life—and in one of the most cutthroat industries that's built on understanding what people want and winning them over—he just gets it. He gets people, his people, the very people that brands want to reach. And maybe that's why sei-katsu-sha resonates deeply with him. Cutting away all the bullshit and the marketing jargon and broad buzzwords that abound all these intersecting spaces of technology and advertising and media, at the very core of it all, are people. Real, living, evolving, human beings who have goals, struggles, and dreams that essentially all point to having a better life.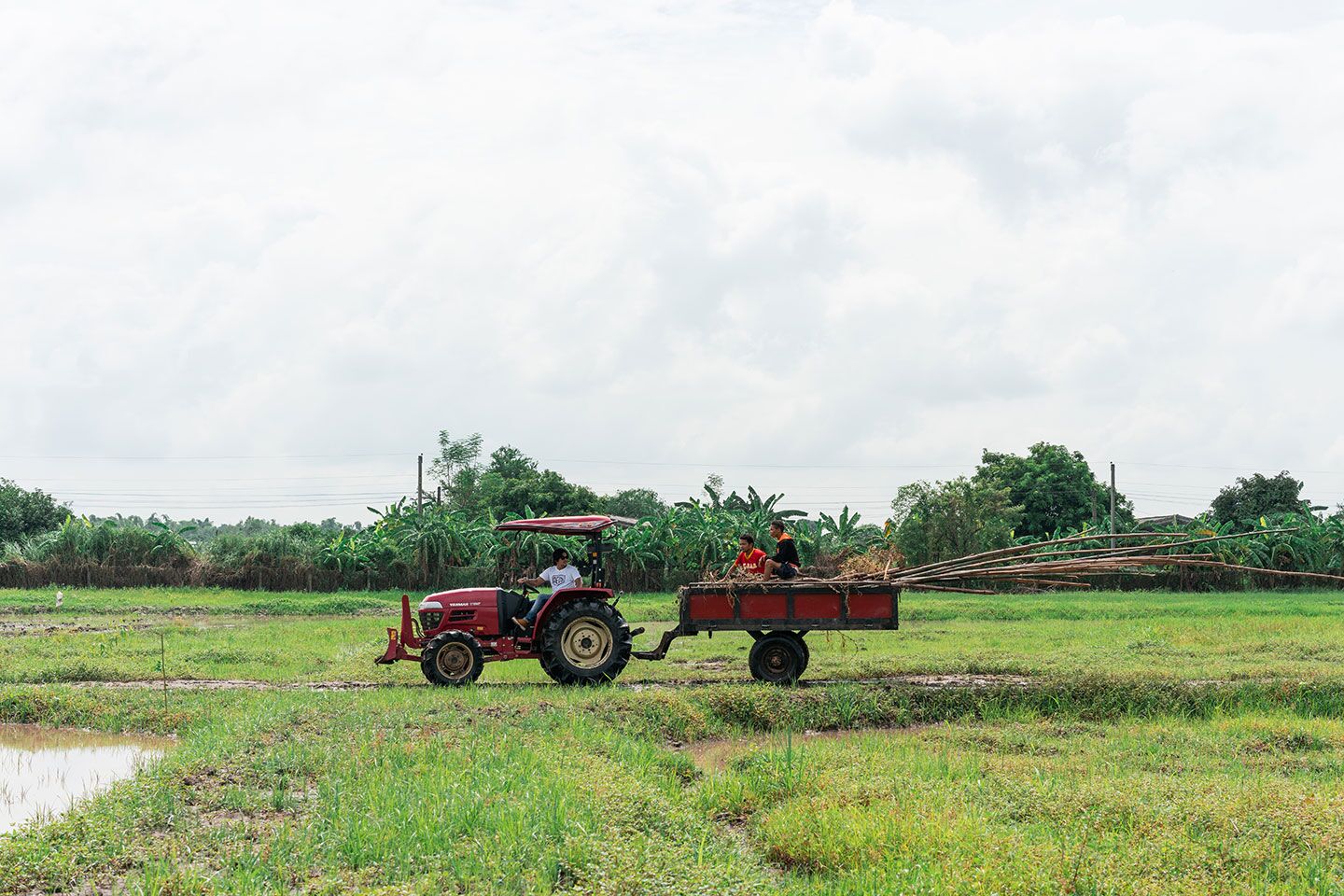 Photos by Carmen del Prado | Videos by Mohd Sarajan