LONDON, UK – London Design Festival today announces the winners of the 2020 London Design Medals.
London Design Medal: Paola Antonelli
Design Innovation Medal: Dame Ellen MacArthur
Emerging Design Medal: Yinka Ilori
Lifetime Achievement Medal: Ken Garland
Each year, London Design Festival recognises the contribution made by leading design figures and emerging talents to London and the industry with four London Design Medals awarded: The London Design Medal, Lifetime Achievement Medal, Emerging Design Medal, and Design Innovation Medal. A panel of established designers, industry commentators and previous winners meet to debate and judge the possible recipients of the four Medals.
This year, the awards ceremony will take place virtually, on the evening of Monday 14 September, 2020 supported by Headline Partner SAP. Supporting Partner Fortnum & Mason, in collaboration with Pentagram, have created specially designed hampers for guests on the evening, along with Spirit Partner No.3 Gin. The ceremony will be available to watch across the London Design Festival's channels from 18:30 GMT.
Ben Evans CBE, London Design Festival Director, says, "Each year the London Design Medal Jury has a passionate, and sometimes robust, debate about who should win. It is important that they choose four individuals who each have made significant contributions to the world of design. This year the combination of Paola Antonelli, Ken Garland, Ellen MacArthur, and Yinka Ilora is a powerful mix.
Paola is the world's most important design curator, Ken made Galt Toys the best designed range available, Ellen MacArthur's foundation is setting the agenda on design and the circular economy, and Yinka dynamically blends the colour of his Nigerian heritage with design. Unusually, we had some unanimous choices; such was the consensus behind the winners. It makes a good year and four hugely deserving individuals."
The 2020 Winners are as follows:
Paola Antonelli

The London Design Medal, is the highest accolade bestowed upon an individual who has distinguished themselves within the industry and demonstrated consistent design excellence.
This year's winner, Paola Antonelli, is Senior Curator at The Museum of Modern Art in the Department of Architecture & Design, as well as MoMA's founding Director of Research & Development. Antonelli's goal at The Museum of Modern Art is to promote design's public understanding until its positive influence on the world is universally acknowledged. Her work investigates design's impact on everyday experience and possible futures, combining design, architecture, art, science, and technology.
Antonelli has curated numerous shows, lectured worldwide, and has served on several international architecture and design juries. She has taught at the University of California, Los Angeles; the Harvard Graduate School of Design; and the MFA programs of the School of Visual Arts in New York. Her most recent exhibition, Neri Oxman: Material Ecology, opened at MoMA in February 2020. She is also currently working on an iteration of Broken Nature that will be on view at MoMA starting in the fall
of 2020, and on @design.emergency, an Instagram and book project on the role of design in response to the Covid-19 pandemic, in collaboration with critic Alice Rawsthorn.
With a Master's degree in Architecture from the Polytechnic of Milan, Paola Antonelli has also earned Honorary Doctorate degrees from the Royal College of Art and Kingston University, London,
the Art Center College of Design, Pasadena, and
Pratt Institute
in New York. She earned the "Design Mind" Smithsonian Institution's National Design Award in 2006, and in 2007, was named one of the 25 most incisive design visionaries by Time magazine. In 2011, she was inducted in the Art Directors Club Hall of Fame and in 2015, received the AIGA Medal.
Paola Antonelli says, "I realize that the right thing to say would be that I am humbled by this honour, but I'm not! I'm unabashedly proud to have received the London Design Medal and shamelessly boastful. Of all the capitals of design, London is the one that best understands our field's breadth, versatility, diversity, and its power to influence society in all aspects of life, everywhere, and at all levels of impact. Design is important, and it is an important moment for design. I thank the jury for recognizing me, as being an effective advocate for design and letting the world understand and embrace it, is my life's work."
Dame Ellen MacArthur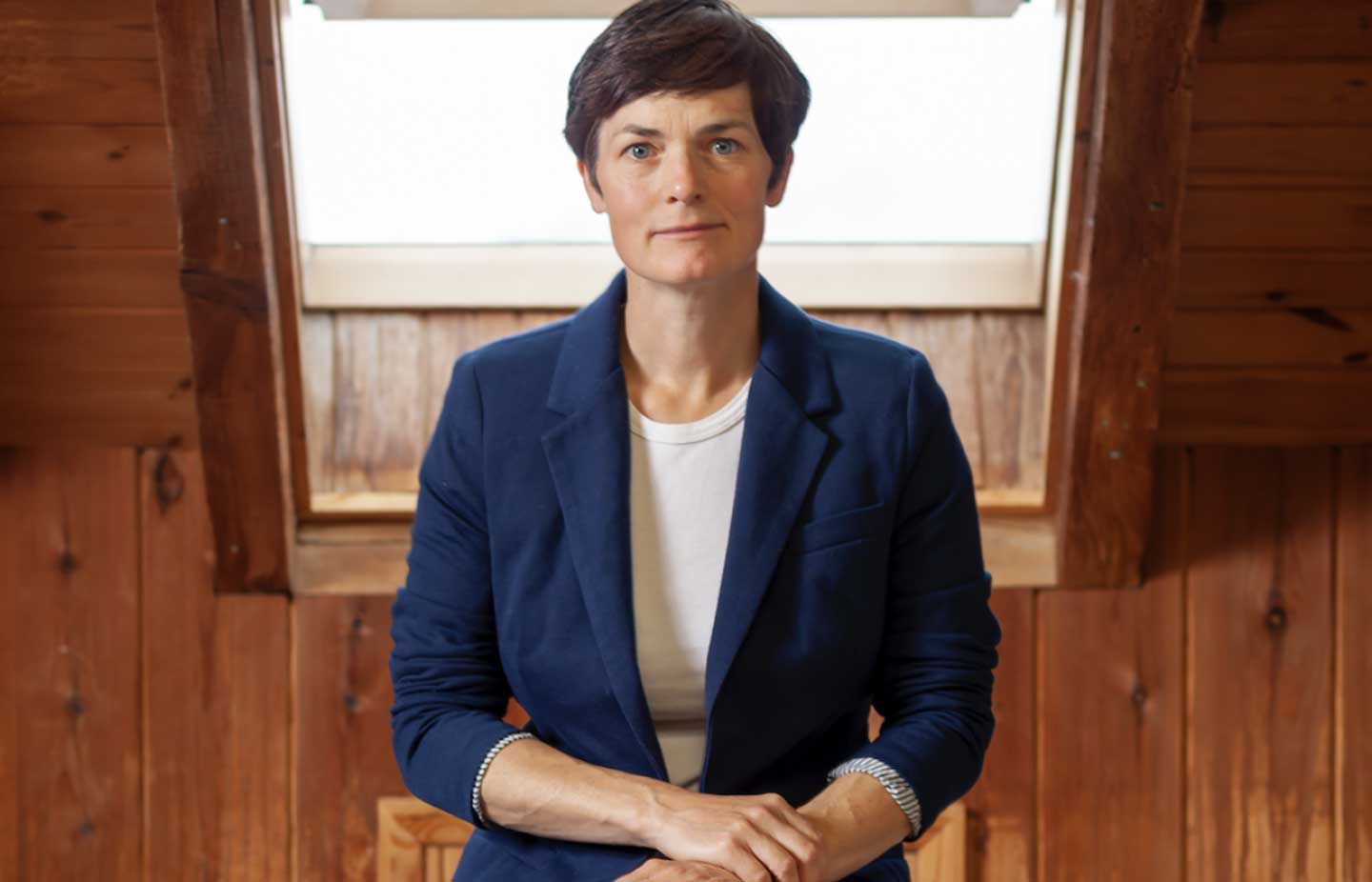 The Design Innovation Medal, celebrates entrepreneurship in all its forms, both locally and internationally. It honours an individual for whom design lies at the core of their development and success.
Dame Ellen MacArthur made yachting history in 2005, when she became the fastest solo sailor to circumnavigate the globe. Having become acutely aware of the finite nature of the resources on which our linear economy relies, she retired from professional sailing to launch the Ellen MacArthur Foundation in 2010.
The Foundation works to accelerate the transition to a circular economy, one that is restorative and regenerative, by design. Since the publication of its first economic report in 2012, the Foundation has established the concept on the agenda of decision makers around the world. It has launched global initiatives on plastics, fashion, and food, developed innovation networks with educators, ibusinesses, cities and governments, and published more than 20 reports and books.
Dame Ellen is a World Economic Forum Global Agenda Trustee for Environment and Natural Resource Security and member
of its Platform for Accelerating the Circular Economy, and sat on the European Commission's Resource Efficiency Platform between 2012 and 2014.
Dame Ellen MacArthur says, "I am honoured to have been awarded this year's Design Innovation Medal. When we started working to accelerate the transition to a circular economy ten years ago, we knew that a new approach to design would be critical: it's about deciding from the outset to design in a way whereby products, components, and materials stay in the system. Since then thousands of innovators from startups, academia, government and business have seized the opportunity to think about how they can deliver benefits beyond one product, looking at how that product can fit in a much broader, regenerative system. 2020 has been a year of unprecedented disruption, but seeing people in the creative sector using their skills and talent to build a more circular economy gives me hope that we can build back better."
Yinka Ilori

Emerging Design Medal, recognises an impact made on the design scene within five or so years of graduation.
Yinka Ilori is a London-based multidisciplinary artist of a British- Nigerian heritage, who specialises in storytelling by fusing his British and Nigerian heritage to tell new stories in contemporary design. Humorous, provocative and fun, every project that he creates tells
a story. Bringing Nigerian verbal traditional into playful conversation with contemporary design, Yinka Ilori's work touches on various global themes that resonate with different audiences all over the world.
He began his practice in 2011 up-cycling vintage furniture, inspired by the traditional Nigerian parables and West African fabrics that surrounded him as a child. Yinka Ilori Studio was established in 2017 following a successful pitch to transform the Thessaly Road Bridge. The studio now consists of a team of colour-obsessed architects and designers, with the expertise and capacity to take on large-scale architectural and interior design projects.
Ilori studied Furniture and Product Design at London Metropolitan University. He has since exhibited in both London and internationally with solo shows at London Design Festival, Design Miami, British Library, NOW Gallery, The Africa Centre, and Brighton Museum; and as part of group shows at Vitra Design Museum, Museum
of London, Guggenheim Museum Bilbao, and Southbank Centre.
Most recently, Ilori was commissioned to design a public space installation for the 2019 Dulwich Picture Gallery with the creation of the site-specific, Colour Palace. In June 2019, he designed Get Up Stand Up Now at Somerset House.
Yinka Ilori says, "I am truly humbled and honoured to have won
this award. Design has always been a huge part of my life and surroundings, so being able to share it with the world is something very special. It feels good to know that my work has been recognised by London Design Festival in a time where, in my opinion, design is more important than ever. I just hope my work inspires the next generation of young designers with a similar background to me.
I really am grateful and excited for the future."
Ken Garland

Lifetime Achievement Medal, honours a significant and fundamental contribution to the design industry over the course of a career.
Ken Garland is a British graphic designer, photographer, writer and notably, educator. He has made a significant contribution to the development of graphic design since the mid-twentieth century and formed the prolific design studio Ken Garland & Associates in 1962 (until 2009) in Camden, London, where he continues to live and work.
Ken Garland & Associates included a small rotating group of designers over its 47-year period including Robert Chapman, Ray Carpenter, Trilokesh Mukherjee, Gill Scott, Patrick Gould, John O'Neil, Norman Moore, Frank Hart, Daria Gan, Colin Bailey, Peter Cole, Ian Moore, Paul Cleal, Richard Marston and Anna Carson. They worked with clients such as Galt Toys, Dancer & Hearne, the Campaign for Nuclear Disarmament, Barbour Index and Keniston Housing Association.
Prior to forming the studio, Garland worked with editor Michael Farr at Design magazine, where he held the position of art editor from 1956 to 1962. The state-funded publication by the Council for Industrial Design formed the basis for Garland's future work – human-centred, elegantly simple and rigorously conceived. Prior to this, Ken Garland studied design at London's Central School of Arts and Crafts and upon graduation in 1954, undertook an apprenticeship with the trade magazine Furnishings.
Garland has been teaching ever since he left school himself, at the Central School London, The University of Reading, The Royal College of Art and the University of Brighton. He has written five books about design, contributed to numerous graphic design and visual culture publications, and published many influential articles, perhaps most notably, the 'First Things First' manifesto in 1964 that advocated 'in favour of the more useful and more lasting forms of communication'. The manifesto was signed by Ken Garland's graphic design colleagues, friends and former lecturers such as Edward Wright, Anthony Froshaug, Robin Fior and Ken Briggs. Its style encouraged commercial artists to share their opinions and experiences to inspire others in the design industry. In 1999, the manifesto was re-signed by 23 prominent graphic
designers and critics – both manifestos have been widely written and spoken about, as well as republished, throughout the graphic design community.
In 2008, Garland and his wife, artist Wanda Garland, founded Pudkin Books, a publishing venture issuing a series of picture books under the general heading 'a close look at…' in A6 folded fore-edge format.
Ken Garland says, "I am delighted to be chosen as the recipient of one of the London Design Medals. At my age (91) I had thought I was a forgotten person – but no, someone still remembers me! As to achievement: all my associates and I did for 50-odd years was to have a lot of fun at other people's expense. We were so lucky!"
London Design Festival today announces the winners of the 2020 London Design Medals:

London Design Medal: Paola Antonelli
Design Innovation Medal: Dame Ellen MacArthur
Emerging Design Medal: Yinka Ilori
Lifetime Achievement Medal: Ken Garland
​
​#LDF20 #MedalWinners #Design pic.twitter.com/UcXdeHomE2

— London Design Festival (@L_D_F) September 7, 2020