MANILA, PHILIPPINES — Independent agency Carbon Digital, Inc. won multiple accolades at the 2023 Viddy Awards for two campaigns made for bottled water brand Nature's Spring. The agency's exceptional creativity and expertise were recognized with two Gold Awards and two Honorable Mentions across various categories.
The Nature's Spring anniversary campaign "Tubig Para sa Pinoy" secured the Gold Award in Non-Broadcast Creativity (Original Music) and an Honorable Mention in Marketing/Advertising Campaigns (Digital Marketing Campaign). The campaign evolved around an anthem commissioned by Carbon Digital, highlighting why Nature's Spring is the water for the Filipinos. The music was used in the brand's 30th anniversary digital commercial, music video, social media ads, and audio ads on Spotify.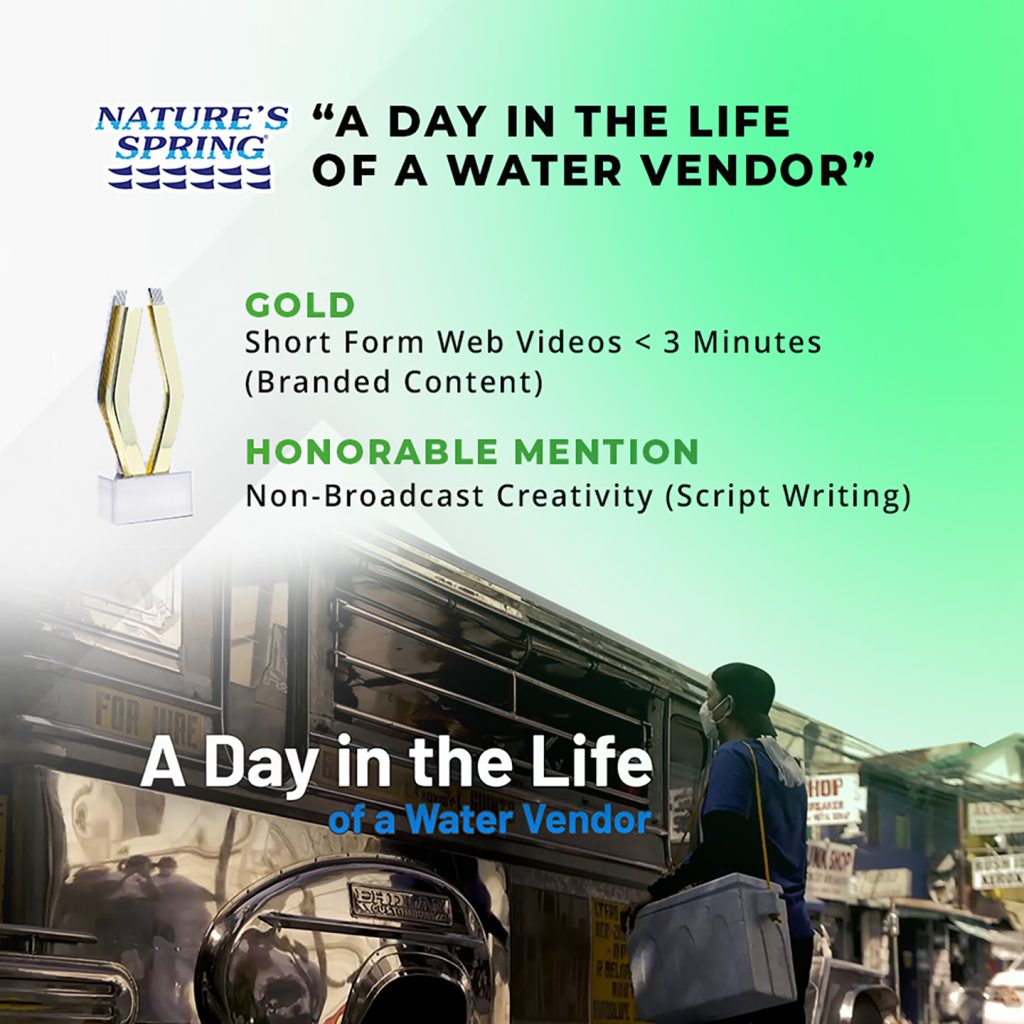 In addition to this remarkable feat, Carbon Digital's production "A Day in the Life of a Water Vendor" captivated viewers and industry experts alike, earning the agency a Gold Award in Short Form Web Videos < 3 Minutes (Branded Content) and an Honorable Mention in Non-Broadcast Creativity (Script Writing). The captivating storytelling, combined with the agency's exceptional scriptwriting skills, showcased their ability to craft compelling narratives that engage and inspire. The project was undertaken to champion the plight of water peddlers and other ambulant vendors in the country's many thoroughfares after a video of a street-side water vendor became viral and was even the subject of national primetime newscasts.
Jay Anthony Chiu, President and General Manager of Carbon Digital, Inc., expressed his excitement and gratitude for the agency's recognition. He said, "Winning at the 2023 Viddy Awards is a testament to the talent and dedication of our team. We are extremely proud of the work we have done for Nature's Spring and grateful for their partnership. These awards motivate us to continue pushing the boundaries of creativity and delivering outstanding results for our clients."
The Viddy Awards is renowned for celebrating excellence in video production and advertising, showcasing the best work from creative professionals across the globe. Carbon Digital's success in multiple categories underscores the agency's commitment to innovation, creativity, and strategic thinking.