KUALA LUMPUR, MALAYSIA — Creative agency FCB SHOUT's latest campaign for RHB Bank looks certain to drive off with the hearts of audiences this coming Deepavali season. Titled "Hero," it features the true story of P. Raveendran, a Seremban-based taxi driver who was inspired by Bollywood superstar Rajinikanth's film Baasha to become a real Malaysian hero by providing free rides to pregnant ladies and mothers with babies.
P. Raveendran's selfless act started in 2019 and carried on even during the pandemic, despite him barely making ends meet himself. His charitable spirit never faltered and, to this day, he still refuses to accept payment from those passengers.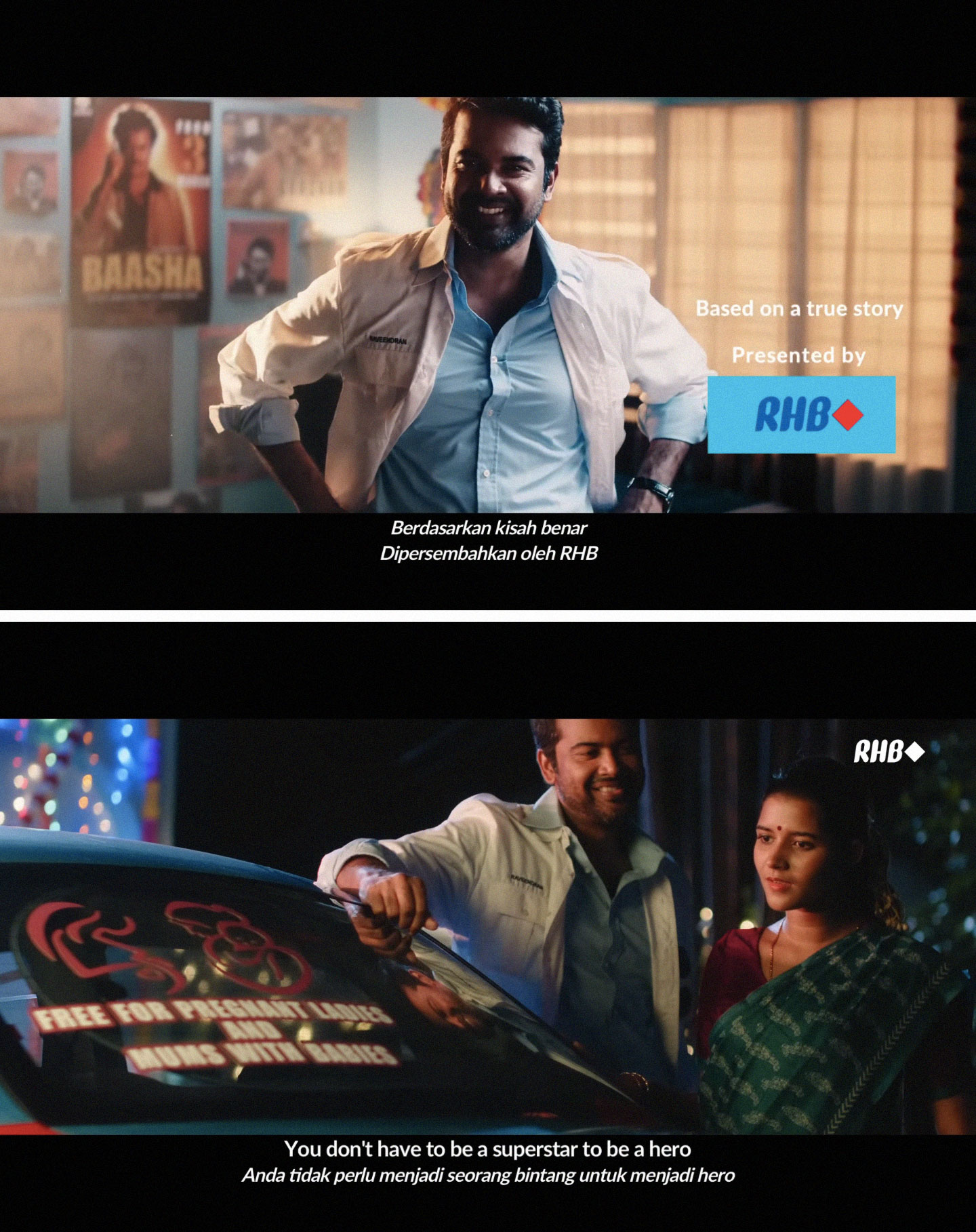 "Hero" is part of RHB's long-running brand campaign created by FCB SHOUT, featuring real inspirational stories of everyday Malaysians who have delivered real progress to local communities. Since 2015, RHB's strategy of utilizing festive occasions as a platform for brand building has paid dividends, with consistent growth in brand equity and business performances that led to the bank fast becoming one of Malaysians' most valuable brands.
Since its inception, the campaign and its evolving themes have picked up over 100 international, regional, and local marketing awards, continuing to dominate the stage with wins at A+M MARKies, Campaign Brief's The Work, Shots APAC Film Awards, Marketing Excellence Awards, Malaysian Digital Awards, MAA Globes, and Ad Stars. The campaign also recently picked up the top gongs at the 2022 APPIES Asia-Pacific, as well as the Best in Malaysia award at the 2022 Dragons of Asia.
Commenting on this latest addition to RHB's legacy, RHB Group Chief Marketing Officer Abdul Sani Abdul Murad said, "RHB believes in Making Progress Happen for Everyone. It's the driving inspiration behind all that we do – from our determination to provide the right products and services, to the timeless and timely work that we create with FCB SHOUT. Times might have changed, but being the People's Ally who believes that progress is for everyone will always be RHB's North Star. And if the last few years have taught us anything, it's that progress in our society happens every day and is often unheralded. Oftentimes, it is these simplest of acts that inspire a wave of positivity and from that, real sustainable progress. We hope that our telling of Raveendran's story will lift hearts and put a smile on everyone's faces this Deepavali."
Commenting on what makes this spot different from its predecessors, FCB SHOUT Co-owner and Chief Creative Officer Ong Shi-Ping said that it was Raveendran's fondness for Bollywood movies that granted the agency the license to adopt a unique but relevant tonality for the film. "Authenticity is important in how we tell RHB's stories. The tone that we set has to fit the narrative and fundamentally, has to be appropriate for the brand. Thoughtlessly doing random things merely to lure viewers into watching is just cheap tricks. For 'Hero,' it was fitting to make it a Bollywood-style piece, as that's the inspiration behind Raveendran's acts of charity – which he and our talents definitely pulled off, thanks to their natural flair!"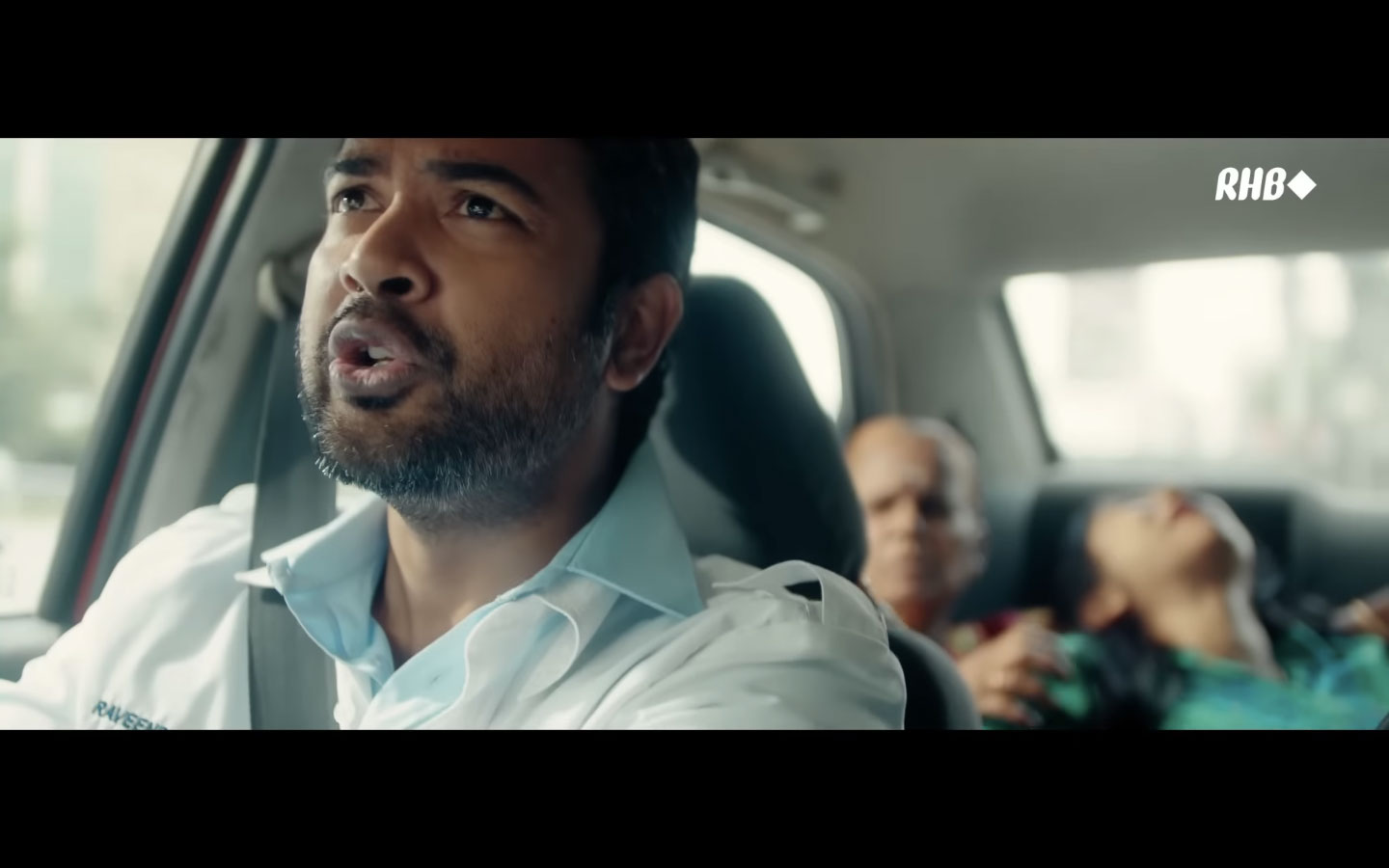 Starting last year, FCB SHOUT's brand campaigns for RHB have featured narratives that are aligned with the bank's ESG initiatives. This series, dubbed "People, Purpose & Progress," features "The Inner Light," RHB's 2021 Deepavali story about Dr. Nisha Thayananthan, a medical doctor on the frontlines of Covid-19 whose dedication and kindness led her to become Miss Earth Malaysia; "A Spark for Change," the amazing tale of 10 young schoolchildren who took it upon themselves to clean up their village's litter problem, which was aired during this year's Chinese New Year and became a massive viral sensation; and "Sama Bersama," the 2022 Hari Raya spot that highlighted the efforts of social activist Arissa Jemaima Ikram Ismail and her NGO in providing free education to illiterate refugees in Malaysia – which was an incredibly timely tale, given the growing plight of refugees stemming from the conflicts in Palestine, Syria, Ukraine and the Rakhine state in Myanmar.

About his challenges in producing "Hero," FCB SHOUT Head of Creative Tjer shared, "This film proved to be one of the toughest yet most fun experiences for all of us. Tough, because we knew right off the bat that this spot has to be an homage not only to Raveendran as a Malaysian hero, but also to the complex nuances that make Indian cinema so beloved around the world. Fun, because it was such a significant departure from our other RHB festive films in terms of tonality and mood; it's not often you get to see the production crew dancing along with the cast on set! The real challenge, however, is striking the balance, having just the right amount of Bollywood-style entertainment without losing the essence of what is truly a remarkable story of progress. Thanks to our production partners at Teddy B Studios and GT Records, we managed to pull it off spectacularly!"
"Hero" aired on October 11 across RHB's social media channels, and continues to receive rave reviews for its story.
CREDITS:
Title: Hero
Client: RHB Bank
Group Chief Marketing Officer: Abdul Sani
Head, Group Brand Comms: Tunku Hazli Tunku Tolha
Manager, Group Brand Comms: Anwar Amin
Agency: FCB SHOUT
Co-owner & Chief Executive Officer: Shaun Tay
Co-owner & Chief Creative Officer: Ong Shi Ping
Head of Creative: Wang Ie Tjer
Associate Creative Directors: James Voon, Jonathan Chan
Senior Brand Director: Timothy Teh
Brand Manager: Chan Joe Yi
Project Manager: Megan Chin
Senior Producer: Amin Taib
Production House: Teddy B Studios
Executive Producer: Sathish Ganesh
Film Director: Cru Bannon
Post House: Meccanica EFX
Post Producer: Fiefa Wan
Offline Editor: Daz
Online Artist: Shaffiq Hanafiah
Colorist: Hafizil Amin
Music, Sound Design & Composer: GT Records
Executive Producer: Shah Haron
Producer: Shafiq
Sound Engineers: Brian Wong