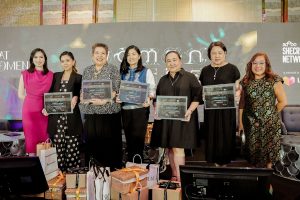 MANILA, PHILIPPINES — In honor of National Women's Month, the adobo SheCreative Network held its very first Leadership Conference, "Women Arise!" at Shangri-La The Fort, BGC earlier this year. In celebration of women in all industries, the conference aimed to encourage aspiring women to take charge of their careers and how they can take steps towards a female-led future.
The afternoon was kicked off with snacks accompanied by a few words of inspiration from Angel Guerrero, Founder, President, and Editor-in-Chief of adobo magazine and adobo SheCreative Network: "We continue to forge more ways to celebrate the power and innate talents of women, as well as their ability to create a positive impact on culture, creative industries, business, and communities." She added, "We need to continue to inspire newer generations of young women and girls to take up space and exceed their potential, unshackled by expectations or preconceived notions society place among them."
adobo SheCreative Network's first large in-person event found a supportive partner in Lazada Philippines, who was the co-presenter of the leadership conference.
Heralding the event was keynote speaker Bernadette Romulo Puyat, Deputy Governor at Bangko Sentral ng Pilipinas. As the headliner, Bernadette shared stories of her personal struggles in her career and how she pushed through them: "I have had my own share of difficulties, from having my ideas easily dismissed to being defined by preconceived notions […] but I did not allow these challenges to distract me. I just remained focus." She capped off her talk by inviting women to empower each other, saying "Let us use our positions of leadership in our respective organizations to open opportunities to more women."
Guest speakers at the event were comprised of trailblazers in the fields of marketing, media, and creative communications:
"There's so much talent here in the Philippines, among all the women here as well, and it's important that we lift and put a spotlight on it. We want to increase the representation of women in boards. They are the decision-makers."
"Being women executives does not negate that part (being fluid, being able to multitask) of you. We do bring a different perspective and I think that's something that eventually needs to be recognized."
"[At GCash,] we are fully committed to empowering every Filipino by uplifting underserved segments, and we have acknowledged that women are [one of those] important segments. [In order to improve gender diversity,] girls need role models so that they can believe in the possibilities and in their own possibilities."
"If you are a woman in a position of power, it's really important to create opportunities for junior colleagues to break the glass ceiling."
"We consciously nurture female leaders in the tech industry."
The empowered leaders spoke of their experiences from the beginning of their career and how they got to where they are now; they also shared anecdotes to impart lessons on skills and resilience to the young audience of driven women who seek to forge their own path to the top and pave the way for others. The participants also got to ask questions to the speakers to further help them emulate their sense of leadership and empowerment.
The enlightening talk was followed by a night of cocktails and networking where the attendees had the opportunity to increase the size of their social circles in different fields and help build communities of powerful women who are soon to become pioneers in their endeavors. Conversations took place and connections were made; this portion of the event highlighted the need for women to support each other in order to move industries toward a female-led future.
Women Arise! — an adobo SheCreative Network Leadership Conference was co-presented by Lazada.