MANILA, PHILIPPINES — The creative industry is brimming with tons of amazing ideas, so it's no surprise that there's never a shortage of great campaigns to admire and celebrate.
From gripping stories and new perspectives that embody what a brand stands for to new fun ways people can engage with a brand, here are campaigns that caught adobo Magazine's eye this week:
Seamless CX doesn't isn't just convenient; it also frees up more time for customers to do what they love. Using insights from real customer interviews, Thai bank Krungsri and VMLY&R created an ad that showed the true value of great CX. In the surreal but heartwarming film, once the customers finish their transactions, they are presented with what they most want to do with the free time that the smooth customer journey opens up to them. From an ATM dispensing the customer's beloved cat to the cosplay outfit popping up the moment a customer is done using the app, each segment shows the different priorities and passions customers can spend more time on because of Krungsri's seamless banking.
For many kids, it's easy to say the words "I love you" to their wonderful moms. That's not the case for Atticus, Alma's son who has become non-verbal and less responsive because of his autism. However, she noticed that there's one thing that makes him perk up and more attentive than he usually is: Jollibee. Because of this, bonding over Jollibee meals has become a vital part of their connection. So, it was fitting that she not only take the spotlight for the latest #MyKwentongJollibee film by McCann Worldgroup but also gets surprised with a lovely Mother's Day celebration where her simple wish gets fulfilled.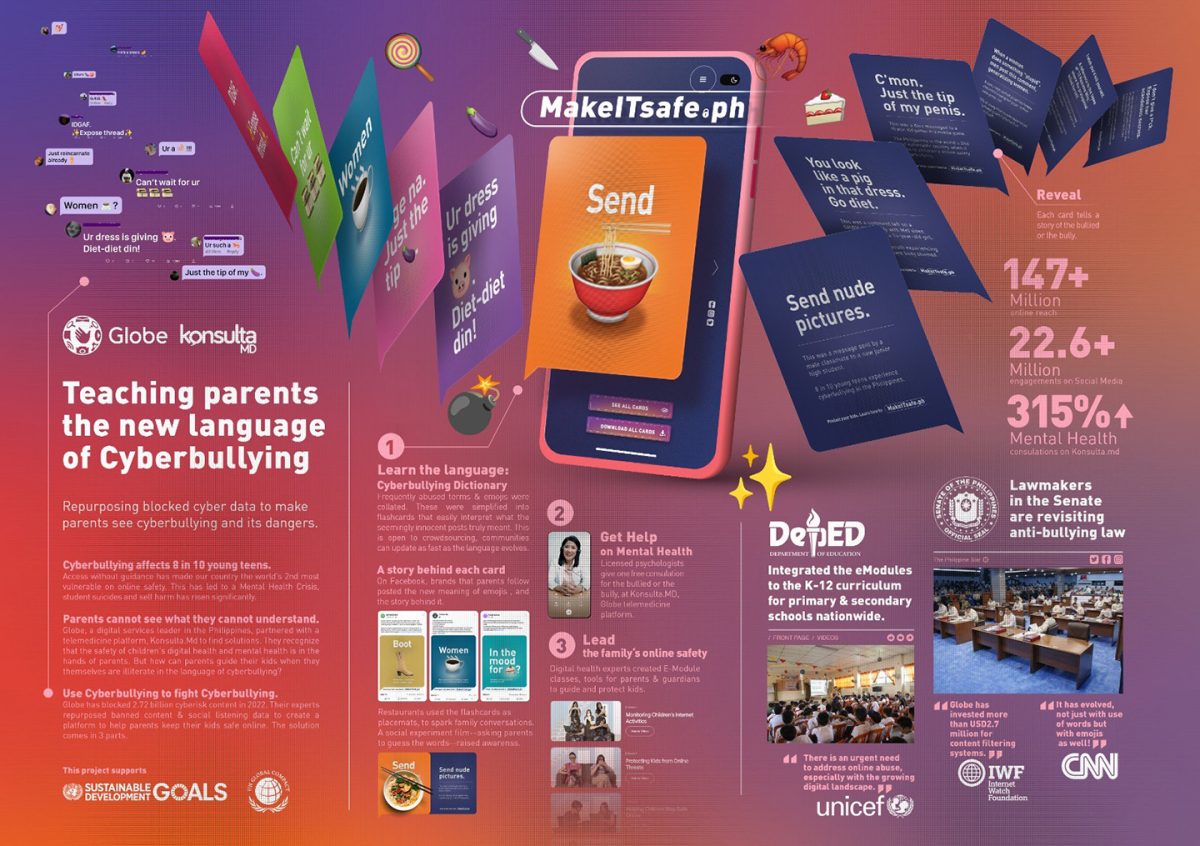 As the digital age accelerates and constantly evolves, so do its threats. To reaffirm its commitment to protecting Filipino youth from the harassment and bullying that continues to be rampant in online spaces, Globe reintroduced its #MakeITSafe campaign. The campaign not only raises awareness of cyberbullying and the harm it does, but it also provides parents and guardians with the tools they need to learn more about cyberbullying and how to mitigate it and provides free KonsultaMD mental health consultations for families who have been affected by cyberbullying.
For Mother's Day, PLDT Home shows that while moms can do anything and everything alone, it doesn't mean they should. In this touching new film, a single mother is struggling to juggle work-from-home tasks while taking care of her baby who has a fever. The baby's father, who she's separated from, continually offers to come over and help, but she continues to brush him off saying she can handle it. Eventually, he helps her realize that she deserves to and should lean on the reliable partners in her life and accept all the help that can make both her and her child's night better.
Even in the age of search engines and mobile virtual assistants, the most common go-to recipient for all our questions remains the same: our moms. Every day, moms are bombarded with trivial questions — Where are my shoes? What are we having for dinner? Have you seen my phone? — and it's about time they get a break. So, for Mother's Day, which is when they most deserve that time off, Titan launched the hilariously perfect campaign: one that encourages to redirect all those questions to Titan's Ask A-आई Chatbo that responds with quirky, sarcastic, and savage comebacks and jokes to the trivial questions that your mom has had the patience for over the years.
Here's a look back at adobo magazine's weekly campaign picks.