MANILA, PHILIPPINES — The One Club for Creativity's highly-anticipated Portfolio Night is all set to hit the vibrant city of Manila on June 01, bringing together aspiring young talents and established industry professionals.
As the global platform for emerging creatives, this event offers a unique opportunity for aspiring designers, copywriters, art directors, and other creative enthusiasts to showcase their portfolios and receive valuable feedback from industry experts. As the anticipation builds, The One Club has revealed the esteemed creative reviewers that will be evaluating and mentoring these young talents during this prestigious event.
Hosted by adobo Magazine, the 2023 Portfolio Night in Manila's creative reviewers are: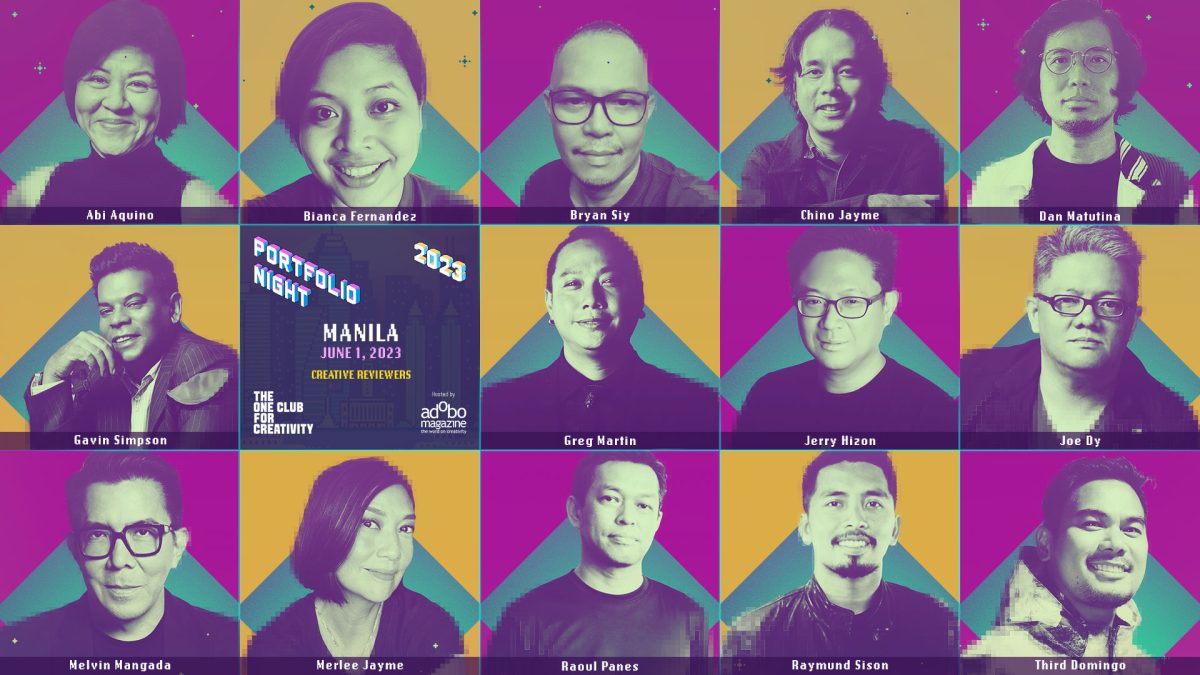 Abi Aquino – Chief Creative Officer of MullenLowe Treyna
Bianca Fernandez – Group Creative Director of Publicis JimenezBasic
Bryan Siy – Chief Creative Officer of DDB Philippines
Chino Jayme – Executive Creative Director of Ogilvy Philippines
Dan Matutina – Graphic Designer and Co-founder of Plus63 Design and Hydra Design Group
Gavin Simpson – Creative Consultant of BBDO Guerrero
Greg Martin – Executive Creative Director of Ace Saatchi & Saatchi
Jerry Hizon – Chief Creative Officer of Dentsu Creative
Joe Dy – Chief Creative Officer of Wunderman Thompson/VMLY&R
Melvin Mangada – Chairman and Chief Creative Officer of TBWA\Santiago Mangada Puno
Merlee Jayme – The Chairmom
Raoul Panes – Chief Creative Officer of Publicis Groupe Philippines and Leo Burnett Group Manila
Raymund Sison – Partner and Creative Chief of Propel Manila
Third Domingo – Founder and Chairman of IDEASXMACHINA; Chief Network Officer of Hakuhodo International; President of Hakuhodo Philippines
This inaugural Portfolio Night MANILA would not be possible without our official agency sponsors Ace Saatchi & Saatchi, DDB Group Philippines, Dentsu Creative, Ogilvy, Propel Manila, and IdeasXMachina Group of Hakuhodo.
Portfolio Night 2023 will take place in dozens of cities around the world on the same date to help the next generation of creative talent entering the industry. In addition to Manila, other cities and hosts in APAC are:
Hong Kong: Ogilvy Hong Kong
Mumbai: BBDO India, DDB Mudra Group, TBWA\India (June 09)
Pan-India: BBDO India, DDB Mudra Group, TBWA\India (June 08, virtual)
Seoul: Paulus
Shanghai: BBH China (June 07)
Singapore: BBDO Singapore and TBWA\Singapore
Portfolio Night is an important event in advertising because it serves as the gateway for young talent to enter the industry, enabling the best of the present, hundreds of renowned international creative directors, to meet and mentor the leaders of the future in industry hubs around the world.
It has also become a crucial tool for agencies in recruiting top young talent, providing a platform for recognition from local industry peers, and giving agencies a place on the global stage as the ad world tunes in to this one-of-a-kind event.
Adobo Magazine hosts The One Club's Portfolio Night in Manila, happening June 01