MANILA, PHILIPPINES — The creative industry is brimming with tons of amazing ideas, so it's no surprise that there's never a shortage of great campaigns to admire and celebrate.
From gripping stories and new perspectives that embody what a brand stands for to new fun ways people can engage with a brand, here are campaigns that caught adobo Magazine's eye this week:
When a sale is being promoted — especially if it's as big of a sale as big as Myntra's biggest biannual sale — it's routine to see brand-new items at the heart of the campaign. This time, though, through a campaign conceptualized by Talented, Myntra promoted it in a simple but ingenious way — a simple, text-only ad included in the bag of fresh laundry being returned to the customers of UClean, one of India's biggest laundry chains. Because of its placement, the usually missable print ad was able to reach the target market for the exciting promo: the chance to exchange old but freshly laundered and ironed outfits for exclusive coupon codes for Myntra's End of Reason Sale.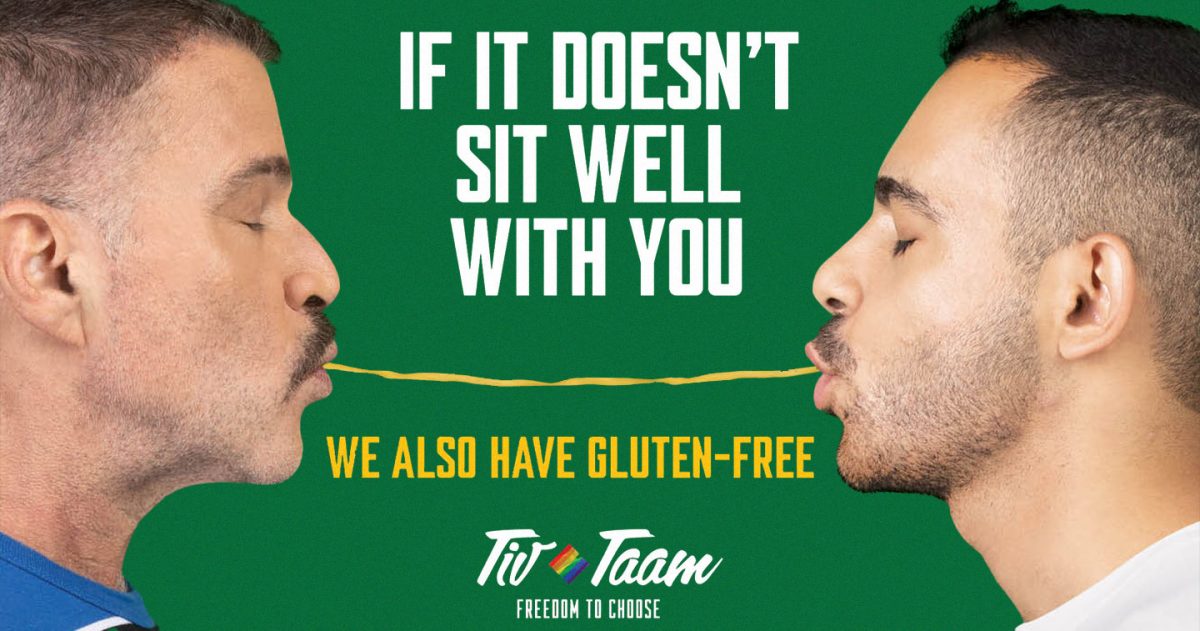 In a blatant show of support to the LGBTQ+ community, food retail chain Tiv Taam championed the freedom to choose in a cleverly welcoming campaign. The posters featured same-sex couples enjoying a meal together, looking like they were just seconds away from sharing a meal. As a perfectly witty cherry on top, the poster even pokes fun at those who have a problem with same-sex couples by offering something to help if it "doesn't sit well" with them — different food options that'll sit better with their dietary preferences!
Pride is about uplifting queer stories and amplifying the community's platforms. So, it's fitting that Moonleaf Tea Shop's latest campaign puts on center stage people who have always been a huge part of the LGBTQ+ community's culture and history: drag queens. This month, Moonleaf is inviting local queens Salmo Nella and Felicia Ding to sit down and talk about their drag — from their beginnings and inspirations to how it fits into the wider queer Filipino landscape — over their favorite Moonleaf drinks.
It's the so-called miracles — the miracle plays, the miracle goals, the miracle comebacks — that make legendary sports moments. OPPO and Sid Lee celebrated the return of the UEFA Champions League Final to Istanbul, with a film featuring Ricardo Kaká, a player who has seen tons of them, from the devastating final loss during what is now dubbed as the "Miracle of Istanbul" of 2005 to when he and his team got to avenge it with an outstanding win in the 2007 final. As someone who's been on both the right and wrong side of a miracle though, Kaká tells a story that shows exactly how miracles happen: they don't. Miracles, through precision, performance, and perseverance, are made.
With alcohol being such a big part of many social settings, it can be difficult to remember to keep one's drinking in check and the consequences that come with not doing so. Shanghai Pilot Health Promotion Center addresses this issue in its new campaign by BBDO China through a series of posters showing ice cubes shaped like organs — organs affected by overconsumption of alcohol — placed in liquor. With facts about how alcohol affects one's body, the posters urge people to make a change before the alcohol "melts away" their vital organs.
Here's a look back at adobo magazine's weekly campaign picks.