PETALING JAYA, MALAYSIA — At the recent 12th Public Relations Global Network (PRGN) Global Best Practice Awards, Malaysian public relations agency Perspective Strategies took home three gold awards in the categories of Agency Marketing / Self Promotion, Events and Communication to Gen-Z, one silver award in the Pro Bono Work category and one bronze award in the Sustainability category. The global awards ceremony took place in San Francisco, USA in conjunction with the Public Relations Global Network Fall Conference 2023.
"We are pleased and honored to have received this recognition for our work across multiple disciplines, reflected in the various awards that we took home. This is a testament to the strength that our team's diversity brings and the shared passion for crafting stories in purposeful ways. We are also appreciative of our clients for trusting us to tell their stories effectively," said Tan May Lee, Partner and Executive Director at Perspective Strategies.
"Our achievements today are not only a reflection of the quality work we do as a firm, but also serve as a testament that local boutique firms like ours are equally competitive in the global playing field," she added.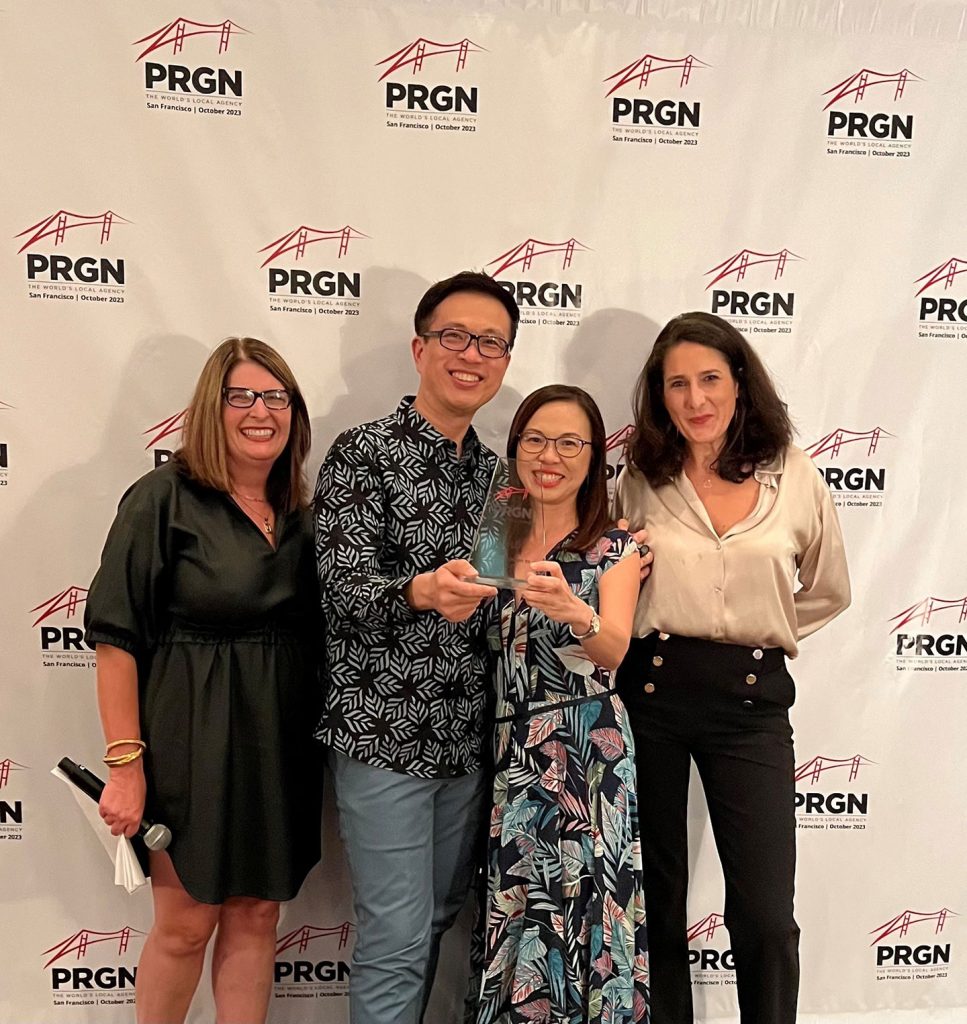 There are 24 categories in total for this year's Global Best Practice Awards, including Public Affairs, Investor Relations, Content Marketing & SEO (Search Engine Optimisation), and Influencer Campaigns, to name a few.
For the Gold Award in the Communication to Gen-Z category, the "Shaping Industry-ready Graduates" campaign designed for PETRONAS Lubricants International (PLI) leveraged various speakers including Formula One Driver for Mercedes-AMG PETRONAS F1 Team, George Russell, to speak to students from various private and public universities. The series served as a thought leadership platform for PLI to reach its potential customers and industry players.
For the Agency Promotion / Self Marketing category, Perspective Strategies showcased its pathway from being GOOD to GREAT by rolling out its REFRESH, REINVENT AND REIMAGINE drive to tell its purpose-driven narrative. Through this initiative, Perspective Strategies launched its Strategy and Sustainability Practice, as well as its learning and development sub-brand, the Communications Leadership Academy, to achieve its aspiration to become Malaysia's leading PR and Strategic Communications agency.
The final Gold Award in the Events category stands as evidence of the extensive media outreach work carried out for MAGGI Malaysia. The MAGGI® Sah Malaysia! campaign commemorates the brand's remarkable over 50-year journey in Malaysia since 1971. Themed 'Kembara DuniaKu Bersama MAGGI®', the campaign celebrates the viral Mi MAGGI® creations that have woven seamlessly into our Malaysian culture, be it as a homemade dish or served at food outlets. The campaign's pinnacle was the Grand Finale and onground fiesta at the Malaysia Tourism Centre (MaTiC), featuring various cultural elements in celebration of the long-standing relationship with Malaysians.
"This year saw the highest number of submissions by public relations agencies across the globe, with a grand total of 154 submissions by 36 firms. The submissions demonstrate the diverse approaches and solutions around the world when it comes to PR and strategic communications. It is always refreshing to witness the creativity and innovation that PRGN agencies bring. The bar is continuously raised every year, emboldened by a culture of pushing the boundaries of excellence," said Andy See, President of the Public Relations Global Network (PRGN). Andy is the first Asian and Malaysian to hold the position as President since its inception in 1992. He is also the Principal Partner and Managing Director of Perspective Strategies.
The PRGN Best Practice Awards is held annually as part of the global PR network's effort to recognize and celebrate the best of its partner agencies' work throughout the world.
PRGN is one of the largest networks of independent agencies in the world, present in over 56 market centers in Africa, Asia-Pacific, Europe, South America, and North America.
For further details on the PRGN Global Best Practice Awards 2023, visit PRGN 2023 Best Practice Awards: Record Entries and Awards Gala in San Francisco.