MANILA, PHILIPPINES – The Metrobank Foundation, Inc. (MBFI) sustains its mission in fostering Filipino artistry and creativity through its annual excellence recognition program for the visual arts—the Metrobank Art & Design Excellence or MADE.
Guided by the theme "SPECTRUM: The Art of Possibilities," MADE resumes in 2021, inviting Filipino artists to tap into the expansive realm of creativity and transpose their spectrum of ideas into works that mirror the human experience and reshape the world anew. MADE continues to be a purveyor of visual arts, amplifying the reach and voice of local talents and visionaries.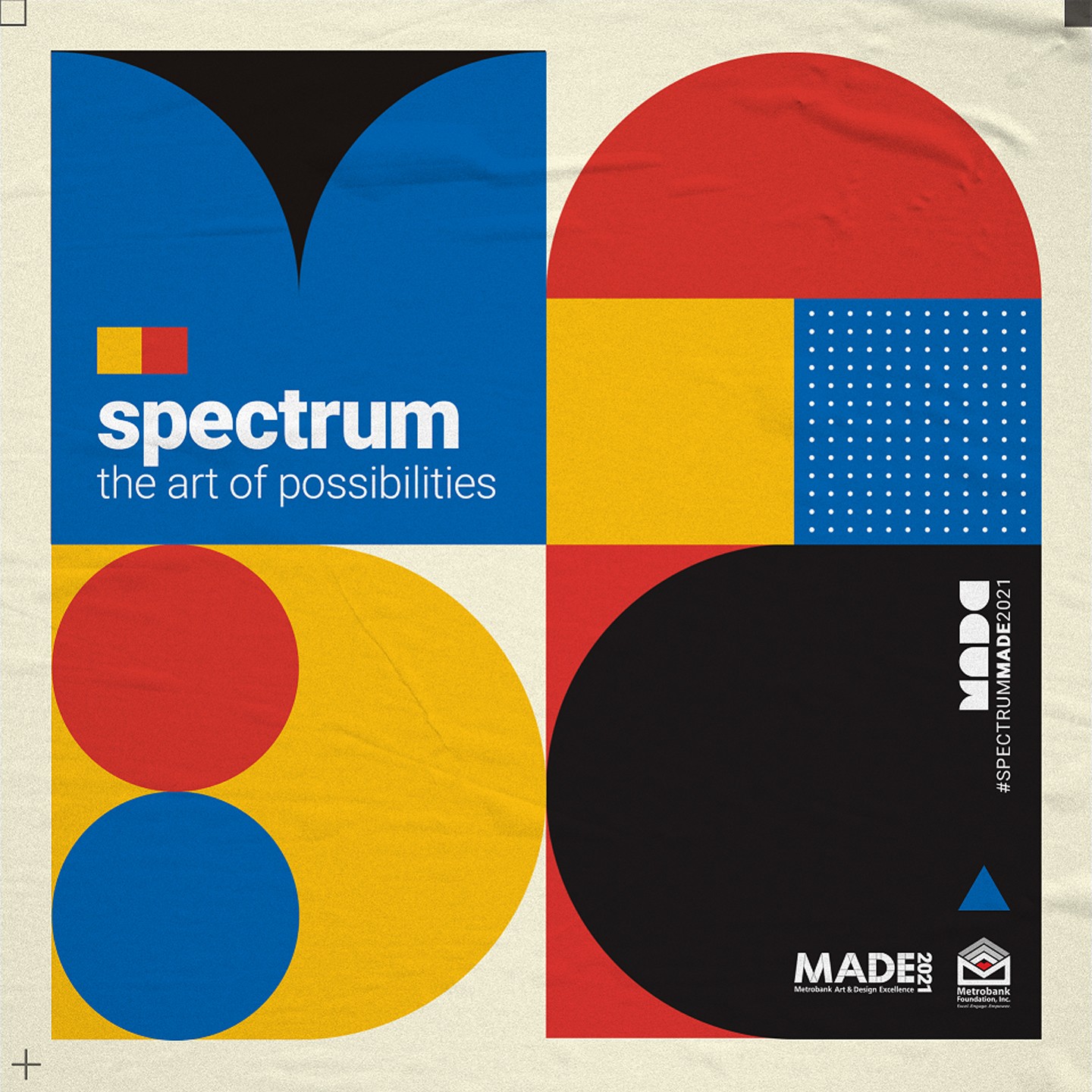 ART THAT PROGRESSES AMIDST CHALLENGING TIMES
Given the restrictions of holding on-ground events, MADE shifts to digital media through #SpectrumMADE2021, a yearlong social media campaign which aims to bring art experience and art education to its stakeholders amidst the current COVID-19 pandemic. #SpectrumMADE2021 will also serve as the platform for entrants to get to know more about the Painting and Sculpture recognition programs.
To do this, a series of online activities were lined up throughout the year. These include webinars and artist's talks to inspire new generation of artists, provide opportunities for the exposure of their works, and give updates about the 2021 MADE.
A CALL FOR FILIPINO PAINTERS AND SCULPTORS
The MADE Painting Recognition Program is open to all Filipino painters aged 18-35 years old who have not staged a solo exhibition. The MADE Sculpture Recognition Program, on the other hand, is open to all professional and amateur Filipino sculptors who have not won in any sculpture competitions of MADE in the past.
The deadline for submission of entries is on March 31, 2021. Interested participants may register online through bit.ly/MADE2021_paintingform and bit.ly/MADE2021_sculptureform.
At the height of an enhanced community quarantine in the country last May 2020, MBFI announced the deferment of 2020 MADE Painting and Sculpture Recognition Programs. As a result, all artworks submitted for the 2020 MADE will still be considered and will be judged alongside the entries submitted for the 2021 MADE.
Two (2) grand awardees for the Painting Recognition Program and one (1) grand awardee for the Sculpture Recognition Program will be chosen by a distinguished panel of judges. They will each receive PhP 500,000.00 worth of financial assistance and fund for artistic development, plus the "Mula" glass trophy designed by visual artist and MADE awardee Noel El Farrol. The grand awardees will be recognized in an awarding ceremony during the celebration of Metrobank's 59th anniversary celebration in September. The awardees will also become members of the MADE-Network of Winners (MADE-NOW), the alumni organization of past MADE awardees which implements pay-it-forward projects that benefit marginalized sectors.
Established in 1984 by the late Metrobank Group founder and chairman Dr. George Ty Siao Kian, MADE has served as a platform for discovery for the most passionate and persistent creative visionaries in the country. To date, more than 400 visual artists and design professionals have been recognized. A majority of them are now carving significant names in the local and even international art and design scenes.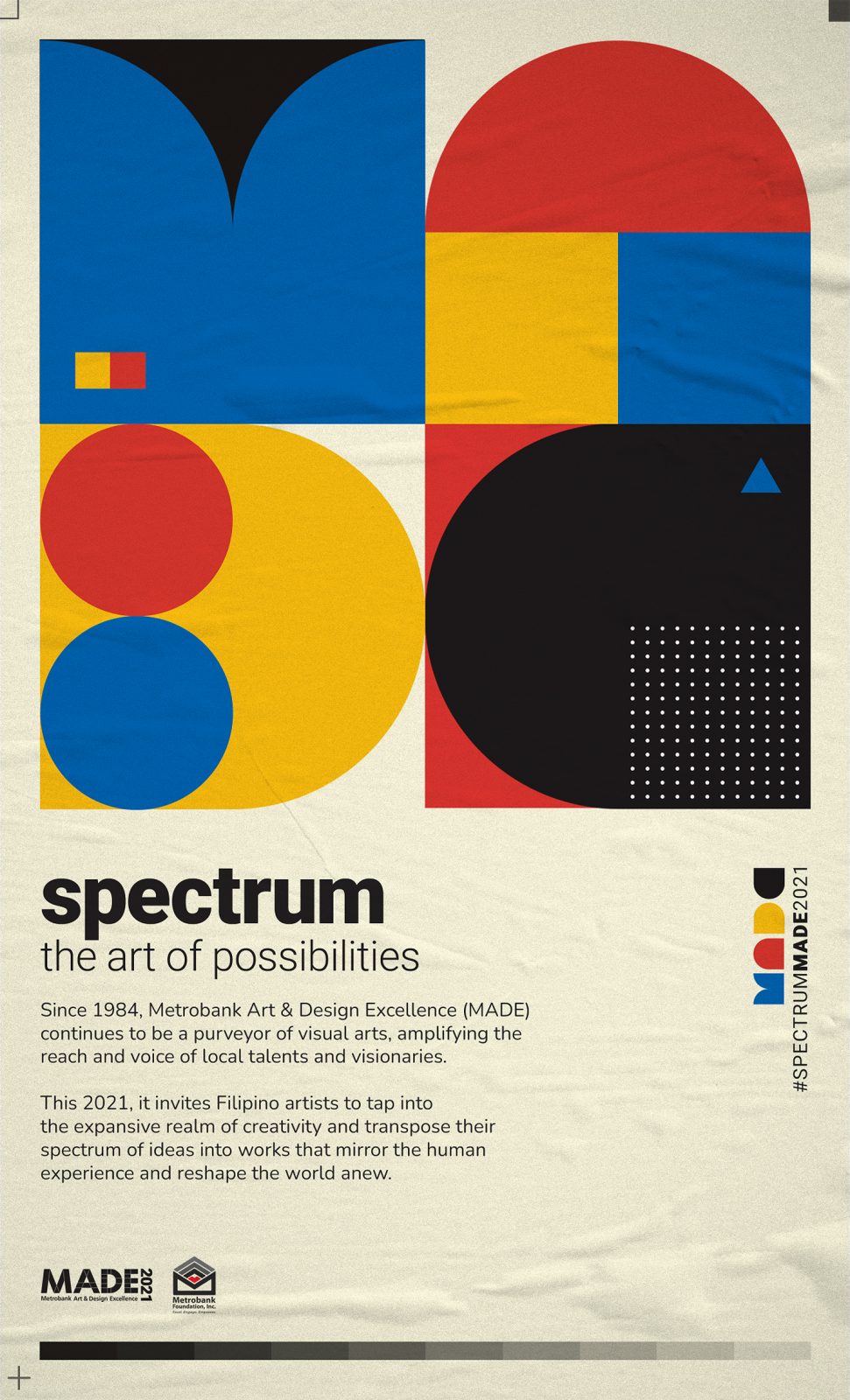 ADVANCING THE PHILIPPINE CULTURE AND HERITAGE
Despite being confronted with a national crisis, MBFI remains true to its commitment of educating the public and creating awareness of culture and heritage through its Culture and Heritage Education Program (CHEP). CHEP aims to showcase the cultural significance of MADE's art collection, address the need for classroom learning materials, and support formal and informal learning initiatives of partner institutions.
Various activities of CHEP in the form of lectures and workshops will be part of the #SpectrumMADE2021 campaign and will be implemented on the official Facebook (@MADECompetition) and Instagram (@metrobankartanddesign) pages of MADE.
For further details, please contact Badet Macaraig at telephone number: (02) 8898-8094 or email therese.macaraig@metrobank.com.ph.