MANILA, PHILIPPINES — Havaianas, the iconic Brazilian lifestyle brand, takes a step toward making a positive impact on the environment with the launch of its Sustainability Program aimed at reducing waste and promoting awareness of the proper disposal of trash, for a greener planet.
The program aims to nurture a community of customers that are more mindful about their consumption and are conscious about how to properly discard products they buy.
Havaianas Sustainability Kiosk at Trinoma Activity Center
Havaianas launched a booth at the Activity Center of Ayala Malls Trinoma that showcases its wide range of fashionably sustainable flip-flops and a ReCycle Bin where anyone can drop off old Havaianas pairs and give them new life. Also on display are its reusable canvas bags. The booth will be open until May 20, 2023, and customers that visit will find fun selfie spots while availing of treats from the brand.
The Havaianas Sustainability Program extends nationwide as the brand rolls out ReCycle Bins in all Havaianas branches, making it easier for customers to jumpstart their green habits. Each customer who drops off pairs can enjoy a P200 discount that they can use on the same day.
Havaianas ReCycle Bin
"Havaianas is committed to improving its environmental impact worldwide. First, by reducing wasted material in the production process and next by actively encouraging customers to give new life to their old pairs by dropping them off in our ReCycle Bins across the country, where they will be collected and repurposed for construction material, floor mats, and even new Havaianas," shared Anne Arcenas-Gonzalez, President and Co-Founder of Terry S.A. Inc.
With its commitment to better environmental practices, Havaianas is proud to announce its lineup of Sustainability Pairs.
100% of production waste from Top, its best-selling basic style, goes back into the manufacturing process. The feminine fashion line, You, is free from restrictive substances and uses soles made of 36% recycled materials from its own production.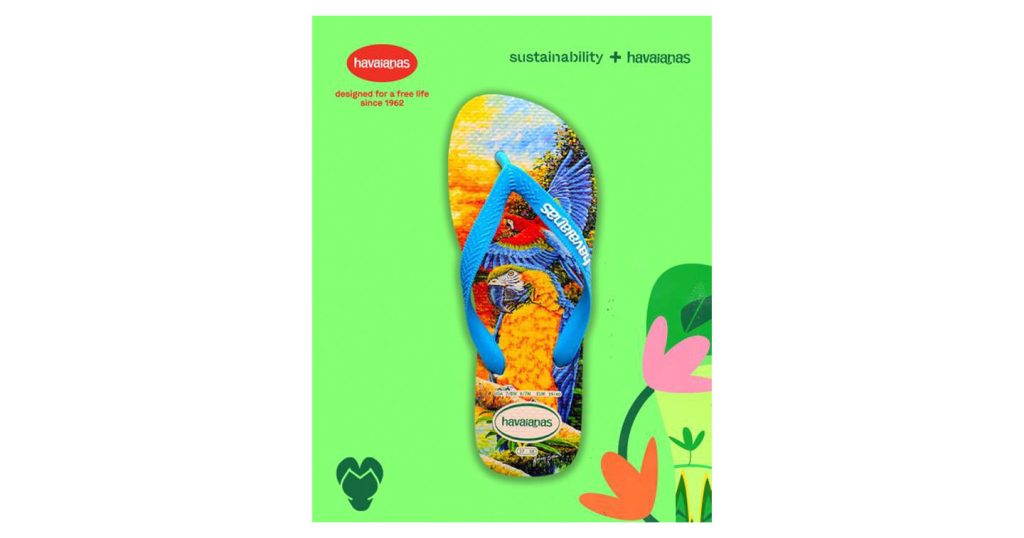 Havaianas BEI Flip-Flops
Havaianas BEI flip-flops represent the love for the Amazon and pay tribute to its diverse ecosystem. A portion of sales will be donated to the CORA Project – Coracoes De Amazonia, which aims to protect the Amazon rainforest.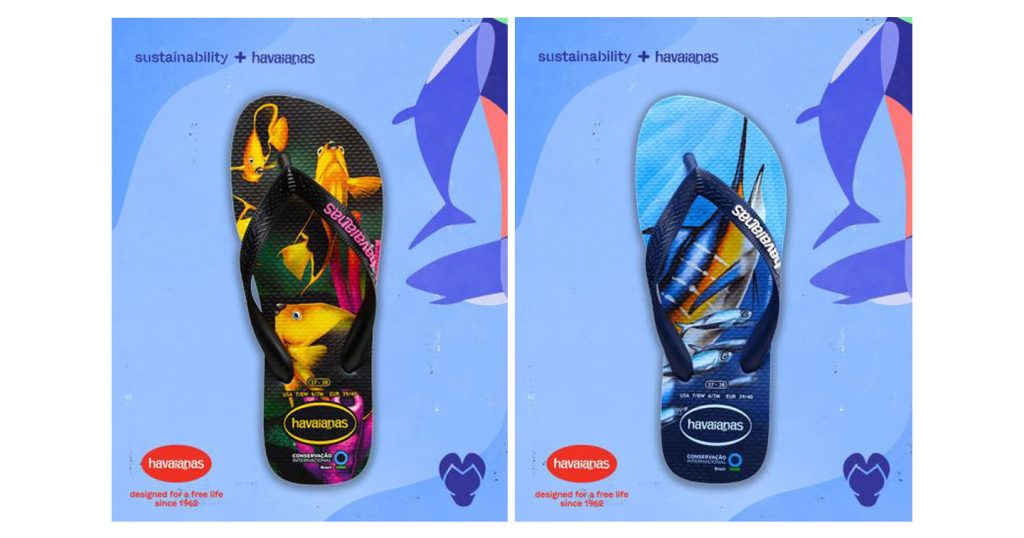 Havaianas Conservacao International Flip Flops
Havaianas also partnered with Conservacao International to donate 7% of the profits to marine life conservation projects in Brazil. The designs for these flip-flops feature colorful prints of the thresher shark and the yellowtail damselfish.
Havaianas IPE Flip Flops
Havaianas IPE flip-flops have gorgeous designs that represent Brazilian wildlife. 7% of the profits from these flip-flops are donated to the Ecological Research Institute, which supports conservation efforts in Brazil. The partnership has helped plant more than 3.2 million trees in the Atlantic Forest, helping preserve a range of species.
Other Havaianas designs such as Slim Platform, Twist, You Metallic, You St. Tropez Classic, Flash Urban Plus, Slim Nautical, and 4 Nite which are all-time stylish favorites, are also produced with sustainability in mind.
Starting May 15, 2023, customers are encouraged to bring their own reusable bags to carry their purchases, while single-use paper bags are available for a fee. Additionally, Havaianas canvas bags will also be available for purchase.
To highlight its message of proper waste disposal, Havaianas is excited for its Beach Clean Up in Barangay Bucana, Nasugbu, Batangas on May 5, an on-the-ground initiative to educate others on keeping our surroundings clean and preserving the beauty and safety of our ocean and coastal ecosystem. This project is in partnership with the local community.
"Havaianas has a long-term mission towards circularity — for our products to use sustainable components, be efficiently produced and properly disposed or repurposed, and to use earth-friendlier materials for our packaging and stores. It's a long-term global goal and we have to start somewhere. In the Philippines, 2023 is the beginning of this journey," added Anne Arcenas-Gonzalez.
Join Havaianas on this journey towards a better planet. For more information on Havaianas' Sustainability Program, visit https://havaianas.ph/pages/sustainability.