By JV Tanjuatco
The Deadly Class TV show exploded on the scene last Jan 16 and while it hasn't yet reached our shores yet, it's well worth your time to check out the source material written by writer Rick Remender (Uncanny X-Force, Captain America) and artist Wes Craig (Guardians of the Galaxy). In a market clogged with superhero books, Deadly Class stands out from the herd with a literal killer twist to it.
Here's why:
The Premise
Homeless teen Marcus is wanted for murder and finds shelter and sanctuary as a student enrolled in an elite school called King's Dominion. While this sounds like a great alternative to being a fugitive on the streets, Marcus finds himself conflicted because the school trains its students to become killers! High school is tough enough to navigate with the workload, strict teachers, drugs, bullies, and raging hormones; mix in young assassins and the student body is going to need some tourniquets, a gurney, and a body bag!
The Writing
Rick Remender has mentioned that the series is semi-autobiographical in nature. Not that he grew up as a murderous assassin-in-training in his youth though he did rile and rage against conformity through drugs, alcohol, and wanton sex as a teen. More than any other book he's written, Deadly Class feels very personal and relatable to teenagers and former teenagers. The characters deal with heartbreak, alienation, rejection, love, and friendship set against a backdrop where life can be snuffed out at any moment. It has a very subversive tone yet Remender's message is powerfully clear: Create your own path. Don't mindlessly follow what everyone else is doing.
The Art
Wes Craig's cartoony style is perfectly in line with the book's counterculture tone – the line work is clean and simple which makes for an ideal contrast to the title's amoral tone. Craig's line work may not appear that detailed at first glance yet you may notice Craig's skill at communicating emotion and character with as little line work as possible. He's also adept at choreographing thrilling action scenes through the clever use of panel art and is quite at home with surreal dream sequences as well. There's nothing quite like his work in the industry right now.
The Characters
A Nicaraguan runaway. A Yazuka princess. A gangster with a good heart. A KGB bully. An Aryan Southern Belle. These are just a few of the murderous students who grace the halls of King's Dominion. Like the second iteration of the X-Men (c/o Len Wein and Chris Claremont), they are a diverse group of race, culture, religion, and sexual orientation that all play off each other quite nicely. Remender gives many of these killers some real depth and complexity that readers will be able to connect with.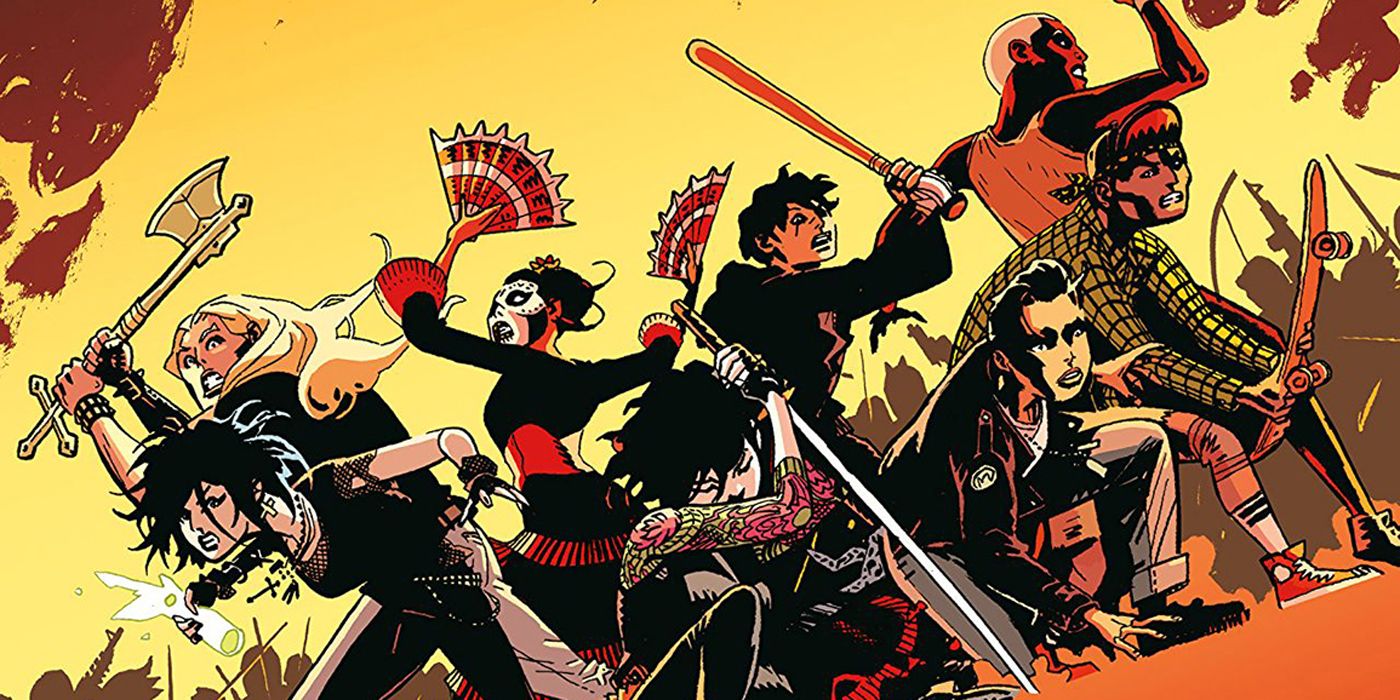 The Outrageous Plots
Deadly Class is not set in some superhero universe but Remender and Craig pull out all the stops when it comes to the storylines. The characters seem to inhabit a world where movies like Die Hard and The Hills Have Eyes are everyday situations! A psychotic hillbilly clan are out to get Marcus and his classmates. The kids go on a hallucinatory road trip to Las Vegas that Hunter S. Thompson would approve of. A Mexican drug kingpin and his thugs search for the severed head of one of their protégés enrolled in the school. And finals are a real battle royale! There's no shortage of absurdity in this series at all!
The 80s Period Setting
It's a dark coming-of-age story to be sure, though there are moments of humor splattered along the way to lighten the mood. It helps that the story is set in that bygone age called the Eighties. The setting is used to hilarious effetc. Much of the dialogue circles around character debates and commentary on the pop culture of the time whether it's Pantera vs The Cure or the creative direction of the X-Men books of that era. There's even an issue where the students play the classic role-playing game Dungeons and Dragon and are depicted as the fantasy characters they play. It makes for some fresh palate cleansers after all the bloody violence.
The Cliffhangers
Every twist and turn feels like an actual knife through readers' hearts. Remender and co make it a point to make Deadly Class a real page-turner, especially in every issue's last page. Unlike heroes in Marvel and DC, no one here is safe. Similar to Game of Thrones and The Walking Dead, they really make these students characters you can care about so when they meet their untimely demise, it hurts. What makes it worse is that the creators tend to leave character fates hanging for months after a story arc is done!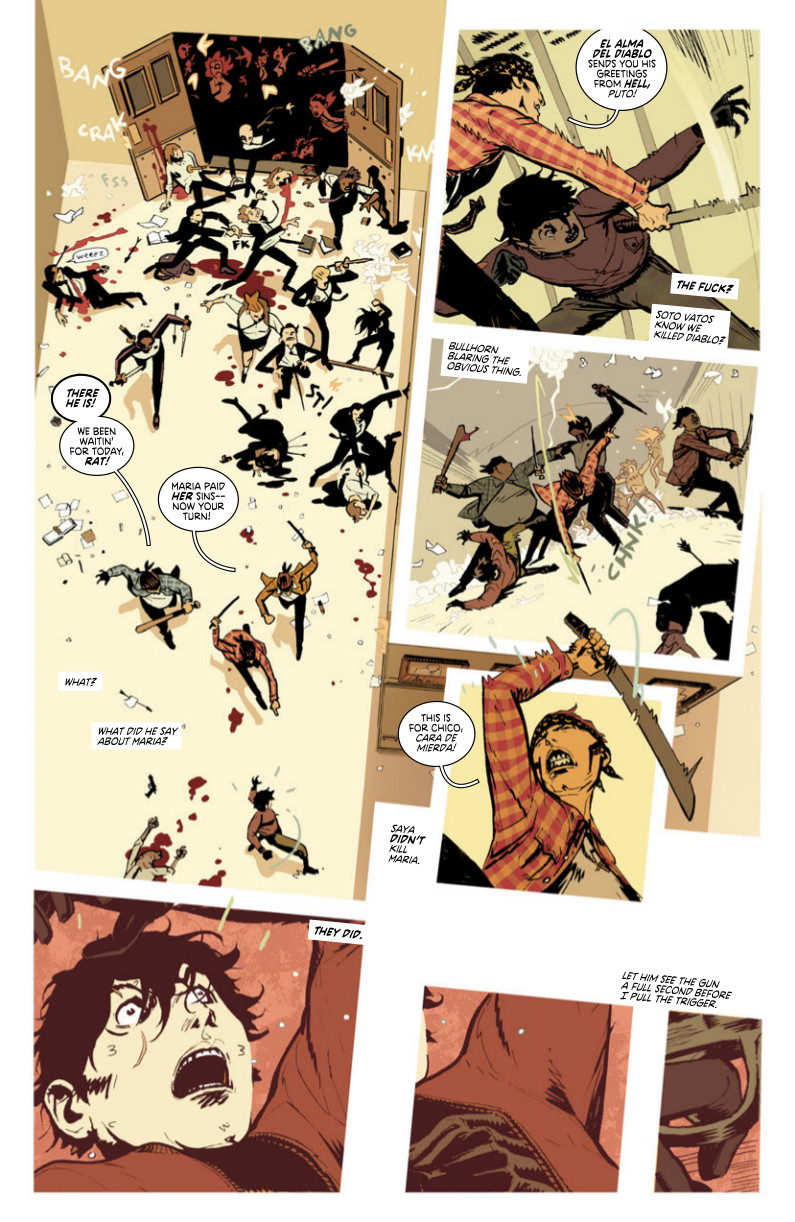 About The Author:
JV Tanjuatco, comic book writer/editor/publisher, founded Comic Book Lab that publishes the comic book titles Mythopolis and War of Whispers (co-created and co-written by him). Comic Book Lab's most recent project was the graphic novel anthology Stay: 21 Comic Stories authored by Palanca Award winner Angelo R. Lacuesta and illustrated by a stellar line-up of artists including Trese's Kajo Baldisimo. He has also written articles/reviews for Spot.ph and Ain't It Cool.