MANILA, PHILIPPINES — Mapúa University, one of the top engineering and technological schools in the Philippines, and Cisco have agreed to collaborate to create the Philippines' first-ever digital university. As part of the collaboration, Cisco will deploy state-of-the-art technology to transform the university's traditional classrooms to optimize hybrid learning. The initiative is part of Cisco's Country Digital Acceleration (CDA) program in the Philippines, UGNAYAN 2030.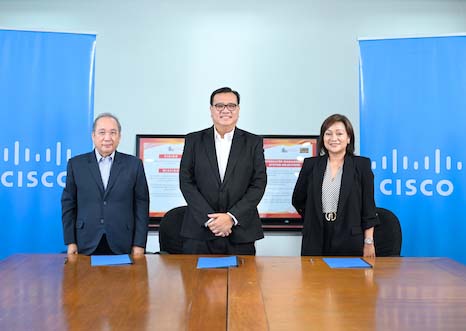 Cisco will provide Mapúa University with a full range of purpose-built artificial intelligence (AI)-powered collaboration tools, including the Cisco Webex Meeting Suite, Webex Boards, and devices, and Meraki Wireless and Smart Cameras, to help create inclusive and engaging learning experiences in hybrid classrooms.
To harness the full potential of the digital classroom experience, Mapúa and Cisco have developed a training curriculum for teachers that focuses on blended, hybrid learning. A specialized training program will be rolled out to ensure that teachers and students are taught to effectively use Cisco devices and solutions so they can communicate, collaborate and learn effectively from anywhere.
The Journey Towards a Modernized Campus
Mapúa has also set its sights on achieving several other key milestones as part of its comprehensive approach to creating a modernized campus. This includes making education accessible across borders by offering fully online Bachelor's and Master's degree programs.
Mapúa will support upskilling and micro-credential initiatives through online courses in accredited learning and certification platforms. This builds on the university's standing as one of the largest partners for the Cisco Networking Academy in the Philippines.
The university hopes to meet its goal of building students for the world by delivering global and digital educational offerings through modernizing its digital infrastructure and retrofitting its classrooms with state-of-the-art Cisco technology. This includes:
Cisco Collaboration: As part of the university's plan to deliver courses through a combination of face-to-face, in-class synchronous and in-class recorded asynchronous sessions, Cisco's Webex Suite will provide the full breadth of calling, live and pre-recorded meetings, and messaging on one seamless platform. Instructors will have the option to leverage the platform's AI-powered noise cancellation capabilities to ensure all Mapúa students have a consistent learning experience. AI-powered People Insights function on Webex will also offer detailed, personal insights that remain private to each student on their study patterns and focus time goals to give them more control of their schedules.
Cisco Devices: Cisco Webex boards will enable students and teachers to join video-first meetings, use digital whiteboards, annotate on shared content, and leverage real-time translation and transcriptions. This will enable more interactive and engaging learning experiences so Mapúa students can collaborate on projects, share ideas and get instructor feedback in real-time, in physical classrooms or virtually.
Advanced AI features like facial recognition for in-meeting name labels and a digital assistant that provides for a zero-touch, voice-controlled meeting experience, coupled with its high-quality camera and audio intelligence, will allow students to meet virtually and collaborate regardless of where they are, and deliver similar experiences for all students irrespective of their location.
Meraki Wireless and Meraki Smart Camera: Meraki cloud-managed smart cameras configured to work seamlessly with underlying wireless connectivity will help provide instructors with real-time information, including the number of students in each classroom at a given time. They can also act as a CCTV camera, allowing the university to keep students safe by streaming video footage on a web-based dashboard.
Dr. Dodjie S. Maestrecampo, President and Chief Executive Officer of Mapúa University, emphasized the pivotal role of partnerships with private organizations such as Cisco in driving innovation in education, saying: "The pandemic has revealed the power of hybrid learning in keeping students and teachers connected from anywhere and at any time. But these experiences are only possible with the right connectivity, collaboration and right level of cyber security. Cisco has been a trusted advisor and partner in empowering our flexible, hybrid learning journey. I am confident that this partnership will transform the learning experience Mapúa University will offer its students moving forward."
"Mapúa University has a huge opportunity to shape the future of education by driving hybrid learning in the Philippines. It has many merits, from improving access for students to helping them achieve better learning outcomes with greater flexibility to learning at their own pace and taking a more personalized learning approach. I am excited to accelerate our digital transformation roadmap with the partnership with Cisco to pilot the country's first-ever digital classrooms," Dr. Maestrecampo concluded.
Zaza Soriano-Nicart, Cisco Philippines Managing Director, said: "The future of education is changing, as hybrid learning opens opportunities to increase access and drive continuity of engagement. Technology has been a huge enabler in building the bridge to learning without boundaries. Through our CDA program, Cisco is proud and thrilled to be a part of Mapúa University's transformative journey to bring students together in immersive and engaging ways and empower them to learn not just within the confines of a classroom but their homes and anywhere in between."