Tokyo, Japan — Hakuhodo Institute of Life and Living ASEAN ("HILL ASEAN"), a think tank established in Thailand in March 2014 by Japan's second largest advertising company, Hakuhodo Inc. researched and studied ASEAN sei-katsu-sha's attitudes and behavior in ASEAN Sei-katsu-sha Studies 2020. The topic this time was "The Rise of Conscious ASEANs: Why should you CARE?." The following is a summary of the results and hints for marketing.
Quantitative research, home visit surveys and interviews with key opinion leaders conducted in six ASEAN countries(*1) painted a picture of ASEAN sei-katsu-sha that actively incorporate Conscious Lifestyles(*2) in their daily lives. HILL ASEAN dubbed this rapidly increasing cohort of conscious ASEAN sei-katsu-sha "The Consciouslites" and analyzed their lifestyles and shopping attitudes and behaviors. Findings from this research are available on the HILL ASEAN website. This report covers some of the findings from this analysis.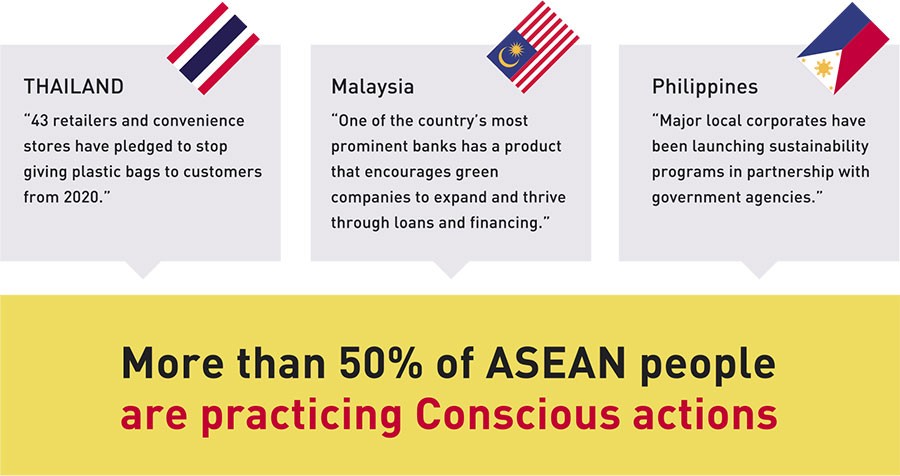 *1 Countries studied: Thailand, Singapore, Indonesia, Malaysia, Vietnam, Philippines
*2 Conscious Lifestyles: Lifestyles and consumer behavior that take into consideration other people, the environment and society. An approach to life that considers whether actions have a positive impact on oneself, other people and society and in which products and services, companies and brands are consciously selected and purchased
The Consciouslites
Sei-katsu-sha who live Conscious Lifestyles, seeking to have a positive impact on environmental and social issues through their everyday actions and brand choices
■ Key points from the findings: The attitudes and behavior of conscious ASEAN sei-katsu-sha
(1) Key findings from quantitative research
Conscious Lifestyles awareness and actual action
• Around 90% of ASEAN people are aware of the term "Conscious Lifestyle." Around 80% actually incorporate conscious actions into their everyday lives
Conscious action level (Base: Conscious ASEANs)
• Among ASEAN Consciouslites, 86% report that they actively incorporate conscious actions into their everyday lives (Do it regardless of what others do/think + Do it and advocate it to others)
Considerations when selecting brands (Base: Conscious ASEANs)
• Over 80% of ASEAN Consciouslites attach importance to socially conscious brands, with 85% saying they want more brands to advocate Conscious Lifestyles and have a positive impact on society, and 82% saying they would switch to another brand based on whether it supports good causes
Willingness to pay extra for conscious products (Base: Conscious ASEANs)
• 81% of ASEAN Consciouslites say they are willing to pay a premium for Conscious Lifestyle-related products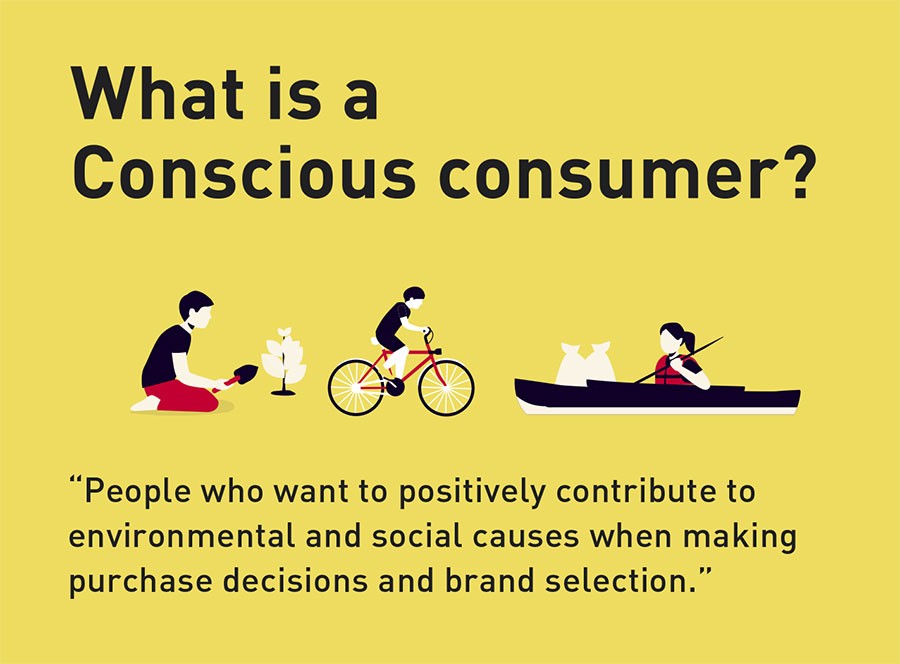 (2) Key findings from qualitative research
Reasons for starting Conscious Lifestyles: Near and Dear—For those close to them
• Environmental and social issues (flooding, garbage problem, marine pollution, poverty, etc.) are more pressing for ASEAN sei-katsu-sha than sei-katsu-sha in other regions. Due to this, there is a tendency toward taking action not for "the world" or "the people affected," but for people nearer and dearer to themselves, such as "Myself and my family" and "My country and region"
How they incorporate Conscious Lifestyle actions: Good Vibes Only—Feeling good about it
• Generally positive and optimistic, ASEAN sei-katsu-sha like fun and easy endeavors and tend to avoid going to extremes with consciousness. To keep their consciousness efforts up, they do as much as feels comfortable, with some leeway, without putting undue pressure on themselves
How they spread Conscious Lifestyle actions: #InstaGOOD—Insta-ready conscious actions
• Enthusiastically sharing information about themselves on social media is another characteristic of ASEAN sei-katsu-sha. Many also share their conscious activities for uncomplicated reasons like "It's fun," "It's trendy," and "Because it will look good on social media"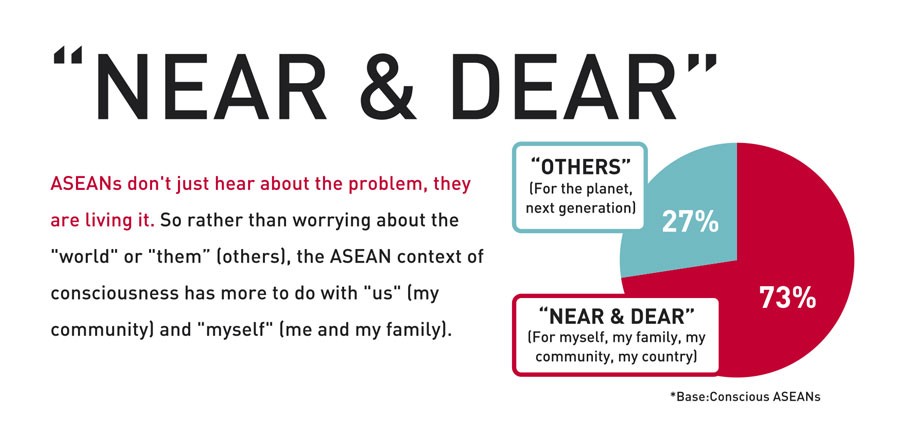 ■ Traits of Consciouslites seen in the research findings

The existence of large numbers of Consciouslites in ASEAN is deeply connected to awareness of environmental and social issues as real problems that affect the lives of ASEANs themselves and the people they know. HILL ASEAN's research showed that Conscious Lifestyles impact the consumer behavior and brand selections of ASEAN sei-katsu-sha and have the power to greatly change the shape of companies' marketing activities in the near future.
HILL ASEAN will continue to support the marketing activities of companies in ASEAN through research into the perceptions and behavior of ASEAN sei-katsu-sha.