MANILA, PHILIPPINES — Filipinos are finding comfort in podcasts, with nearly 40% noting that podcasts make them feel less lonely knowing that other people go through similar life situations. Spotify, the leading audio platform, reveals insights that reinforce the meaningful connections built between creators and listeners.
Home to a diverse catalog of shows, Filipinos are turning to Spotify for their content fix. The Love & Relationships genre is the most popular, with a 400% growth from 2021 to 2023. Other fast-rising categories seeing a twofold increase in consumption since 2021 include Pop-Culture (140%), Self-Improvement (130%), and Comedy (nearly 100%). With this growing consumption across genres, now is the time for aspiring creators to start their podcasts.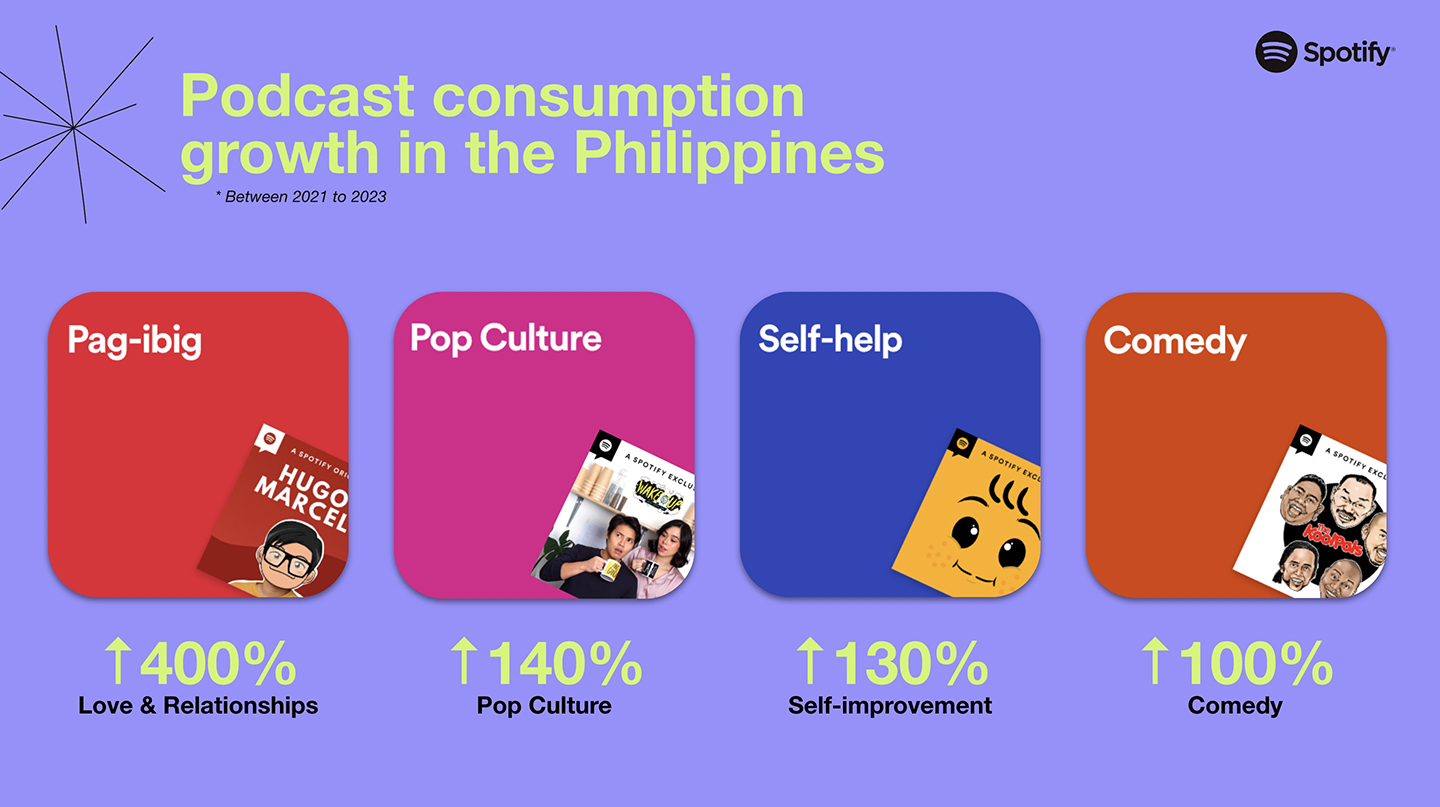 "The growth of the Philippine podcast space is a testament to the innate creativity among Filipinos. Aligned with our mission to unlock the potential of human creativity, we continue to look for ways to champion the voices of Filipino creators," said Phil Disini, Spotify's Podcast Partner Manager for the Philippines.
Supporting Creators at every stage of their journey
Through Spotify for Podcasters' full suite of creator tools, data, and interactivity features, Spotify has made it easier for creators to build their podcasts, reach new audiences, and grow their communities. Such tools include dashboards on show and audience insights, and features including Q&A, Polls, and Video Podcasting.
"I consider starting my podcast as one of my biggest achievements, where I leverage technology to express my authenticity. Through Spotify's Q&A and polls feature, the engagement from my community of listeners has motivated me to commit to creating content for as long as I can," said Gayle de Chavez, Creator of Free Yourself.
Filipinos are finding communities through podcasts on Spotify
Podcasting creates meaningful connections between creators and audiences. One in three Filipinos feels like they are part of a community when listening to their favorite creators. The creators also shared more about the impact podcasting has on them.
"Podcasting has empowered me to reach heights I never imagined I could achieve. From starting as a woman with no background in public speaking to now being considered as the 'online ate' of thousands of listeners, it is really the support of the community and Spotify that has helped unlock this kind of personal growth," said Rizza Lana-Sebastian, co-host of Camp Confidence.
For more information, check out updates on For The Record: Podcasts.