We've found a way to boost how caffeine affects your brain, and no, the answer is not more caffeine. It's getting your daily quick fix at a place conducive for enjoying a cup of joe, and receiving it from people who serve it with nothing but friendly smiles. Yes, folks. We're talking about this newly opened cafe called The Black Bean just a few blocks away from the adobo Creative Hub right here in Chino Roces.
Far from a creative community, but home to many in the creative industries, Chino Roces Avenue in Makati City is a street that perhaps unknown to most, has served as the birthplace of many innovating and inspiring work. Not to mention that nearby areas also serve as homes to numerous key players in the country's own Creative Economy. The Black Bean, although not belonging to the industry, was very excited upon realizing this, seeing it is an opportunity for them to share what they know about coffee, and give the creatives in the area the boost they need to, say for example, finish a brief or find the inspiration to create a winning pitch.
On a particularly busy day, our team made our way up the street to sit down and spend an evening at The Black Bean. We caught up with Omu Toledo-Camus, The Black Bean's Co-Founder and Communications Director, who shared with us the intentionality behind the cafe's design, one that is built on the perfect balance of relaxation and inspiration.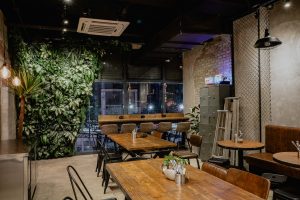 "We needed to be neat, we didn't want it to [look] confused. We want it to be very eye friendly. So basically a place where they can work quietly, where they won't be disturbed. We kept it as simple as we could. We put ourselves in the shoes of the people who work here, live nearby, people who work nearby. It's not a place that will confuse them. We want to help them concentrate on what they're working on and be productive."
Balance seems to be an idea important for the trio behind the cafe as we see it repeated and sustained in numerous elements about the place. The choice of decor, for one, is an even mix of industrial design and rustic flare.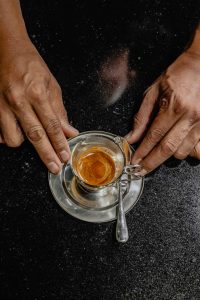 The idea of having balance is also present in their signature blend — beans that come from Brazil, Colombia, and Papua New Guinea that give a bold flavor with fruity notes. Omu shares that this blend is called Deliña, named after the grandmother of Christian Casino, the cafe's Co-Founder and Frustrated Barista (as he calls himself). His grandmother was the person who inspired him into exploring coffee beyond its pragmatic appeal and gustatory indulgence. Together with Omu, the two dove deep into the world of coffee, eventually riding along the third wave and starting their own coffee shop.
It wasn't an easy ride according to Omu. It took them months of research, learning from industry experts, and endless blending and tasting sessions to create a drink they personally loved. Omu admits that they are by no means experts in the field, but they are however, confident about the kind of coffee they serve. She shares, it's all about knowing what you like and why you like it.
"Whenever customers come and ask us how we developed the skill for tasting, we don't have the skill. it's just really understanding our preference and sharing that with the people we serve everyday."
True enough, their espresso was impressive not just because of the jolt of energy you receive upon drinking it, but also because it's both richly bitter and refreshingly sweet. This is a feat that Omu shares is achieved by paying close attention to how the coffee is made every single day.
"Very few coffee shops now pull off an espresso and are confident enough to serve it. Every morning, we spend at least 45 minutes calibrating, and it differs every day. So we make sure that we pull off a good one because we've met several customers who are looking for a shot of espresso. It makes us proud because we know that very few coffee shops offer that. So when people come in and they want to try to really taste what we're serving. That's the first thing we offer."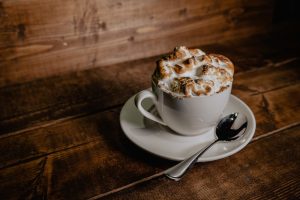 The flavor was also easy to work with as they are able to turn this into a base for many other unique and tempting concoctions like the Salted Caramel Creme Brûlêe coffee, the Lazy Barista Iced Latte, and the most surprising of all, the Meringue Cappuccino, which as the name suggests is a cup of coffee topped with delicious and delicate meringue.
Apart from coffee, they are also very proud of their menu which comprises of a selection curated by Chef Jessica Andrea Meyer who also spent a great amount of time to perfect each dish. While some items may sound simple (and reliable) like Chicken Fries or Lasagna, not a single item failed to impress. The adobo team especially loved the Raspberry Salad, which we found to be a light and refreshing bowl with the right amount of umami from the cheese, and sweetness and tartness from the raspberry dressing. Our favorite, however, would be the Beef Pares.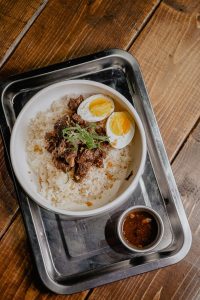 As we enjoyed the savory bowl of beef, Chef Andrea talked to us about how the dish wasn't originally going to be served in the cafe, but as chance would have it, the Filipino favorite found its way into the menu when Chris visited Chef Andrea's house and got a whiff of the dish's enticing smell – a decision we think was genius. The Beef Pares was so good, it's hard to put into writing how much we loved it, but it seems to have made an imprint in our taste buds that is hard to forget.
It's hard not to see how much attention to detail the entire team has put into building up the shop. Perhaps it was Omu's candid confession that they are far from being masters at the trade that made our team feel at ease, but the place undeniably has an air of friendliness. While the coffee and food are two reasons why we'll definitely find our way back to this side of Chino Roces, what we like about The Black Bean the most was its no fuss, no frills, and casual vibe. Whether you're a connoisseur, an enthusiast, or just someone who needs a quick caffeine fix, the folks at The Black Bean are ready to welcome you with open arms (and an open menu).
---
The Black Bean is found at the second floor of Eton WestEnd Square, Chino Roces Avenue Corner Malugay, Makati City.
Photographs by Mohd Sarajan