MANILA, PHILIPPINES — The creative industry is brimming with tons of amazing ideas, so it's no surprise that there's never a shortage of great campaigns to admire and celebrate.
From gripping stories and new perspectives that embody what a brand stands for to new fun ways people can engage with a brand, here are campaigns that caught adobo Magazine's eye this week:
A golden path to healing and restoration
When it comes to modern slavery, rescuing people from that life is only half the battle. Survivors also need resources and support so that they can heal and reintegrate into society. This is why anti-slavery NGO Hagar International's latest campaign "Unbroken" by DDB Group Hong Kong focuses on recovery and restoration and raises funds to give survivors access to mental and physical healing. The campaign uses traditional Japanese art form of Kintsugi to embody this endeavor with a spot featuring Kintsugi artist Yoko Kawada as she restores a shattered sculpture inspired by real-life survivors with gold to represent the transformation and healing they are capable of and deserve access to.
How long has it been since the last incident?
Allianz Insurance and Women's Aid's "The Last Incident" campaign captures the gravity of how often women suffer from domestic abuse. Created by In the Company of Huskies, the campaign launched a live online stopwatch that shows how long it's been since a woman has been subjected to this crime. With every click for help, the counter resets back to zero, raising awareness that the glaring devastation that is domestic abuse is constantly happening, with barely any time passed between new cases.
McDonald's invites you to show yourself some love
People don't often take the time to appreciate and affirm themselves. To address this, McDonald's and Wunderman Thompson Philippines launched a campaign to make these moments of self-love happen, turning the iconic "Love Ko 'To" (I'm Lovin' It) into "Love Ko Me" (I'm Lovin' Me). The fast food chain offered exclusive deals and promos on its app that can only be activated when the user taps on the mic and says words of affirmation about themselves, allowing customers to show themselves a little love — both by voicing it out and treating themselves to a well-deserved meal.
A race to spark the period conversation
During a relay race at the recent Kila Raipur Sports Festival 2023, India's longest-running rural Olympics, the young women participating didn't pass batons to each other. They passed sanitary pads. This disruptive moment was an empowering move by Kotex and Ogilvy India that brings the topic of periods out in the open. After all, as the campaign emphasizes, the stigma surrounding the topic does nothing but act as a hindrance to women's access to information and conversations about menstrual health and hygiene.
Not in the mood for love? Take it out on this Venting Machine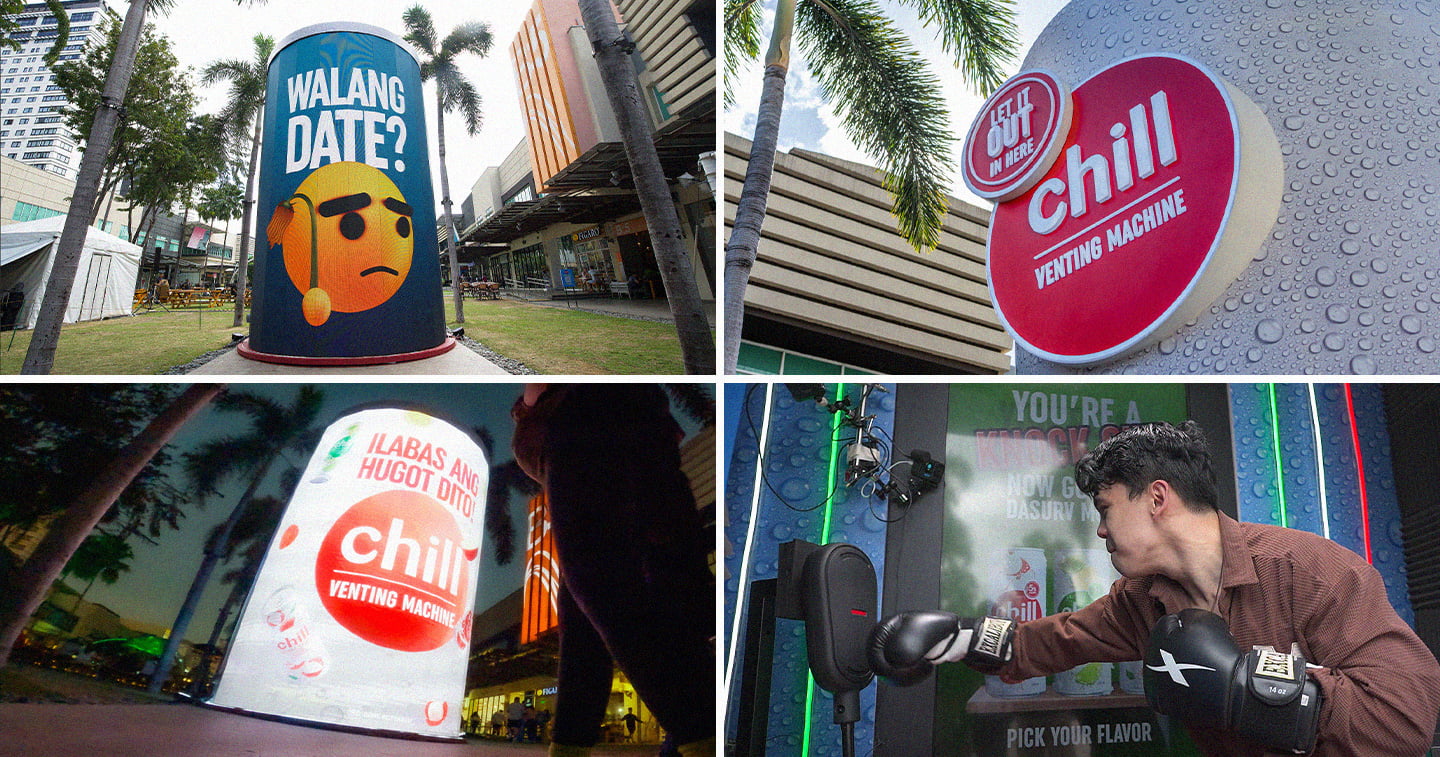 Leading up to Valentine's Day, BBDO Guerrero transformed the Chill can into a 16-foot-tall booth where people could let out all their love month frustrations. Players could choose between the Venting Machine's screaming, punching, and slicing games, whichever activity best helps them blow off the steam that Valentine's might have brought on for them. And at the end of it, the Venting Machine dispenses a Chill can, and the player can enjoy a nice drink along with a lighter feeling after letting all the frustrations out.
Here's a look back at adobo magazine's weekly campaign picks.