MANILA, PHILIPPINES — A veteran public relations professional regarded as a PR icon in the Philippines and an internal communications expert from India bagged the top honors at the IABC Asia Pacific 2022 Communicator of the Year Awards.
Charlie Agatep from the Philippines won in the executive leader category, while Aniisu Verghese, Ph.D., from India won in the senior communication professional category.
2022 marked the first time for communicators in Asia to win the top plums in the coveted annual awards program organized by IABC Asia Pacific (www.iabcapac.com), which has 12 chapters in eight countries and members-at-large throughout the Asia Pacific region.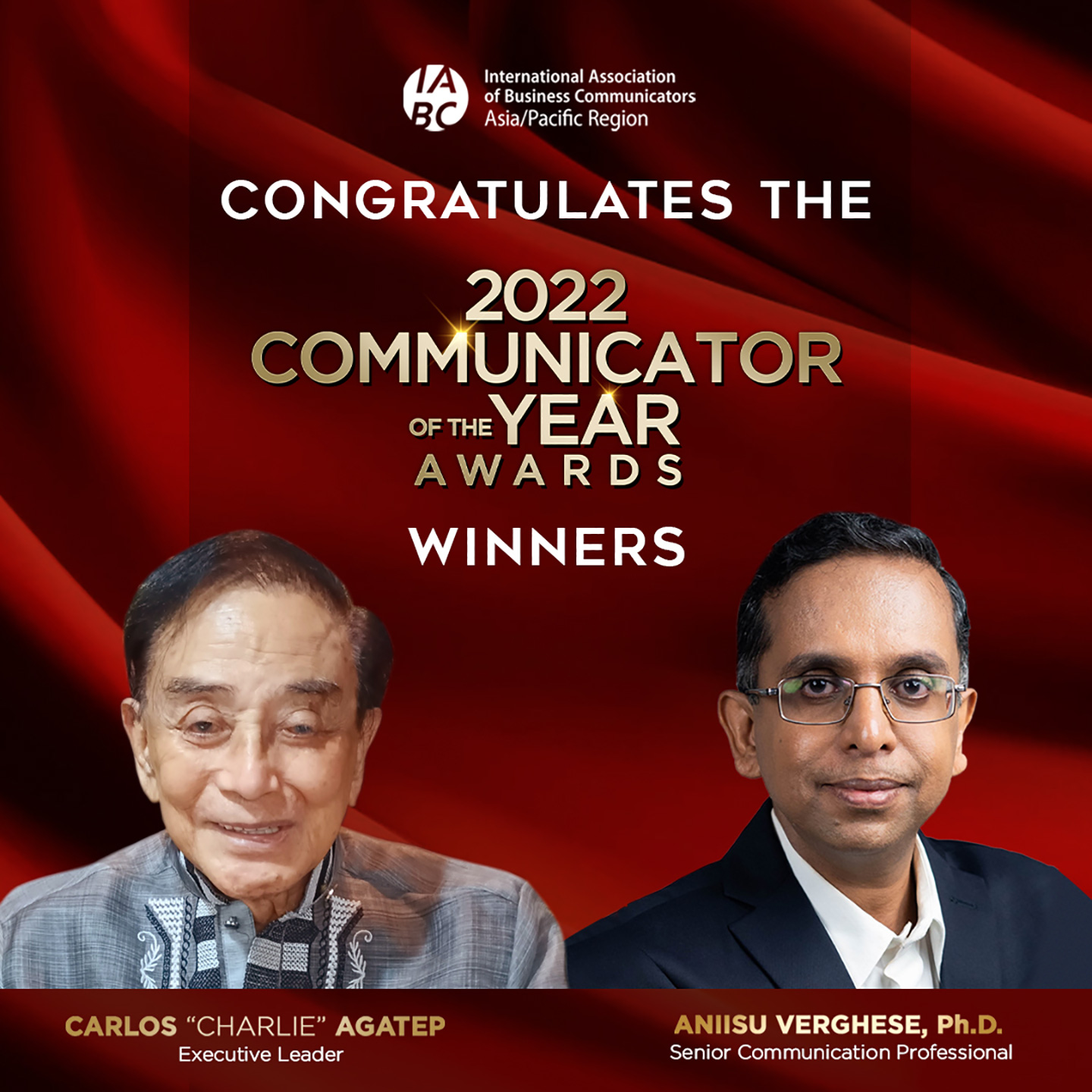 The International Association of Business Communicators (IABC) Asia Pacific Communicator of the Year Awards honor outstanding communication professionals who have demonstrated leadership in driving strategic communication excellence.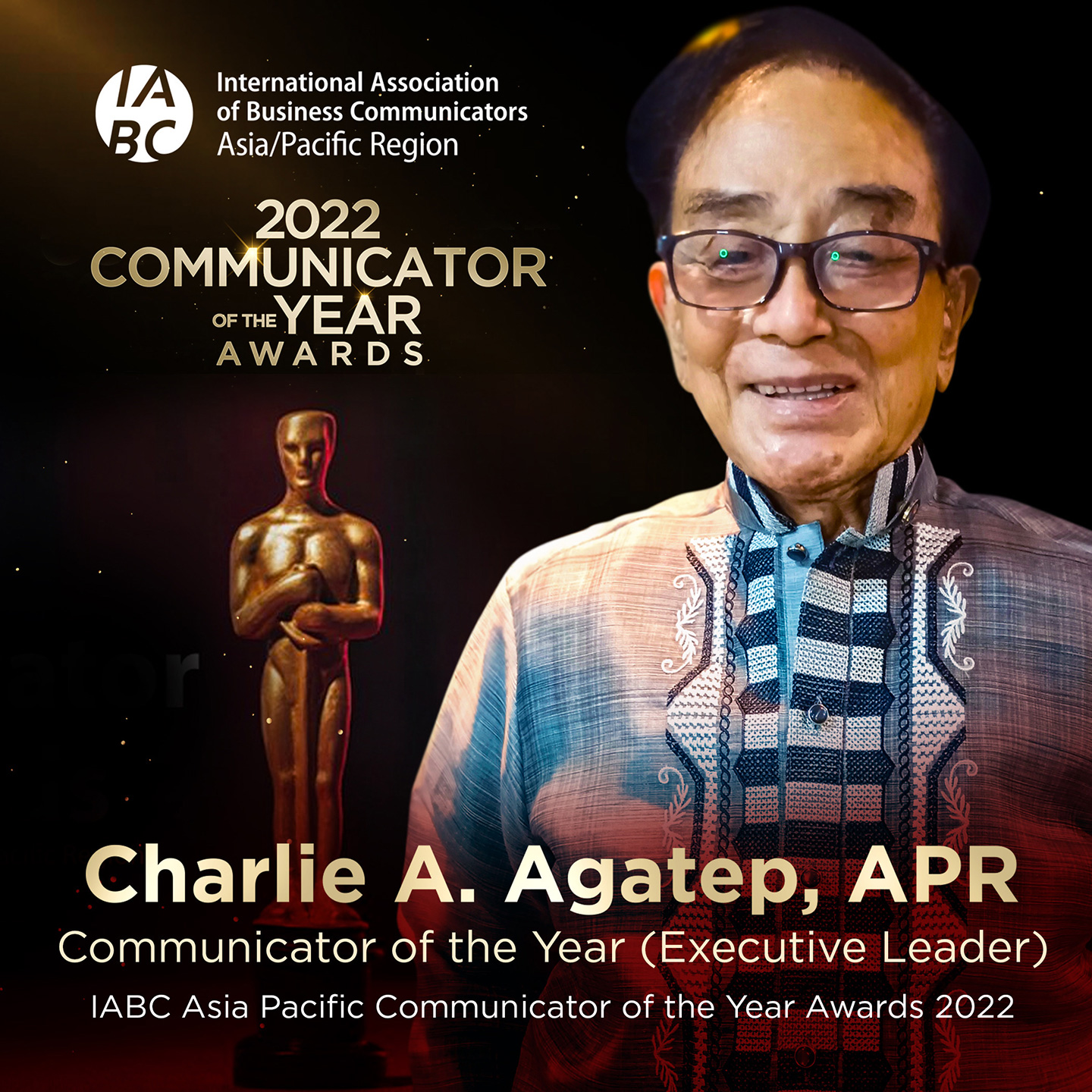 Agatep, chairman and CEO of Grupo Agatep, has led a team of dynamic public relations and advertising professionals towards award-winning campaigns over a long career that began in the 1950s. He has won accolades from different local and international award-giving bodies and taught PR and communications at some of the Philippines' leading universities.
"I am highly honored to be given this Communicator of the Year Award. It represents the triumph of honest communication over dishonest propaganda. The task of communication is to spread the truth for social change; to provide truthful information to citizens in order for them to be free and self-governing; to make the truth truly meaningful; and to render an entire population receptive to it, ready to secure its benefits and apply them to our daily life," said Agatep.
Verghese, an award-winning internal communications leader, author, speaker, trainer, and blogger with over 22 years of experience, considers helping individuals and organizations discover and develop their sweet spot through effective communications as his mission. He is a Public Relations Council of India's Hall of Fame winner and founder of Friends for Life, and a visiting faculty at leading business schools.
"I feel honored to have been recognized in the Senior Professional category," said Verghese. "Communicating during these times is quite challenging and yet exciting. As the world recovers from the impact of the pandemic and is now facing a geopolitical crisis that could upend how organizations and staff respond, there are opportunities for communicators to serve as catalysts of change."
IABC APAC Chair James Howe said the winners have inspired many people in the industry over the course of their long careers.
"As we recognize these excellent individuals in the field of communications, we also hope that other communication professionals will be inspired by their example and emulate them. In IABC, we believe in being stronger together, and these awards are the perfect way to build a circle of excellence that we need for all communication professionals in the Asia Pacific," said Howe.
Kane Errol Choa, IABC APAC Recognition Director, said the winners exemplify the high standards, dedication, values, and longevity of communication professionals who truly shine in this field.
"We wish to instill in our community the same qualities that our winners have exhibited in their successful careers. Through these awards, IABC Asia Pacific demonstrates its commitment to honoring excellent communication leaders who bring positive change to our society," said Choa.
The past IABC Asia Pacific Communicators of the Year winners all hailed from Australia. They include Kate Carnell (Executive Leader) and Gabrielle Dolan (Senior Communication Professional) in 2020, and Sia Papageorgiou (Senior Communication Professional) in 2021.
Setting the standard of excellence since 1970, the International Association of Business Communicators (IABC) is a vibrant global membership association with thousands of members from around the world.
It delivers on the global standard in communication through educational offerings, certification, awards program, resource library, online magazine, and annual World Conference. It also supports a community of business communication professionals with innovative thinking, shared best practices, in-depth learning, and career guidance.