MANILA, PHILIPPINES – Top Employer of the Year and Great Place To Work® (GPTW)-Certified™ Procter & Gamble (P&G) Philippines ranked 4th in the 2023 Philippines Best Workplaces™ List by Great Place To Work®, the global authority on workplace culture with around 30 years worth of ground-breaking research and data to help every place become a great place to work for all. P&G is the only consumer goods company among all the awardees.
P&G Philippines recently earned its first-ever GPTW Certification™ with an average employee satisfaction rating of 94% among surveyed employees. According to surveys, 97% of P&G employees think the company is a great place to work, 98% are proud to tell others they work for P&G, and 100% believe they are treated fairly regardless of their race, gender, or sexual orientation.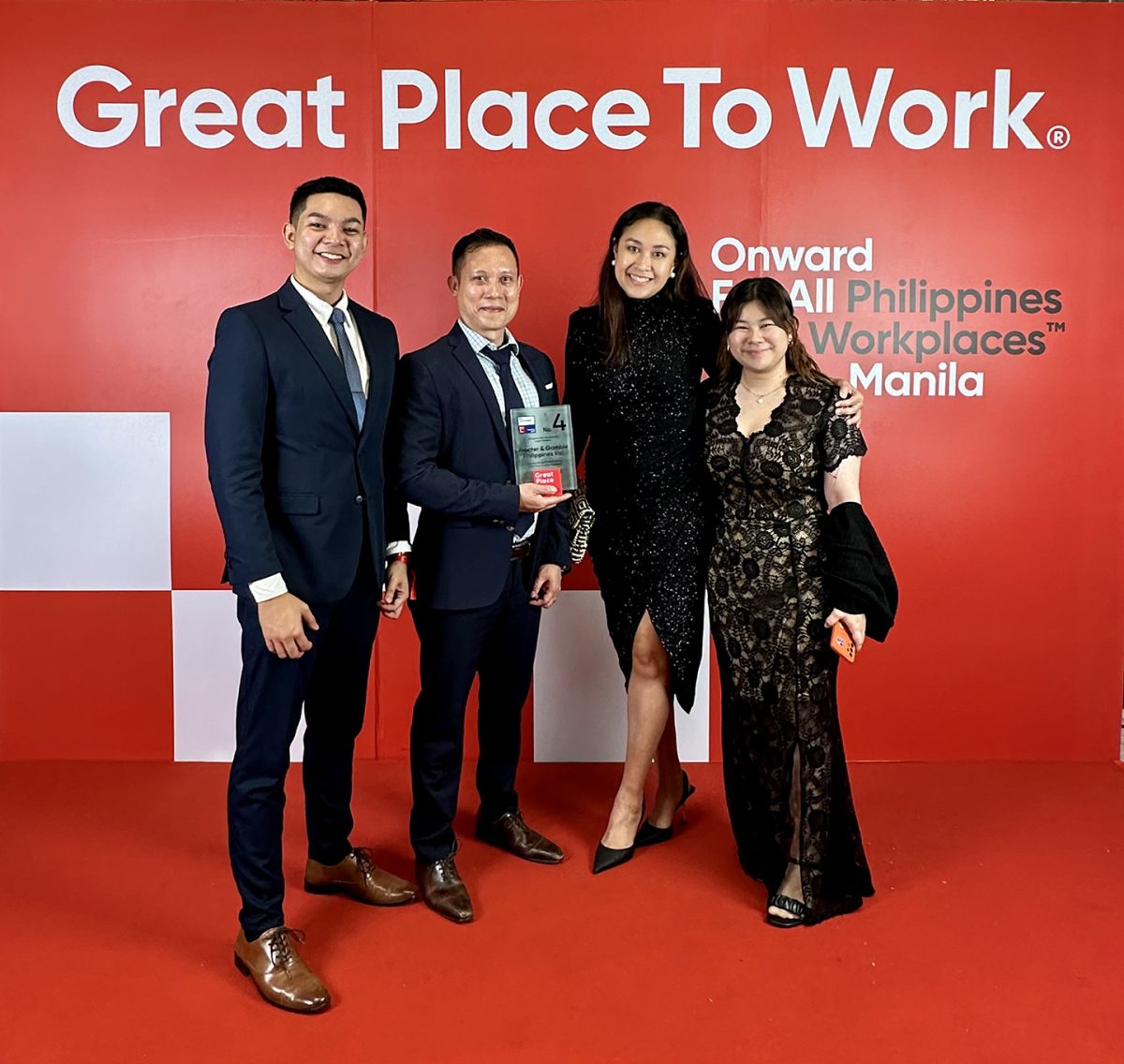 "We are honored to be ranked as one of the Philippines' Best Workplaces for 2023. This and our Certification™ as a Great Place to Work are testaments to P&G's best-in-class workplace culture, employee engagement, and human resource practices," says Vince Dizon, Country Human Resources Leader of P&G Philippines.
For the past year, P&G Philippines has been receiving various awards as an employer of choice and a great place to work. The company recently bagged a triple win at the recent 2022 Asia CEO Awards where it was awarded as the Grand Winner in the "Top Employer of the Year" Category. In addition, HR Asia named P&G one of the "2022 Best Companies to Work for in Asia". P&G was also awarded Champion in the 2021 United Nations Women's Empowerment Principles (UN WEPs) Awards for Gender-Inclusive Workplace category.
With over 87 years of presence in the Philippines, P&G remains one of the country's sought-after multinationals, with over 50,000 applicants a year. P&G is known to highly invest in talent and leadership and provide career opportunities to work on global billion-dollar brands, international exposure assignments, and hands-on mentorship from the best business leaders locally, regionally, and globally.
P&G received its 2023 Philippines Best Workplaces award during the GPTW Recognition Gala held at Hilton Manila. The event was graced by the President and Dean of the Asian Institute of Management, Jikyeong Kang, and was attended by close to 300 guests, including key representatives from various Great Place To Work® Certified™ organizations in the Philippines.
Managing Partner for Great Place To Work Philippines and Principal Consultant for Great Place To Work ASEAN Antoniette Mendoza-Talosig noted that 2023 is a record-breaking year for the Philippines, with over 150 Great Place To Work-Certified™ companies and 35 Philippines Best Workplaces in three categories.
"Four years after the inaugural Philippines Best Workplaces List, we experienced a movement. More and more Philippine companies and business leaders are committing to creating better workplace experiences for all Filipinos. We see companies from various industries, such as manufacturing, retail, information technology, and professional and financial services coming together as a community to learn from each other how to do it right by their people and remain steadfast and purpose-driven during these times of perennial change," says Mendoza-Talosig.