SEOUL, SOUTH KOREA — Serviceplan Korea has been named Independent Agency of the Year and has been awarded four Lotus awards at ADFEST 2023 after entering for the first time. The collection includes a Grande, two Silver, and an Innova Lotus. Serviceplan Korea and Serviceplan Munich jointly win the awards for the "DOT PAD: The first smart tactile graphics display."
Adfest is Asia's most celebrated regional creative festival. The awards were presented at the PEACH, Royal Cliff Hotels Group in Pattaya, Thailand. A total of 1,699 entries were received for the Lotus Awards and 63 jury members from 18 cities were organized into seven groups, chaired by Ali Rez, Chief Creative Officer for Impact BBDO Group MENAP, to decide the winners to be announced.
Serviceplan Korea entered into four categories and won all four categories, after entering Adfest for the first time. The Grande Digital craft Lotus was awarded to Serviceplan Korea and Munich for DOT Pad. The first Smart tactile graphics display. There were 48 entries in the Digital Craft Lotus category this year, and the jury awarded five Bronze, two Silver, and two gold awards, with the Grande going to Serviceplan.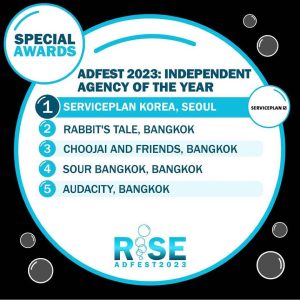 Dot Pad won in the following categories:
Digital Craft Lotus (Grande) – Innovative use of technology.
Brand Experience Lotus (Silver) – Use of mobile & devices.
Design Lotus (Silver) – Product design: Innovative & sustainable design.
Innova Lotus (Innova Lotus) – Innovation in prototype technology
Julie Kang, Managing Partner of Serviceplan Korea, commented, "I believe that the seven-year partnership between Dot and Serviceplan has led to this remarkable award-winning results in the newly launched game-changing product, Dot Pad, at this year's ADFEST. We are particularly thrilled with our first-time submission to ADFEST and the reception of such significant accolades, which have been a great recognition of our efforts."
Founded in 1998, ADFEST is the ideal place for the creative industry to gather, network, exchange ideas, and be inspired. It is the annual creative festival not to be missed to stay at the forefront of the rapidly changing creative, marketing, and production industries.
ADFEST not only raises the standard of creative excellence in the region, but it also celebrates the uniqueness of local culture. It is a learning hub for those in the communication industry through showcasing the region's best creative works and inspiring content. It is also the perfect place to relax, learn, and meet new friends in the industry. ADFEST is one of only eight regional creative festivals included in the WARC 100 Creative rankings.