LONDON, UK — Breast Cancer Now, the UK's leading breast cancer research and support charity, has released a powerful and emotional film portraying the reality of living with incurable secondary breast cancer. In the film, titled If I had more time, nine women share the ways they would spend more precious time if they could, highlighting the urgent need for more research to extend people's lives. 
The film explores what it feels like to live with a secondary breast cancer diagnosis and the one word that lingers in the minds of those affected – "If" – as they look to an uncertain future and the precious moments that they may tragically be deprived of by this disease.
Breast Cancer Now is working tirelessly to change the outlook for people living with incurable secondary breast cancer, recognizing research as the one "currency" that holds the potential to "buy" them more time with loved ones and to do the things that matter to them. With an estimated 61,000 people in the UK currently living with the disease, there is no time to waste in making this happen.  
Created by creative agency BMB, the "If I had more time" campaign asks people living with secondary breast cancer what they would do if they could be afforded more time. Their heartbreaking answers include wishes to see their children grow up and get married, dreams of traveling the world, and hoping they'll have the time to tell all those closest to them that they love them before it's too late.
Shot in a documentary style, the film is raw and very moving, showing these women in their own homes, talking in their own words, and revealing to us both their vulnerabilities and their strengths in dealing with their diagnoses.
October is Breast Cancer Awareness Month and Breast Cancer Now is shining a spotlight on incurable secondary breast cancer, launching the month of activity with "If I had more time." Secondary breast cancer is often overlooked in mainstream discourse around breast cancer, and Breast Cancer Now is committed to putting this right both during Breast Cancer Awareness Month and beyond. 
A 60-second TVC debuted on ITV on September 25 and ran for a week, followed by a 30" edit that will run until October 22.  
The campaign will be supported across Radio, Social, and Digital, with a long-form 110" edit sitting on the campaign landing page.
The Social and Digital Display features striking portraits of the women in their homes, alongside their thoughts of what they would do if they had more time.
The campaign was directed and photographed by Katie Burdon through Academy Films. Media planning and buying were handled by AMI.  
Rachael Franklin, Director of Fundraising, Communications, and Engagement at Breast Cancer Now, said, "We know that much more needs to be done to raise awareness and understanding of secondary breast cancer, including the fact that tragically this form of the disease is incurable. The 61,000 people currently estimated to be living with secondary breast cancer in the UK urgently need more treatment options to buy them more time. 
"Through this latest work, we've invited people to share their own experiences of living with incurable breast cancer and what they would do with more time. Our hope is that this cinematic campaign will shine a light on the devastating reality of this disease, on lives that will be cut short by it, and the urgent need to fund more world-class research to develop more treatment options for people both now and in the future."
Matt Lever, Chief Creative Officer at BMB, commented, "With this campaign, we set out to showcase the reality for people with incurable breast cancer. By getting up close and personal with those living with the disease, in their homes, and speaking to them about their hopes and dreams, we showcase their thoughts on what they could do if only they had more time. In this way, we hope to emphasize the urgency of Breast Cancer Now's incredible work, which can help buy people like these more time." 
BMB's previous work for Breast Cancer Now's "The Chat" won two awards at Cannes Lions in June, and has been shortlisted for five Campaign BIG Awards.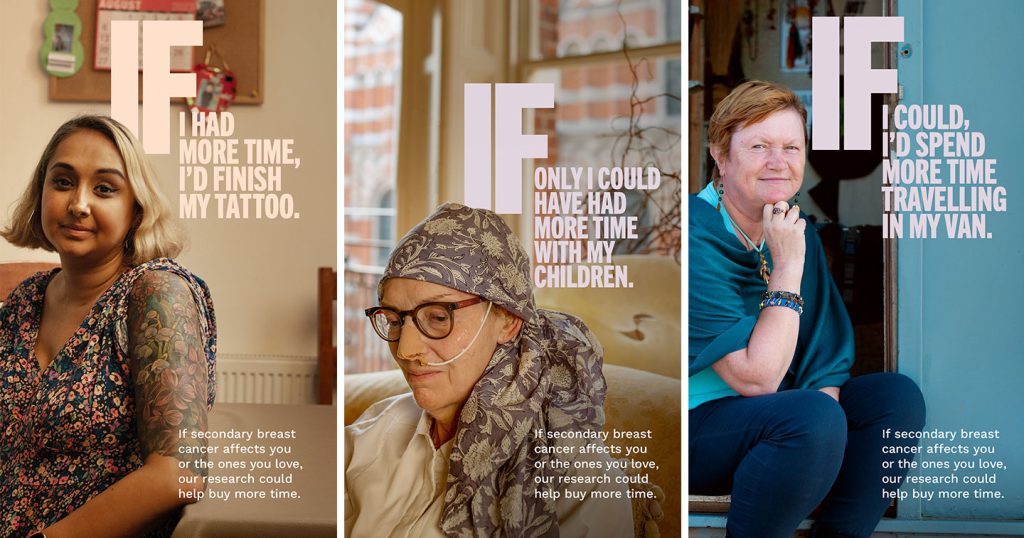 CREDITS:
Advertiser/Brand: Breast Cancer Now
Client Credit: Rachael Franklin, Director of Fundraising,
Communications and Engagement Deanne Gardner – Associate Director of Brand Marketing & Communications
Creative Agency: BMB
Chief Creative Officer: Matt Lever
Creative Director: Bianca Eglinton
Creatives: Jack Snell, Joe Lovett
Managing Director: Claudia Wallace
Business Director: Sam Hardy
Account Director: Rosie Morahan
Senior Strategist: Amy Bowker
Head of Design: Ted Smith
Designer: Mark Gould
Senior Producer: Alison Cummins
Production Assistant: Nina Stokes
Production Company: Academy Films
Production Company Producer: Cara Mills
Director & Photographer: Katie Burdon
DOP: Laura Seward
Editor: Nik Hinson
Online/Sound Design: Unit
Audio: Jamie Thomas and Hannah Webster
Colourist: Denny Cooper
Online: Alec Eves
Unit Executive Producer: Darryl Bolton
Unit Producers: Tania DeSousa and Wil Male
Media planning & buying: AMI