MANILA, PHILIPPINES — For over four decades, Jollibee has celebrated key milestones with their signature brand of creative storytelling through memorable commercials and jingles that reflect the brand's mission of bringing the joy of eating to everyone.
For its 45th year, Jollibee and agency partner McCann Worldgroup Philippines have launched a new campaign via an LSS-worthy anthem and music video that encourages people to continue to "Share the Joy." Performed by "Mr. Pure Energy" Gary Valenciano and "Asia's Limitless Star" Julie Anne San Jose, this new song and video showcases how the brand has played a role in creating many memorable moments for generations of Filipinos.
"We want to celebrate our 45 years with a fun and danceable song, yet nostalgic and heartwarming so that people of all ages can recall their most joyful experiences with our brand. In doing so, we hope to inspire them to continue sharing the joy of Jollibee with their family and friends," said Dorothy Dee-Ching, VP-Marketing Head of Jollibee.

"We have a lot more in store for our customers in the coming months and we hope this new anthem makes them even more excited about this milestone year." The music video features inspired performances from Valenciano and San Jose, alongside everyone's favorite mascot, Jollibee. The video is filled with vignettes of different Jollibee memories from all over the globe, such as kids celebrating Jollibee Kids Parties, friends having their favorite meals delivered, and families sharing a bucket of Chickenjoy. Each reference is a heartwarming tribute to everyone, everywhere, who has enjoyed Jollibee throughout its 45 years.
"We turned the idea of sharing the joy into a battle cry song," said Marlon Borreo, Associate Creative Director of MWG. "From the rousing feel of the music to the choreography, and down to the other components of the campaign, we want Jollibee's 45th year celebration to be a platform for Filipinos to be able to take the joy that they can get from Jollibee and share it forward — share it with family, with friends, with colleagues, and even to people you don't know."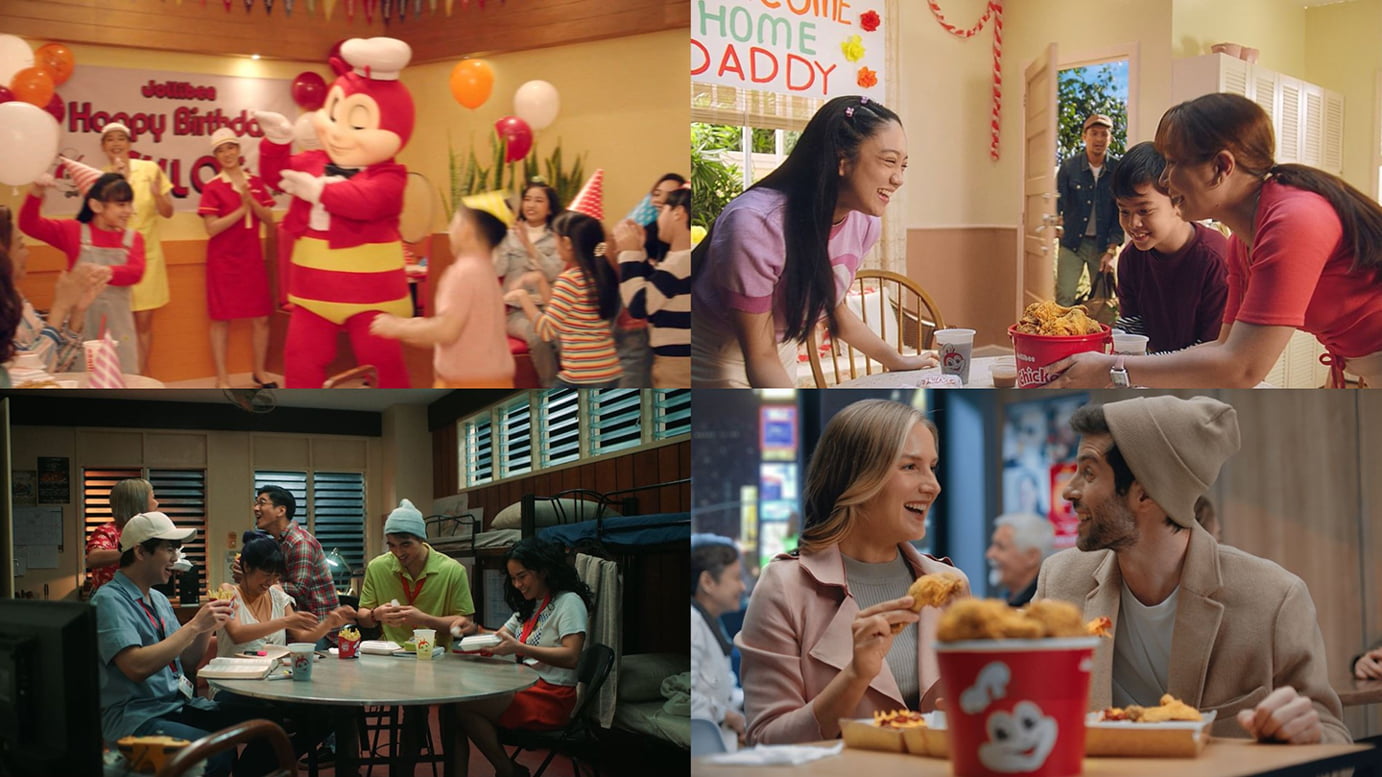 "I wanted to capture Jollibee's story of sharing joy across time and space, highlighting how Jollibee has always brought us closer together. With Jollibee, we've forged relationships, celebrated milestones, and counted our blessings. Our film celebrates these moments and that the joy of sharing continues to spread farther and wider," said video director Erika Yuseco.
The message of sharing the joy is a universal message that resonates with Filipinos, and this campaign further cements the role of Jollibee as an enabler of joyful moments and experiences through the comfort of its great-tasting food.
CREDITS:
AGENCY: McCann Worldgroup Philippines, Inc.
Mitzie Lim-Nacianceno – VP/ Managing Partner
Joms Robles – Associate Business Group Director
Chloe Adarayan – Account Manager
Earl Javier – Planning Director
Nathan Edades – Jr. Planner
NJ Mijares – Group Creative Director
Marlon Borreo – Associate Creative Director
Ming Salcedo – Associate Creative Director
Gabby Alcazaren – Art Director
Alvin Adriano – Art Director
Barbie Leyba – Senior Broadcast Producer
PRODUCTION
EP: Mara Bernaldo
Directors: Erika Yuseco
AD: Relyn Tan
AD Assist: Elton Quijano
DOP: Ian Guevara
PM: Glenda Mugol, Nicole Calaustro, Lougie Dela Cruz
PA:, Katrine Dela Cruz, Simon Flores, Nash Wildi
PD: Nina Torres
Cam Op: Ardan Arcega, Lexus Diestro, Mick Tuyay
AC: Jojo Remulta, Jestoni Negradas
Gaffer: Maui Caspe
Key Grip: Noel Osita
BTS: Timothy Axibal, Vince Cidro
Propsman: Christian Clemente
Stylist: Danae Dipon, Justine Benitez
HMUA: Janica Cleto, Pam Carreon
Choreographer: MJ Arda
Sound: Danjo Galapon
Food Stylist: Dirty Kitchen: Isi Laureano, Karl Medina, Erich Ting
Caster: Toots Gallardo
Utility: Cesar Sebastian, Angel Alonzo, Jomark Valdez
Drivers: Jetfighter
Offline Editor: Alvin Chan
Colorist: Biba Abiera
Online Editor: Gem Garcia, Rosa Revuelta, Mike Tinoy
Equipment: CMB, Cinedogs
Client: Jollibee
Dorothy Dee-Ching – VP-Marketing Head
Dennis Reyes – Senior Brand PR & Communications Manager
Elise Maog – Brand PR & Communications Officer