SINGAPORE — More than half of Singaporeans and Malaysians (55%) who have travelled since the start of the year will be travelling again in the next three months, a study finds.
Conducted jointly by Yahoo and Southeast Asia consumer research company, Milieu Insight, the study surveyed 1,000 respondents each from Singapore and Malaysia to unveil their travel plans and patterns for the second quarter of the year.
Since the start of 2023, 61% of respondents who have travelled overseas for leisure have been to Southeast Asia, the top travel destination especially among Singapore travellers (70%). However, travellers' appetite for new experiences have not waned – 46% plan to travel to Southeast Asia, followed by East Asia (38%) and Australia/New Zealand (20%) in the next three months.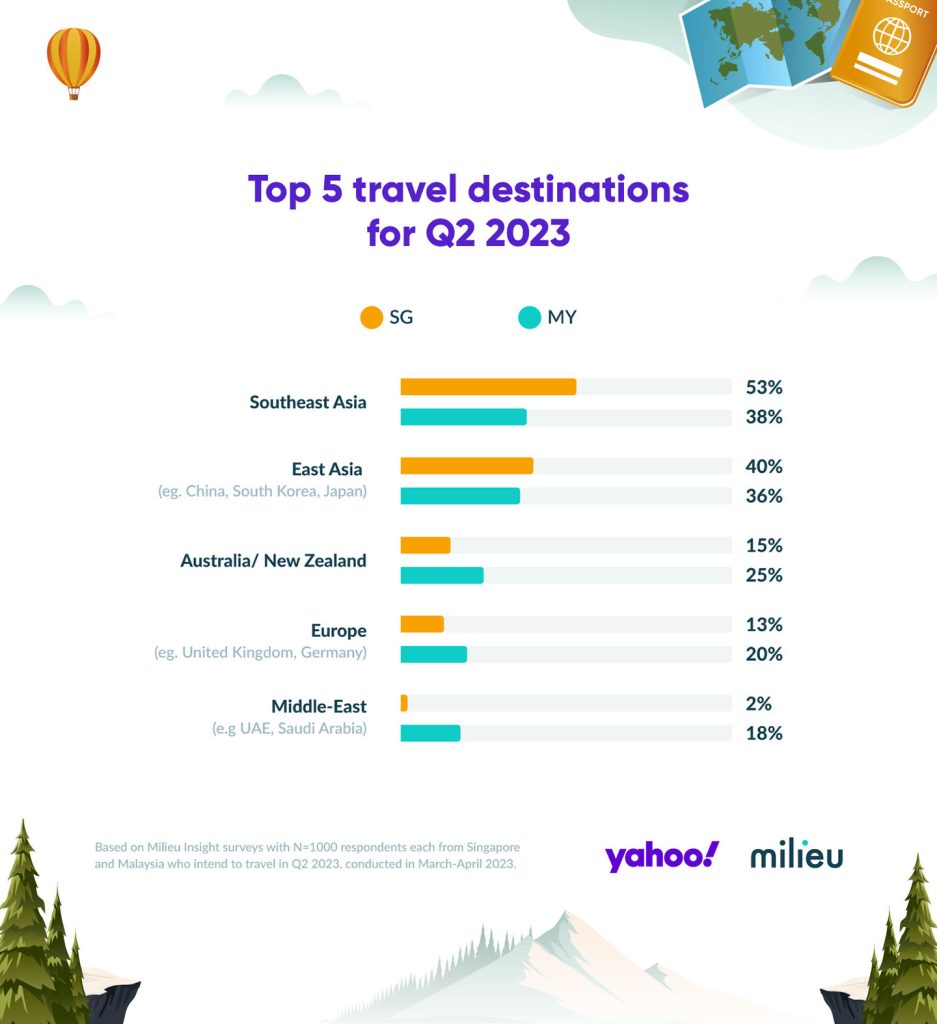 The study reflected intriguing differences in travel preferences between the two neighboring countries: while 61% of Singaporeans prefer to relax and take things slow for their next travel trip, Malaysians are quite the opposite as 65% of them prefer to explore as much as they can. The latter also tend to be more budget conscious, with 83% (compared to 68% in Singapore) saying that they have a travel budget to stick to.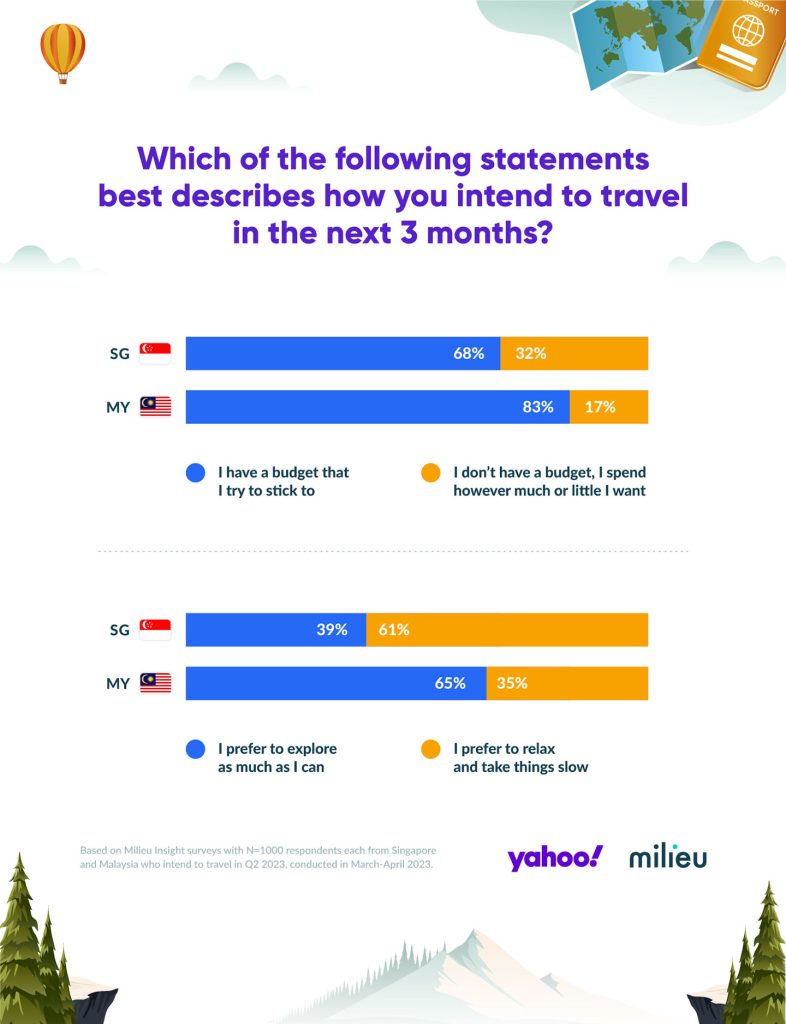 Sightseeing (70%) and shopping (46%) are the top travel activities in both countries, but skews towards Singaporean travellers. Malaysian travellers, on the other hand, showed more interest in other activities such as arts, history and cultural immersion (33% vs 17% in Singapore), and notably a rising travel trend – environment, climate and wildlife conservation (29% vs 11% in Singapore). They also showed much higher intention to join local activities (80% vs 58% in Singapore), such as culinary workshops and cultural immersion with locals.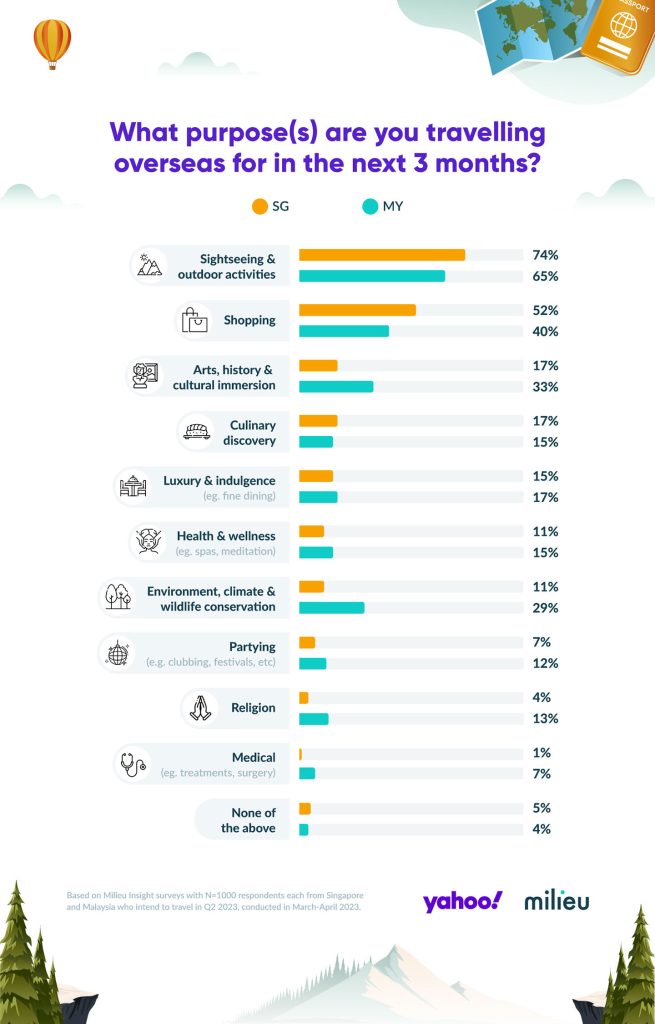 "The demand for travel is taking flight. Brands seeking to tap into the growing wanderlust must stay informed and understand how travel preferences have evolved. Our latest study, conducted with Milieu, unveils interesting insights into consumer travel patterns – from their top travel destinations to their favorite activities and top purchase motivators on travel booking platforms," shared Kenneth Koh, Yahoo Head of DSP SEA.
74% of respondents who book travel arrangements themselves would do so via travel booking platforms, especially popular among 25-34 year olds in Singapore (83%) and Malaysia (64%). As travellers now seek more diverse and immersive experiences, travel booking platforms are keeping pace by offering one-stop solutions to make multiple bookings across accommodations, flights and activities. In fact, coming after discounts and promotions (57%), the convenience of making multiple bookings on one platform (46%) is one of the top motivators for using these platforms.